Your home is often where you spend most of your time. It's where you relax after a long day of work,where you have friends and family over for dinner, and where you create meaningful memories. So, making your home interiors into spaces you enjoy is important. Interior design is a...
How to Make a Small Room Look Bigger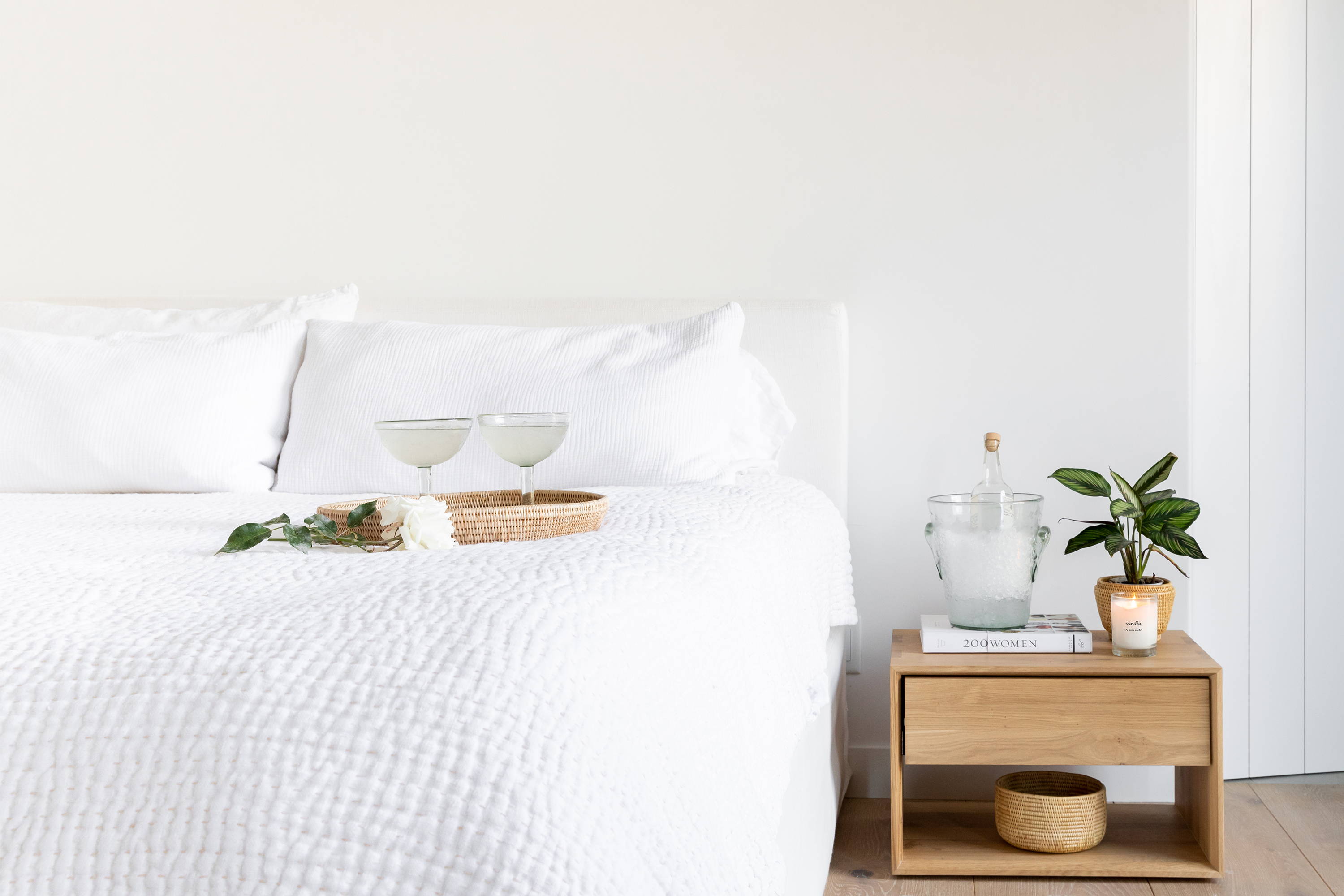 Your home is often where you spend most of your time. It's where you relax after a long day of work,where you have friends and family over for dinner, and where you create meaningful memories. So, making your home interiors into spaces you enjoy is important.
Interior design is a powerful tool when it comes to transforming your space. If you're working with a smaller space, it's essential to learn how to maximize the space you do have. A few tips and tricks can help you turn a small room into a spacious, open one. How can you do this?
We've got you covered! Here's what you need to know about creating the illusion of more space.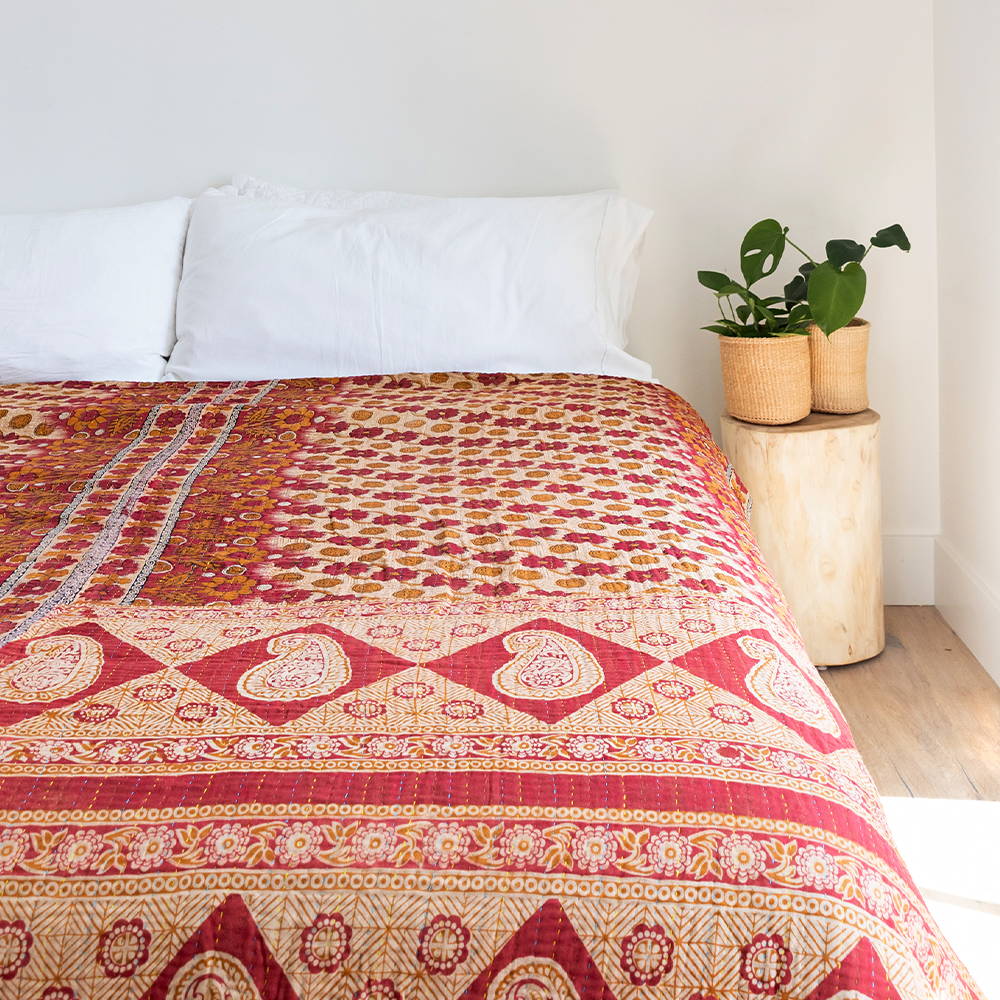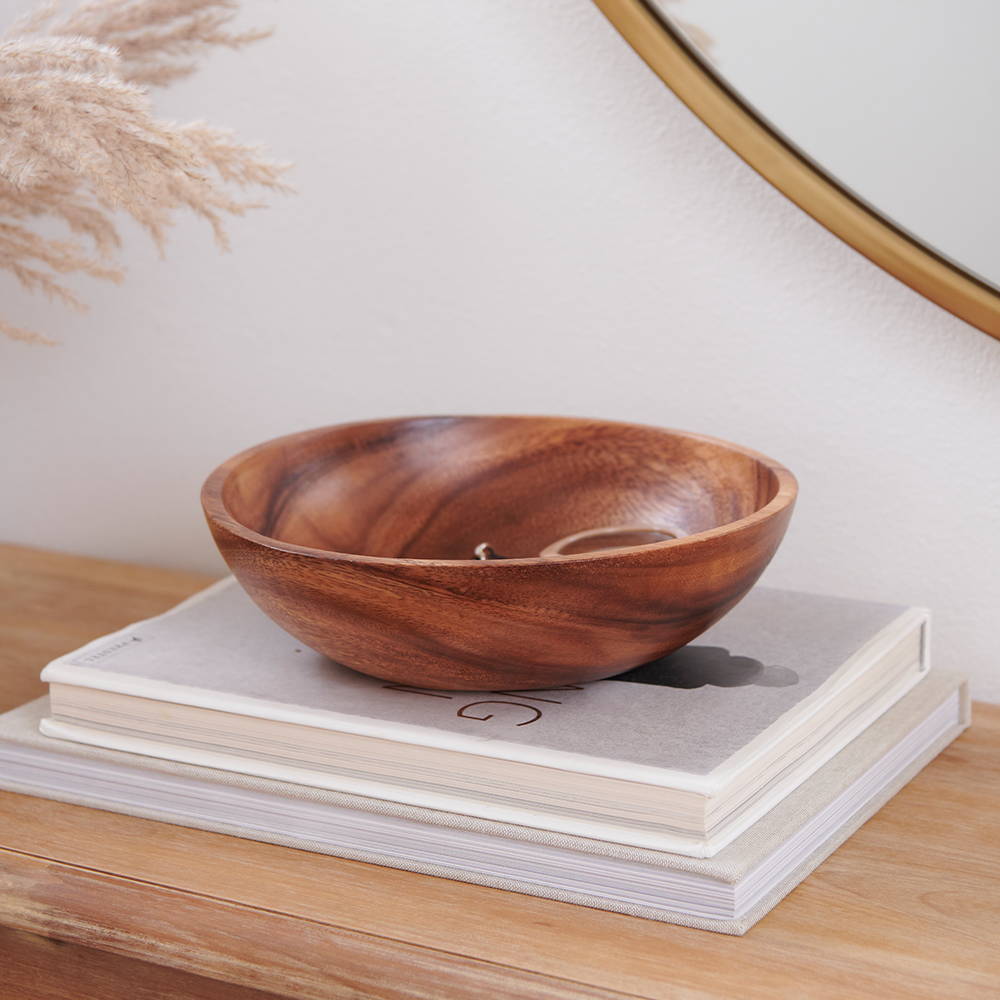 One of the best and easiest ways to add depth to a space and make it feel bigger is to paint. The colors of your room are important for many reasons. Many organizations and facilities use paint colors intentionally to encourage certain psychological effects and moods. Not only can colors affect how you feel, but they can also influence how you perceive the space.
When you're trying to make a smaller room feel larger, opt for bright or dark shades. Medium colors tend to make a space feel cluttered and smaller than it is. Play with bright colors, dark colors, and contrasting tones to design the space of your dreams.
There are also many ways to add color to your home other than painting the walls.
Here's what you need to know:
Most people prefer to use bright colors on their walls and deep tones in their furniture and décor pieces. You can opt for an off-white color, a light gray, a light blue, or other light beige tones to create brightness in a room.
You can also use darker colors like green, black, dark gray, and blue to add dimension and help your space feel bigger. Using dark colors can be intimidating for most, so if you'd rather paint your walls lighter colors, you can use darker furniture to create depth.
If you can't repaint your walls, consider using furniture to add brightness and contrast. You can add brightness using a white or light-colored rug or add a deep tone with a vintage red rug or a rug with dark tones. You can also use your sofa color to add contrast to your space.
This depth creates the illusion of having a large, open space, even if you don't. You can use this strategy in any room you can think of.
Use dark cabinet colors or dark tile colors to create a contrast with bright, neutral paint colors. You can also use a light shower curtain color and a bright light fixture to add depth.
Use deeper paint colors on the lower cabinets and brighter colors on the upper cabinets to create a contrast in your kitchen. Adding floating shelves can free up counter space and help store your kitchenware.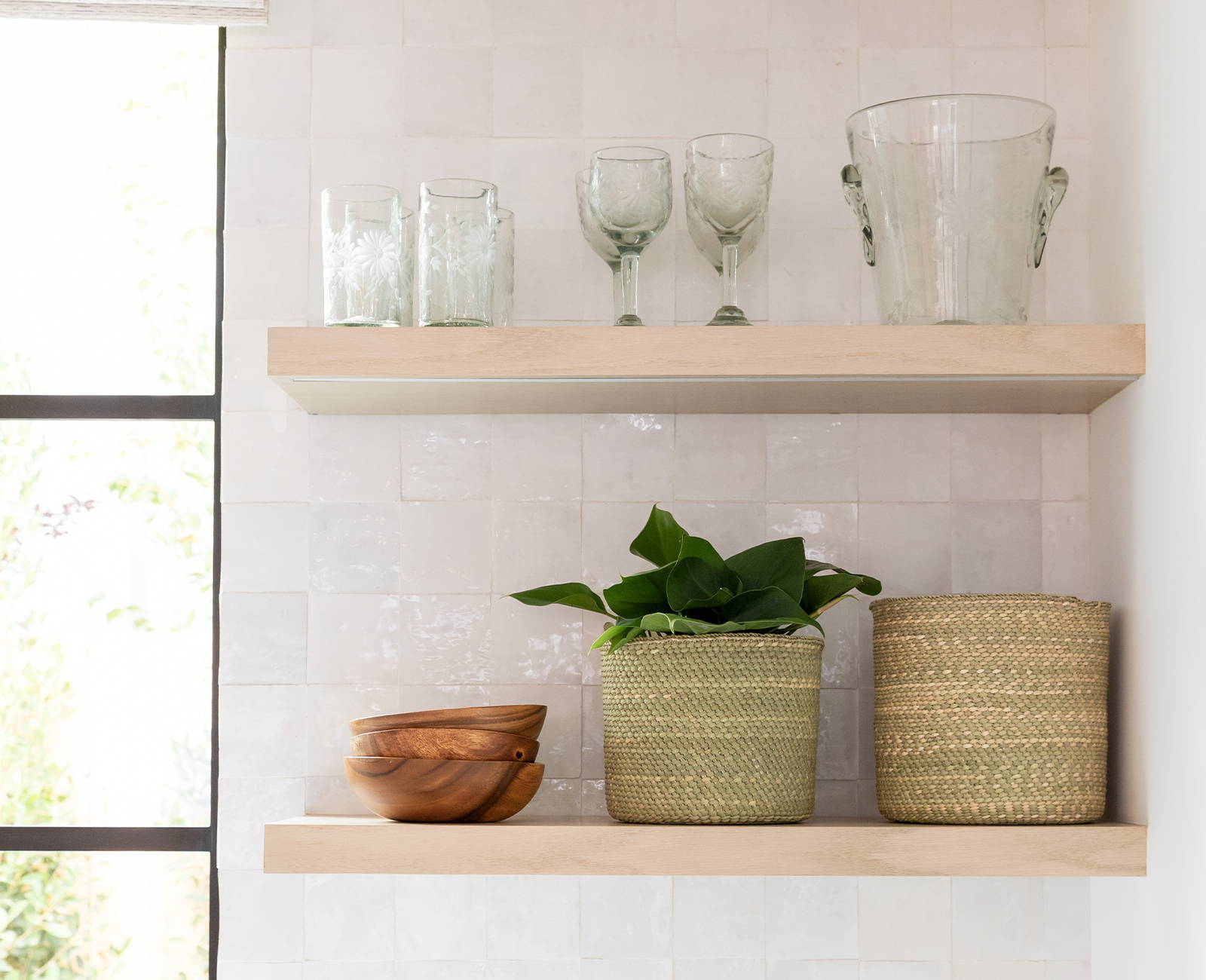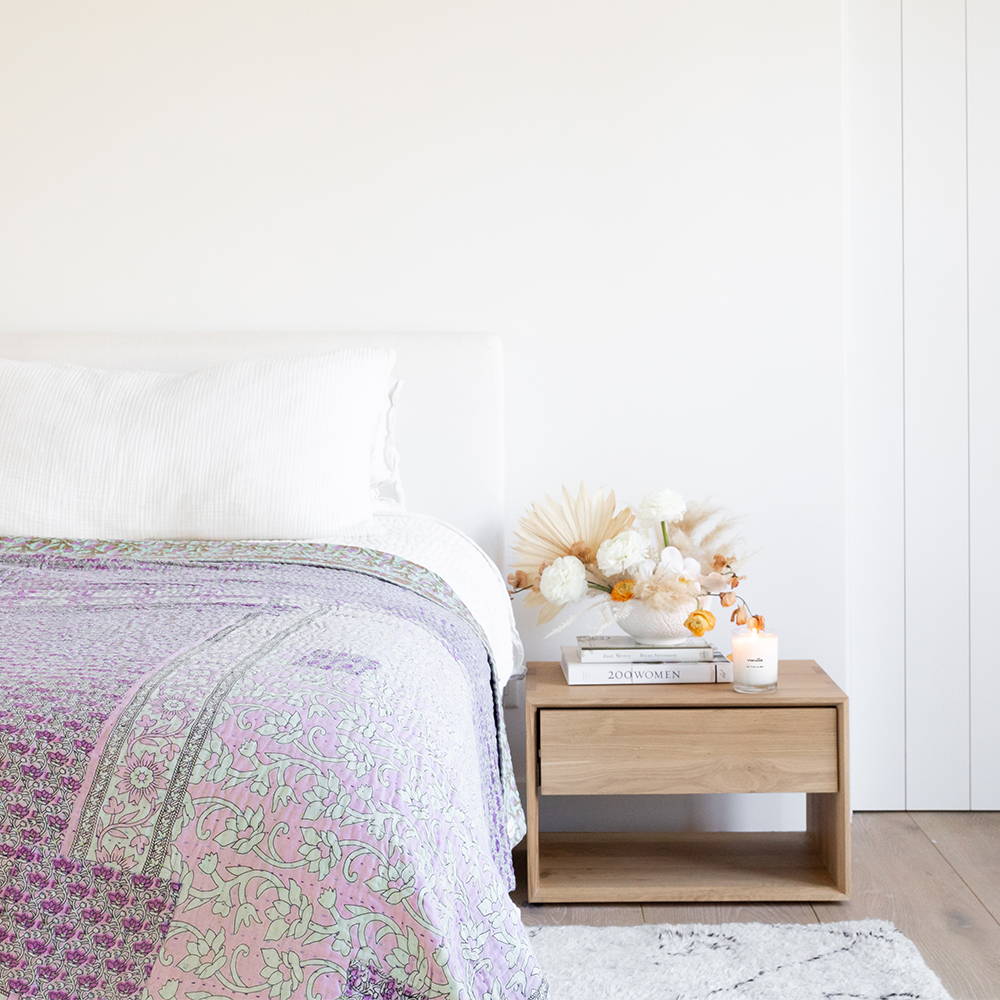 Use bright walls to contrast with furnishings like neutral bedding or a dark rug. Incorporate airy decorations (like sheer drapes) to add contrast and make the space brighter.
If you have bright, natural flooring, use deep paint colors to add contrast. You can add lighter blinds, furniture pieces, and a light fixture to balance out the living room look.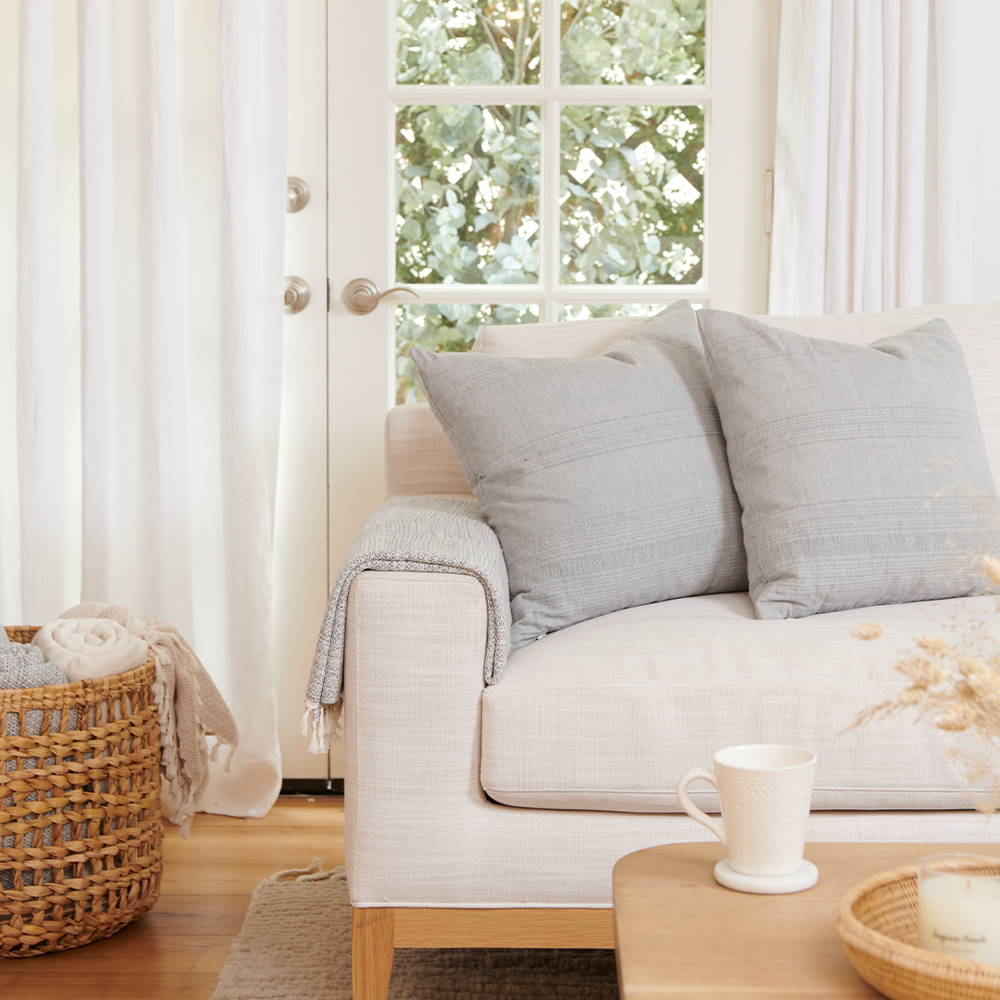 If your paint colors and furniture are both neutral, don't panic. Our collection of Handmade Kantha Quilts provides the perfect way to add a pop of deep, rich color to your home.
With deep hues of green, red, blue, purple, yellow, gold, black, and restful neutral colors, you can find an accent piece for every room in your home.
If you're dealing with small spaces, chances are you have minimal storage too. Lack of storage is one of the main causes of clutter in the home. If you don't have a place to store something, it's going to feel like clutter, which consumes valuable visual space and real estate.
Your space should accent everything in it. This includes furniture, rugs, lamps, and decorations. If there's clutter, it can take away from how the space feels, making a small space look more cramped.
Here are some ideas for storage in small spaces: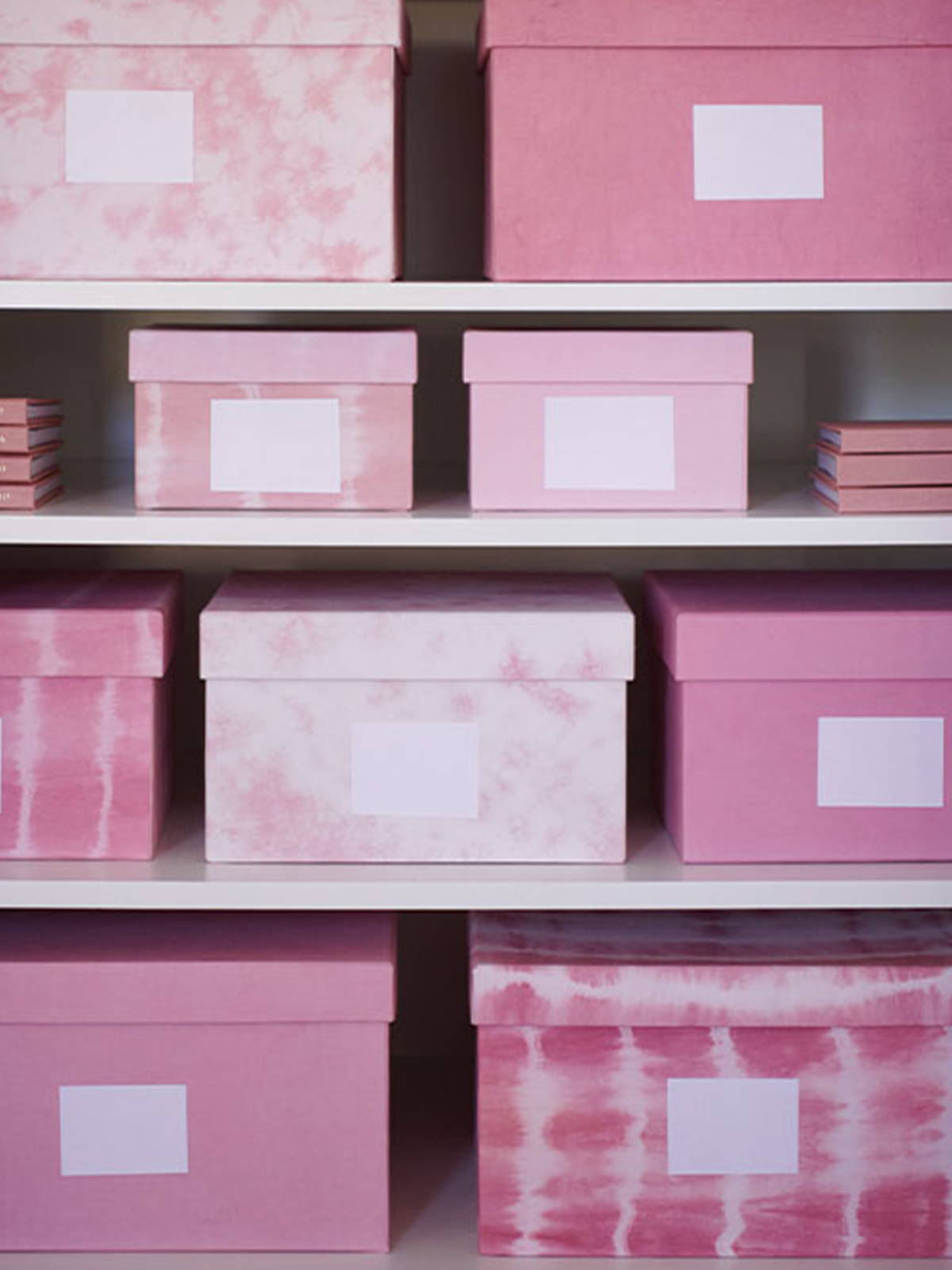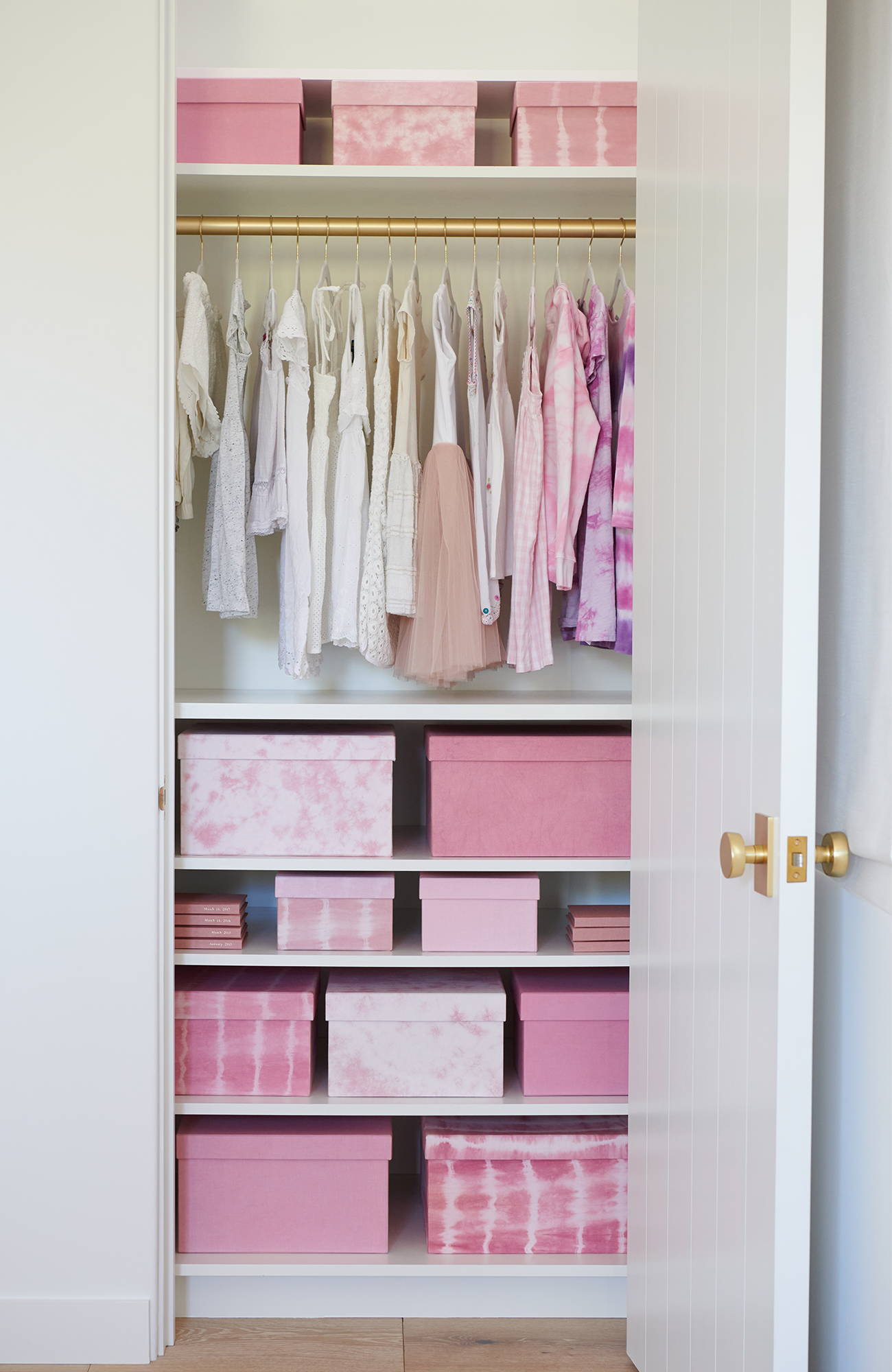 One of the best ways to add storage to a small space is to use hidden storage. There are many ways to do this, but the best way is to use multi-functional furniture.
Here are some examples of multi-functional furniture that have storage:
Bed frames with storage underneath or space for storage underneath
Couches with storage underneath the cushions
Benches and seats with storage underneath
Ottomans, stools, and coffee tables with storage underneath
When it comes to hidden storage, get creative. You can also make your own hidden storage. If you have space underneath your bed to store items, consider using baskets for storage. Our collection of Handwoven Storage Baskets is perfect for your pantry, bathroom, or laundry room. These beautiful pieces are woven with locally sourced grasses and materials and add the perfect touch to your décor.
Another trick to make a small space feel larger is to hang long curtains. These also help make your room look and feel luxurious. Many people hang their curtains starting directly above or at the window. However, this can make your room feel smaller and shortened.
Tip: Hang your curtain rod high above the windows, almost closer to the ceiling. Hanging your curtain rod higher will also help your window feel taller.
For a rule of thumb, aim to hang your curtain rod about six inches above the window frame. If your windows are extra short, you can add another few inches. Make sure your curtains hang from floor to ceiling for the best results.
Decorative Accents To Make the Room Feel Larger
Another component to consider when trying to make a small space feel larger is décor.
Let's take a closer look at what you should know.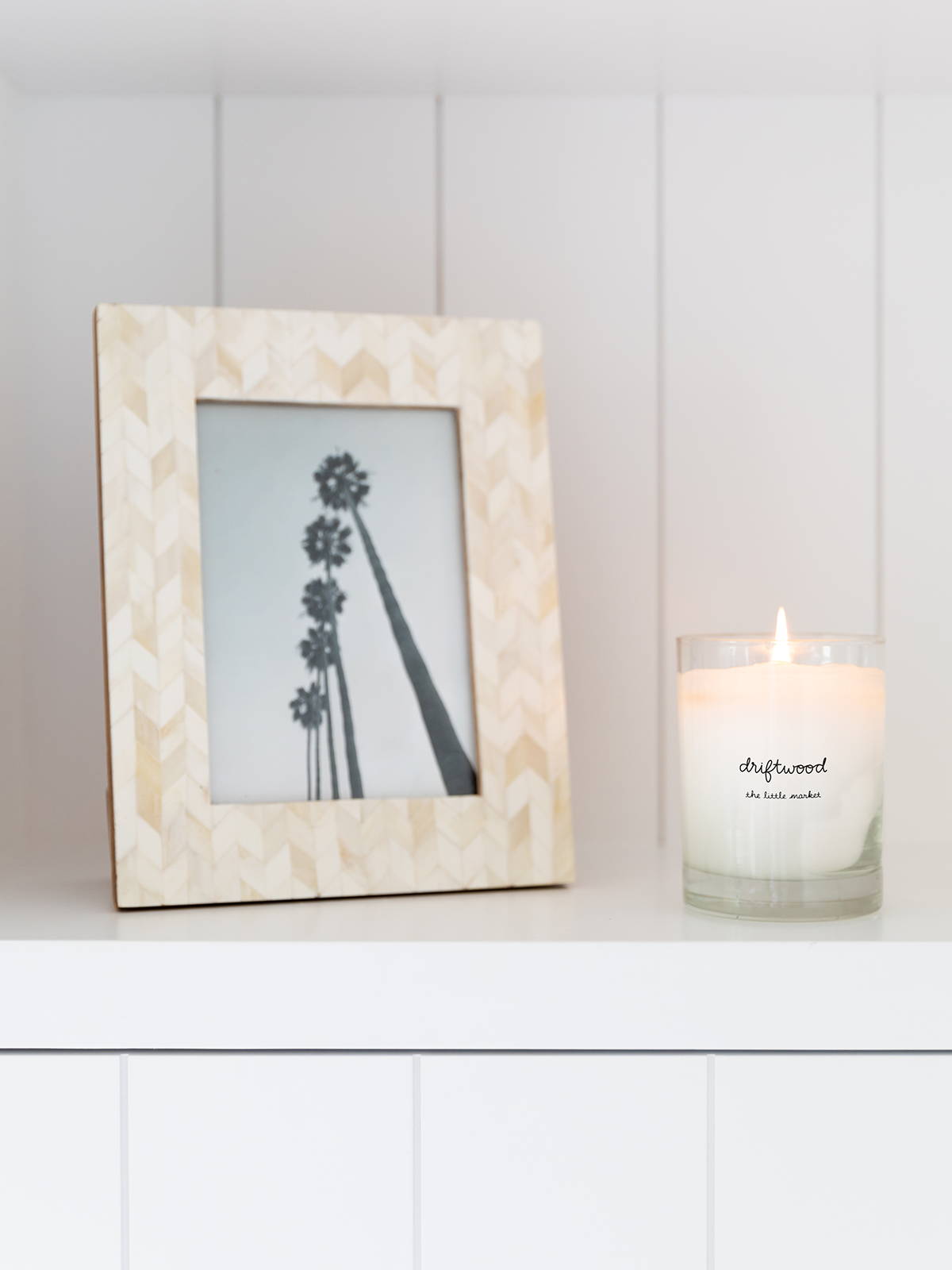 The first rule to keep in mind is that less is more. If you use many different decorative pieces that are small, it can make a space feel crowded, cramped, and overwhelmed.
This doesn't mean you can't get creative and use decorations! However, it's best to practice some intentionality.
Instead, use fewer large-scale pieces to accent your walls and space. Instead of using four or five pieces of artwork on a wall, use two large-scale pieces. One can be an abstract painting, and the other can be a textured neutral canvas. This will help your space feel larger while still displaying art and décor.
While individual wall décor can work wonders for a room, you don't need them on each wall. Instead, use paint and other techniques to create an accent wall. Consider that vertical stripes make your walls feel taller, creating the illusion of extended vertical space.
Mirrors are excellent tools for making a small room look bigger. This trick has been used for years in interior design and is still a great way to decorate a space. A mirrored wall is stunning, but you can also rely on several smaller mirrors to add dimension.
In addition to mirrors, you can use reflective wall hangings like our Capiz Shell Moon Phases Wall Hanging. With a reflective surface, it can add brightness and texture to your space. It is handmade in the Philippines, and each purchase empowers artisans with access to livable wages and skills training.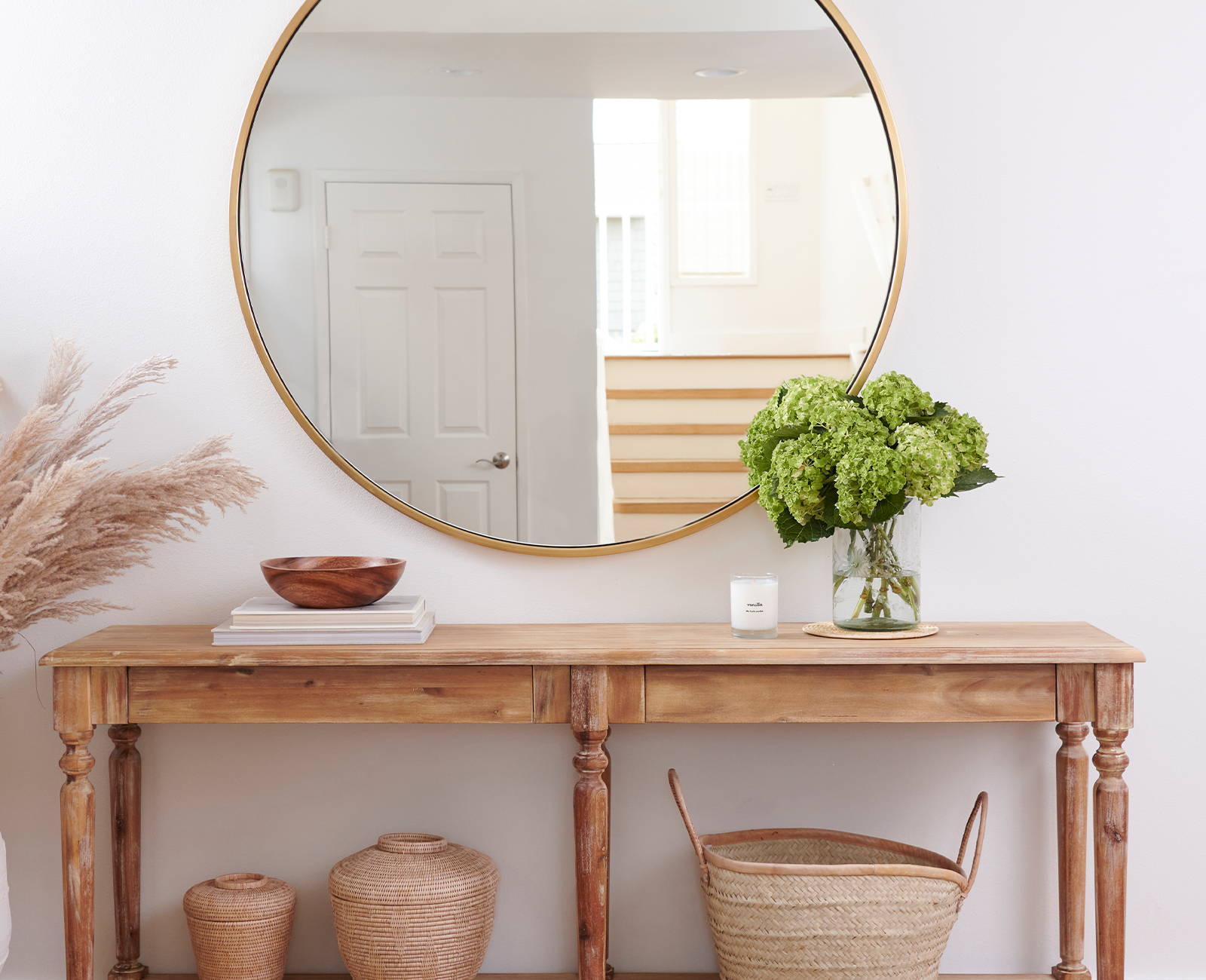 Natural light is by far the most effective way to make a room feel larger. However, not every room in your home is going to have the best natural light. If you have smaller windows, a shaded room, or just want to add light to help your space feel larger, use lamps or accent light fixtures like sconces.
A few large lamps are better than many small table lamps, so make sure you use bright bulbs and larger lamps that brighten up your space. You can also use an accent light fixture in the kitchen, bathroom, and living room to help your space feel brighter and larger.
One of the most critical steps to making a small space feel larger is to declutter. Decluttering also offers a range of health benefits. Even if you change the paint colors, minimize wall décor, and take other tips into account, clutter will hinder your progress.
How can you declutter your space? Here are some tips to help.
If you're considering decluttering, you may picture an entire house free of clutter. While this can be a peaceful thought, it can also be overwhelming. Even if your end goal is to declutter your entire house, start room by room.
Having smaller goals will help you break down your decluttering and make it an easier, less overwhelming process. If you need extra motivation, start with the easiest rooms to declutter. This may be your pantry or your laundry room or even your guest bathroom.
Starting with the easiest project can give you the motivation you need to tackle the next room and the next. Soon, you'll have decluttered the whole house.
Another way to help you declutter a space is to set a time limit. Choose a room, take a minute to look around, and then set a five- or 10-minute timer. See how much you can declutter within this time period. Your progress might surprise you.
This is especially helpful for getting your family members to help you declutter. If you're trying to get kids to participate, turn it into a game. Set a time limit and see how much your little ones can get done.
Another helpful tip for decluttering a room is to start from scratch. If you're able to, take everything out of the room you're decluttering. If there's larger furniture inside, remove everything but this furniture.
Then, slowly add back the most essential pieces to the room. If you're working on a bedroom, this may include the mattress, nightstand, desk, and chair. Once the essential pieces are back in the room, put back only the things you need. Don't add back anything that makes the space feel cluttered or messy.
You may find yourself keeping some of your clothing out, your books, or some of your knick-knacks. By only returning the things you need into the room, you're able to distinguish between what's clutter and what isn't. Plus, this can help some picture a clean slate for a room.
One of the best ways to organize your decluttering process is to make piles. You can use boxes with different labels, bags, or just piles on the floor. You'll want to have three piles. One will be the pile for things you want to keep. This should include items you use, wear, and enjoy often.
The next pile is a pile of things to get rid of. This should include anything you haven't used, touched, or thought of in the last year. There can certainly be some exceptions to this rule for family heirlooms or keepsakes. The general rule of thumb is that if you haven't used it, you don't need it.
Lastly, make a pile of things you need but don't use often. This might include cleaning supplies, guest bedding, and extra blankets for the winter. While these things are necessary items to have in the house, they don't need to permanently sit in a room and take up space.
These are items you can use in hidden storage areas or in multi-functional furniture pieces that offer storage components as well. These three piles will help you declutter your space efficiently.
During your decluttering process, the goal should be to get rid of what you don't need. If you have the thought that you could save something and use it later, there's a good chance you don't need it.
When you're serious about decluttering, you'll end up getting rid of many items. A great way to turn your decluttering into a contribution is to donate gently used items! Not only can having less clutter help soothe feelings of stress, but it can help others.
Take extra pots and pans to the local thrift store. Drop your old sweaters and jackets off at a donation center. Many animal shelters appreciate towels. There are tons of ways to help your home and help the world too. Note: it's important to donate responsibly and read the organization's guidelines for donations.
Transforming Your Space With Handmade Pieces
Handmade pieces can transform your home and make it a cozy paradise for you, your loved ones, and your guests. Here at The Little Market, we know how important it is to make a comfortable space.
From your guest bedroom to your kitchen and living room, our collection of handmade goods will help you create more intentional spaces in every room in your home, so it's a space you love.