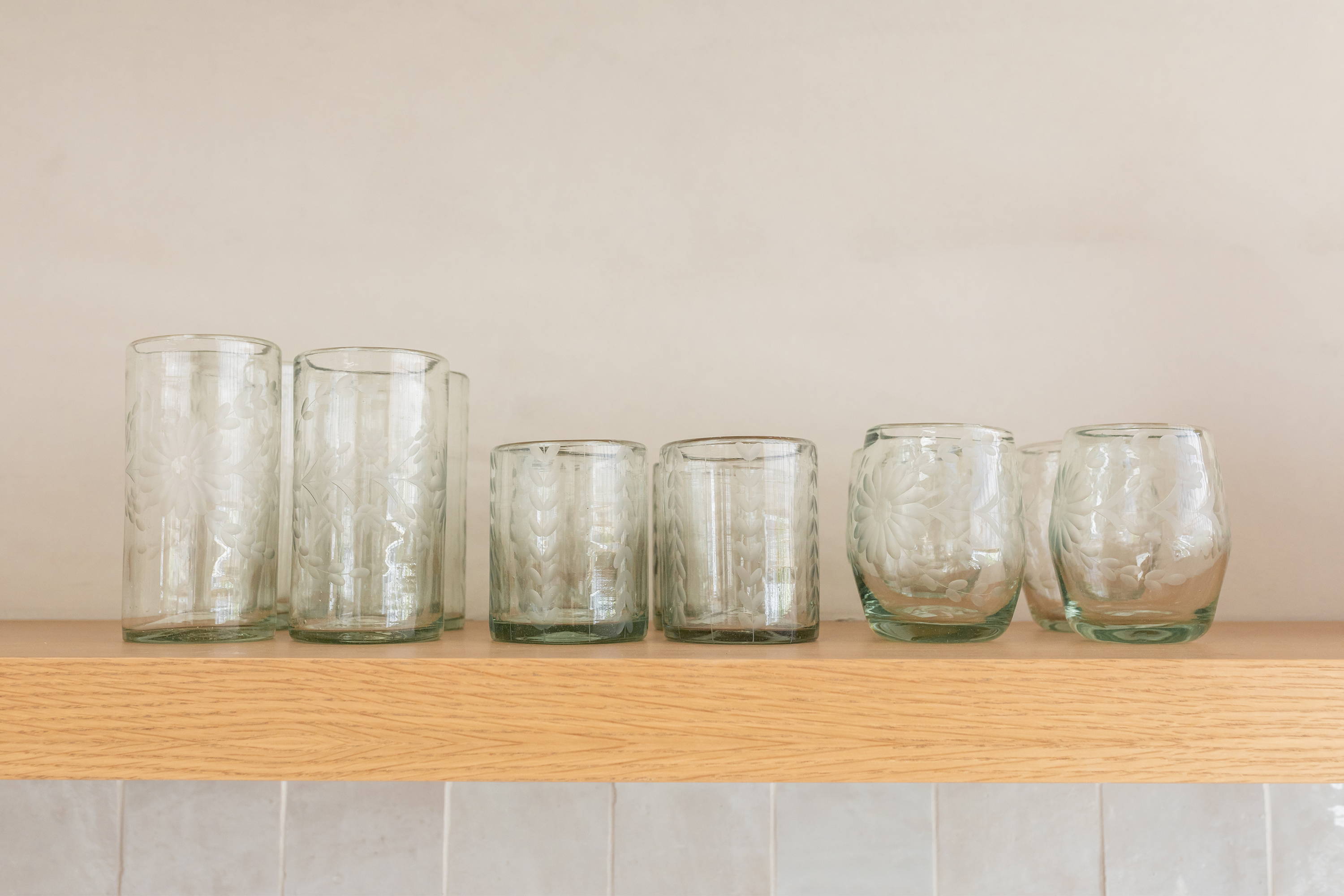 When you invite guests over to entertain them, carefully crafted drinks can brighten any party. Plus, having your very own bar helps you save money in the long run. You can make your own mixed drinks from the comfort of your own home and entertain both yourself and your guests at the same time.
To properly entertain your guests with your home bar, it's critical to know what you need. How do you stock your bar? What bar glassware do you need? What liquor should you stock up on? With so many options, there is a perfect setup for everyone.
This guide breaks down everything you need to know about how to stock your bar, from selecting bar glassware to choosing the perfect selection of drinks.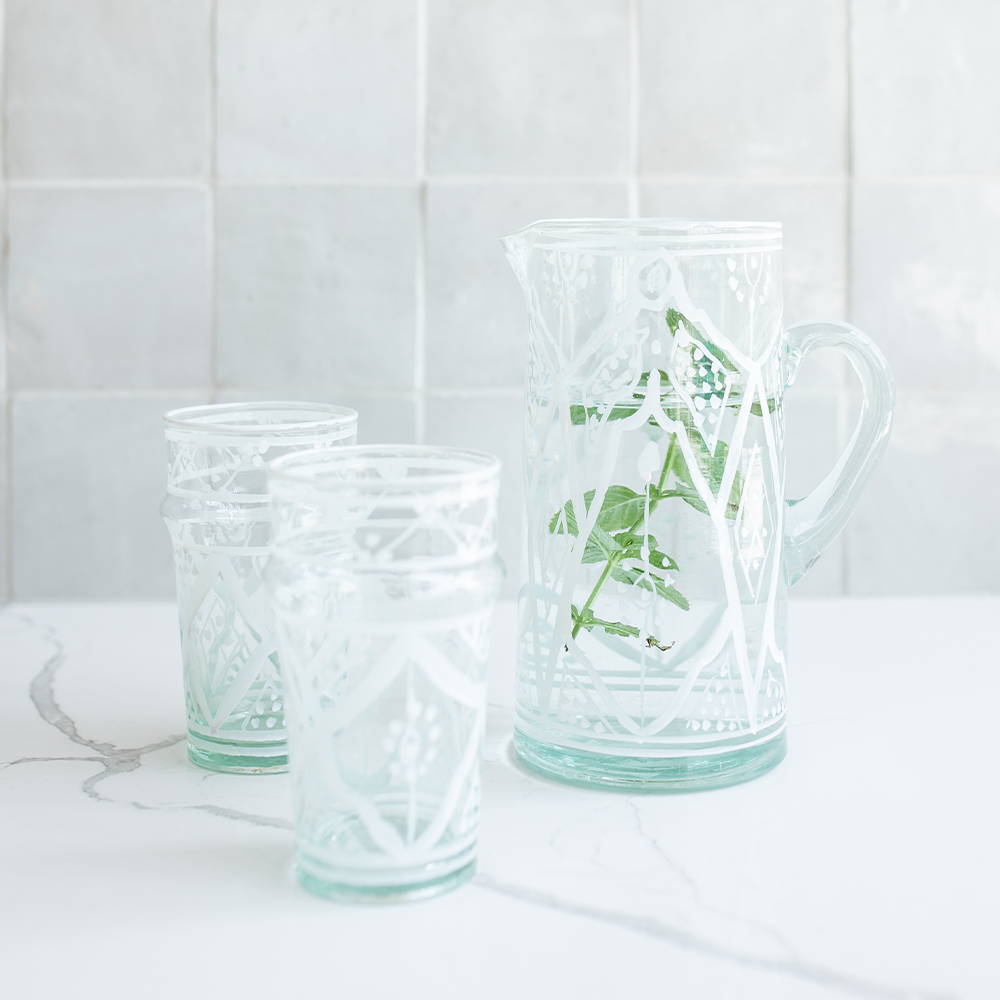 WHAT MAKES BAR GLASSWARE UNIQUE?
If this is your first time making your own at-home bar, you may be wondering what makes bar glassware so unique. Why do you need separate bar glassware from your dinner glassware?
There is something special about having bar glassware ready for your drinks, not to mention they're practical and designed for specific categories of drinks.
The glassware world is complex. In fact, it's almost as complex as the alcohol world itself. Serving wine, beer, and mixed drinks in a glass is the correct way to serve alcohol. There's something about receiving your drink in a pre-poured, high-quality glass that sets the tone for a refined but enjoyable evening.
Having bar glassware elevates your home bar and takes it to the next level. Your bar glassware needs will change depending on what kinds of drinks you want to serve at your home bar.
For instance, if you only want to serve simple wine, beer, and a few mixed drinks, you won't need as many containers. If you want to serve a variety of shots, cocktails, and more, you may need a larger variety.
WHAT ARE MY GLASSWARE MUST-HAVES?
The best way to decide what glassware for you to stock up on for your home bar is to start with simple glasses and work your way up.
So, what kinds of bar glassware are absolutely essential for your at-home bar? What are the bar glassware must-haves?
Let's take a look at cocktail glasses, beer glasses, flutes, collins glasses, pilsner glasses, champagne glasses, snifters, primary glass sizes, and more to get started.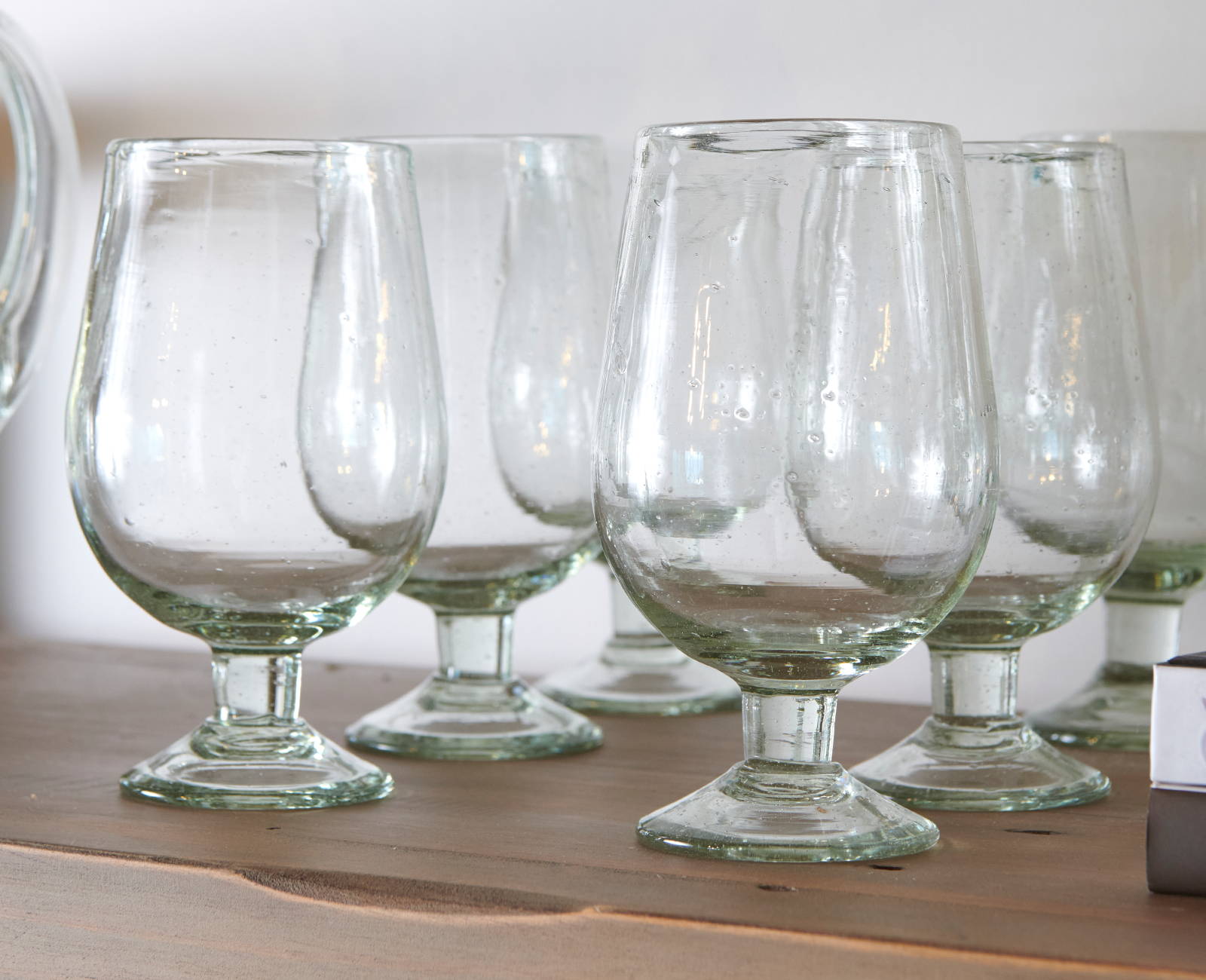 Cocktail glasses are a staple in a home bar. From serving piña coladas, mojitos, and martinis to cosmopolitans and old-fashioned cocktails, this is a must-have glassware piece for your bar.  
Our Hand-blown Cocktail Glass makes the perfect addition to your bar. Serve drinks in style with handmade, high-quality glassware that is made from recycled glass, and enjoy sipping classic drinks from timeless-looking glasses. Each glass holds up to 20 ounces of liquid in your favorite drink.
Every piece is handmade in Cantel, Guatemala by artisans working in a safe environment that supports livable wages and financial security. This work not only offers fair pay, but it also provides access to health insurance, job training, and life-changing educational opportunities.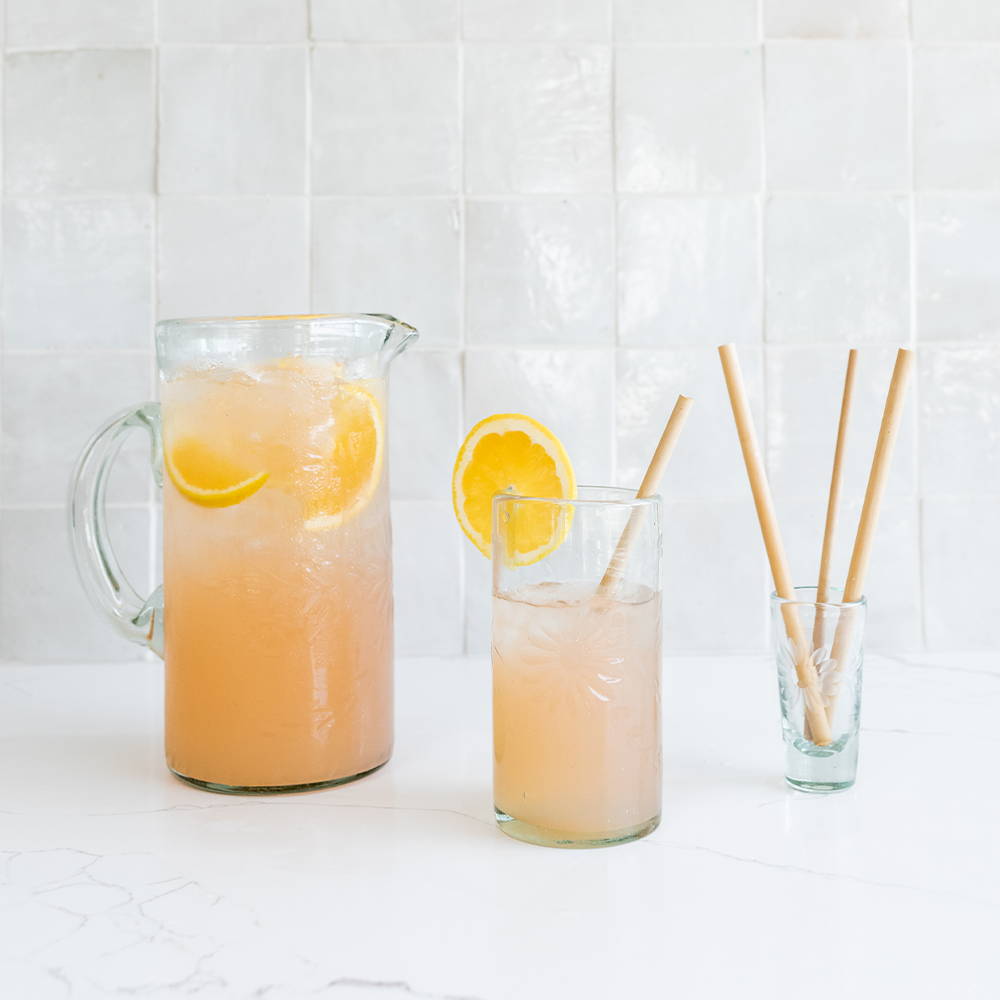 Another essential piece of bar glassware that belongs in your home bar is a snifter. A snifter is most commonly used for brandy and similar drinks. Its short-stemmed design allows for the hand to warm the drink while the aromas become trapped in the wide bowl of the glass. Snifters are shaped to have a wide bottom and tapered top with a short stem.
Use snifters to hold aromatic drinks like brandy, ales, including Belgian ales and India pale ales, wheat wines, and other drinks like cognac.
Looking for the perfect snifter addition to your home bar? Look no further than our Bubbled Glass Snifter in Clear. This piece is handmade in Egypt from locally sourced, recycled glass. Each purchase empowers artisans living in underprivileged parts of Egypt to earn a sustainable income and access a creative outlet in safety.
Whether you or your guests love spirits and want to sip on aromatic beverages in beautiful glassware, there's no better way to do it. Enjoy the unique, one-of-a-kind texture and design as well as the beautiful glass bubbling.
If you're looking for the perfect Christmas or holiday gifts for your friends and family, you can purchase a snifter by itself or in a set of four. Add this to your wishlist or a registry, or gift it to a friend today.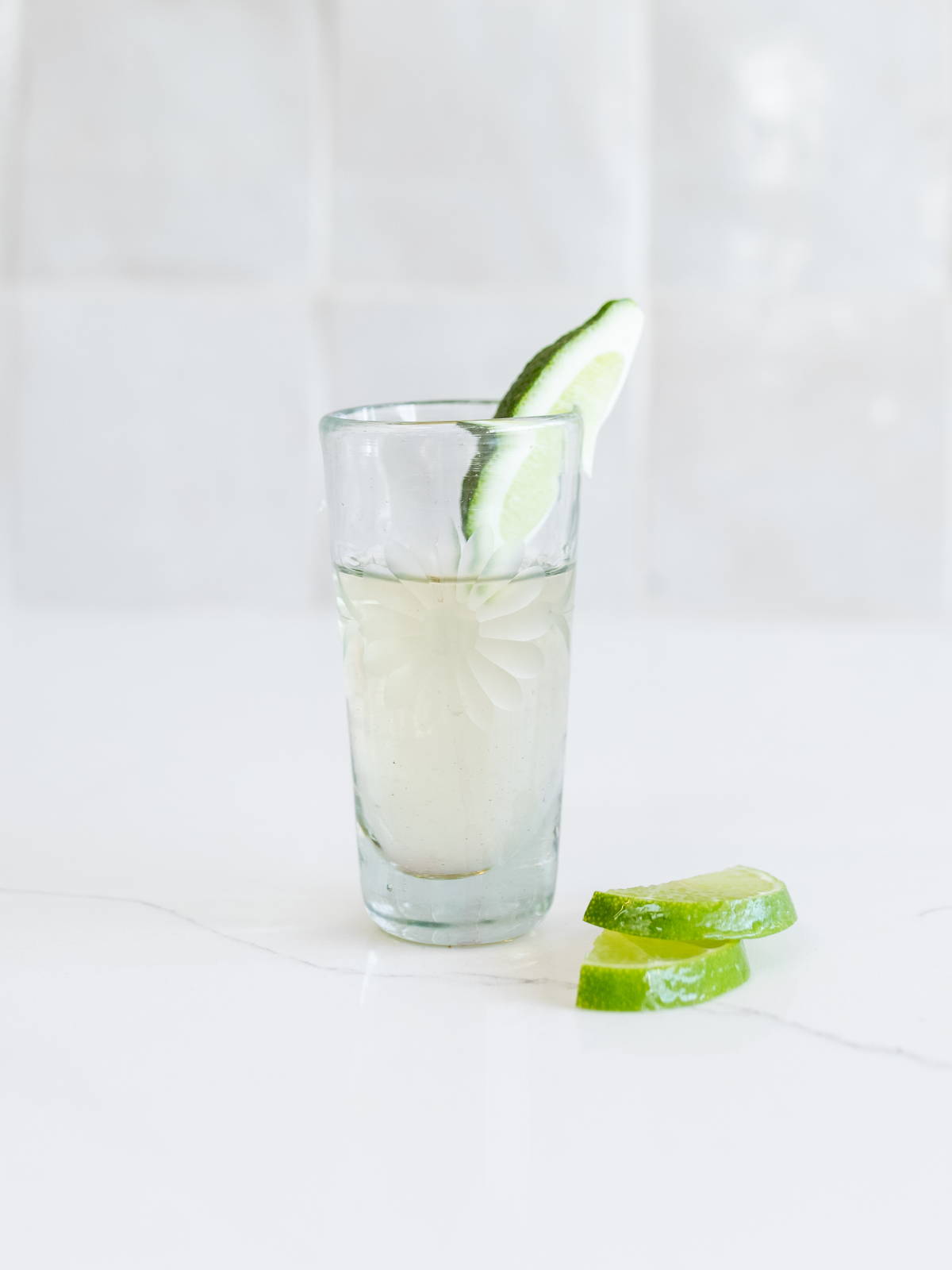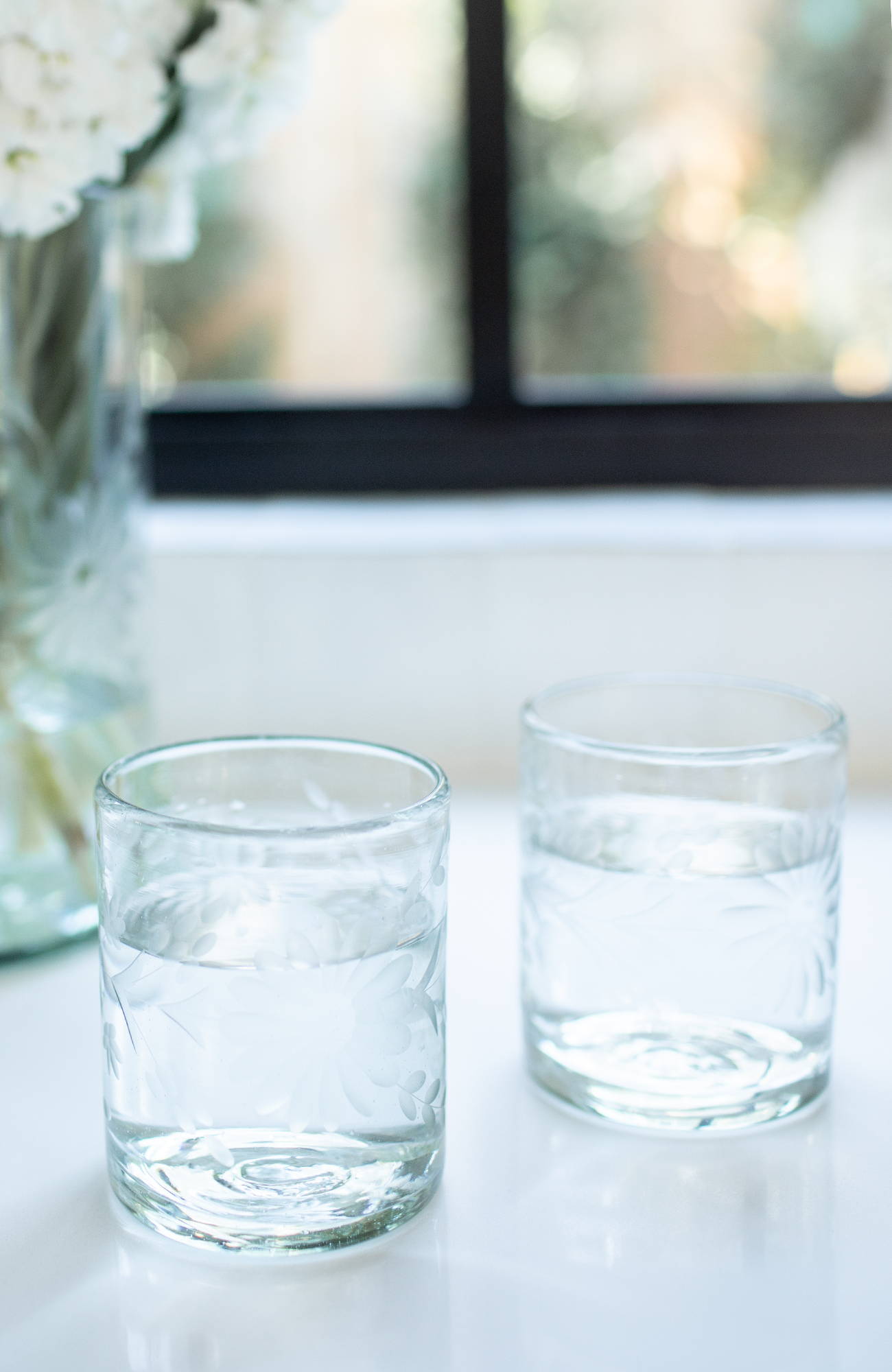 When you're hosting a party or celebration, sometimes shots are a great way to truly enjoy the night. Shot glasses typically hold around two ounces of your liquor of choice.
Shot glasses are multiuse tools in the bar world. They're essential glassware for your guests to drink from, and you can repurpose them as measuring cups for mixed drinks or cocktails. With two ounces of drink to hold, this is an excellent way to measure liquor.
Our Etched Shot Glass is a beautiful way to enjoy your evening at home. With etched flowers, leaves, and a whimsical, enchanting texture, this Hand-Blown Shot Glass is made with recycled glass and supports artisans in Mexico.
Available in clear, aqua, and French blue colors, this timeless Glassware helps complete any home bar.
Enjoy the same beautiful design in our Etched Short Glass with Clear Flowers. Also available in shades of aqua and French blue, this piece of Glassware is a must-have to hold any drink you enjoy, alcoholic or not. Elevating even a casual snack on the patio with these Glasses can add a touch of elegance and joy to any meal.
This is also an excellent Glass to use for the drinks you like to enjoy at the dinner table, with your family, or by yourself. Sip on your morning iced coffee or evening iced tea in style. These Glasses support artisans in Mexico with fair wages and a sustainable income.
When it comes to stocking your own at-home bar, it's vital to have the best margarita glasses. Margaritas are an excellent drink to enjoy during girls' night, dinner with friends, game night, or any celebration.
The classic margarita calls for a dash of liquor. However, if your guests prefer not to drink, you can serve delicious alcohol-free margaritas in these glasses as well.
Consider our Etched Margarita Glass available in aqua and French blue as well as the classic clear color. Each piece is handcrafted with flower and leaf designs for texture and dimension. Serve margaritas on the rocks, blended, salt, or sugar, and give your guests an experience they won't forget.
WHICH GLASSES SHOULD I USE FOR MY FAVORITE DRINKS?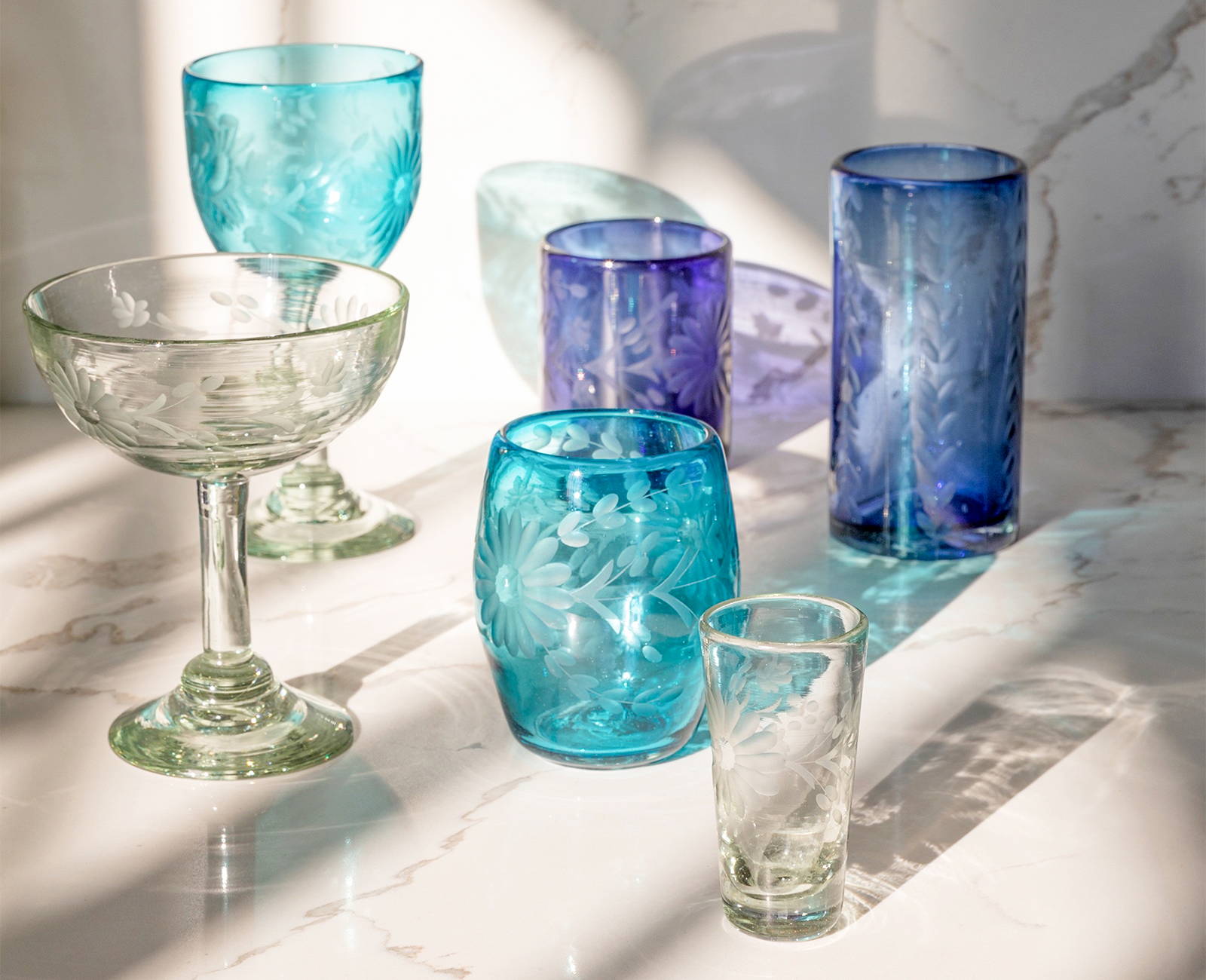 When you're considering building your very own at-home bar, it's essential to know what drinks and bar glassware you need to make your bar the perfect party destination. The basics of bar glassware include shot glasses, red wine glasses, white wine glasses, short and tall glasses, and cocktail glassware. However, there are many different types of glasses beyond just the essentials.
It's also important to consider what drinks you enjoy the most. Which drinks do you sip on most often? What drinks are your favorite? What kind of glasses should you use for your favorite drinks?
Read on to find out.
For all the whiskey lovers in your life, it's important to have whiskey glasses available in your home bar. What glasses should you use for whiskey? There are a few options.
Let's take a closer look below.
There are many whiskey glasses to choose from that complement different types of whiskeys. The shape is designed to enhance the drinking and nosing of whiskey, so you can enjoy aromatic drinks. Whether you're serving drinks to your guests or just enjoying your favorite kind of whiskey by yourself, having the proper glass can make a big difference.
Here's what you need to know:
A tulip-shaped glass is excellent for single malt whiskey.
The Glencairn glass is short and solid and excellent for swirling whiskey.
A whiskey tumbler or lowball glass is great for whiskeys you don't need to nose.
Highball glasses are excellent for scotch and sodas or Irish coffees.
Snifters are great for aromatic whiskeys.
A neat whiskey glass has a wide rim and is an excellent way to enjoy whiskeys with harsh vapors.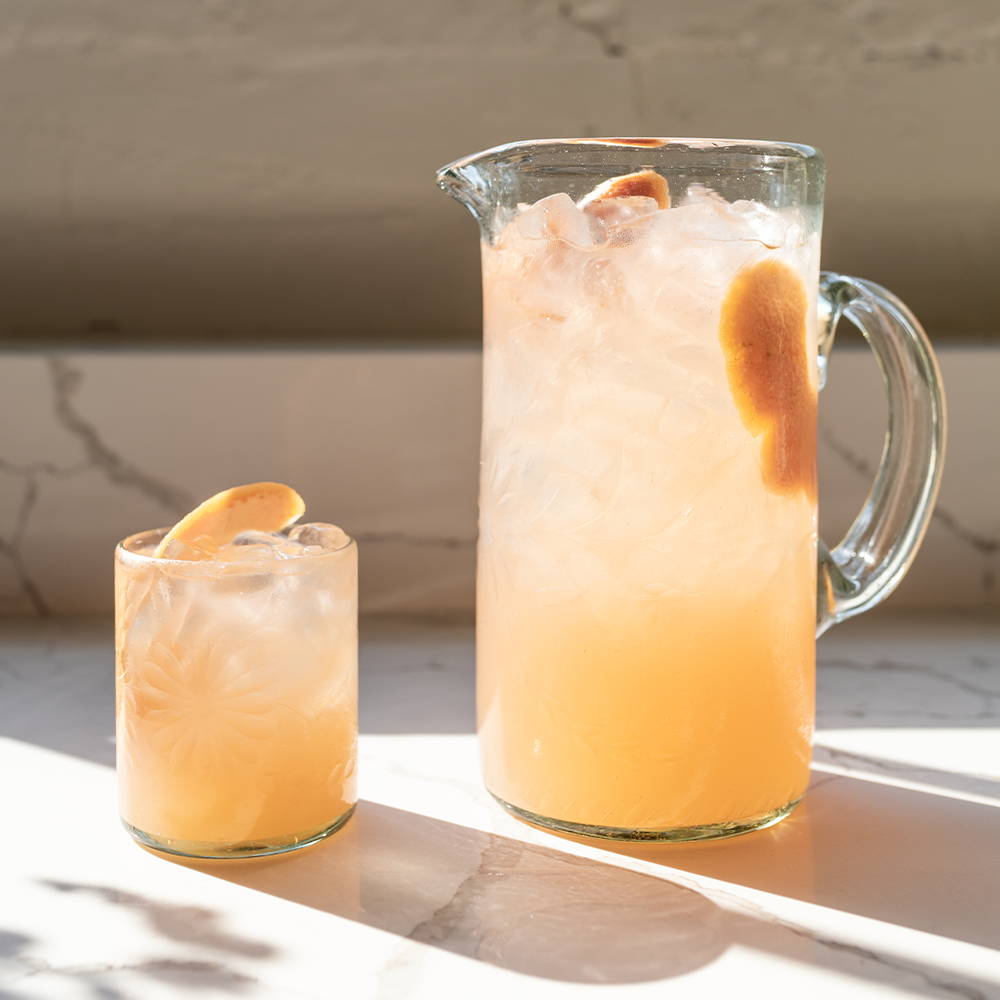 When it comes to vodka, whether you're serving it to your guests or enjoying it by yourself, you'll want to use a tumbler glass. This allows guests to pour the exact quantity of vodka they desire. You can also use other glasses, like shot glasses or martini glasses, to sip on vodka.
Drinks with tequila are savory and delicious, so if you're looking to find the perfect bar glassware for tequila drinks, here is what you need to know.
A tulip glass is best for savoring tequila. This is because the shape allows the aroma to build inside the glass. You can also use shot glasses to enjoy tequila and choose from various shapes and sizes. To spice up your shots, use pink Himalayan salt glasses and save yourself from salting the rim.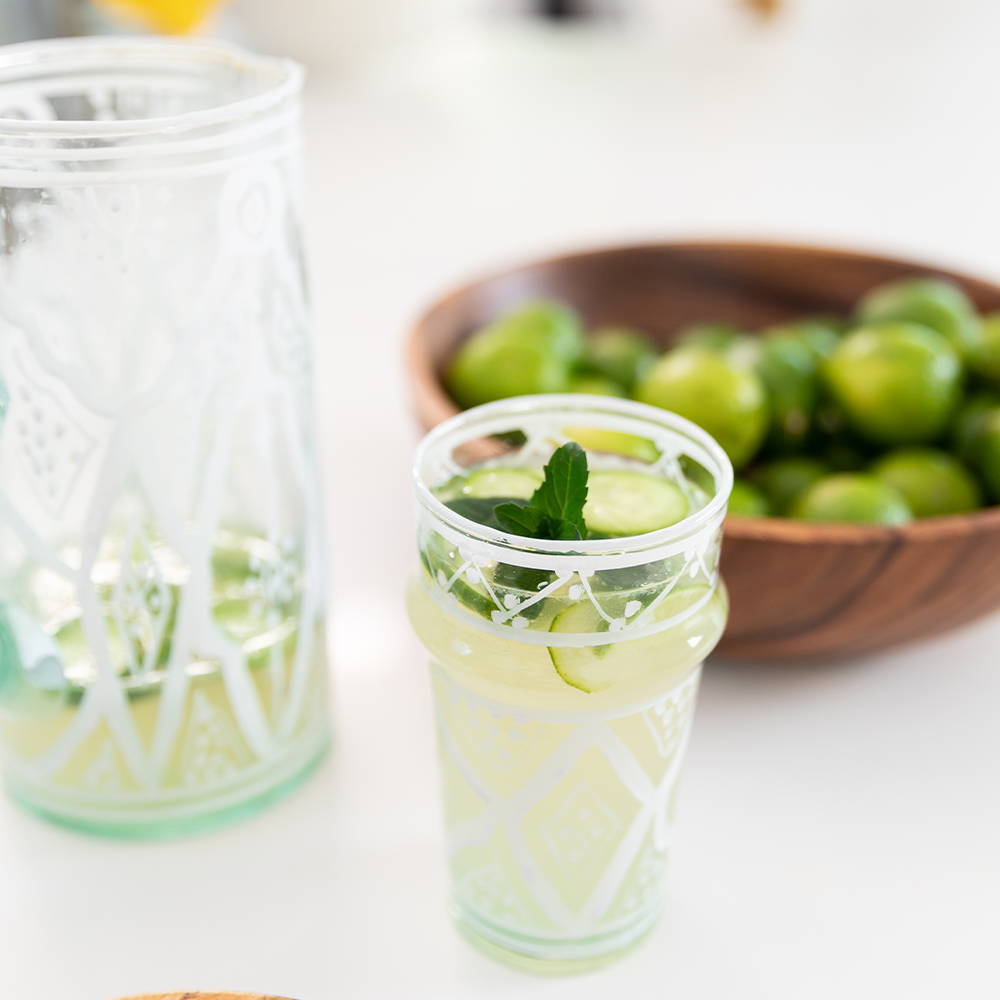 Both snifters and tulip-shaped glasses are excellent options when it comes to rum drinks. You can also use a highball glass to serve rum in, especially if you're making a mixed drink with rum like a rum with a cola.
If you love a gin and tonic, an old fashioned, a gin fizz, Tom Collins, or cocktails with gin in them, you need to know what glassware to serve gin with. Copa glasses, or balloon glasses, work really well for gin drinks. Lowball glasses and highball glasses also work excellently for serving and enjoying gin.
WHAT ELSE SHOULD I HAVE IN MY HOME BAR?
Stocking your home bar involves finding the perfect, classy bar glassware for you and your guests to enjoy. After all, your glassware is the first impression for your bar. Before your guests even taste the drinks you make, they encounter the glasses, hold them, and examine them. From an elegant get-together to a fun party, glassware matters.
However, there are also a few other essentials you need to stock your home bar up with. You'll need to have the perfect variety of liquors, mixers, cocktail ingredients, and other tools that will level up your bar.
Here's everything else you'll need to have in your home bar:
Now that you've picked out the bar glassware you want for your home bar, it's time to choose the variety of liquors to stock it with. There are a few basic types of liquor every bar needs.
First, you'll need vodka. This liquor is versatile, makes for excellent cocktails, and is a home bar classic. You'll also need to stock up on gin, which is a staple spirit used in many different types of cocktails, like the classic gin and tonic.
Whiskey is another essential for your personal bar. From serving your guests Manhattans and old fashioneds, this is a necessity. Plus, many enjoy whiskey all by itself. In addition to whiskey, consider adding rum to your stock.
Tequila and mezcal are two spirits based on agave and perfect for classic margaritas and more. Be sure to have this in stock in your bar. In addition to this, keep brandy, cognac, bitters, and classic beers and wines available.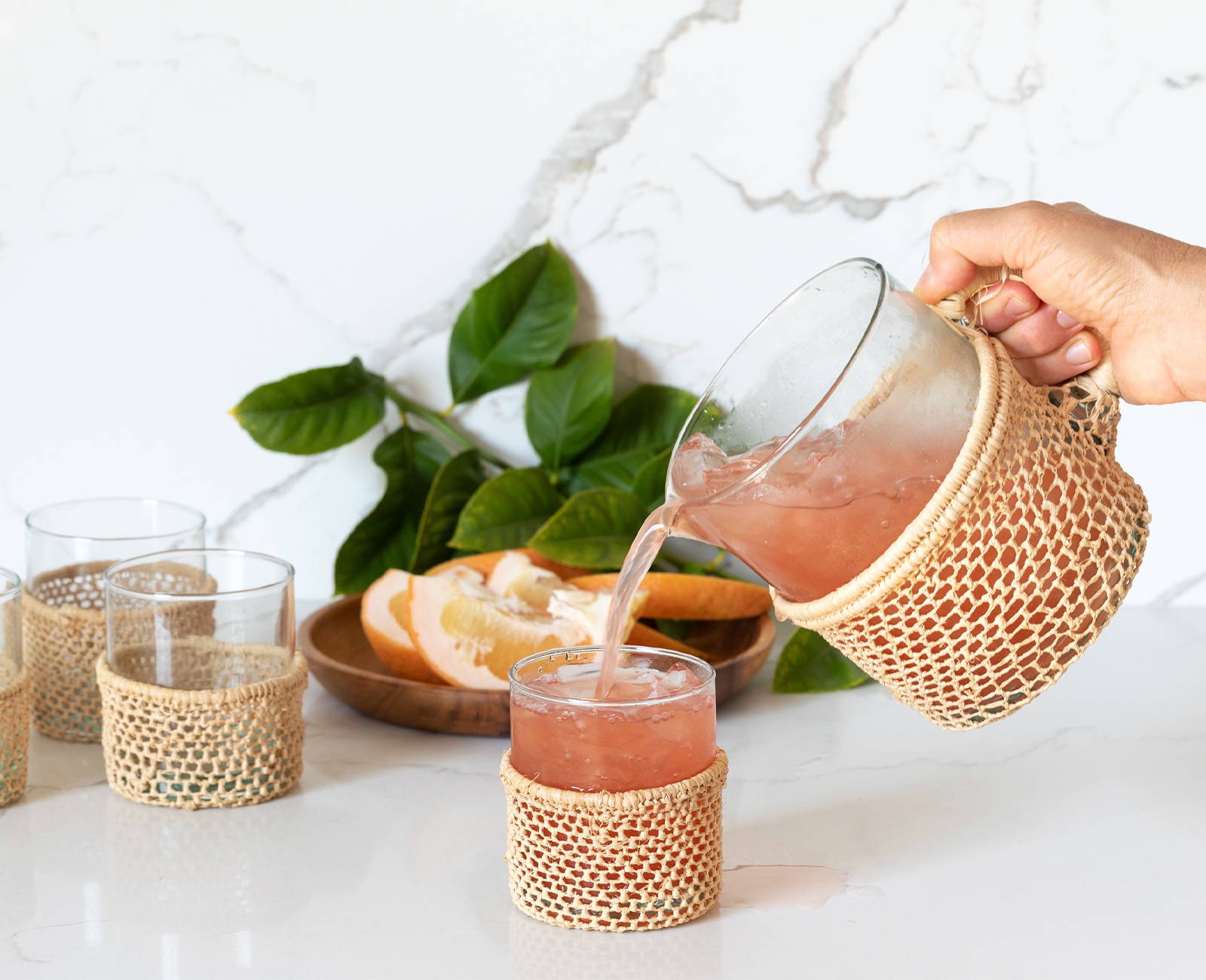 MIXERS AND COCKTAIL INGREDIENTS
In addition to liquors and drinks, you'll need some essential mixers and cocktail ingredients.
Here's what to grab:
Dark colas
Ginger ale
Tonic water
Lemons, limes, and other sours
Dry vermouth
Club soda
Oranges
No matter what types of glasses you have stocked in your home, you can level up your drinking experience with an ice bucket. Set out fresh ice so your guests can make drinks on the rocks or keep your bottle of wine cool in a beautiful glassware piece.
Our Etched Ice Bucket is the perfect way to make a casual date night turn into a five-star experience. Plus, the beautiful flower and leaf designs are perfect for any season. Whether you're planning a winter, spring, summer, or fall celebration with the ones you love, put it on ice.
Each purchase supports artisans at a social enterprise in Mexico that gives them a safe space to express their creativity, craft what they love, and earn fair, livable wages.
Elevate your at-home bar with this stunning Glassware piece and throw a party like no other.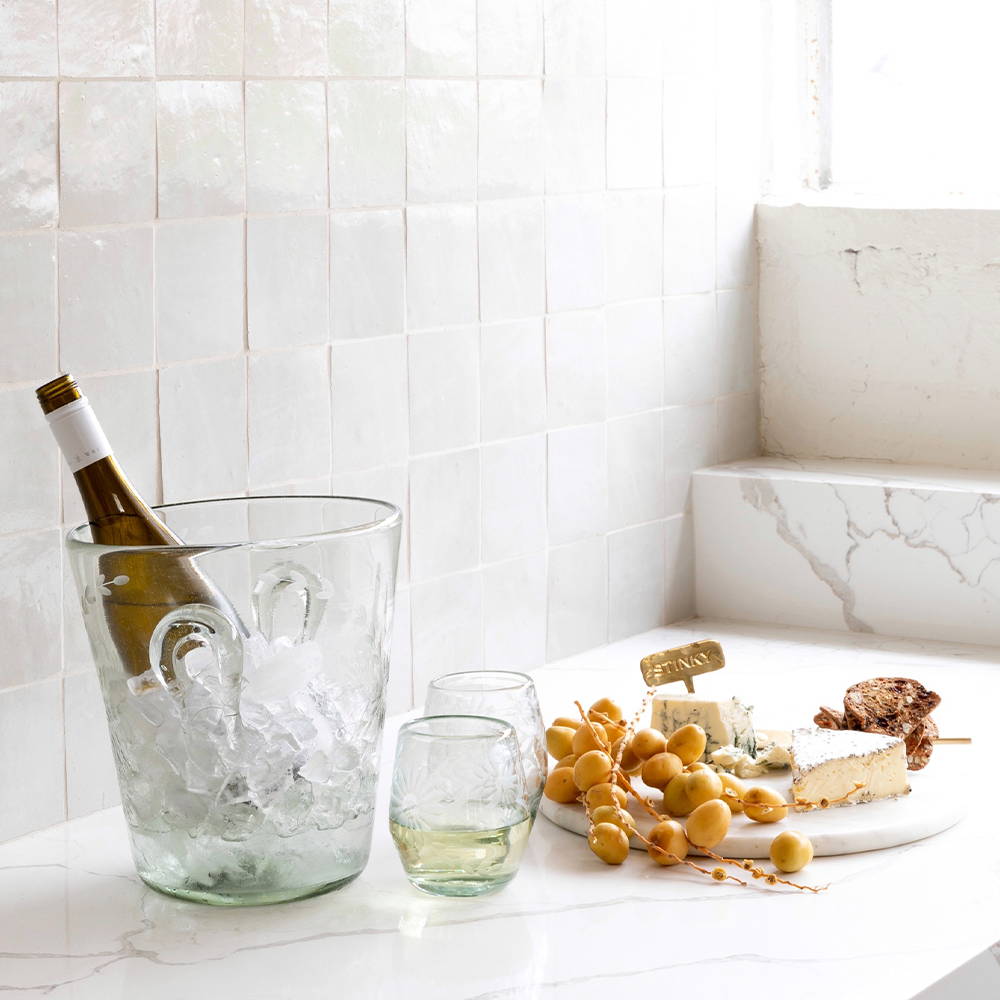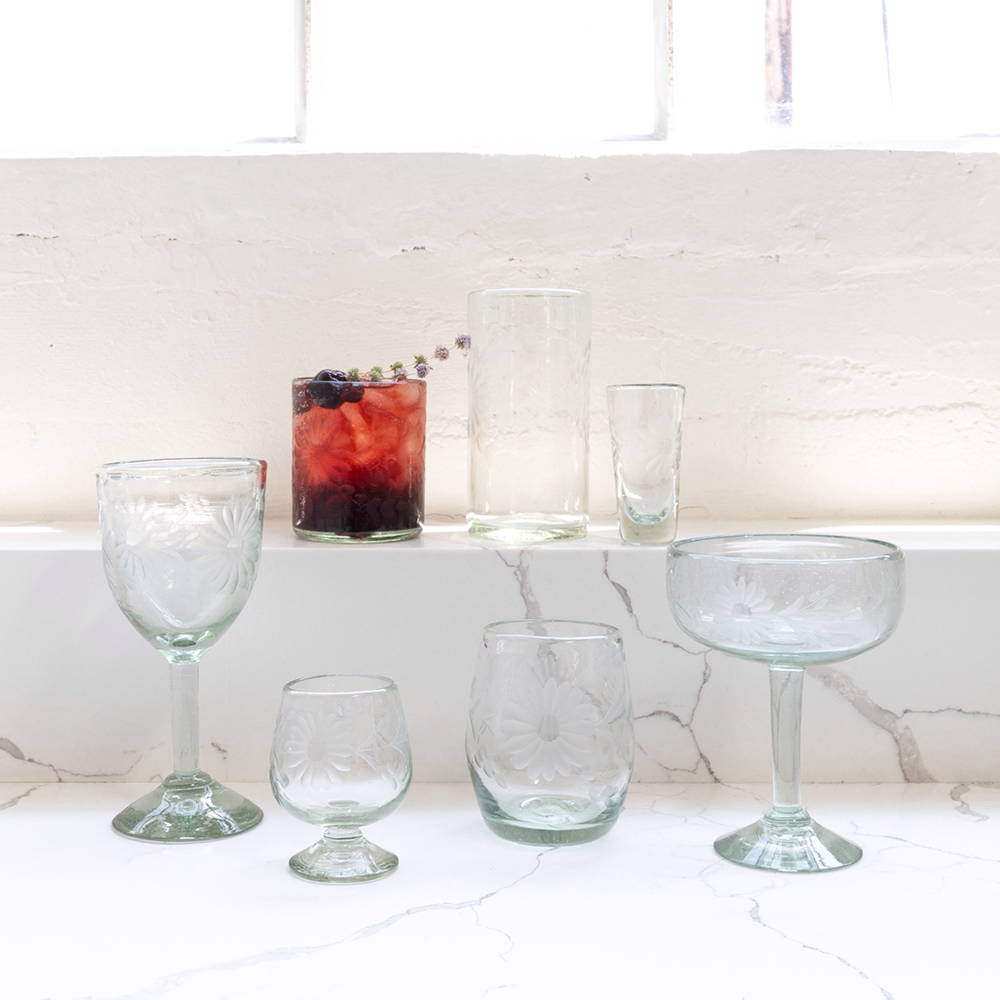 If you're planning on making any mixed drinks or cocktails, you'll need to have a cocktail shaker. This is what helps chill drinks and mix them before pouring them into the bar glassware you'll end up serving to your guests. You don't have to be a professional bartender to use a cocktail shaker well.
Here's a basic rundown of what you need to know:
First, you can use the tumbler side of the mixer as a mixing cup or glass to make stirred drinks. How do you know when to mix and when to shake cocktails? You'll want to shake your cocktails when you have ingredients like juice, alcohol, dairy, eggs, or cream.
In other cases, when your cocktail only has spirits like gin, vodka, vermouth, or whiskey, you can simply stir them. This is similar for drinks with sparkling ingredients.
To use your cocktail shaker properly, you'll need a measuring device. While your two-ounce shot glass is a great backup, you'll want a proper jigger. This has two sides that measure ½ ounces, single ounces, and more. After you've made a few cocktails, you'll get familiar with measurements, and using a jigger will be second nature.
A cocktail shaker helps elevate even the most novice at-home bartender into a professional at their craft.
Having your own bar at home is a great way to entertain friends and family, as well as save money. This guide breaks down what bar glassware to consider as well as everything else you need to make your home bar the go-to place in town.
Choose your favorite Bar Glassware pieces to support artisans all across the globe and serve your guests beverages in glasses that delight and inspire. Plus, with classic designs and a timeless theme, this glassware will last you years to come. Pull out your favorite pieces during the holidays, for parties and birthdays, or for social occasions and practice making your favorite cocktails!