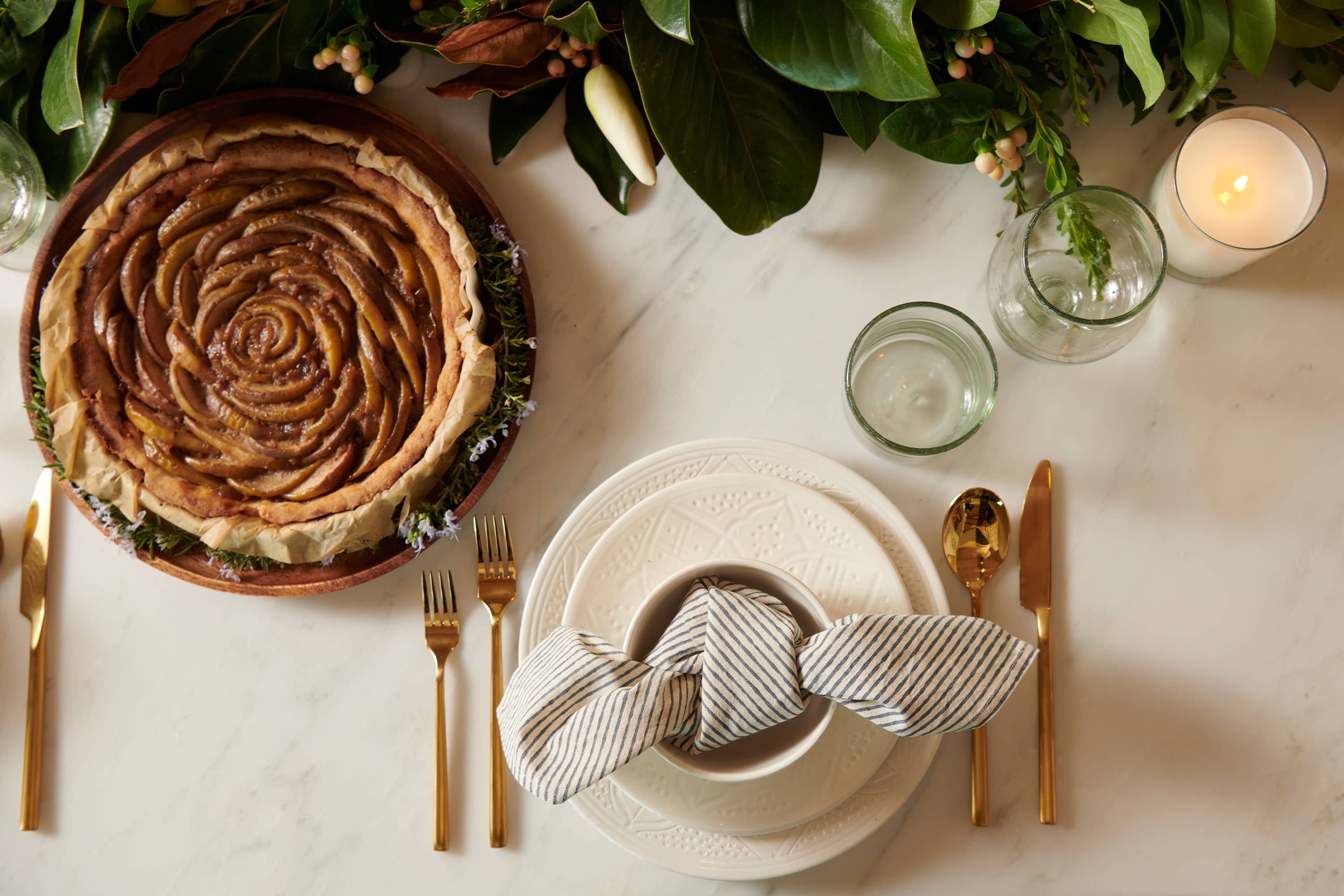 As the weather starts getting colder and your home starts getting warmer, it's time to start preparing for the holiday season. Maybe this means going to visit your family and friends in another state. Or, maybe you host extended family and loved ones in your own home. No matter how you celebrate the holidays, we all have the preparation routines we love.  
Thanksgiving dinner and Christmas dinner are two of the most essential holiday meals to prepare for. Aside from cooking, having the right Christmas dinnerware is an essential factor in creating a beautiful, welcoming space your loved ones can enjoy. Plus, what better way is there to display the homemade dinner you've made than on handmade dinnerware?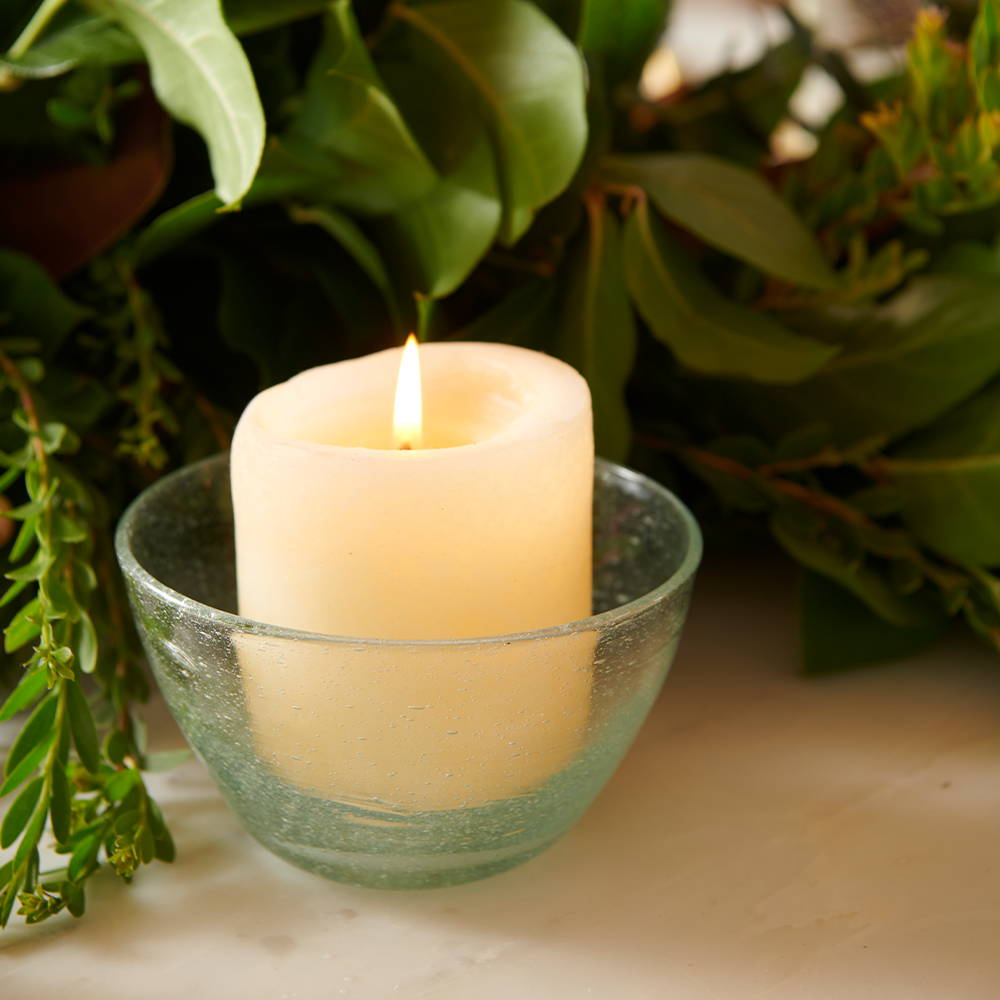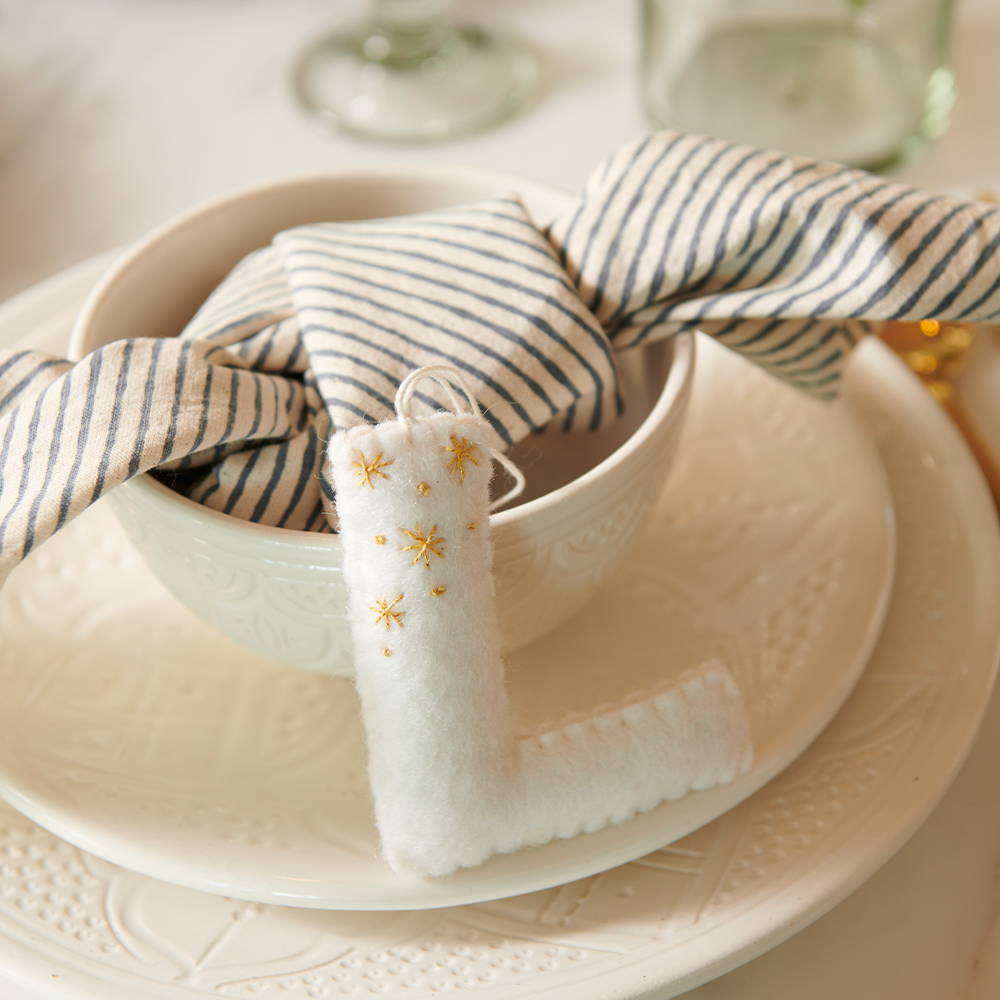 This simple guide breaks down how you can take your beautiful dinnerware to the next level and create the best dishes to display the holiday spirit.
Read on to learn more.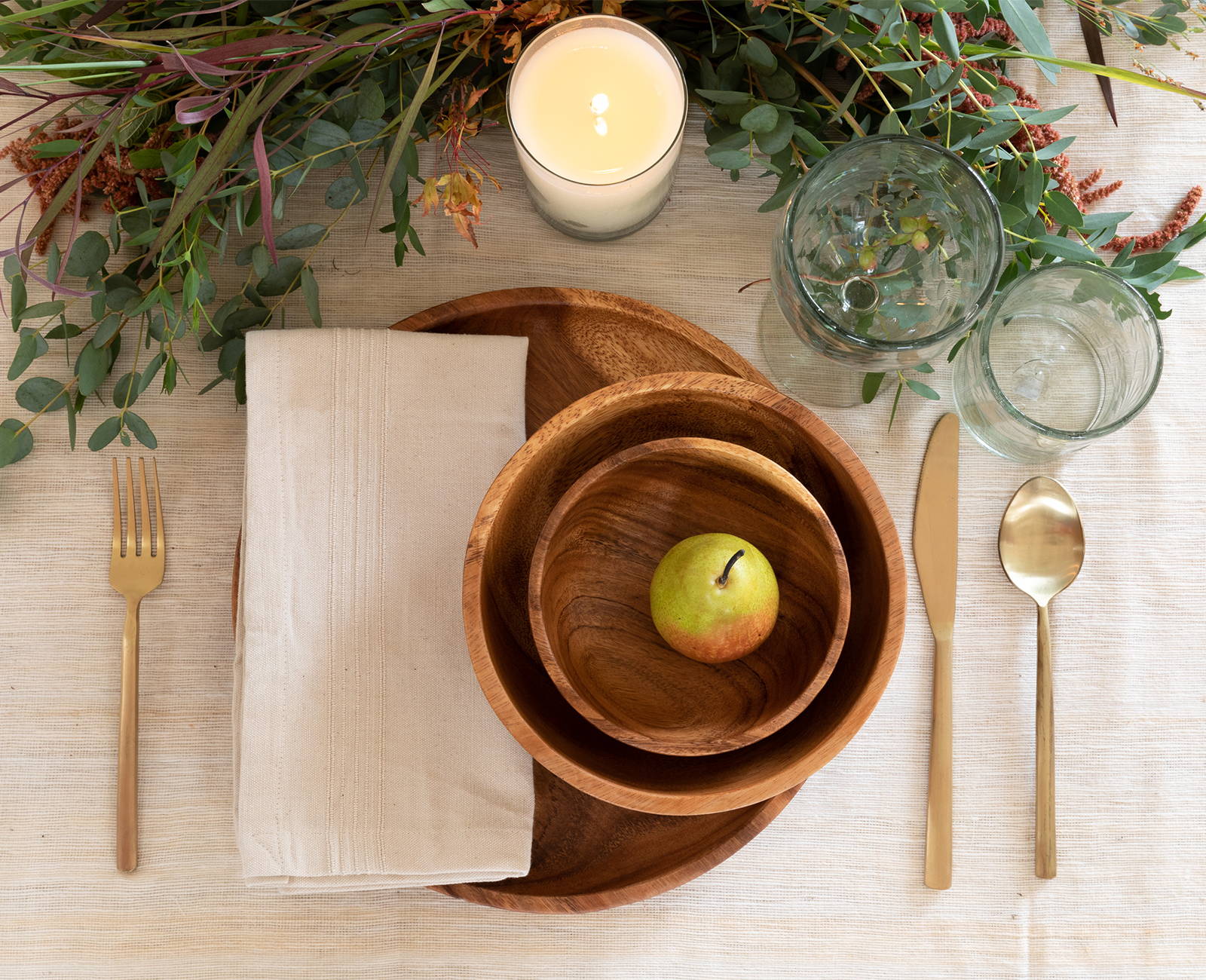 HOW DO I MAKE MY CHRISTMAS DINNERWARE FESTIVE?
You can find simple Christmas dinnerware almost anywhere, but they're typically not always festive or unique. When you set the dinner table, you want it to feel warm, welcoming, and beautiful for your guests.
Finding dinnerware that captures the Christmas spirit and adds a level of festivity isn't easy. Luckily, there are a few handmade pieces that can help. Look for texture, wooden tones, and simplicity to level up your dinnerware.
Here are a few go-to dinnerware pieces:
WOODSY WOODEN PLATES AND BOWLS
Add a whimsical forest theme to your dinner plates with an Acacia Wood Dinner Plate. Handmade in the Philippines, these plates are hand-carved from acacia wood and add a beautiful, rustic look to your dinnerware sets.
Plus, with a variety of size options, you can find the perfect salad plates, dessert plates, side plates, chargers, and appetizer dishes for every unique occasion.
The wooden tones add a unique touch to your Christmas décor and complement pine trees, the Christmas tree, ceramic pieces, and more. Each purchase empowers artisans and carvers using sustainably sourced wood in rural communities of the Philippines.
CHARMING CERAMIC CUPS AND MUGS
There's nothing quite as beautiful and elegant as white ceramic dinnerware. Whether you're looking for mugs, cups, or table decorations, our Moroccan Ceramic Cup adds a certain charm to your spread.
Available in colors like white, blush, gray, and black, the fun patterns and lightweight feel make for the perfect addition to your Christmas décor and dinnerware. Not just a drinking vessel, by adding a few sprigs of evergreen, you can brighten any home.
Enjoy the same look and feel in our Ceramic Mug. With a handcrafted handle and a beautiful range of color and design options, there's no better way to cozy up to the fireplace and serve after-dinner hot chocolate.
Another excellent way to spice up your Christmas décor and make it festive is to look for ceramicware with unique patterns. Our Ceramic Salad Bowl is available in blush, white, and gray and is the perfect way to add a dainty touch to your holiday sets.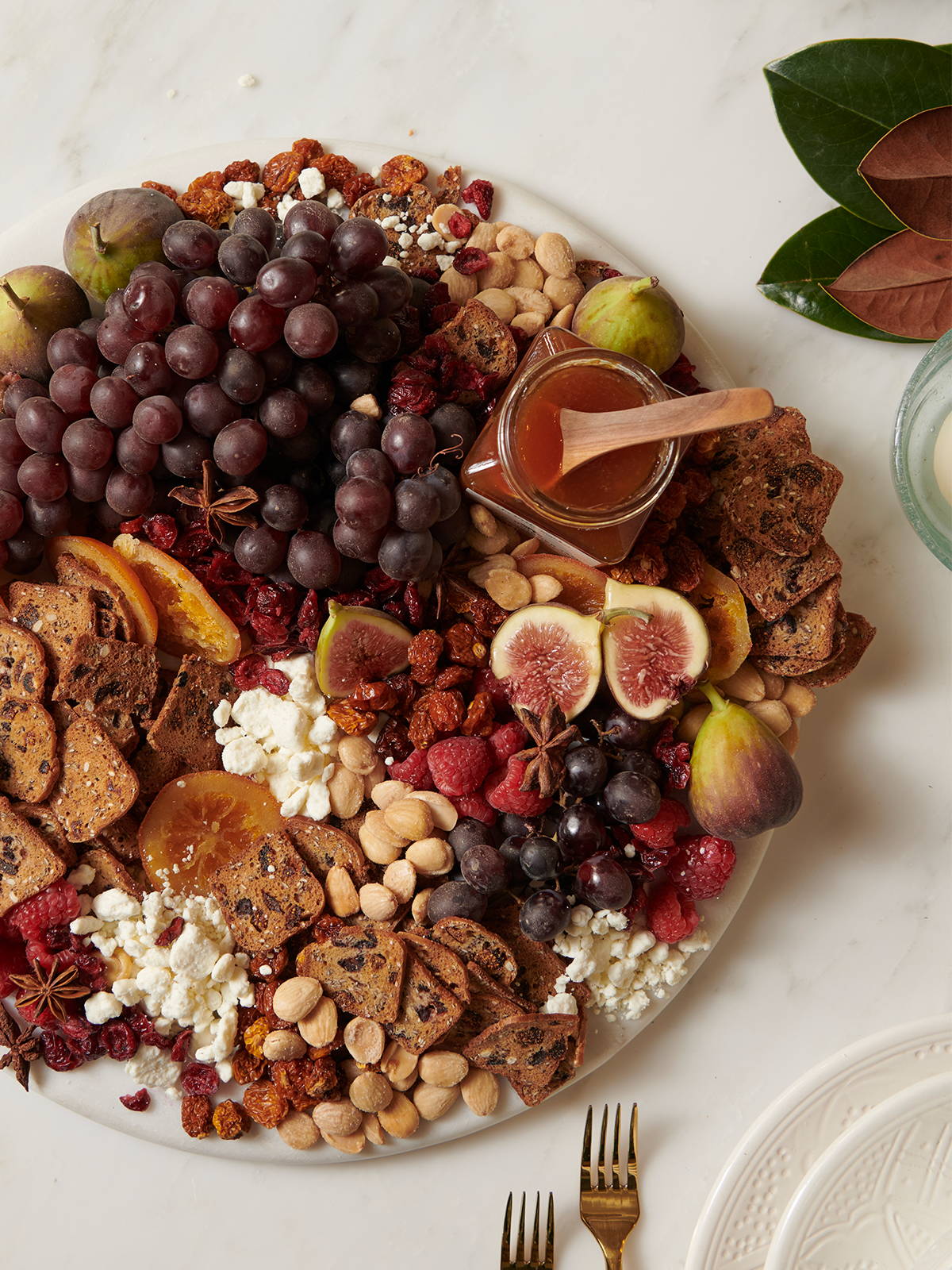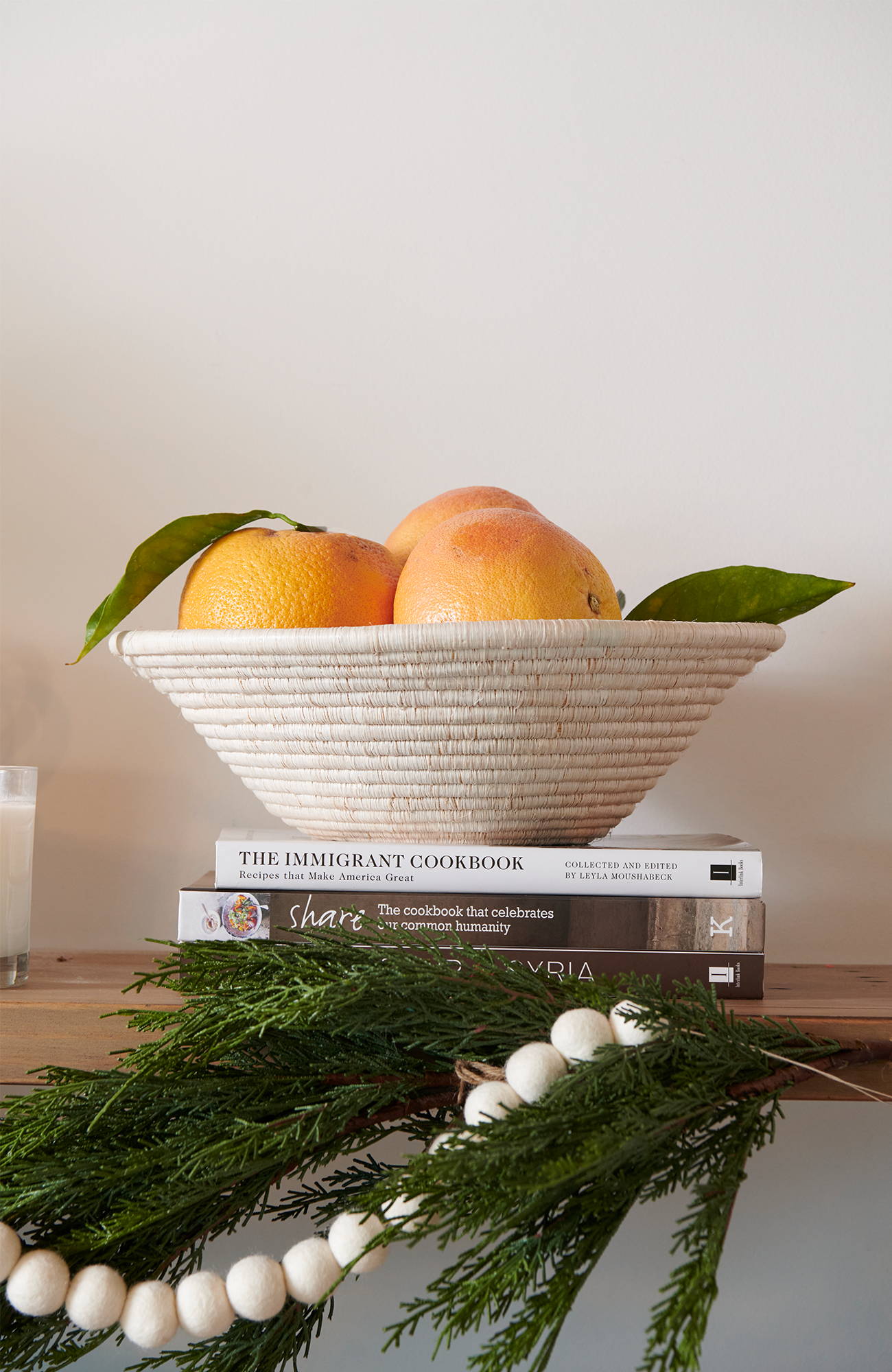 DO I NEED SERVING TRAYS AND BOWLS?
When you're considering what dinnerware pieces and sets to include for this holiday season, you may be wondering whether you need serving trays and bowls. Having serving trays and serving bowls in the center of your table is not only practical, but it adds texture and depth to the center of the table too.  
Take a look at our Olive Wood Condiment Bowls in a set of three to add texture and wooden tones to your Christmas dinnerware. Each purchase supports artisan wood carvers in Kenya with a dignified wage and working practices.
WHICH BAR GLASSWARE SHOULD I INCLUDE?
Making festive drinks during the holidays is one of the most exciting parts of gathering together with the ones you love. If you're not sure what to make, keep it simple. Keep some basic liquors on hand for cocktails, and grab some red wine to help your guests get into the Christmas spirit.
Below are some of the bar glassware necessities to raise a glass to a brighter new year.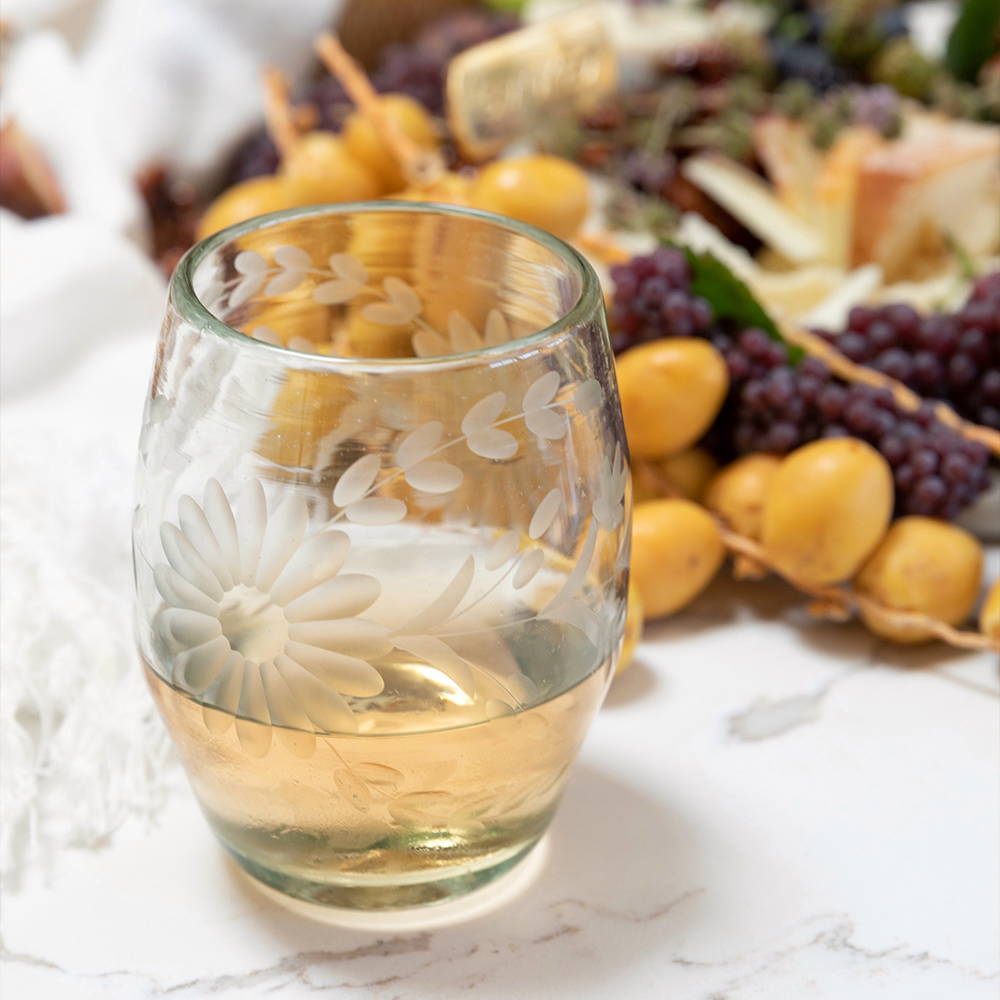 LOWBALL AND HIGHBALL GLASSES
Whether you're serving guests your secret iced hot chocolate recipe or making holiday-themed cocktails for them to enjoy, our Hand-Blown Lowball Glass is the best way to serve it. In a simple, elegant style, this piece is so timeless that you'll be able to use them all year round and keep them in rotation for decades to come.
Does your new recipe call for a highball piece? Our Hand-Blown Highball Glass is a beautiful addition to the dinner table. Whether you're serving eggnog, lemonade, or sweet tea, serve it in style.
This glassware supports artisans who live in Cantel, Guatemala. These artisans earn fair, liveable wages that support their career and financial stability. The glassware is also made from recycled glass with environmentally friendly practices that, in turn, support Mother Earth right back.
When it comes time to serve your famous holiday cocktails, look no further than our Hand-Blown Cocktail Glasses. Handmade in Guatemala, these glasses have a classic look that never goes out of style. No matter what you're celebrating, these recycled glass pieces are one-of-a-kind and add the perfect touch to your holiday festivities.  
These pieces are also handmade in Cantel at an artisan-owned cooperative that helps support local artists and workers by providing a sustainable income and livable wages.
If you're looking for the perfect Christmas gift for your loved ones or family members who enjoy cocktails, this gift is an excellent option. Not only does it support a fair trade mission, but the timeless look will make a gift they'll use for years to come.
There's no better way to celebrate the holidays than by drinking your favorite glass of wine. Sip your favorite drinks from our Hand-Blown Stemless Wine Glass and support recycling efforts and artisans earning fair wages. These are the perfect gift for a family you love and the perfect way to host Christmas dinner in your own home.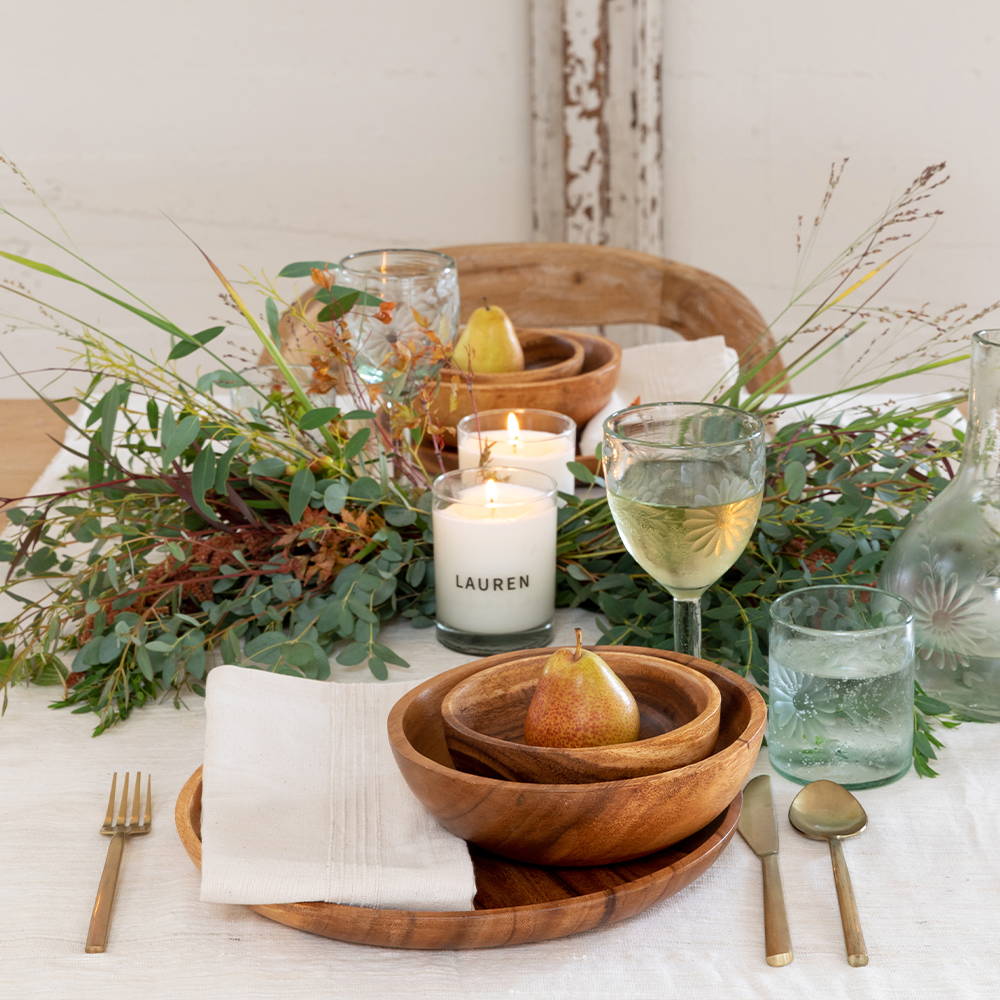 HOW DO I MAKE MY CHRISTMAS PLACE SETTINGS FESTIVE?
Hosting Christmas dinner for your immediate and extended family, friends, and other guests is a chance to convey your love and appreciation.
Here are a few tips for how you can make your Christmas place settings festive and welcoming: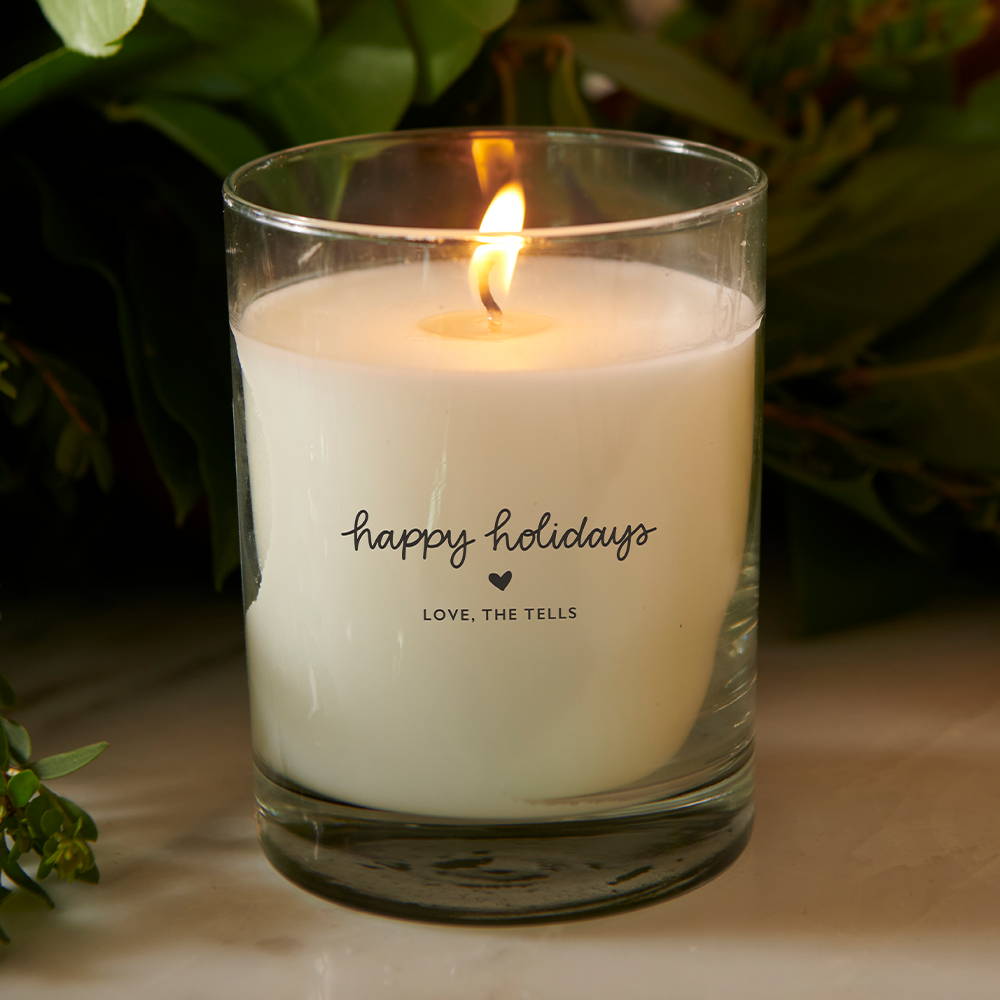 HOLIDAY CANDLES
When you think of Christmas, what comes to mind? In addition to soft Christmas music playing and spending time with family, you likely think of a few Christmas scents too. The holidays aren't the same without fragrances like cinnamon, apple, pine, and more.
To truly captivate the season, consider getting a Christmas candle to add the perfect touch for your holiday festivities. Our Holiday Candles are an excellent choice.
These candles are made with fragrances based on essential oils, providing the benefits of aromatherapy. From the festive label to the fragrance of your choice, you can enjoy filling your home with the scents you and your guests love.
WREATHS AND BOWS
When your friends and family come to your door on Christmas Day, making sure they feel welcome and festive as soon as they step on your porch is important. Consider decorating your home with a festive wreath.
Choose from simple themes with neutral colors to bright wreaths with bows and glitter on them to add the perfect touch to the exterior of your home. You can also opt for a simple bow instead of an entire wreath.
Whether you want to add a single bow to your front door or accent each window with its own bow, this is a simple way to add Christmas décor to the exterior of your home without having to untangle a bunch of lights.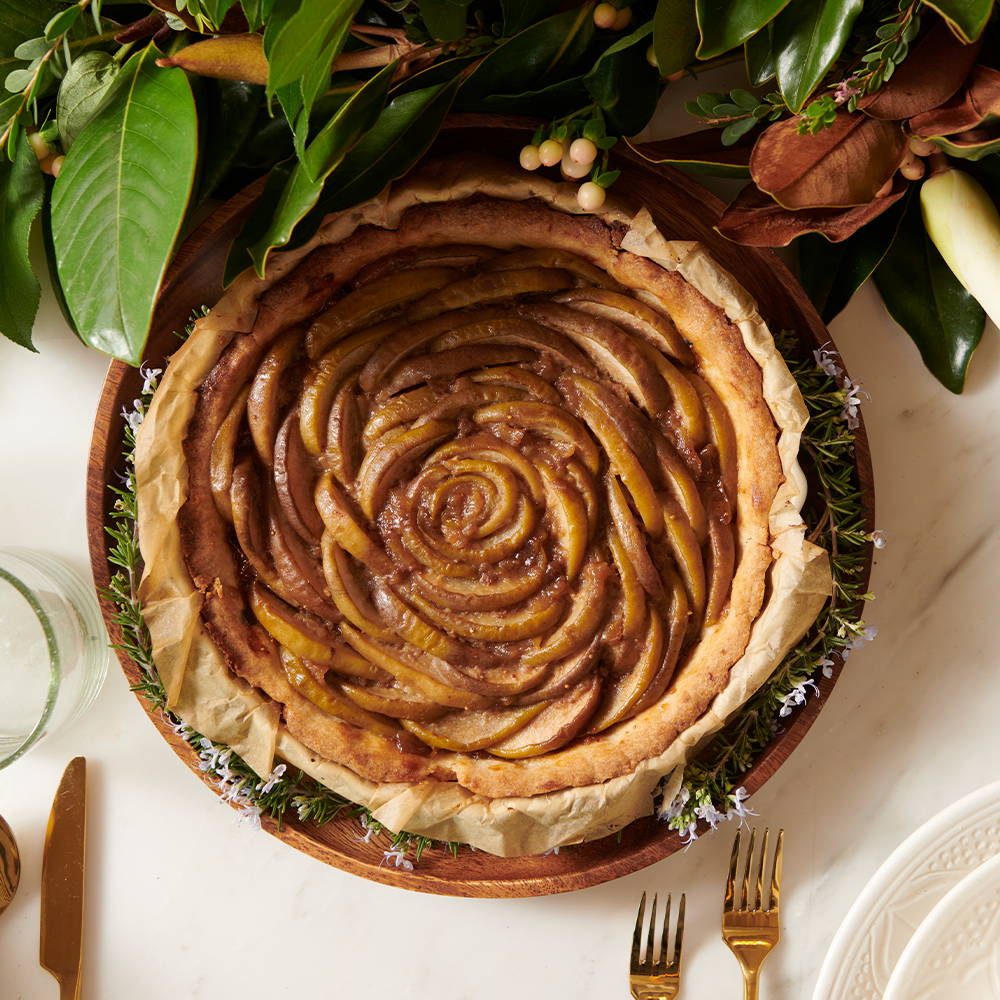 Floral arrangements are another great way to add a festive touch to your home. Whether you choose fresh flowers or artificial flowers, here is an easy way to create your very own Christmas floral arrangement.
First, pick your vase. You can choose from these pitchers, the vases, or even a mug or cup you already have.
Next, choose your color scheme.
For a bright and joyful Christmas theme, use neutral tones like pink, tan, green, and white.
For a dark and serene color palette, consider maroons and reds, whites, and dark green colors.
For your vase, take a few pieces of scotch tape and make a criss-cross pattern. It should look similar to a woven pie crust. This will help keep your flowers up and make your arrangements look full.
Lastly, place your flowers in your vase. You can alternate flower height and color to create a fuller arrangement and create a whimsical look.
Add your floral arrangements to your dinner table, side table, entryway, or mantel.
The holidays are all about celebrating what we have, taking a moment to be grateful, and looking forward to a brighter future. At The Little Market, we are dedicated to providing a merry and bright future through fair trade practices.
With a few simple touches, any Christmas celebration can be truly magical. With a dash of décor and some careful color coordination, this winter will be one to remember.