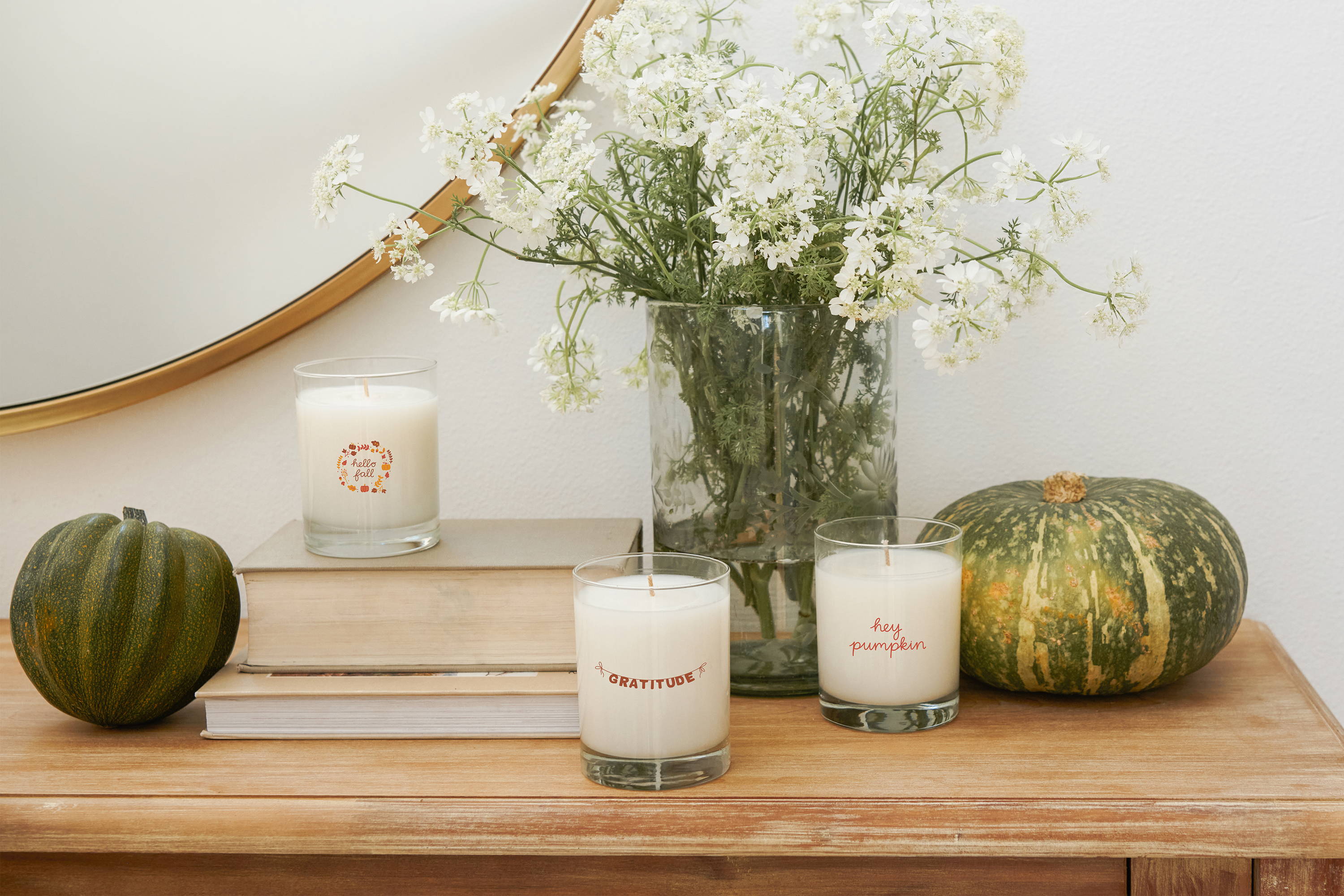 Fall is the season that's most imbued with memory. With spring, there's renewal and beginning. With summer, it's the vibrancy of the present. Winter, there's stillness and waiting.
But fall — during fall, the whole earth begins its slow wind down. And our minds and bodies long to join in. Our inner systems can begin to sync up when we ease them into a steadier pace. If we take our cues from Mother Nature, our ordinarily busy minds can make room for rest and remembering.
You can begin by looking up and looking around.
The Blue Ridge Mountains are especially breathtaking this time of year. The whole mountainside warms over with rich depths of color — burgundy, gold, emerald. If the trees could speak, they'd be humming something ancient and folkloric.
The season's shift begins in them from inside to out. Nature is always challenging us and giving us lessons on living and breathing in this world.
But not all of us can forego our routines for a meditative hike in the mountains. However, even a micro-trip to the forest can do wonders for the spirit. Nonetheless, our full schedules are so often out of our control.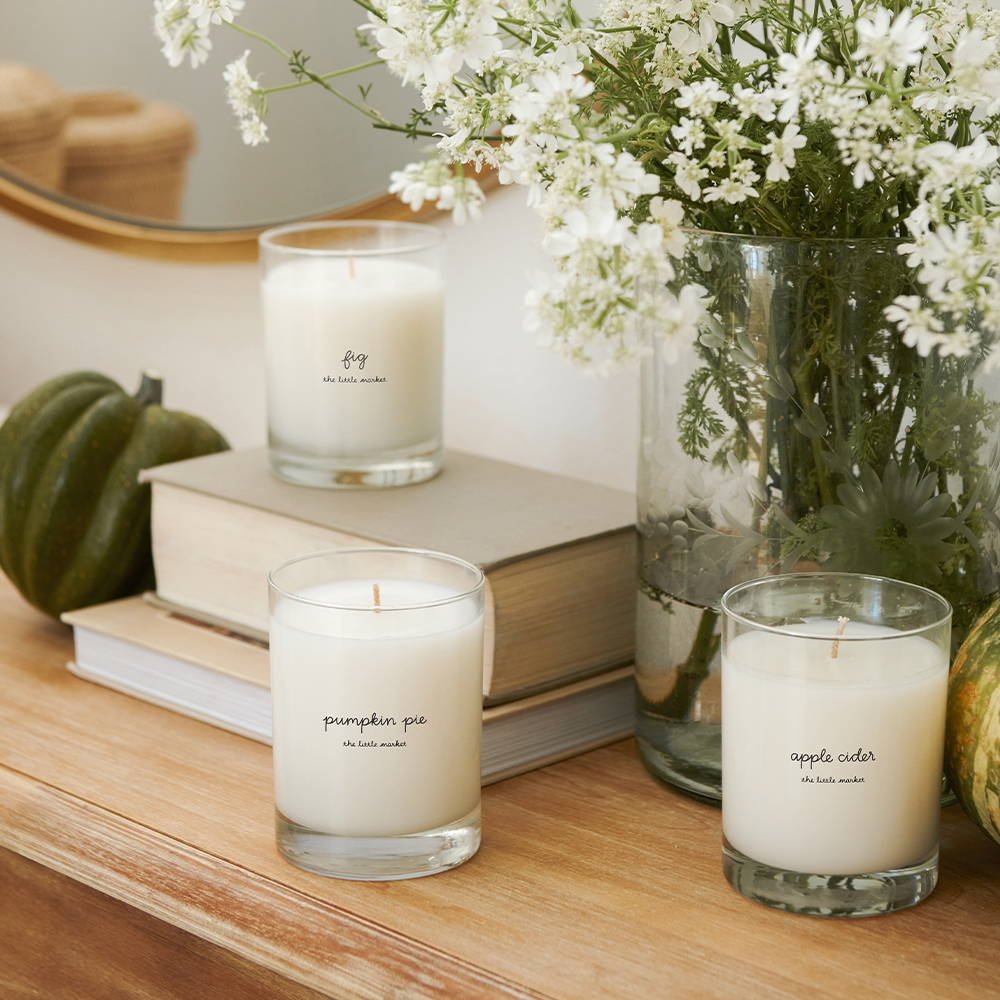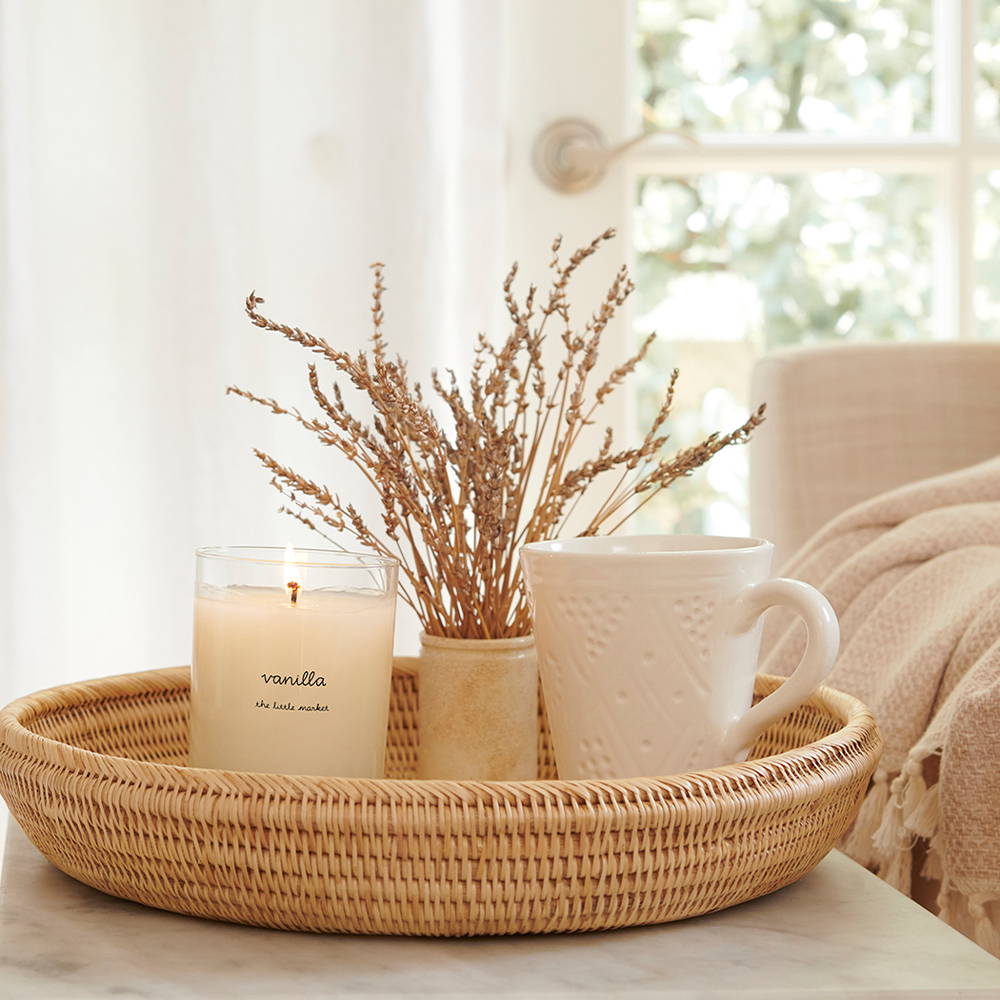 So we have to find and experience autumn's abundance where we can.
So many of us are in our homes. It's become not only a place to begin and end our days, but a place where almost all our existence unfolds.
It's where we eat our acai bowls and drink our favorite batch of Single-origin coffee in Handmade mugs. It's where we water our monstera deliciosa while listening to a moody fall playlist. It's where we get behind on laundry and emails and make time to bake from scratch on Sundays. It's a place where excitement and the mundane intermingle.
Here at The Little Market, we want to bring autumn in. Going out to spend the days in nature's autumn is a bit ad hoc for many of us, so we want to make your life that much easier, that much sweeter, with our specially curated Fall Candles Collection.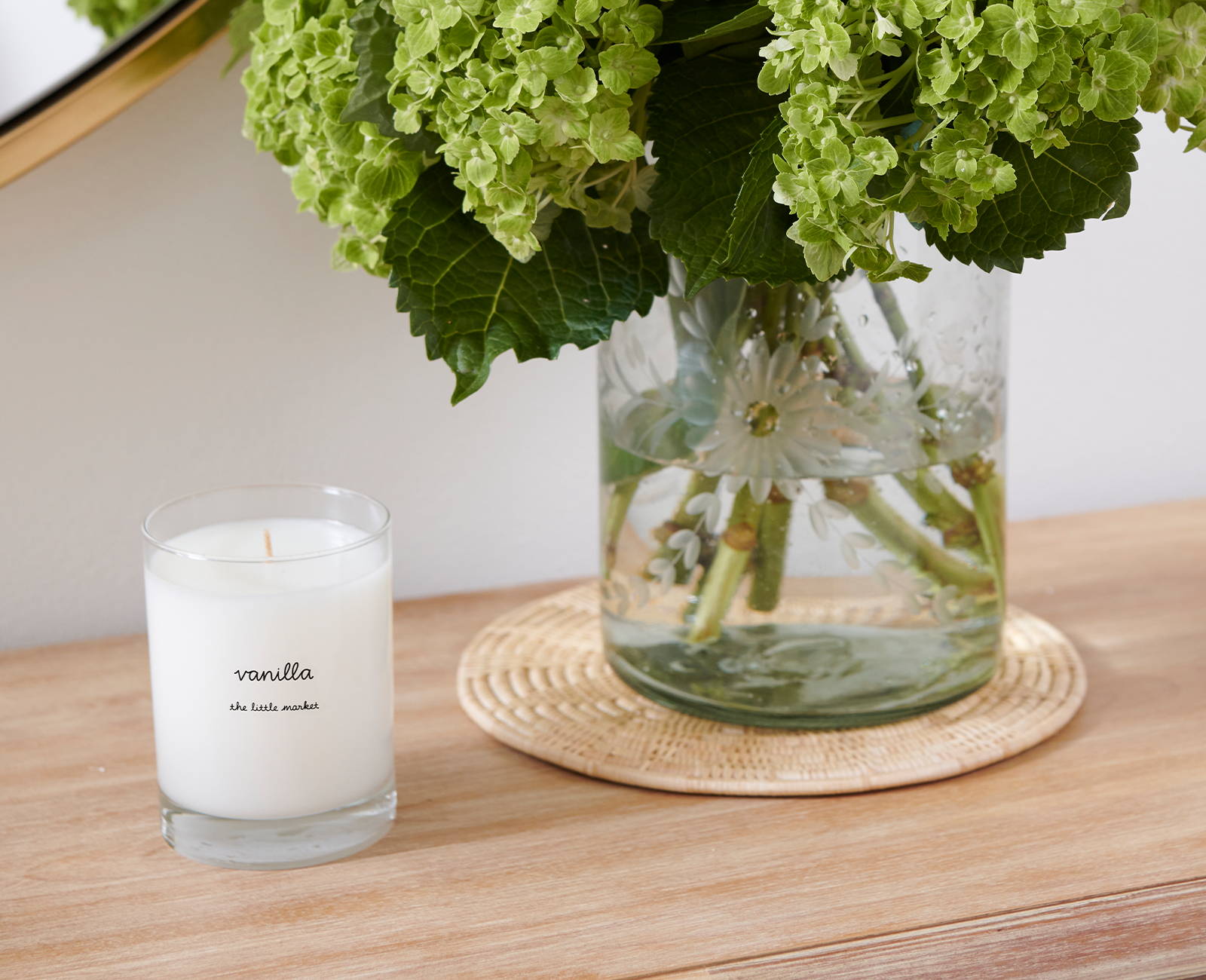 OUR CANDLES SMELL GOOD AND DO GOOD
Our selection of fall fragrances will create a truly authentic experience of autumn in your home. For some of us, that means a scent reminiscent of our hometown apple orchard at sundown.
For others, it's rolling out the homemade crust from your great-grandmother's pecan pie recipe. For most of us, it's s'mores and firepits and smoke rising up to stars.
Each of our fall candles evokes a different facet of the season. Some have amber and leather aromas. Some evoke spicy masala chai or notes of musk. But the candles at The Little Market carry more than lovely scents.
All our candles are made in small batches from a coconut-soy wax blend and are hand-poured by women who resettled as refugees in the United States. Our ingredients are vegan, phthalate-free, and never tested on animals. All this multifaceted goodness makes our candles both fragrant and safe for your home this season. Read on for our fall candle recommendations.
ANISE
Our limited-time Anise candle will transport you to an exotic market where fresh spices fill the streets with their intoxicating aroma. Fragrant with smoky sweetness and a hint of black licorice, it's the kind of candle that brings back memories of that fall backpacking trip where you slept on trains and dreamed in other languages. You will love its mysterious warmth.
Best lit when listening to Indie Folk music.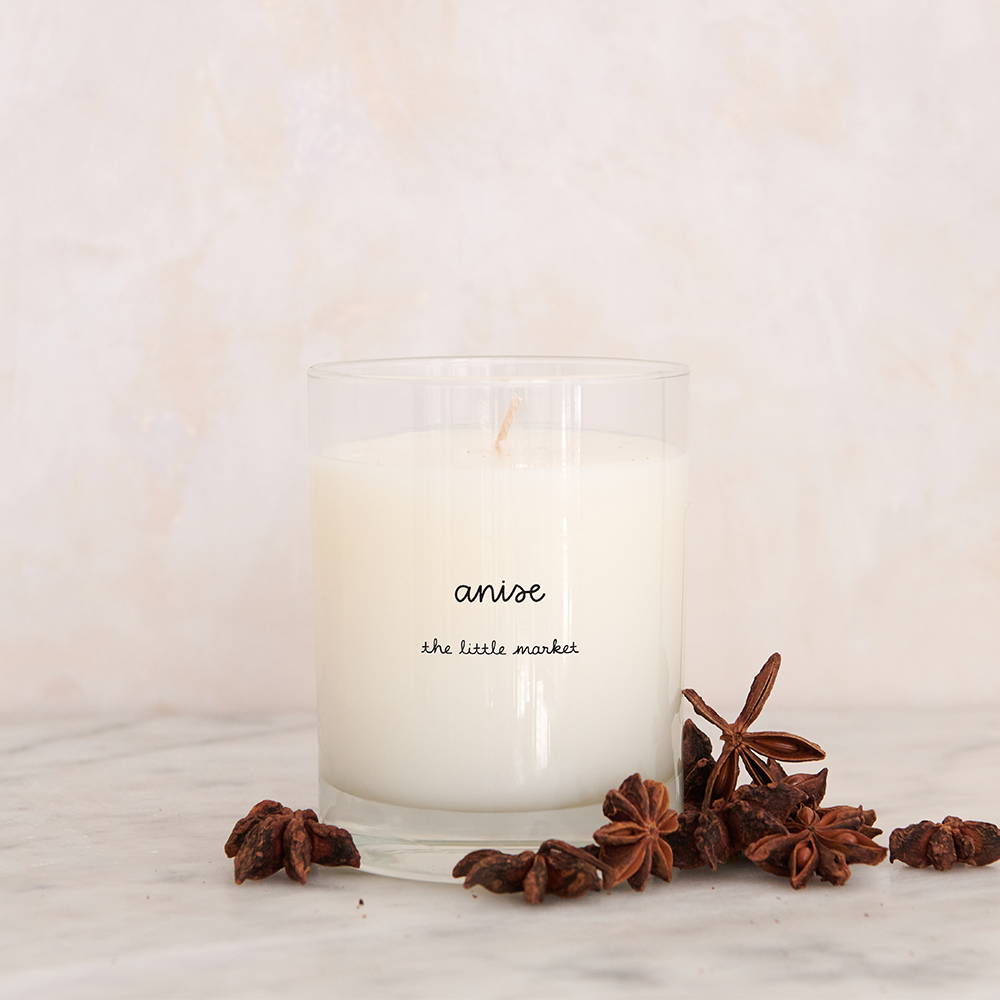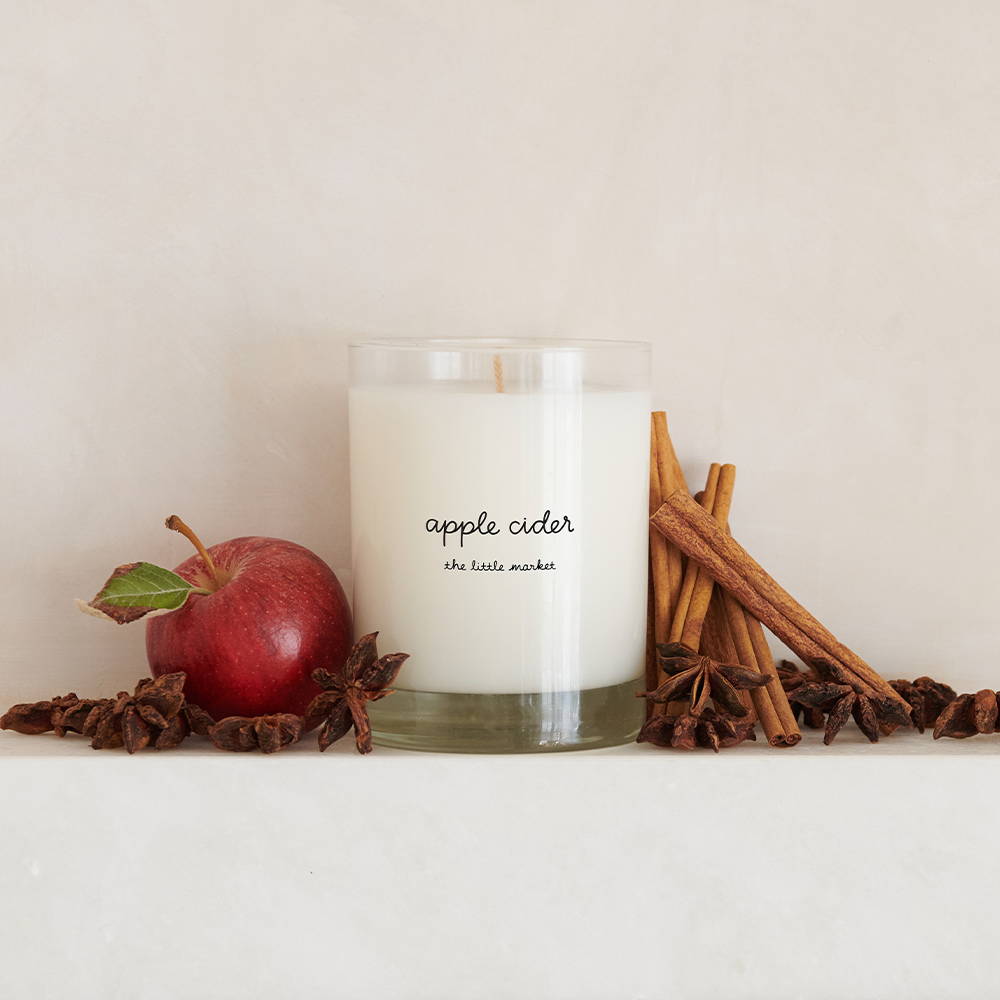 APPLE CIDER
Have you ever felt homesick for a place that only exists in your soul?Our Apple Cider candle evokes that very feeling. It is aromatically sweet and spiced and smells just like a small town apple orchard.
Imagine yourself, on a Friday evening, walking casually down the rows, picking Pink Lady and Honeycrisp and Golden Delicious apples with your childhood best friend. The sun is pure gold through the trees.  
Best lit when drinking homemade wassail.
CINNAMON
Picture the kitchen inside the coziest cabin in the woods. As soon as you enter, you know just from the smell that something delicious is baking. And not just delicious, but something tried-and-true, a recipe that's decades old.
That happiness you feel inside your chest, that is the way our Cinnamon candle makes you feel. When this candle fills your home with its aroma, it will remind you of generational gifts and pastries to share.
Best lit when flipping through your favorite cookbook.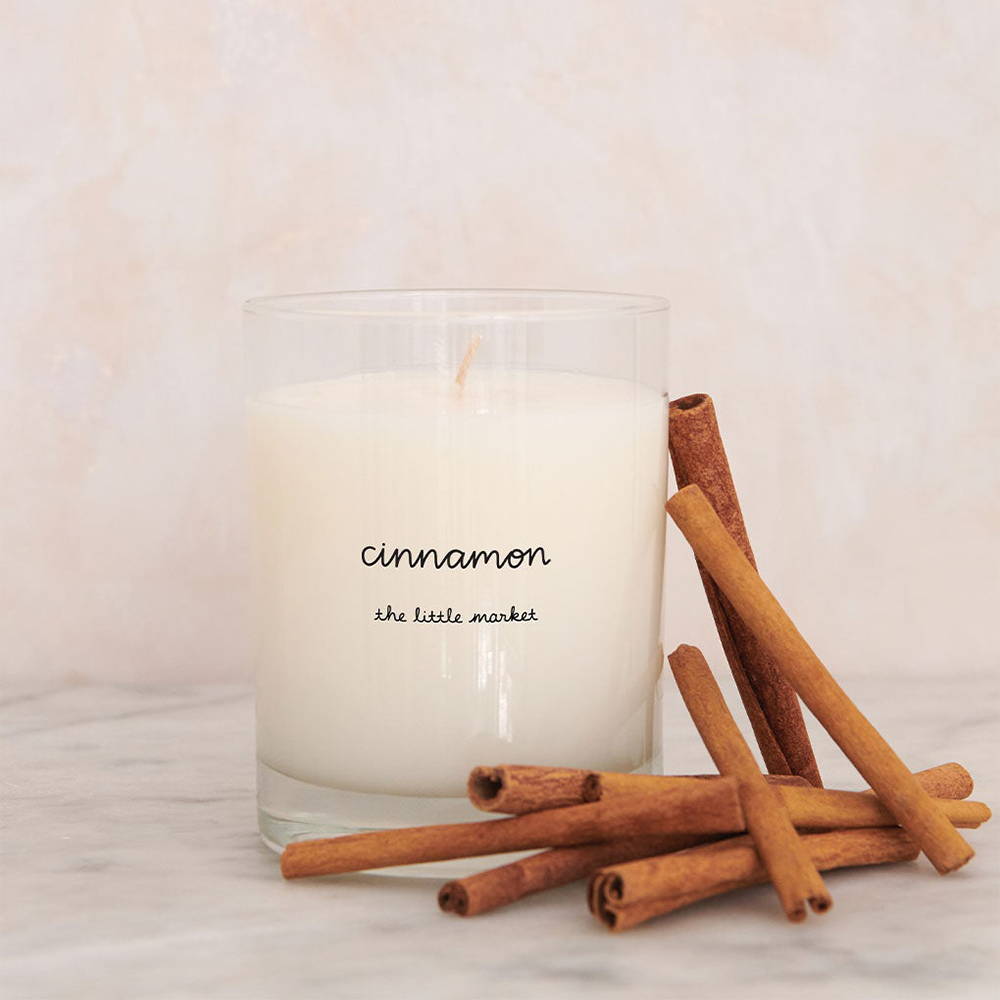 We all know it well: The sun is going down after a long, taxing day. You feel muscle-stiff, throat-parched, and in need of a healthy boost. When lit, our Eucalyptus candle enhances the desire for health and wellness.
Eucalyptus essential oil contains significant health benefits, including aiding in respiratory health. Our candle's fragrance can stir up your senses and deepen your relaxation.
Best lit when drawing an evening bath under mood lighting.
Figs are an incredibly mysterious fruit. For centuries, they have been symbolic in arts and ancient cultures. If you love forest walks, foraging, and delighting in nature's honeyed goodness, our Fig candle is just right for you.
Carrying aromas of black currant, leafy greens, and musk, this candle will make your guests feel vibrant and energized as you sit down together for a homemade dinner.
Best lit when hosting a dinner party with smooth jazz playing in the background.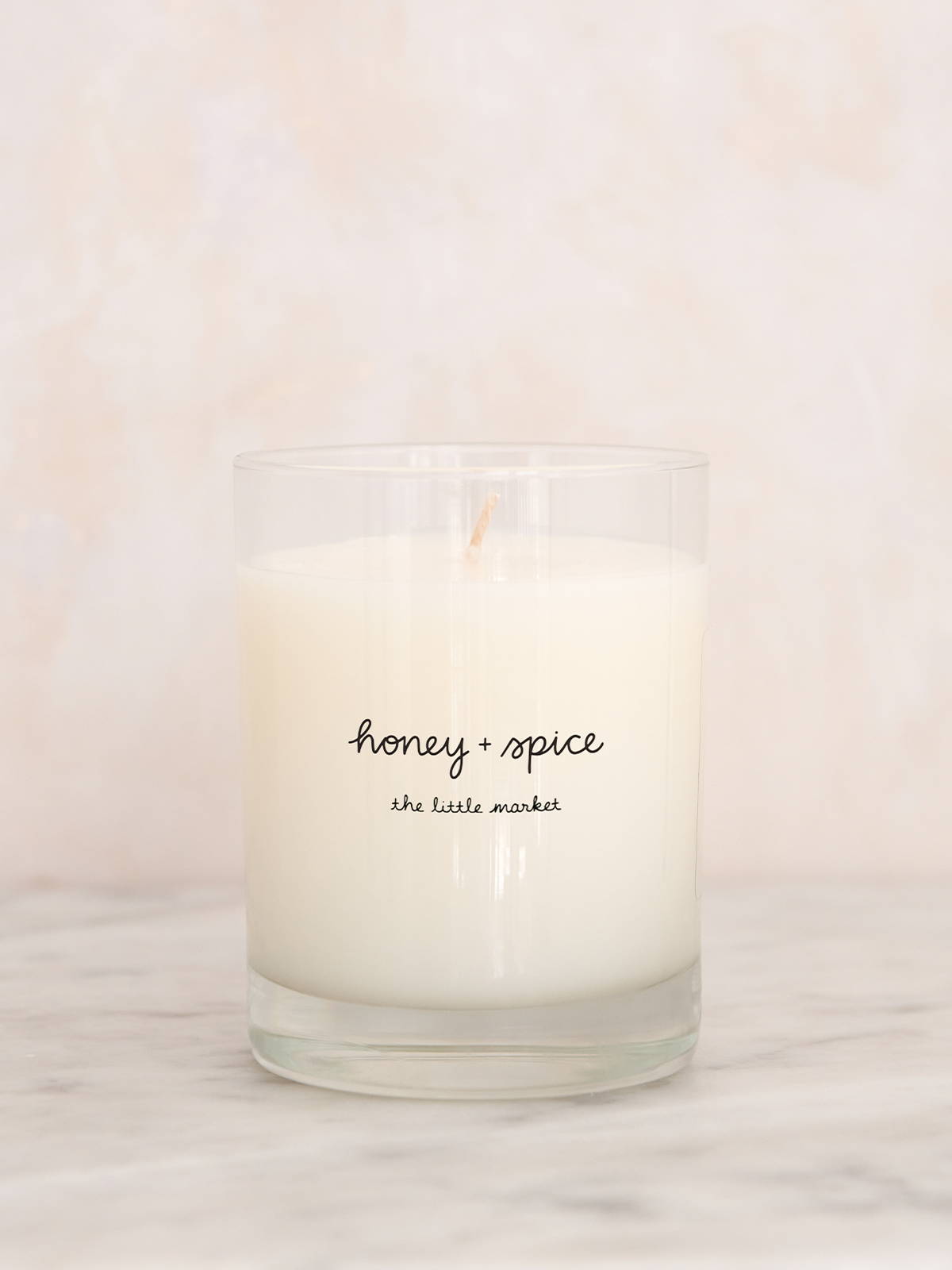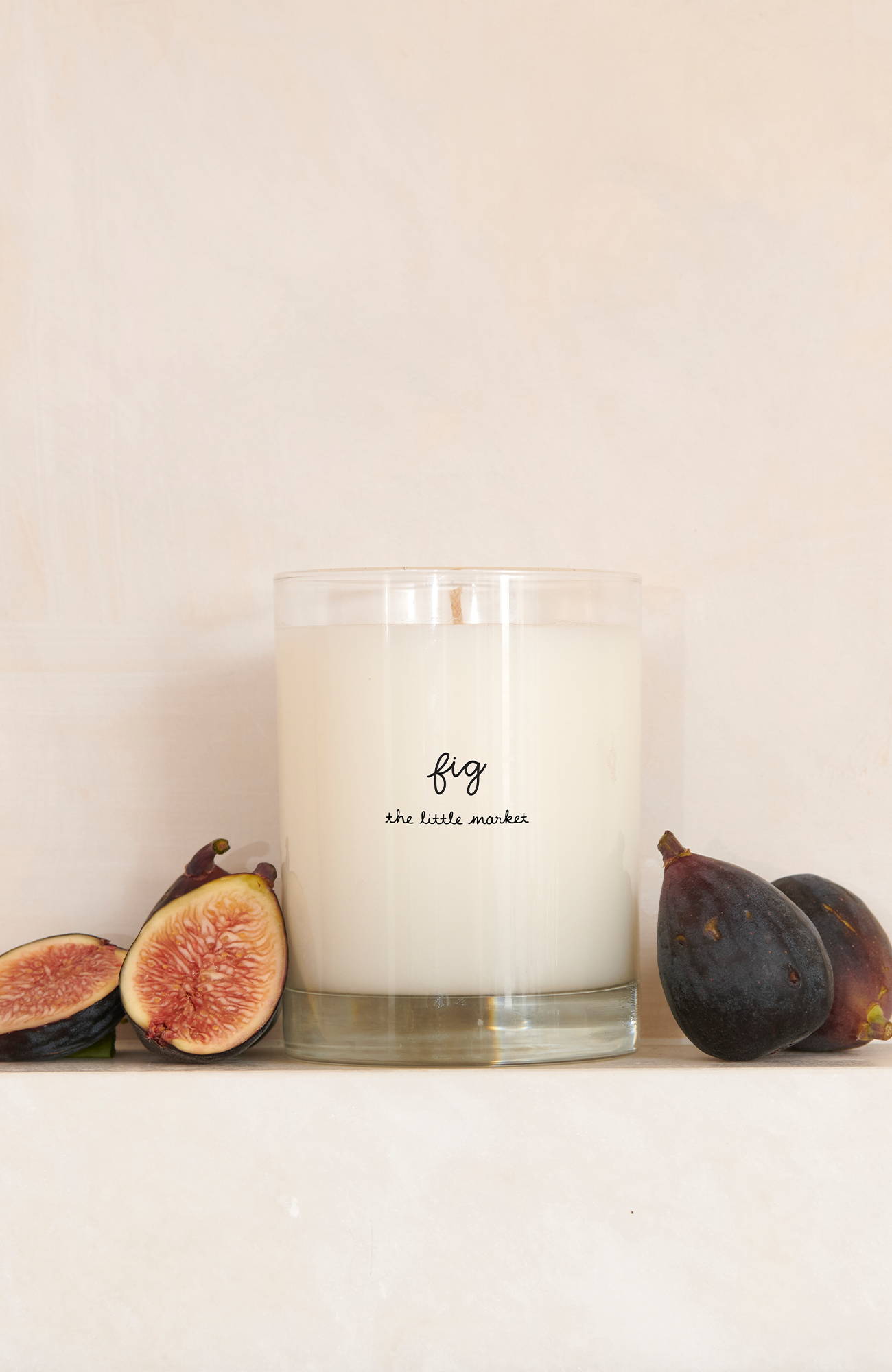 Do people often tell you you are indecisive? We like to think of it instead as being a person of "both." You like both this and that. Both hot coffee and iced. Both salty and sweet. Both Honey and Spice!
Our newest candle is the perfect, all-encompassing aroma so that you don't have to choose. This Honey + Spice candle makes your busy life that much easier. It is fragranced with honey, tonka, and a special blend of spices.
Best lit when experiencing decision fatigue.
Our Palo Santo candle is one of our favorite scents this season. Inspired by the wild trees of South America, this candle carries an earthy fragrance of patchouli and brings the world's wildness into your home.
Spanish for "holy wood," Palo Santo wood, resin, and essential oil have many uses and health benefits, including repelling mosquitoes and improving your stress response.
Best lit when sipping chai tea under moonlight.
There is nothing like fresh, homemade pastry dough in the oven. It's flaky, fragrant, and filling. Made-from-scratch pie crust is always made for sharing. Our Pie Crust candle smells just like a timeless recipe. It feels like you're getting the gift of a delicious dessert every time you light it.
When this candle starts carrying through your home, your mouth will start watering. You may even start rummaging through your pantry for baking ingredients on hand.
Best lit when catching up on the phone with an old friend.
Some baking is tedious and time-consuming. And some baking invites a flour-scattered countertop mess. Pumpkin pie is definitely a mess-loving bake and is the perfect art to share with the kids in your life.
Our Pumpkin Pie candle smells like an afternoon of toddler hands holding whisks, kid fingers stealing licks from the bowl, and echoes of generational laughter filling up the house.
Fragranced with a blend of spices, nutmeg, clove, and ginger, and warm buttery vanilla, this candle will encourage you to make new, delicious memories with the littles you love.
Best lit when cozied up in a knit blanket after the house has quieted down.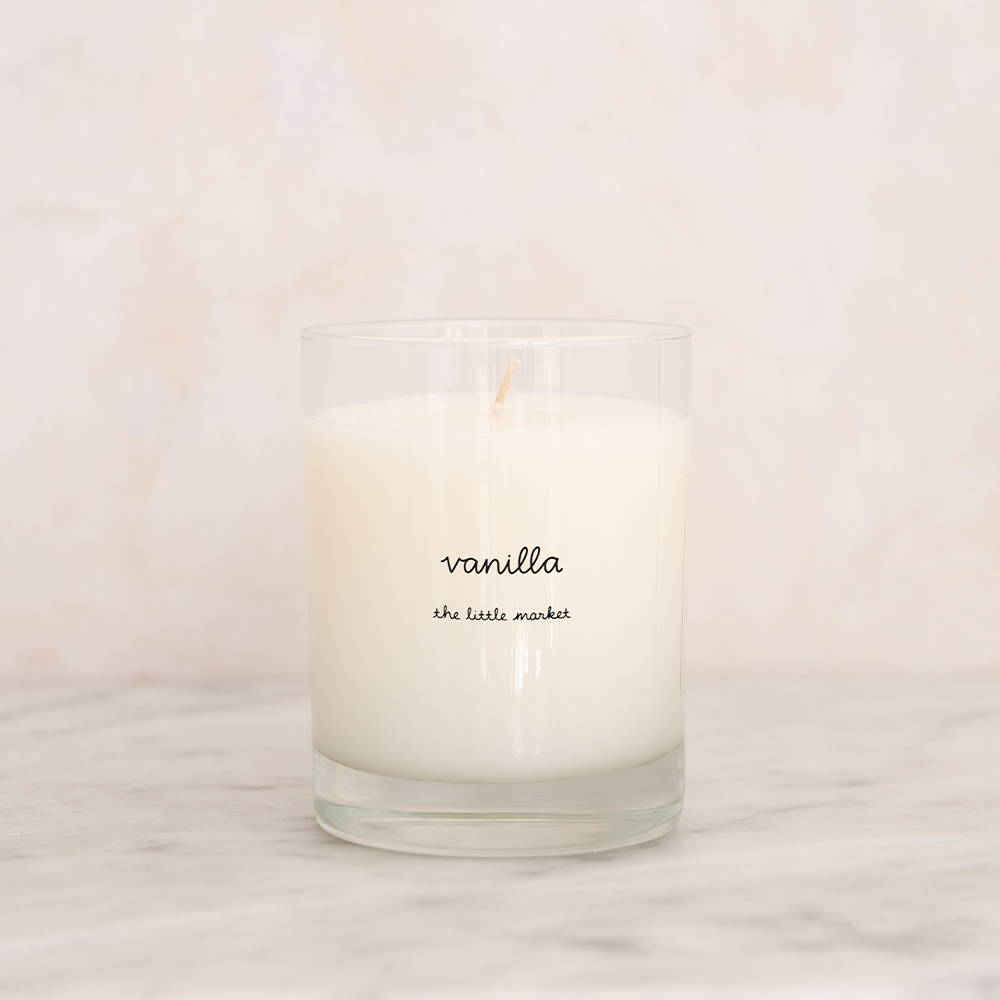 VANILLA
Last but certainly not least is our best-selling Vanilla candle. Classically fragranced with vanilla bean and cream, this candle will bring back memories of your favorite childhood confectionery.
In baking, vanilla is used as an enhancer of flavor. Likewise, our candle is an enhancer of your home's atmosphere. Make your days cozy and your evenings sweet with this delicious maple aroma.  
Best lit when you're feeling a sense of contentment.
COZY UP WITH THE PERFECT CANDLE
When you light the perfect candle, you invite an atmosphere into your home. Our Fall Candle Collection will transform your space into a world of dreamy nostalgia.
As the weather is beginning to bring in expectations of autumn, we want you to be able to access memories and moments that warm your spirit. Fragrances hold a power that can deepen our experiences. This season, let our fall candles enhance your home and enrich your already-profound love of autumn.