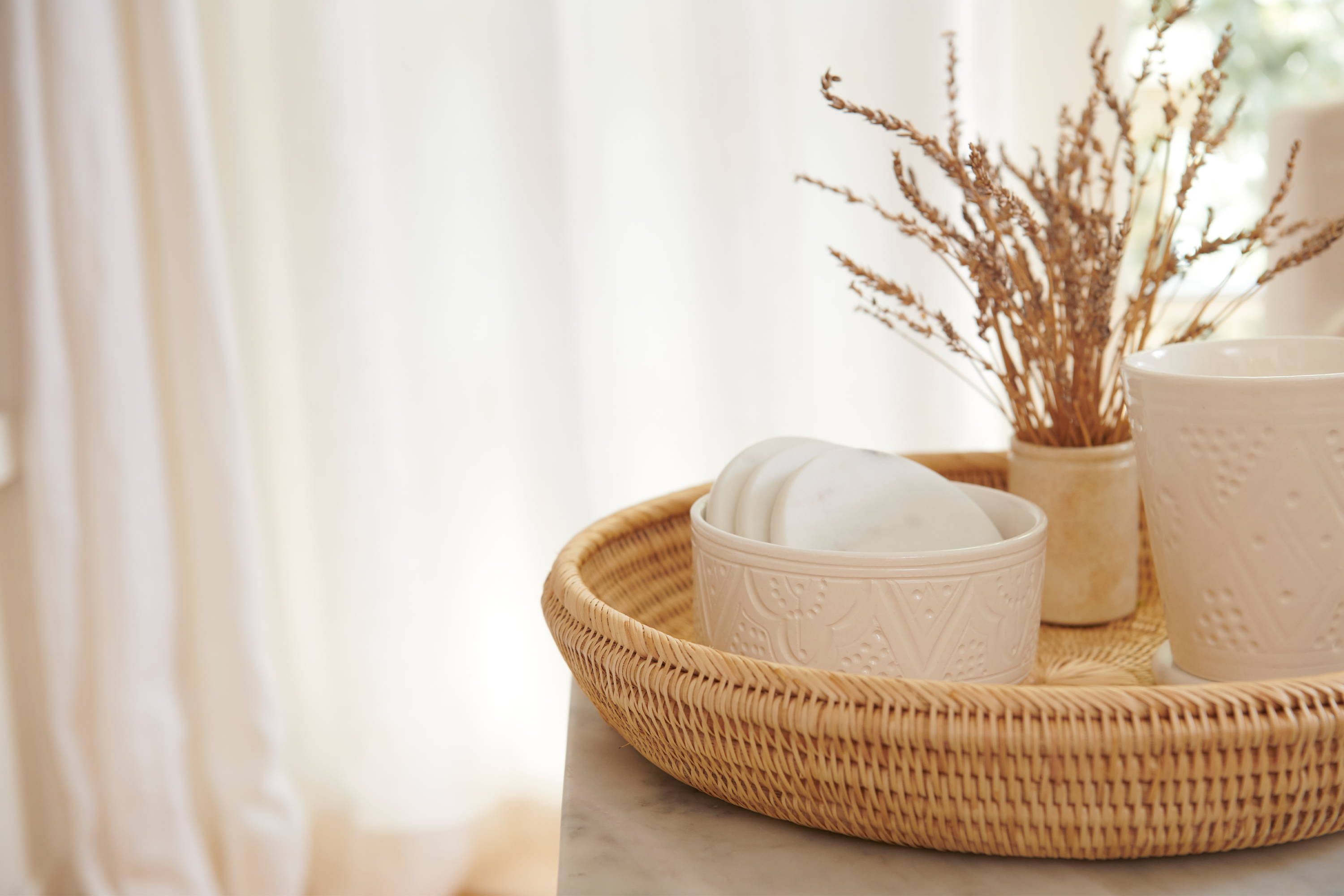 Witnessing the seasons change one after the other is one of the most beautiful testaments to the beauty of nature and the willingness of the human spirit to begin again. With new seasons come fresh starts and all the joys that accompany new times of life.
Being able to decorate your home to match the seasons is one of these joys. To do this, you need the right color palette. No two tastes are exactly alike.
While you may prefer saturated colors, another may prefer neutrals or pastels. The perfect fall color palette looks different in each home, so don't be afraid to get creative and let your personal style stand out.
This guide explores the best colors for a fall color palette and how you can incorporate these into your space with our home décor pieces.
Continue reading below to learn more.
BURNT ORANGE, RED, AND CORAL
When you think of fall, what are the first colors that come to mind? If you said orange and red, you're not alone! Because of how the leaves change from a bright, lively green to a red, yellow, orange, or burgundy color, it's common to associate these colors with the season of fall altogether.
These colors feel warm and comfortable and like you could cozy up next to them on your couch. These colors remind us of home-cooked meals and apple cider and having friends and family over on the weekends. Decorating your home with these colors during the fall season is one of the best ways to turn a house into a home.
Here are a few décor tips for incorporating these options on your fall color palette into your home:
Consider a Kantha Quilt as the perfect addition to your bed, couch, or sitting area. With a range of designs and color options, you can find various styles that incorporate burnt orange, red, coral, and other warm, earthy tones.  
For less saturated fall color palette options, take a look at our Petite Glass Pitcher in Blush. Use it to serve fresh apple cider or lemonade, or fill it with flowers or greenery. Or simply put it on display on your dining room table, counter, or mantel.
When you purchase our glass pitcher, you support artisans in Morocco who handcraft each piece by carefully molding and painting each piece themselves. Enjoy high-quality pieces that match your fall color palette and make a difference.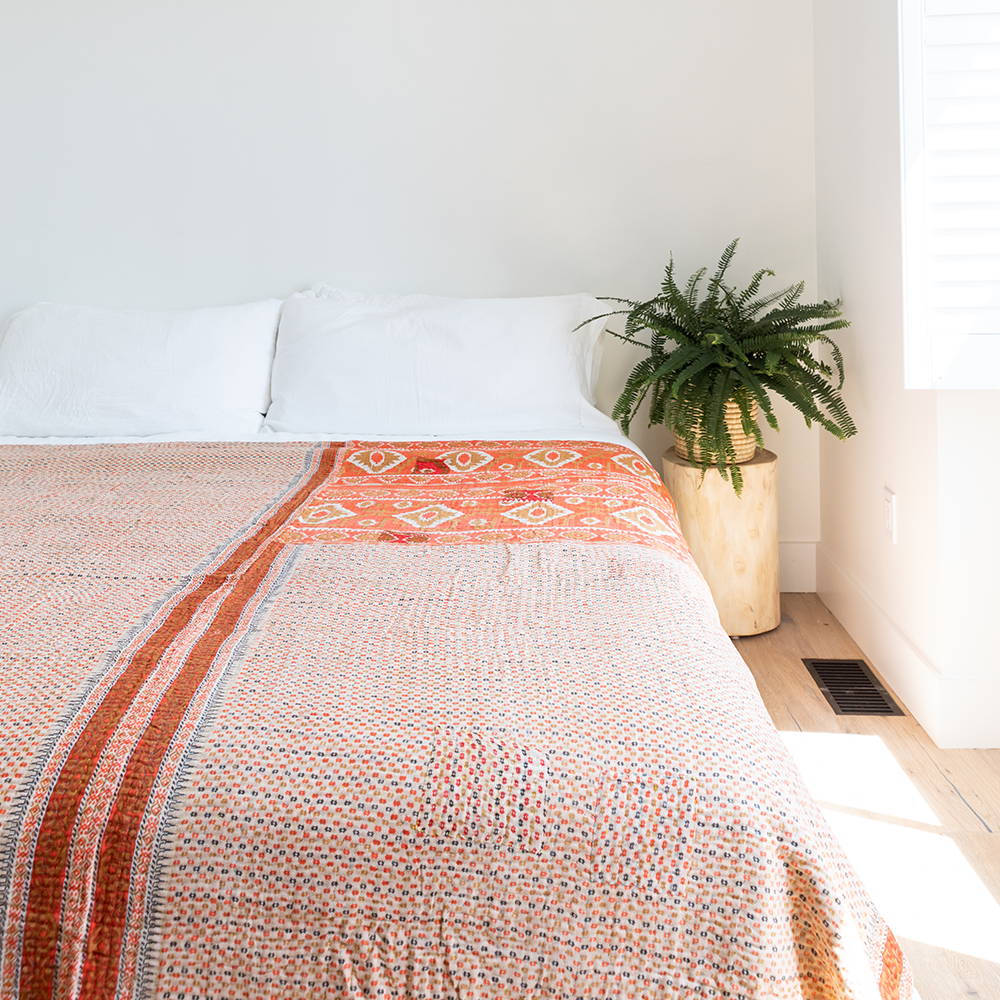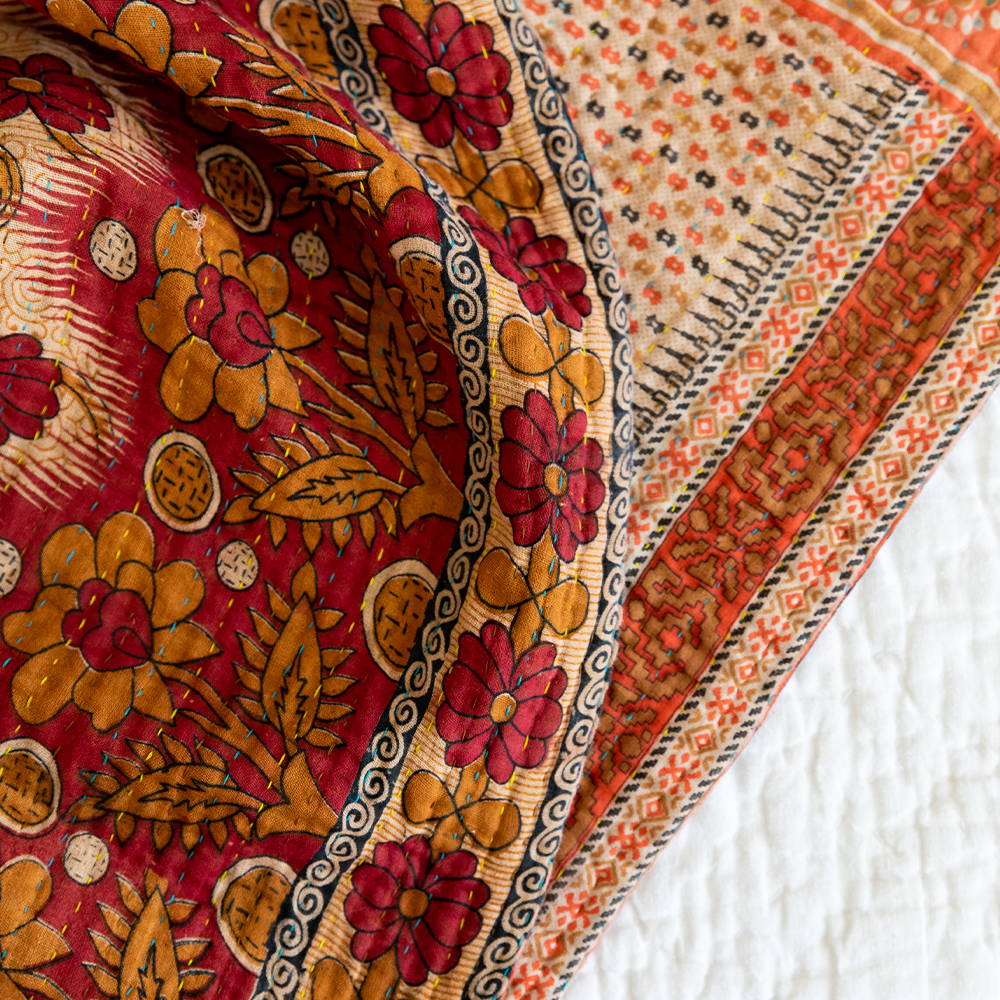 Two colors that may also come to mind when you think of a fall color palette are emerald green and cream. Emerald green is rich in beautiful, deep hues that reflect a warm feel. This color is bold yet subtle in its beauty, making it the perfect pair with cream.
Cream has become a popular color, both in home décor and fashion. Cream is neutral enough to match with a variety of colors and helps brighten up spaces in your home and wardrobe. Consider pairing cream with more saturated colors, like emerald or burnt orange and red.
Here's how you can style these colors in your home:
Find one of our kantha quilts or throws, like our Kantha Quilt. With intricate, hand-sewn patterns made from vintage cotton saris and a Traditional Kantha Stitch, this piece is an excellent addition to your home.
Made by artisan women in Bangladesh, your purchase of this quilt goes directly to supporting people who have survived human trafficking and abuse, one of the largest industries coercing women into forced labor.
When summer fades to autumn, many start keeping their doors open. If you love to welcome people into your home for meals, quality time, or games, consider adding our Textured Stripe Table Runner in Ivory to your home décor.
This beautiful cream piece will help brighten your space, draw your table together, and add warmth and comfort to the hard surface of your table. This product supports artisans in India who create eco-conscious, ethically crafted textiles.
GRAY, GOLD, AND PUMPKIN ORANGE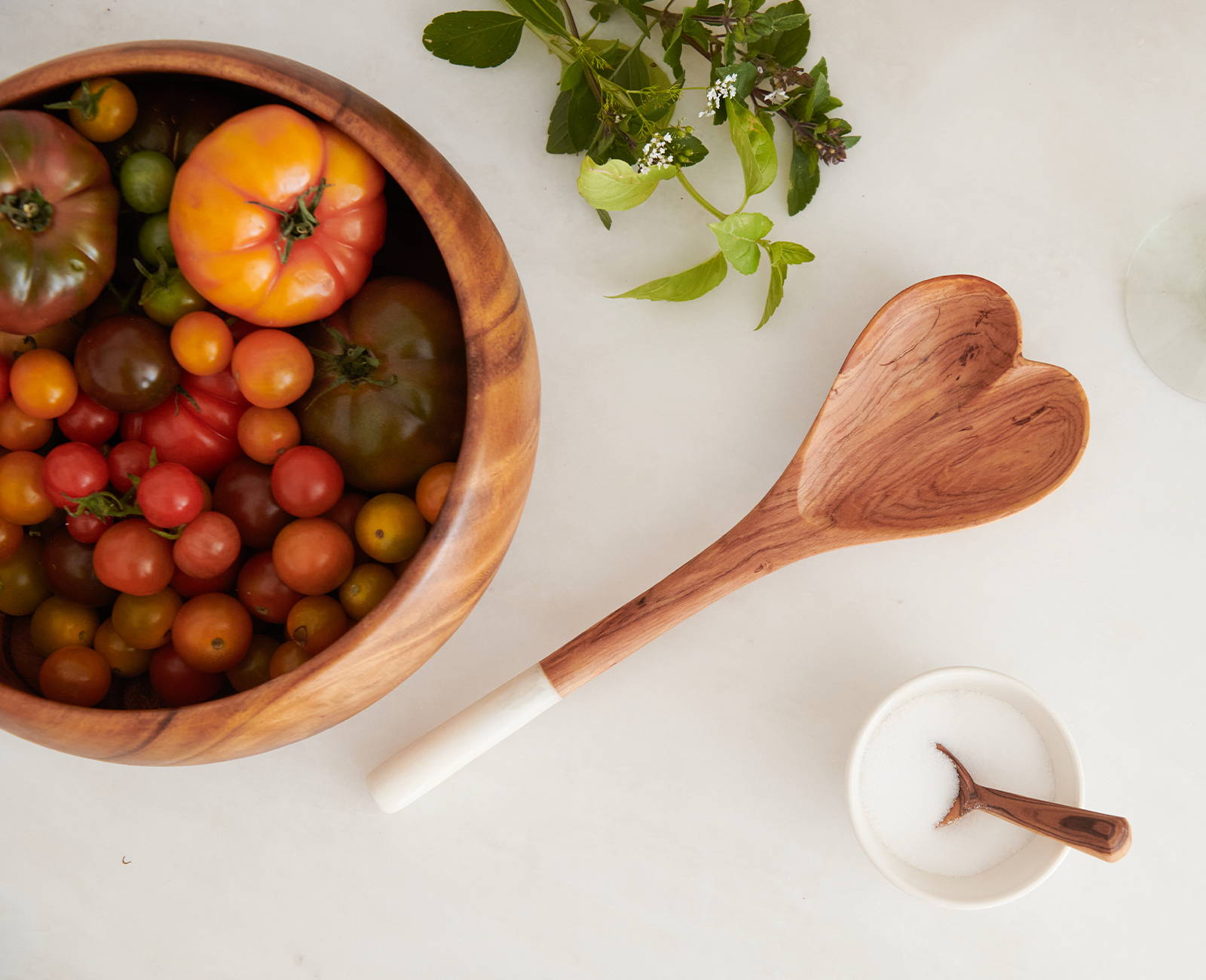 For a more neutral variety of hues, you may also consider using gray, gold, and pumpkin orange for your fall color palette. Choose a lighter gray color to pair with a darker pumpkin orange, or choose a darker gray to pair with a lighter pumpkin orange.
Our Striped Sisal Basket comes in white and gray color options and is a functional way to add texture and dimension to your home décor. Keep your blankets, pillows, towels, kids' toys, other decorations, and more in this basket.
Finding functional home décor pieces is a practical way to decorate your home without losing valuable places to put your stuff. Cute containers that fall in your fall color palette can turn your décor into storage this autumn.
Take a look at our Ceramic Keepsake Box in Gray. Artisans in Morocco hand-molded the earthenware and lightweight ceramic material to make a delicate, light piece that's ethically produced.
Continuing with the theme of gray and white together, our Gray Blanket with White Pom Poms is the perfect way to snuggle up this fall. Grab your favorite person, book, or snack and enjoy relaxation with this soft, handmade blanket.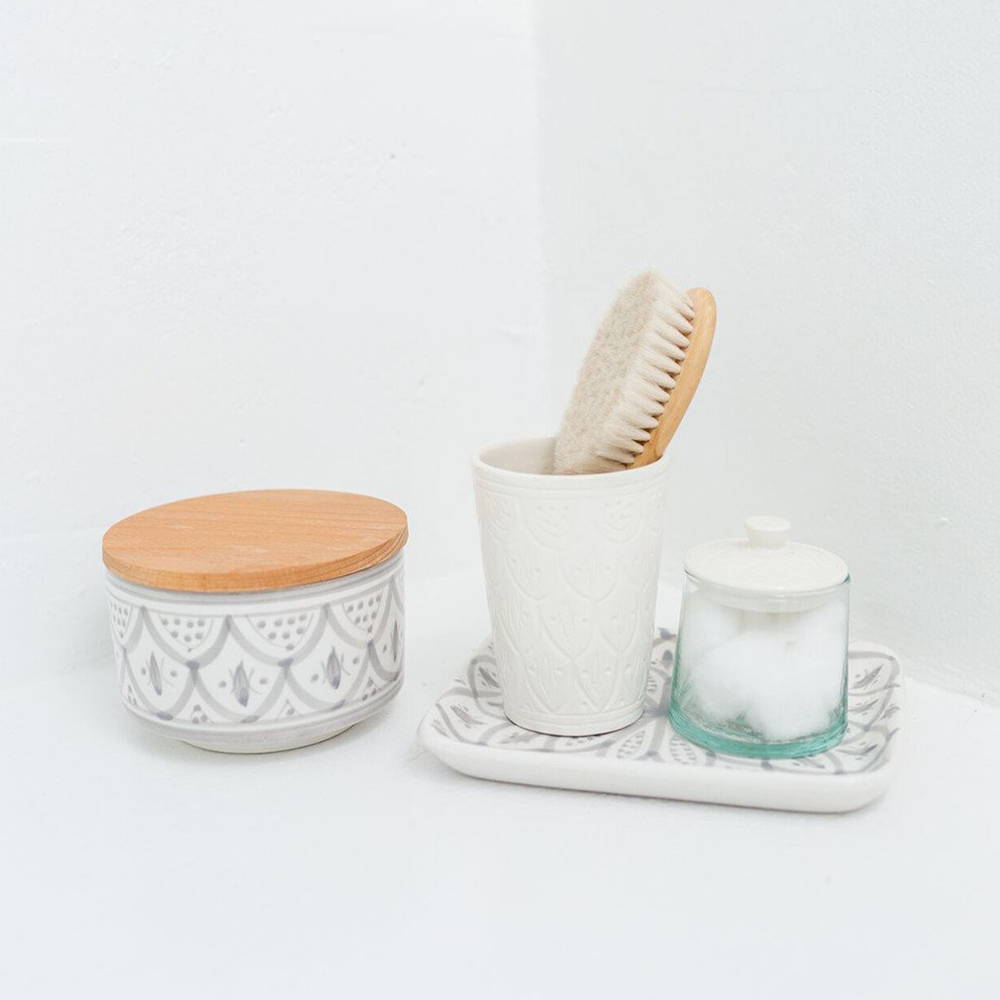 OLIVE GREEN, MOSS GREEN, AND BRASS
Another popular fall color palette includes olive green, moss green, and brass. These colors are smooth, warm, and lively colors that bring freshness to the traditional orange colors associated with fall. To make your home feel more lively, happy, and whimsical, aim for unique designs and patterns.
Our Kantha Quilt is a beautiful blanket to cozy up with. Made in Bangladesh and purchased to support women who are survivors of human trafficking and abuse, this blanket is double-sided, so you get two patterns in one blanket.
Bring the fall color palette to your tableware as well. With accent designs of gold and brass on the ceramic surface of these plates, this is an excellent way to spice up your seasonal tableware.
Plus, the purchase of Berber Ceramic Plate - No. 4 gives artisans in Morocco the opportunity to earn a fair income and livable wages and make a sustainable living for their families.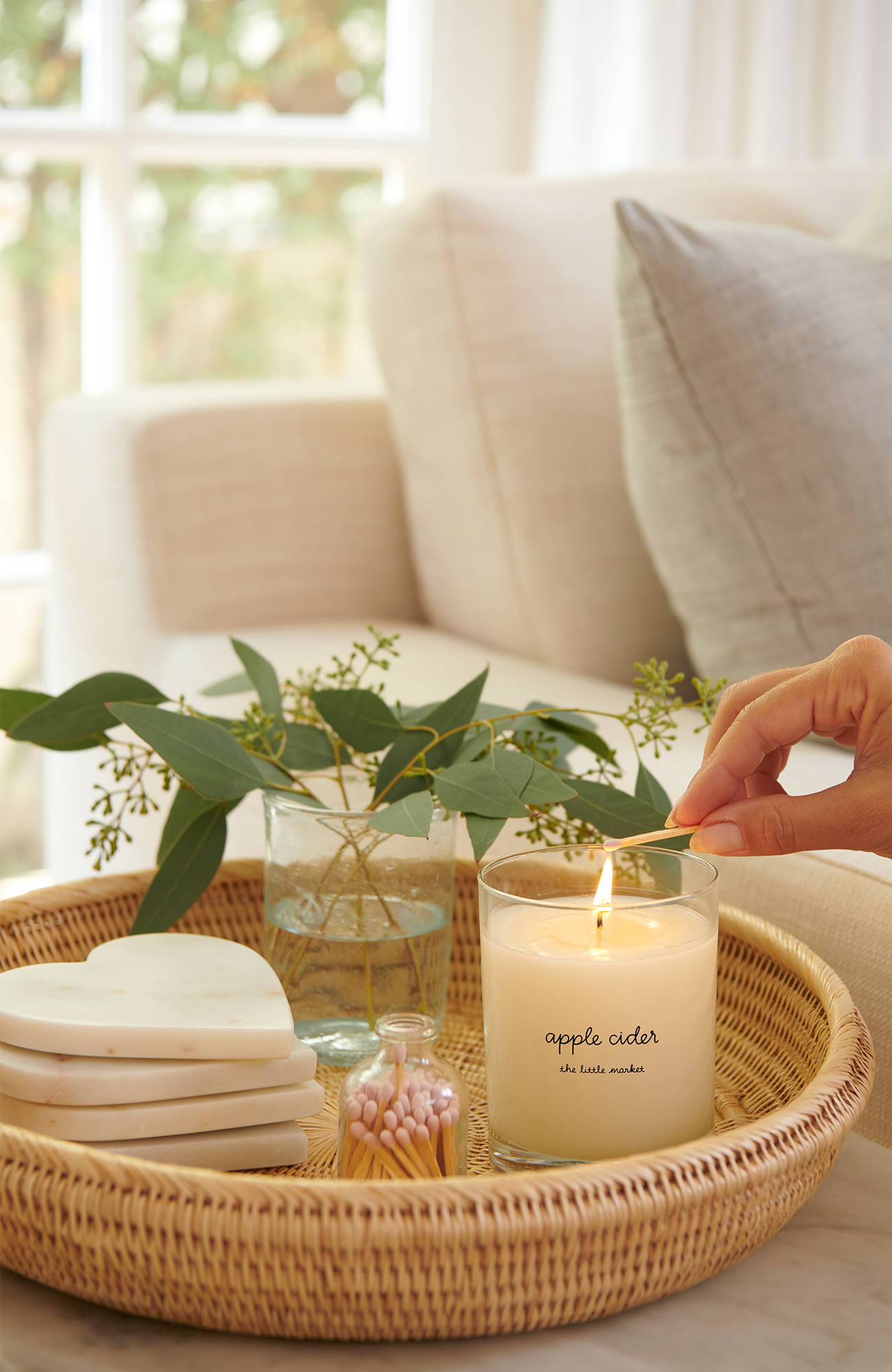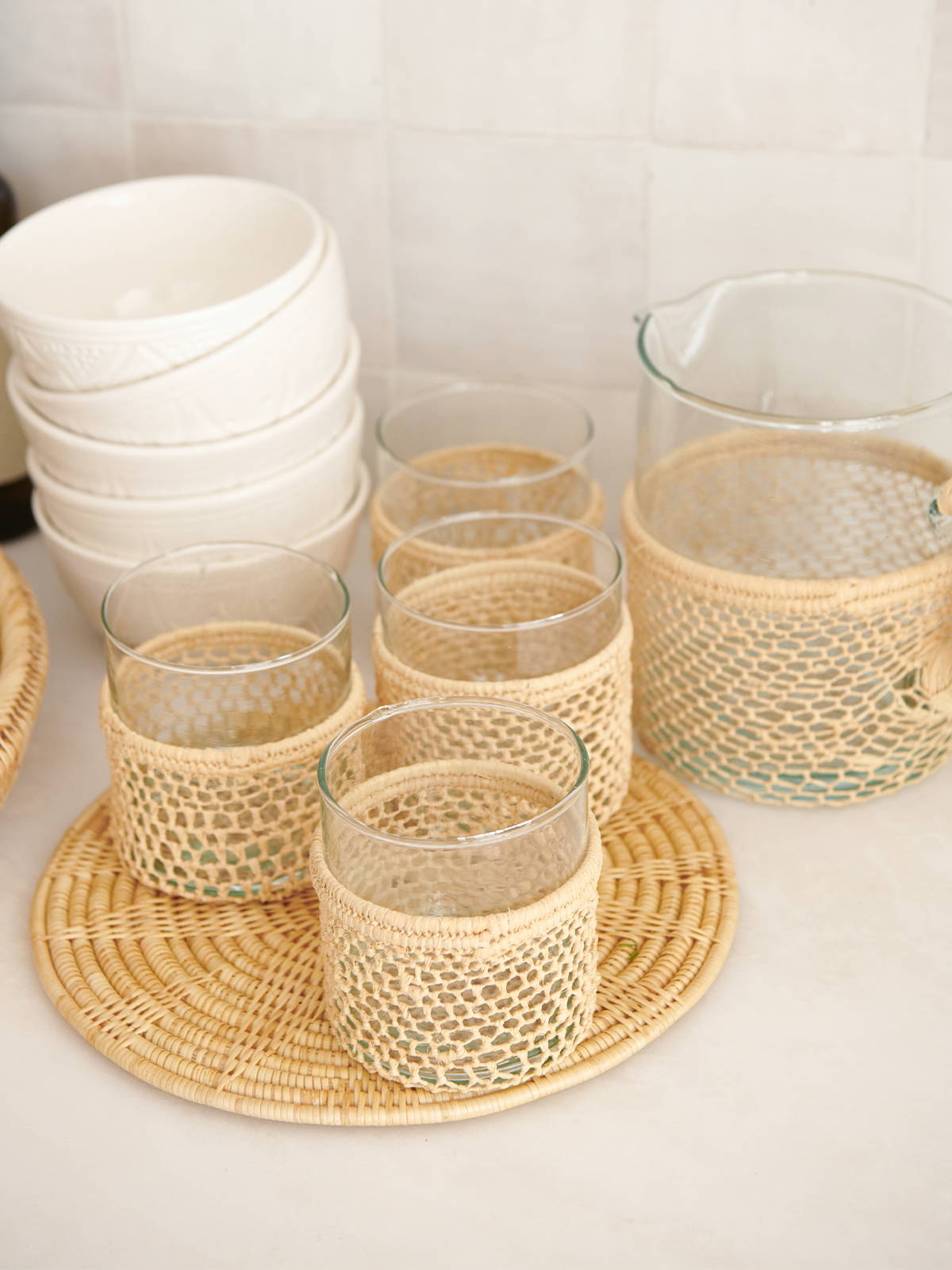 Wood tones and indigo are two deep, rich ways to bring out warmth and beauty in your home. Add a dark wood tone to your fall color palette by displaying one of our Acacia Wood Heart Bowls or our Ikat Table Runner. Pair the two together for the perfect dining room setup.
The heart-shaped bowls are made by artisans in the Philippines. Your purchase helps them obtain the opportunity and resources they need to thrive. Your purchase of the table runner helps support women weavers in Guatemala to receive fair wages and help them support their families.
Grab your very own Etched Round Pitcher in French Blue and serve your guests and family a pot of your favorite beverage. Made in Mexico, this pitcher helps support artisans and help them make a livelihood.
While greens, blues, emeralds, and oranges are beautiful color options that help embody the fall color palette and bring warmth to your home, you may prefer to mix a number of other colors or opt for a more neutral color palette instead.
If you prefer neutral colors over the more saturated ones, you may want tan, taupe, and caramel as part of your fall color palette.
Discover how to bring these colors into your home:
Our Woven Basket in White is handmade in Tanzania and supports weavers in the area, mainly women, many of whom have traveled to seek refuge. Every purchase helps women support themselves and their businesses. This basket not only advocates for social change, but it adds the perfect amount of texture and dimension to your home while still blending in with your fall décor.
When you're making your weekly trip to the market or grocery store, don't forget your tote bag! Our Cotton Produce Bags are handmade in Bangladesh and store all the essentials along with your groceries and produce. They come in a set of four so that you'll have plenty of room to store all your necessary food items.
Plus, these bags help reduce waste and promote fair wages, access to education, and opportunities for skills training for women in Bangladesh.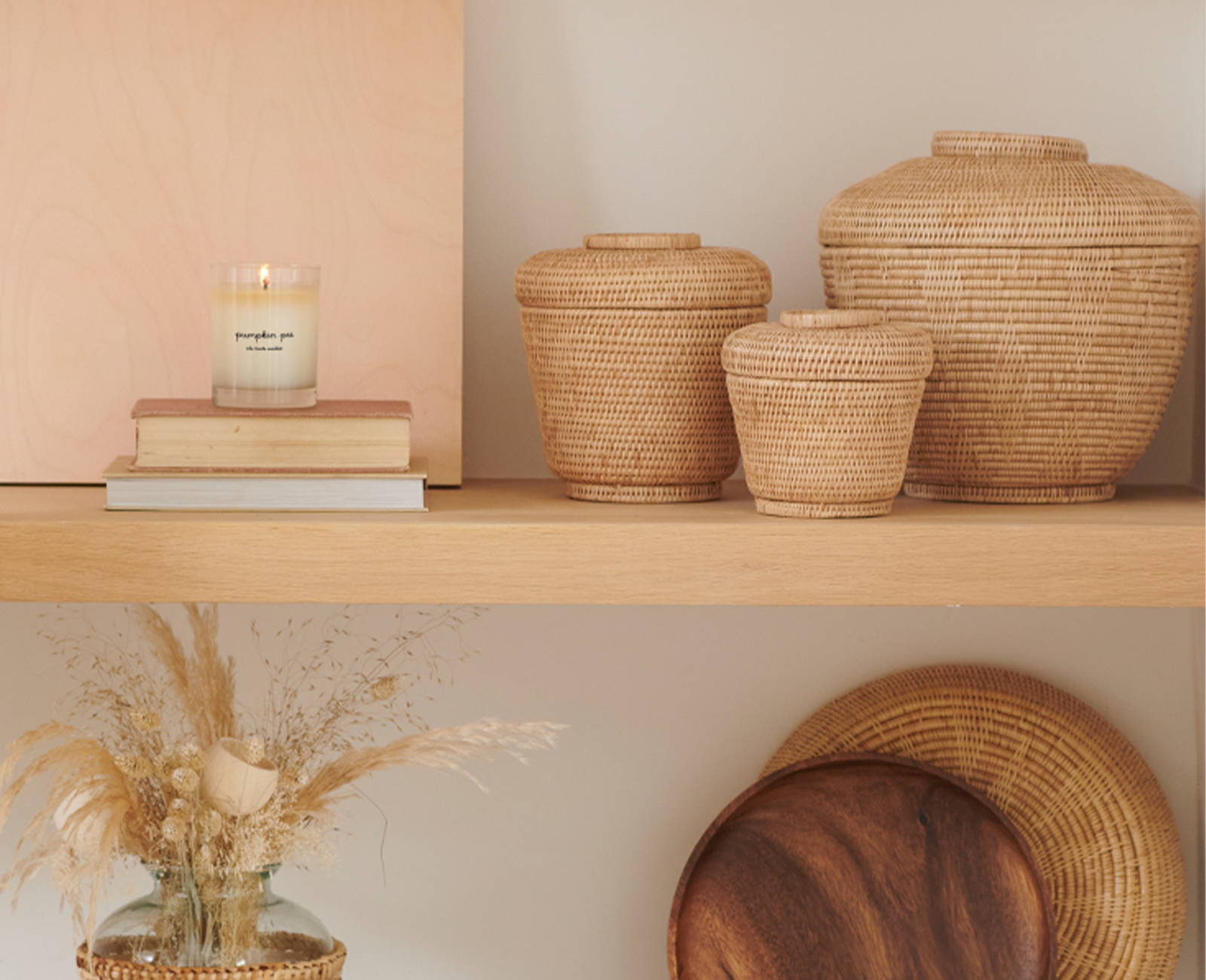 Décor TO FALL FOR
By choosing home décor from The Little Market that matches your fall color palette and advocates for social justice, you can make a difference in the world. The difference starts in your home. When you decorate your dwelling with intentional, beautiful ethical goods, you are not only bringing light into your space, but sharing it with others across the globe.