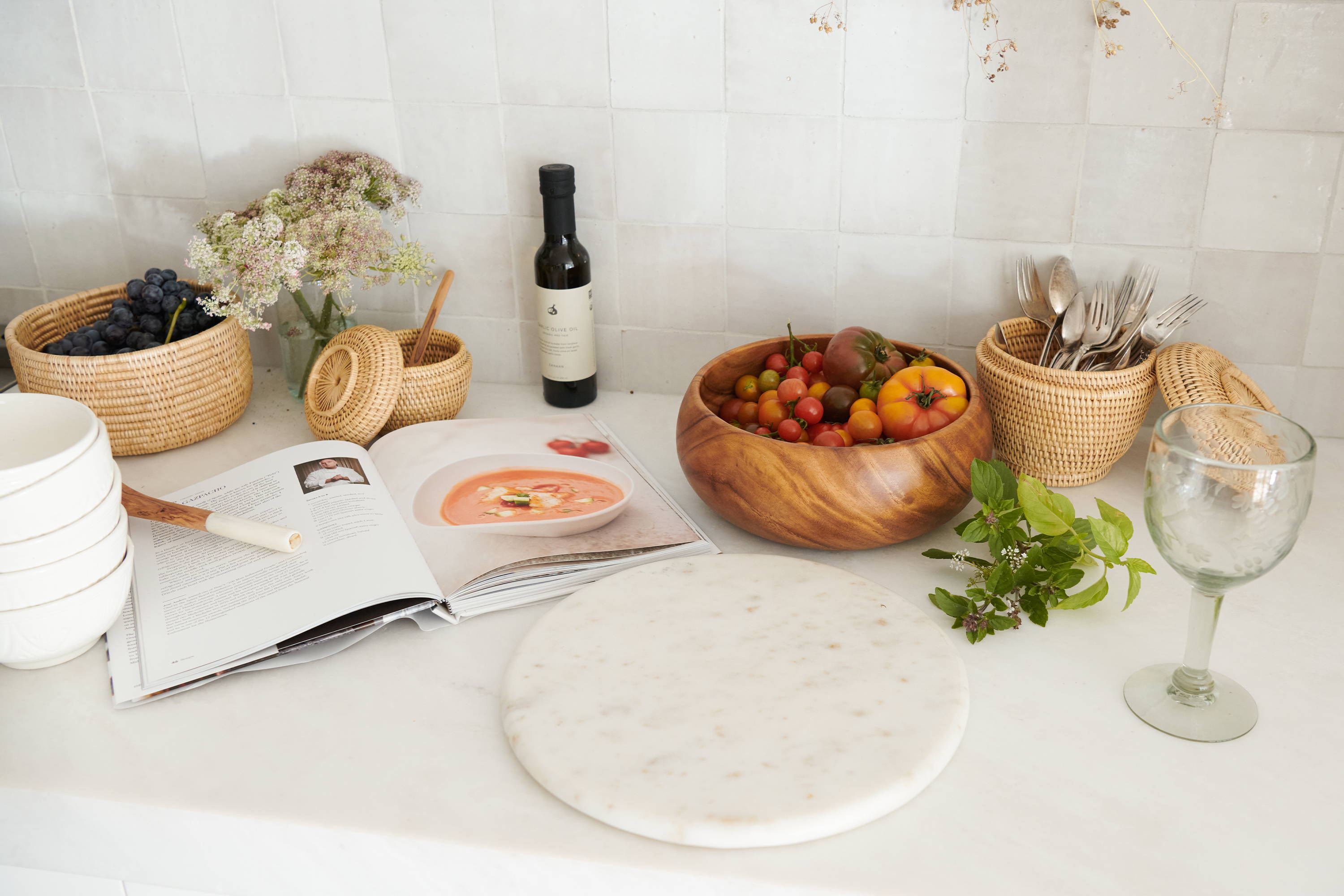 Creating a beautiful kitchen is an excellent way to make your home warm and welcoming. For many, the kitchen is the heart of the home. It is the place they enjoy cooking, baking, making coffee, and getting midnight snacks. It's essential to make this space inviting, cozy, and full of warmth.
The décor you choose for your kitchen is important. It's essential to know which colors to include, what textures and materials to use, and where to display your high-quality cookware and fine China. It's also helpful to know how to use patterns and different hues to complement your kitchen.  
Our comprehensive guide on kitchen décor can help you figure out how to decorate your kitchen without needing to do a full remodel.
Continue reading below for some kitchen décor inspiration: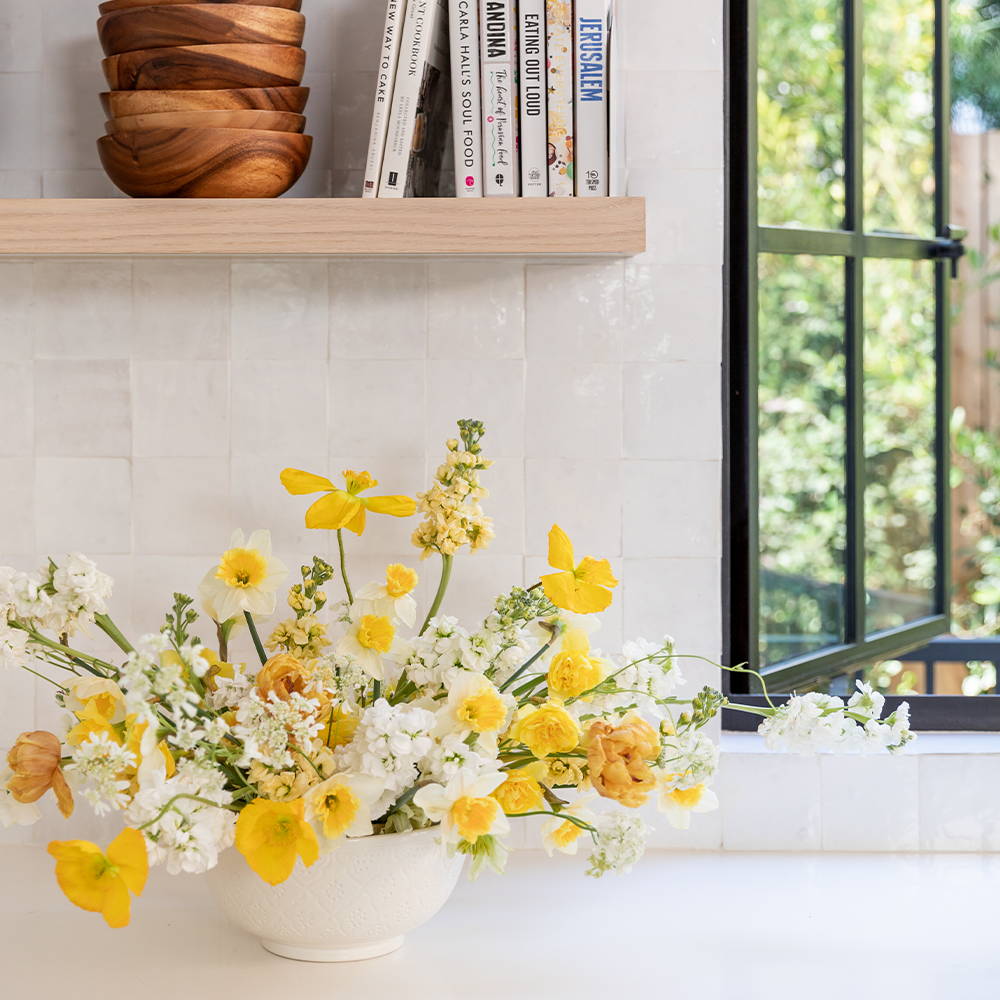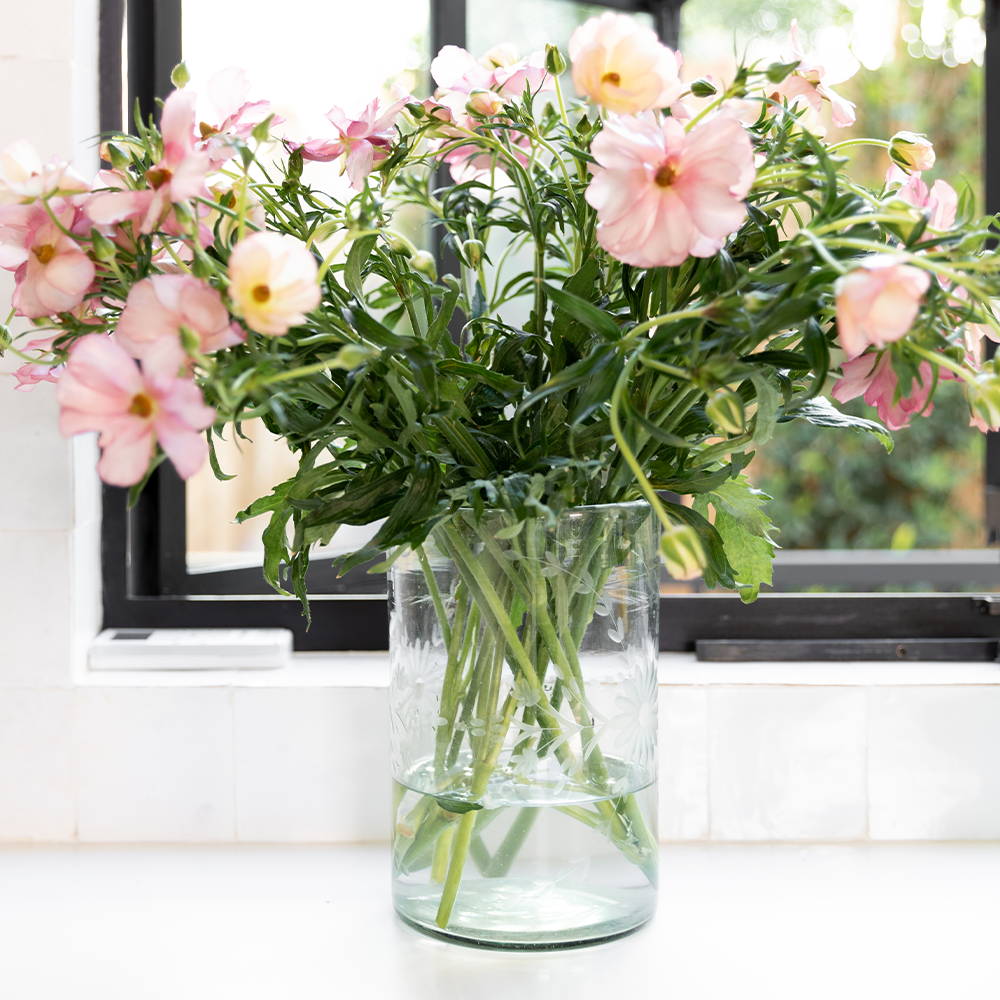 Incorporating pops of color throughout your kitchen is a great place to start. No matter what theme or look you're going for, start by choosing your accent color and incorporating these in your kitchen décor.
The general rule of thumb is to use neutrals as a base and accent colors throughout your décor. This helps you avoid colors that are too overpowering or saturated. This also helps keep areas bright. Consider lighter neutral tones on the walls or the tile backsplash and darker pops in the decorations.
There are many ways you can add pops of color to your kitchen décor. Our Etched Stemless Wine Glass is available in a beautiful aqua color and a darker French blue. You can display these wine glasses on open shelves, countertops, or your at-home bar area, complete with vintage stools.
The hand-etched design creates a pop of color and texture. Sip your favorite wine or iced beverage from this handcrafted cup in style.
You can also incorporate statement pillows into your kitchen décor. A statement pillow is a pillow that has a pop of color and a beautiful pattern on it. You can choose whatever color or pattern you like, as well as texture.
These are designed to stand out from your other kitchen décor, so don't be afraid to go bold. Plus, one of the benefits of using statement pillows is that they're easy to reuse anywhere in your home.
Our Tenango Embroidered Pillow covers are available in a range of colors. These include lavender, pink, hot pink, red, yellow, coral, green, mint, turquoise, blue, magenta, gray, and white. Each pillow is handmade in Mexico and supports women in Hidalgo.
Wondering where to include a pillow in your kitchen? Start with a farmhouse bench or window seat. If you have a cushioned bench area or cushioned bistro chairs, use pillows to brighten the space and add color.
Have a back porch you can access from the kitchen? Add a pillow or two to your patio furniture for a unique dash of charm.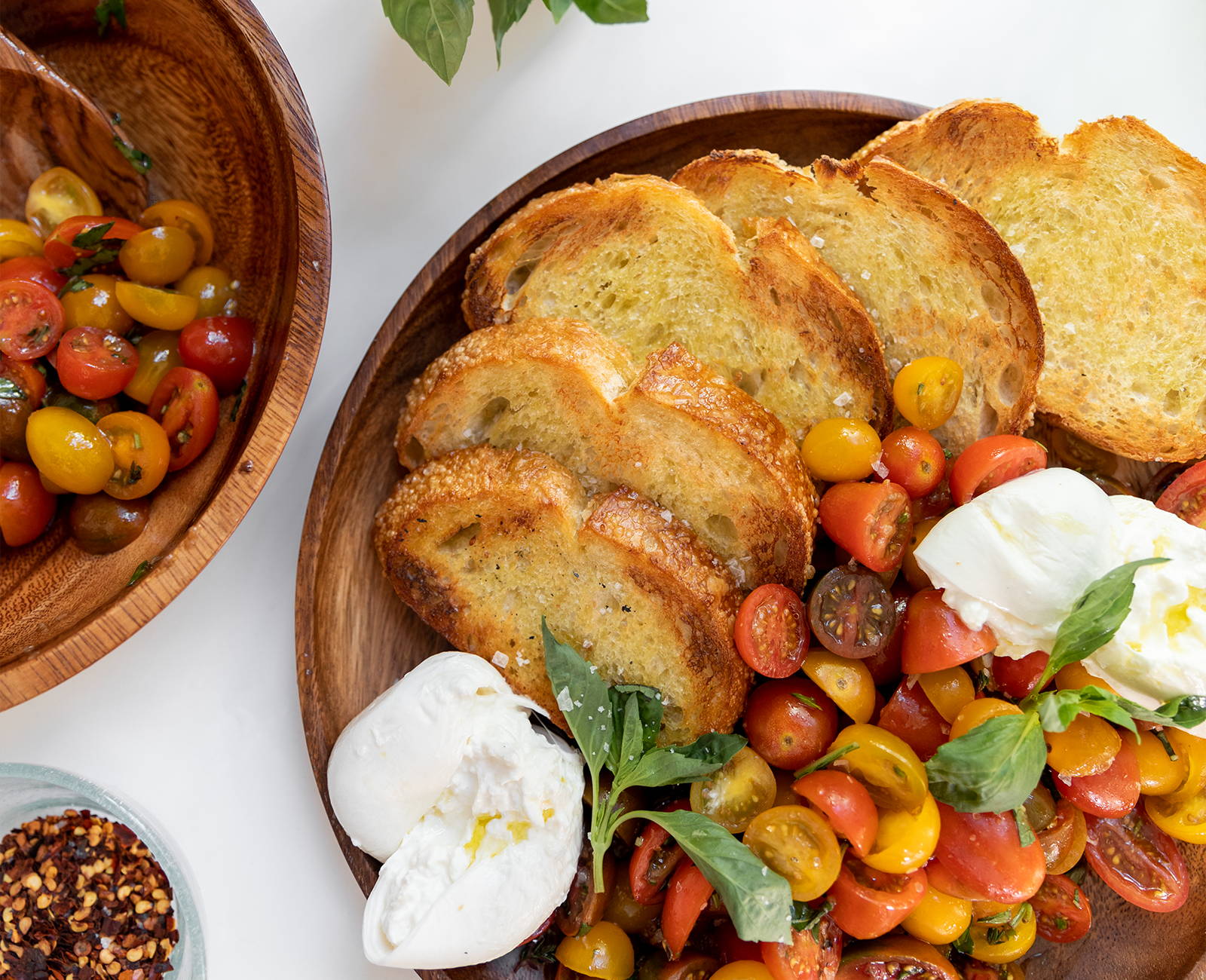 3. SHADES OF WOOD
Wood tones are a beautiful, creative way to complement your kitchen. Wood tones offer a warm feel and fascinating dimensions to your kitchen. This trend especially complements white kitchens or kitchens with cooler color stories.
There are tons of ways to incorporate wood tones into your kitchen décor. Start by looking at fixtures like wooden serving trays. You can use these to display baked goods, bread, snacks, and appetizers or make them centerpieces for your dining room table.
You can also take a look at our Acacia Wood Heart Bowls. Each bowl is handmade in the Philippines by dedicated local artisans. You can display candies, baked goods, or fruit or use this bowl to hold tea bags or hot cocoa packets. Alternate out these items for Valentine's Day or your anniversary, or keep them out all year long.
One of the more popular trends in kitchen décor is open shelving. Open shelf displays are ways to store your regular cups, plates, and kitchenware without the cabinet doors. Typically, these displays are made of floating shelves, and extra decorations are added. This can include plants, baskets, and picture frames.
If you're considering adding an open shelf display to your kitchen, there are a few things to note:
First, it can be helpful to use both an open shelf technique and have regular cabinetry that closes. This way, you can still stash your holiday-themed napkins away and keep your summer plates on display. This also relieves the pressure of always having organized shelving.
Open shelving is a unique addition to kitchen décor. You can complement these shelves in many ways and store a variety of items on them. Get creative with it, and don't be afraid to add greenery to your shelves.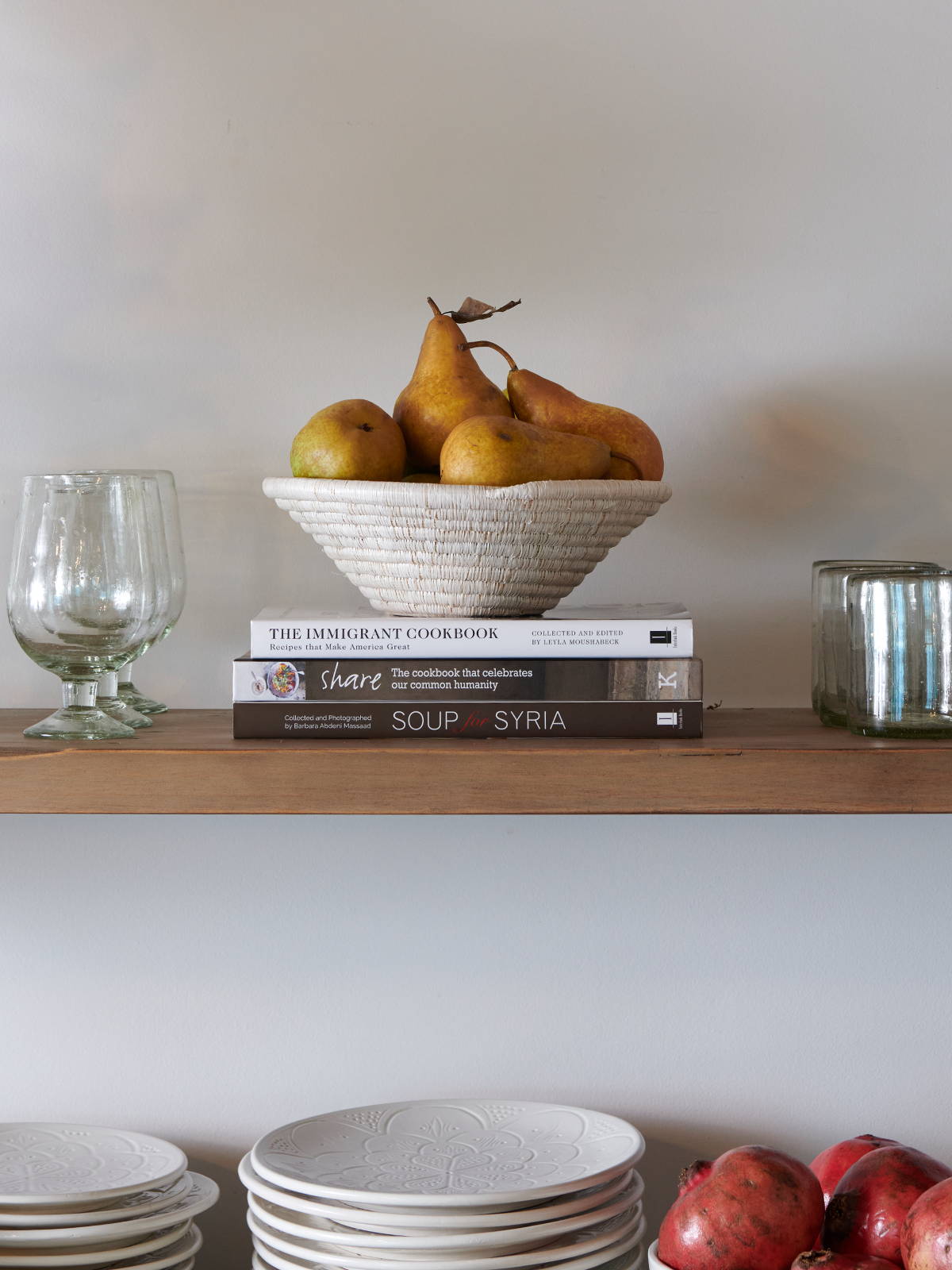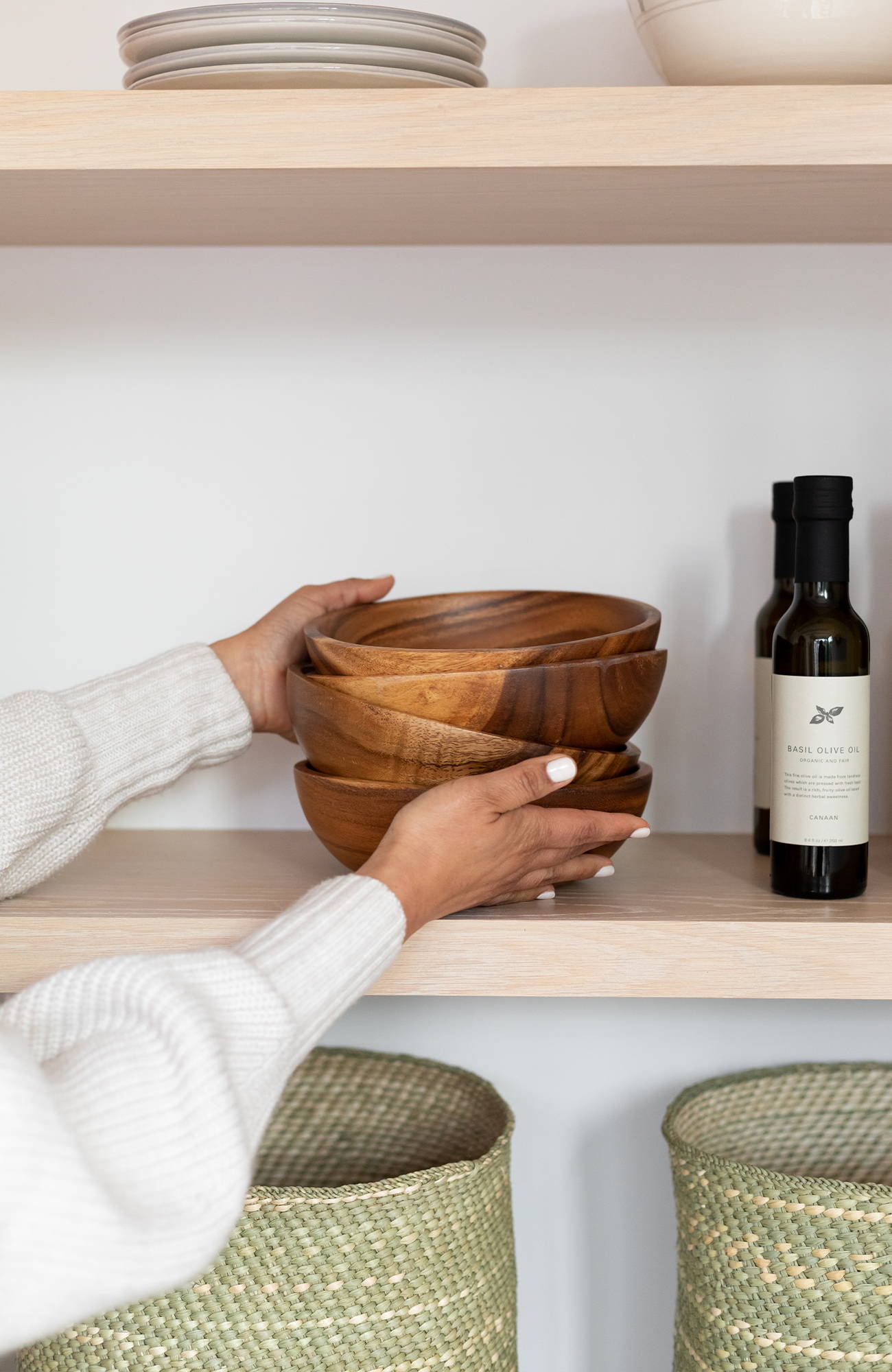 If you're wondering what direction to go in as far as the tone for your kitchen décor, warm and neutral is an excellent choice. Creating a neutral foundation for your kitchen décor is important. This way, you can change up your accent colors without changing the kitchen basics.
Using woven items in beige and tan tones is a great place to lay a neutral, warm foundation. Our Banana Bark Placemat is a beautiful piece of kitchen décor for your dining table. It's made from banana bark, which is environmentally conscious and sustainably sourced.
Each purchase helps your kitchen look warm and beautiful and supports artisans in India.
6. COLOR-ORGANIZED DISHWARE
Another unique way to use kitchen décor to spice up your home is to look for color-organized dishware. We offer a range of patterns and color options to help you spice up your cups, plates, bowls, and more.
Our Moroccan Ceramic Cup in our Blush Stripe Pattern is a beautiful, handmade ceramic made by artisans in Morocco. This exquisite piece of ceramic ware is a fun addition to your kitchen décor. Sip your favorite beverage from it, or use it as a holder for utensils. Get a set of four or mix and match with different patterns and color options.
7. PATTERN MIXING
A bolder look for kitchen décor is pattern mixing. You may have been taught growing up never to mix patterns. However, you can create a beautiful kitchen décor with a bold, mixed pattern look with a few key principles.
When mixing patterns in your home or kitchen, use similar colors. While the prints and patterns themselves can be different, it's important to use colors that match well with each other. It's also important to only use a few patterns when mixing. Too many can be too busy for the eyes. Lastly, it may take some DIY trial and error before you find a pattern mixing style you like.
Knowing which pieces to use when mixing patterns is important. Our Block Print Floral Tablecloth is an excellent place to start when pattern mixing. Lay it over your table and add other patterned dinnerware or decorations to complement it. This tablecloth pairs excellently with hand-etched glassware and hand-painted ceramic plates.
Each purchase of this table linen supports artisans in India who handcraft each tablecloth on hand-operated looms. They have access to training and earn a sustainable income. These beautiful textiles are a great piece to use in your kitchen to give to a loved one.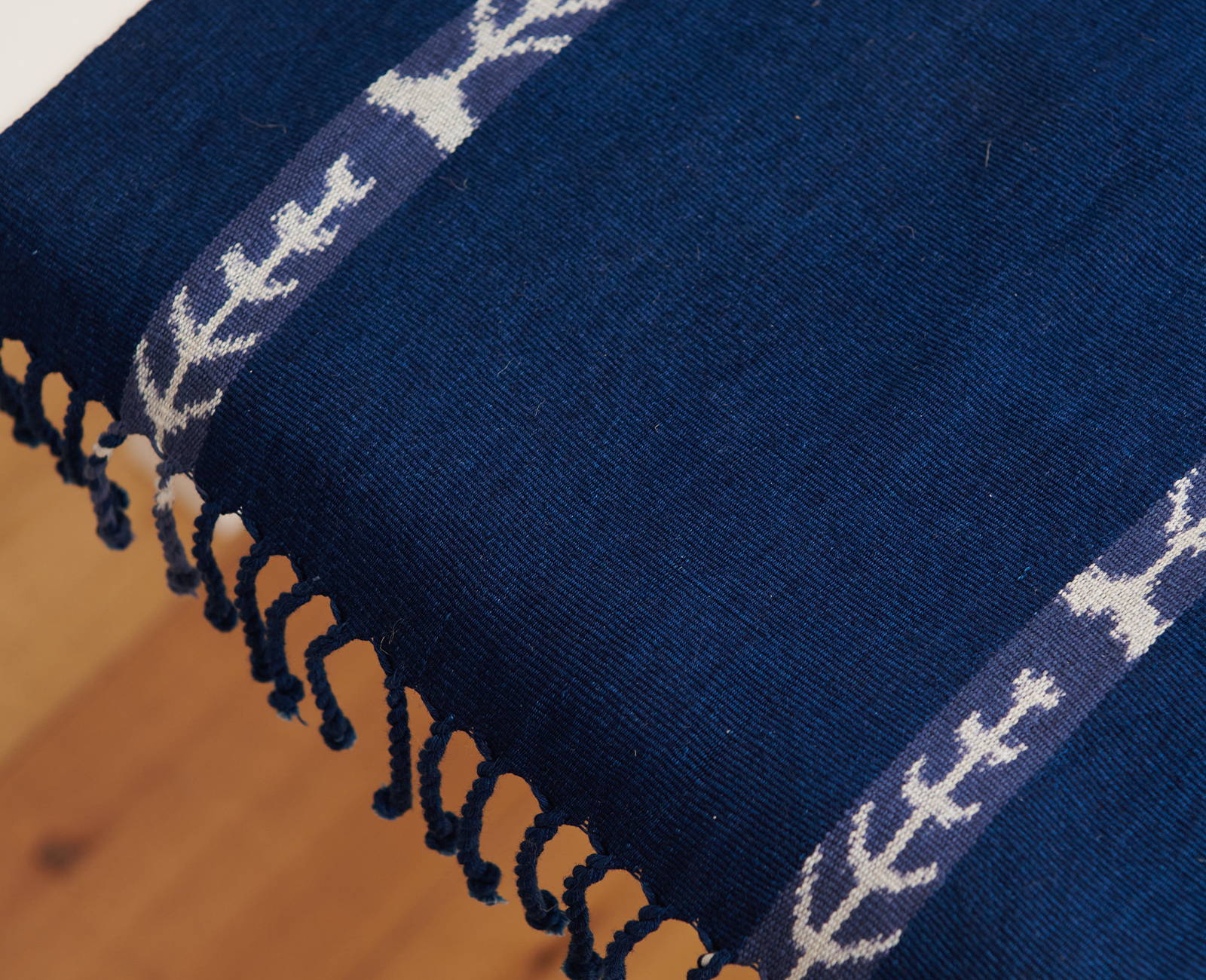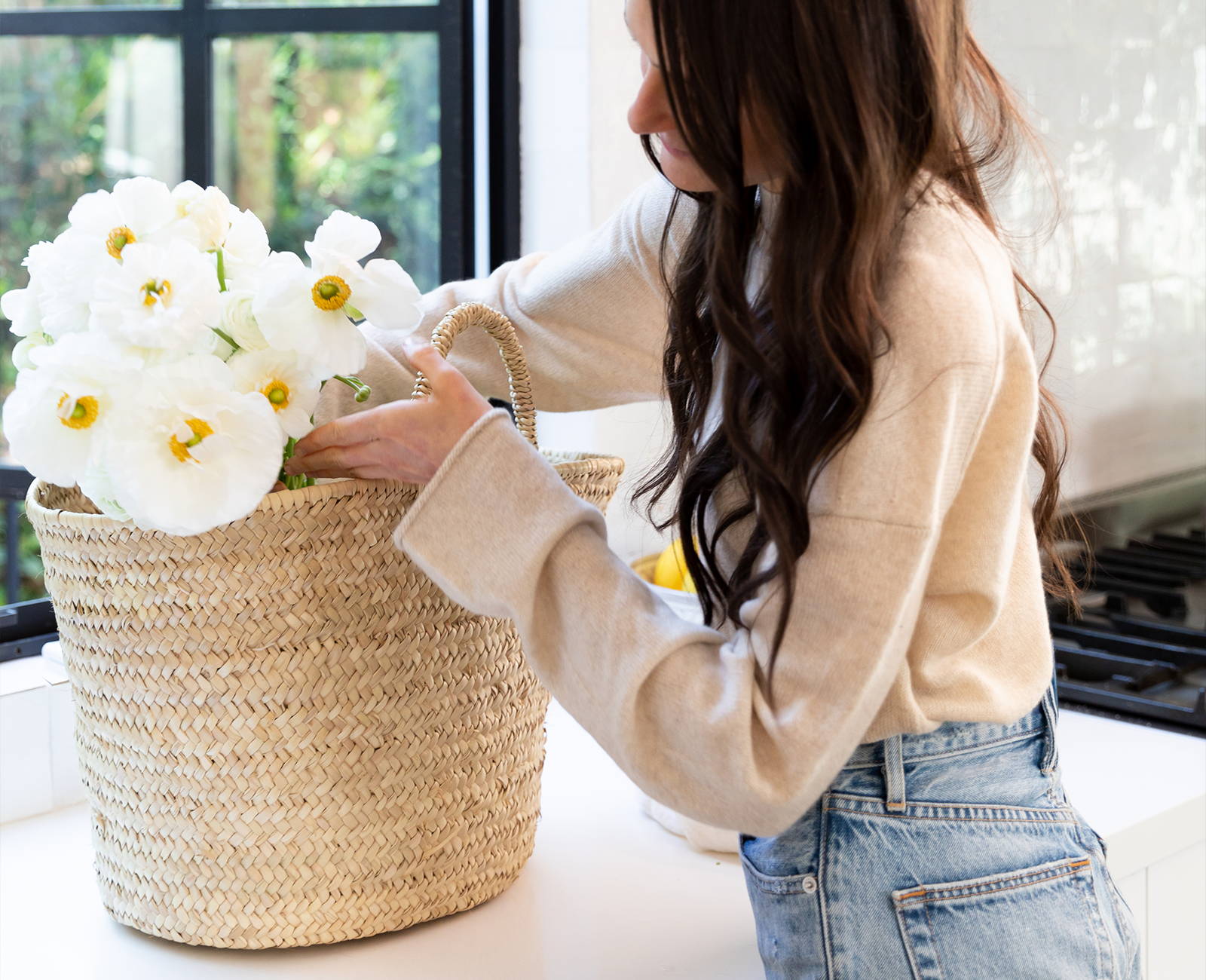 8. WOVEN BASKET STORAGE
An easy way to spice up your kitchen décor is with woven basket storage. Woven pieces provide neutral tones, warm colors, and a beautiful texture to your home. They're versatile and can be used to hold fruit, spices, napkins, and anything else you can think of.
In addition to the beauty woven baskets provide to your kitchen, there are benefits to decluttering your counter space, particularly in a small kitchen. Research demonstrates that having an organized space benefits mental health and psychological wellness.
Our Colorblock Sisal Basket in White is a staple piece for your home. Made with sisal and natural dyes by artisans in Kenya, this piece will do wonders for your kitchen. Use one of these as a place to store your placemats or a planter for your favorite indoor plants.
9. DARK HUES
Even if your overall kitchen décor is on the brighter side, having dark hues can complement these tones. The same concept goes for salty and sweet or the sun and the sand. Light decorations pair excellently with dark accents.
Adding dark hues into your kitchen décor is easy. Simply use our Black Ceramic Tray to serve food on, display, or use as a centerpiece for your dining table.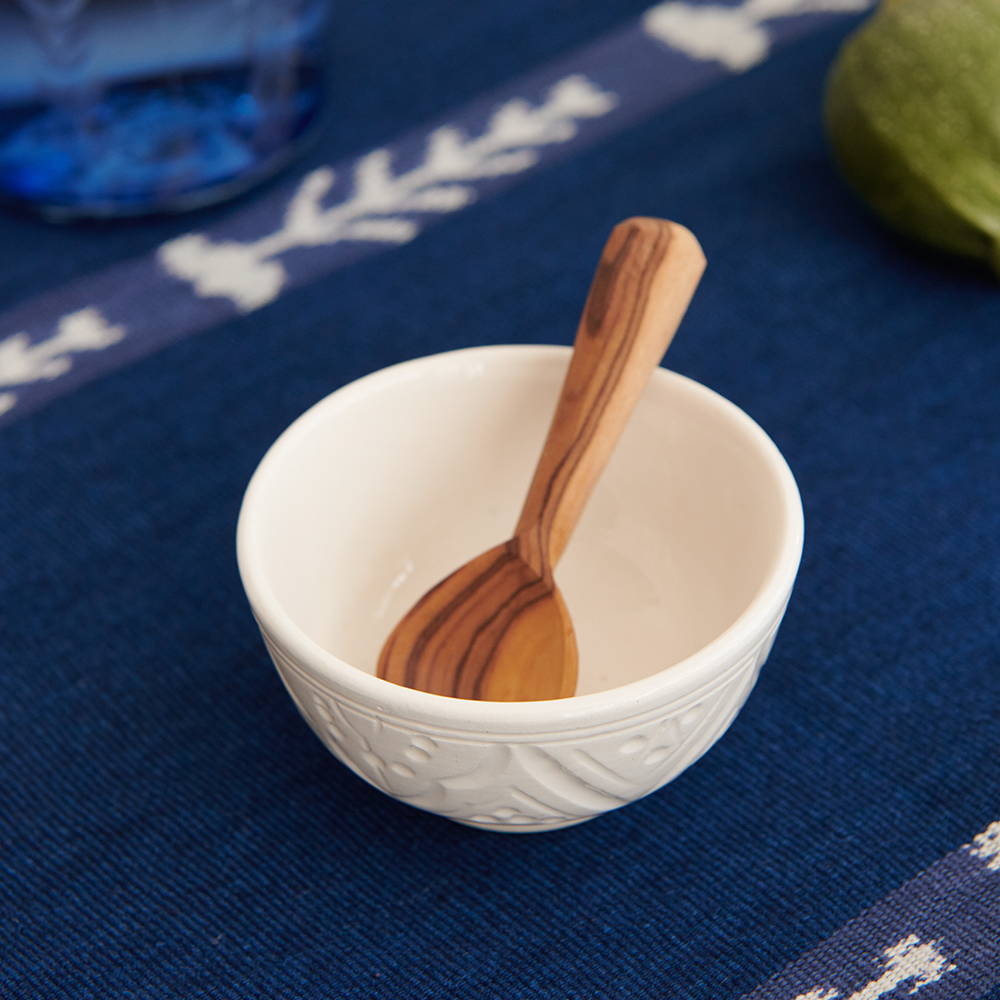 Stone accents are another great idea for spicing up your kitchen décor. Our Heart Marble Coaster in White is a unique addition to your dining table or lounge area. Display these hand-carved, chic coasters in your home.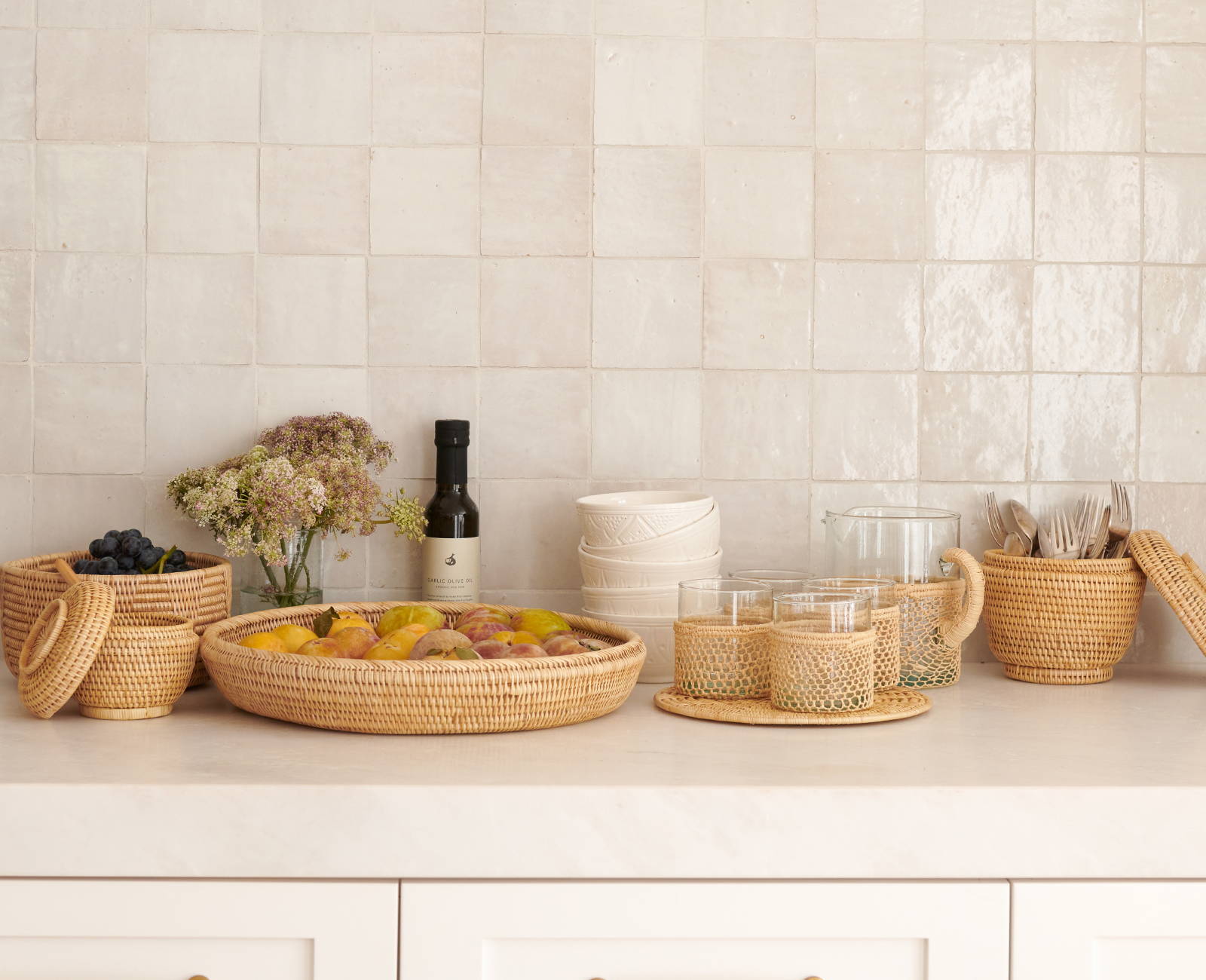 CREATING A SPACE YOU LOVE
The kitchen is a space you likely spend a lot of time in, so investing in your décor is essential. It's a fun way to express yourself throughout your home. It also helps your guests feel welcome and at ease. Use the tips in this guide to spice up your kitchen décor and transform this space into one you love.