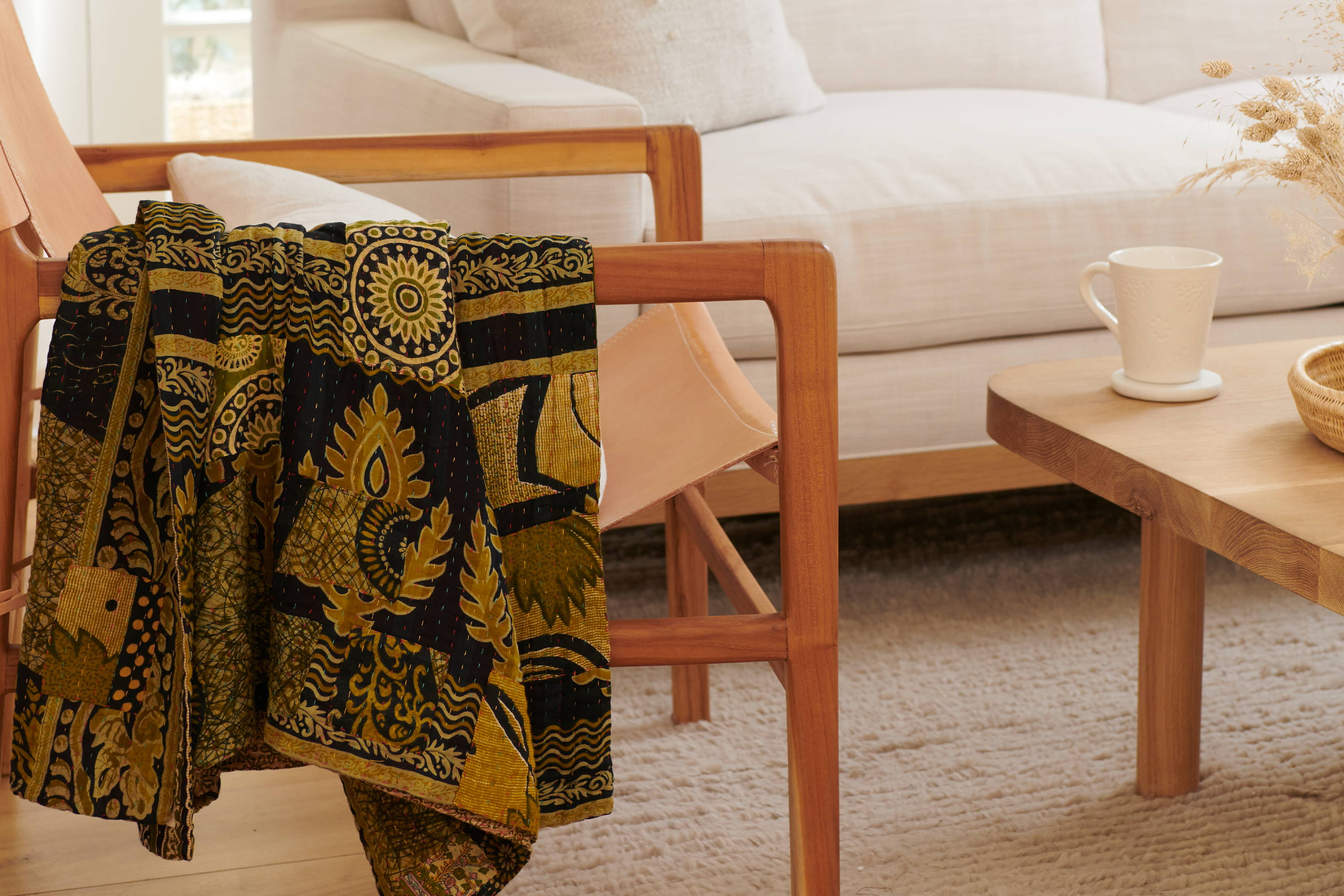 Of all the rooms in your home, your bedroom is a space that should feel warm, welcoming, and peaceful. This room is where you rest your head each night. Creating an inviting, beautiful space is beneficial to supporting mental health, encouraging stress relief, and finding calm.
When designing your bedroom paradise, you'll likely run into a decision on what bedding you should use. There are not only many different categories to choose from, but also many brands and types of bedding in these categories. Quilts are one of these options.
What is a quilt, and how do you find the perfect one for your home?
Read on to learn more.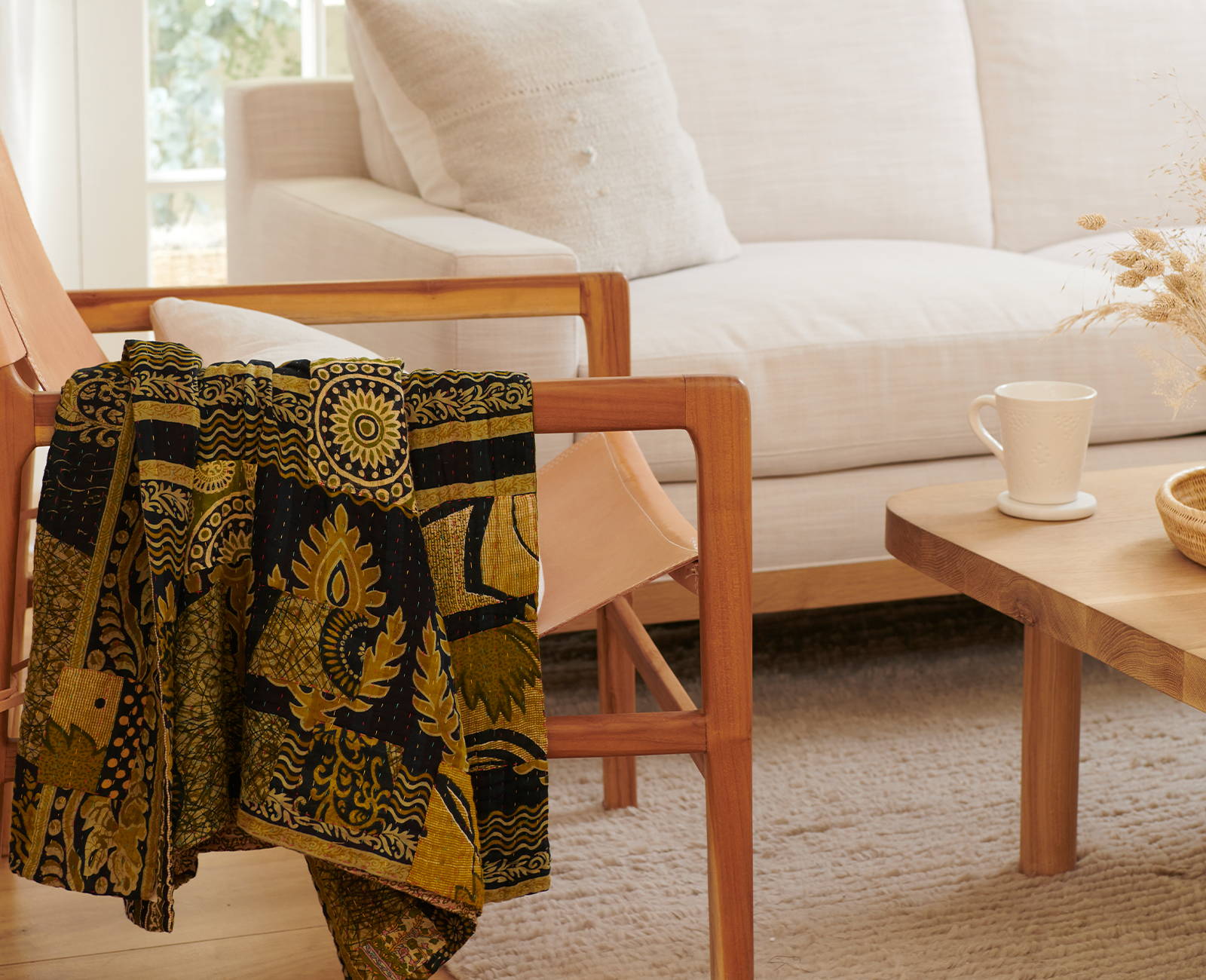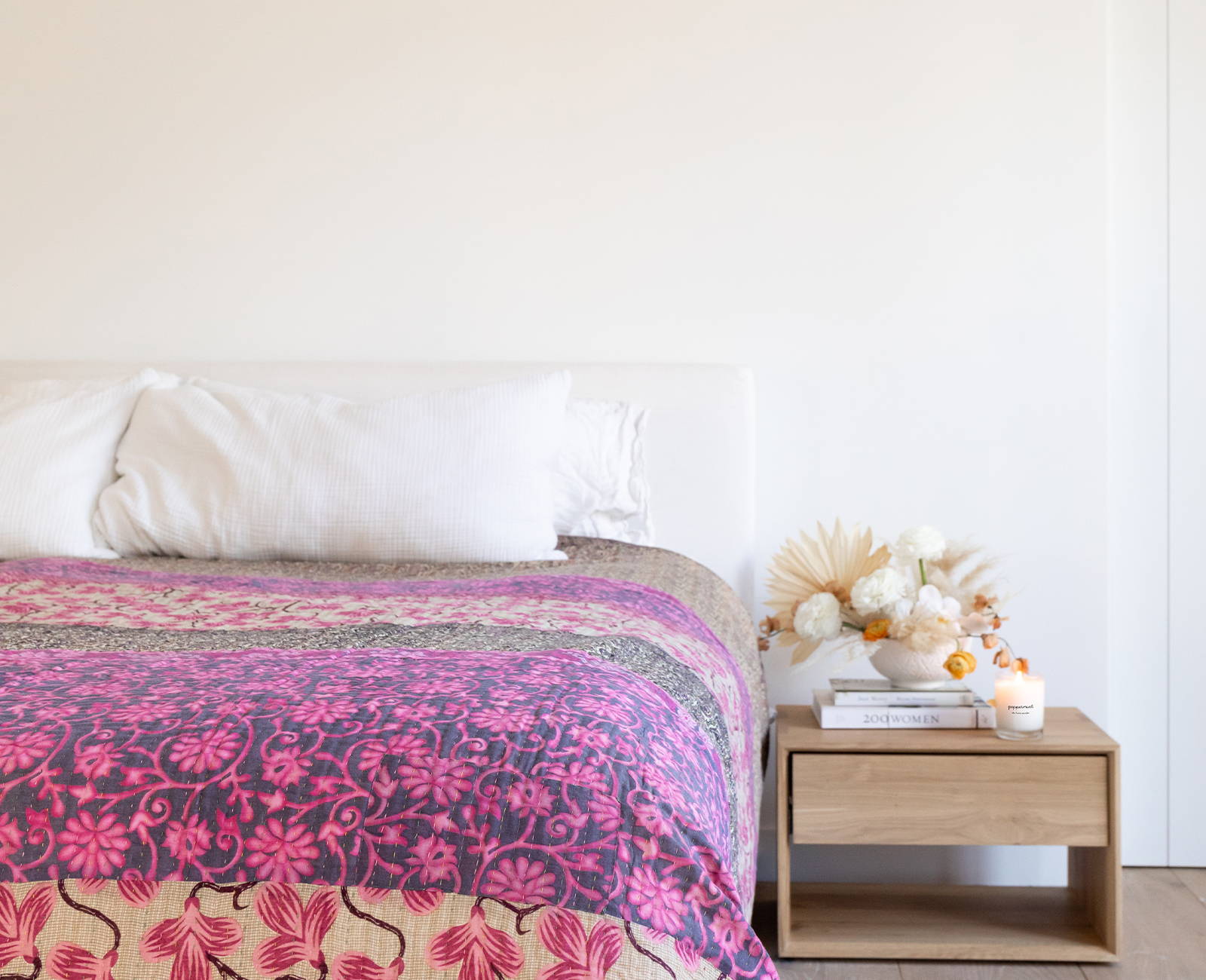 Everything You Should Know About Quilts
So, what is a quilt? Quilts are blankets that are handmade. A quilt often has three layers. The top and bottom layers are made with various fabrics sewn together in shapes and patterns. The middle layer, known as the batting, is typically a warm fabric like wool or cotton. This layering allows for different designs on the top and bottom, as well as added warmth from the middle layer.
Quilts in History
When you think of quilts, you likely attach a favorite memory from your grandparents' house or a friend's house. Maybe quilts evoke feelings of a warm cozy bed or staying up late on Christmas Eve. While we associate quilts with comfort and safety, the generations before us used quilts for much deeper reasons.
The art of quilting can be traced all the way back to ancient Egypt. After this, records of quilting in history date back to the 12th and 14th centuries. Quilts were used for more than just blankets. These beautiful pieces were considered art in many cultures. While function was important, artistic expression was too.
Quilts became an excellent way to incorporate textiles and fabrics in art. With the simple stitching and ability to reuse materials you already had on hand, this medium was accessible and had endless possibilities.
If we trace quilts through history, we see pure, artistic expression, storytelling, and family history. What may seem like a simple, eco-conscious way to make a blanket actually carries with it centuries of art and beauty.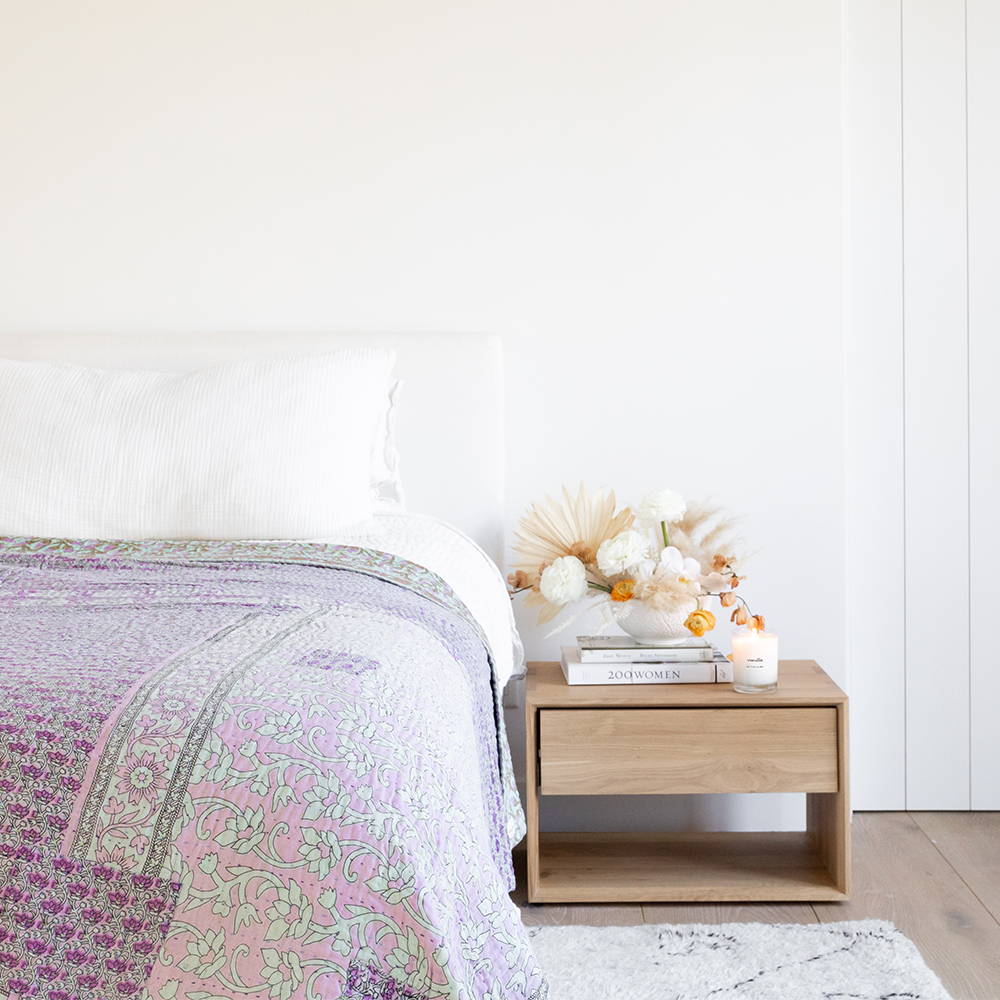 Quilts are known for the precise sewing technique used to make them. These meticulous methods are considered time-honored practices as they are time-consuming and require much effort. One particular method used is known as kantha, which is a valuable art form found in Indian embroidery.
The kantha stitch has been used for over 500 years and is one of the most integral parts of Eastern India's textile industry. The kantha technique allows for upcycling and reusing materials. This stitch is practical and useful, and it holds hundreds of years of tradition.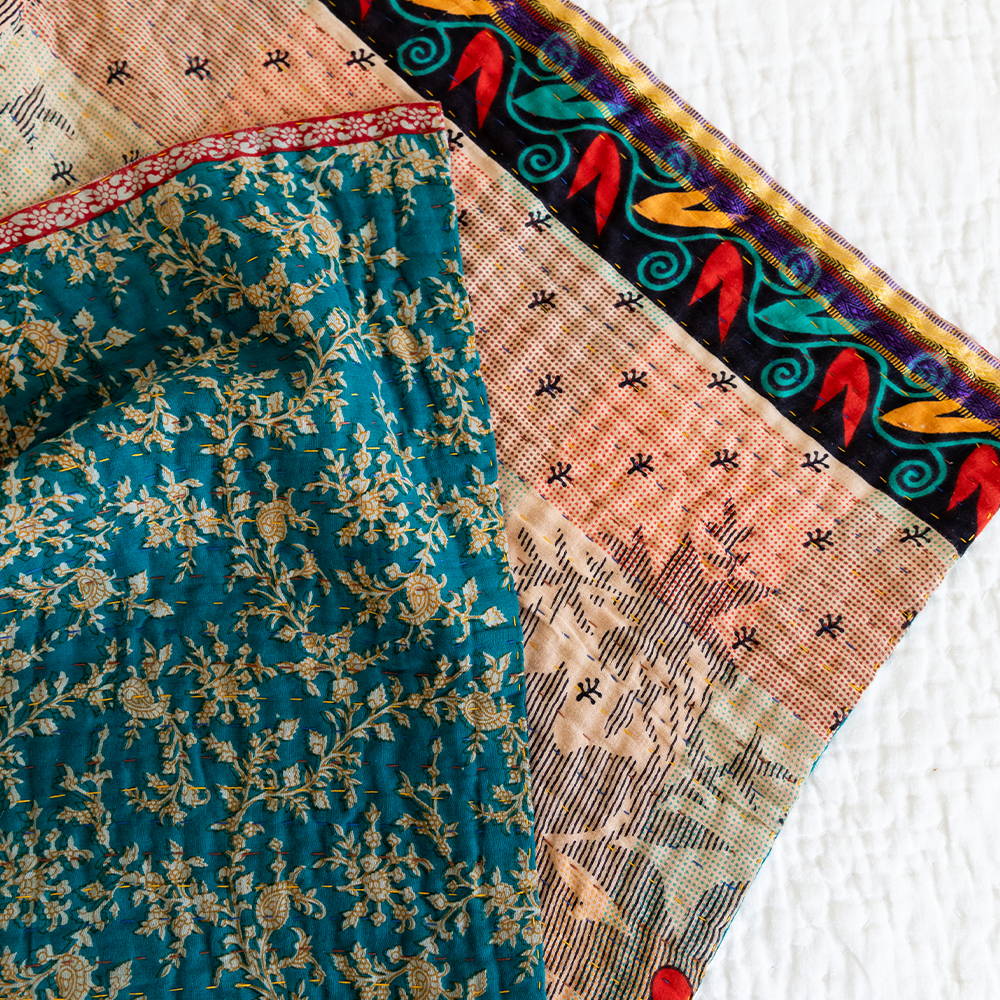 First, artisans gather old women's saris, or even old clothing, and layer them in certain patterns and shapes. Then, using what's known as a kantha stitch, similar to a running stitch, artisans stitch them together to form a top layer. Once the top layer is finished, they begin work on the middle and bottom layers.
Some quilts have their layers sewn together, while others have tassels or ties on the end for added decoration. It's also traditional to make the kantha stitches on the top layer longer than the stitches on the bottom layer. This gives each quilt the characteristic textured, wrinkled look that adds dimension.
This traditional Bengali craft is near and dear to the artisans working in Bangladesh and India. They use this method to repurpose and reuse old clothing, thus making something that's at the end of its life new again.
These cultures believe each piece of clothing holds memories and love from its previous owner's life. By sewing old pieces of clothing into a quilt, they sew in and preserve their love, hopes, and dreams as well. This journey of turning the old into something beautiful is an excellent picture of the values and meaning behind quilts.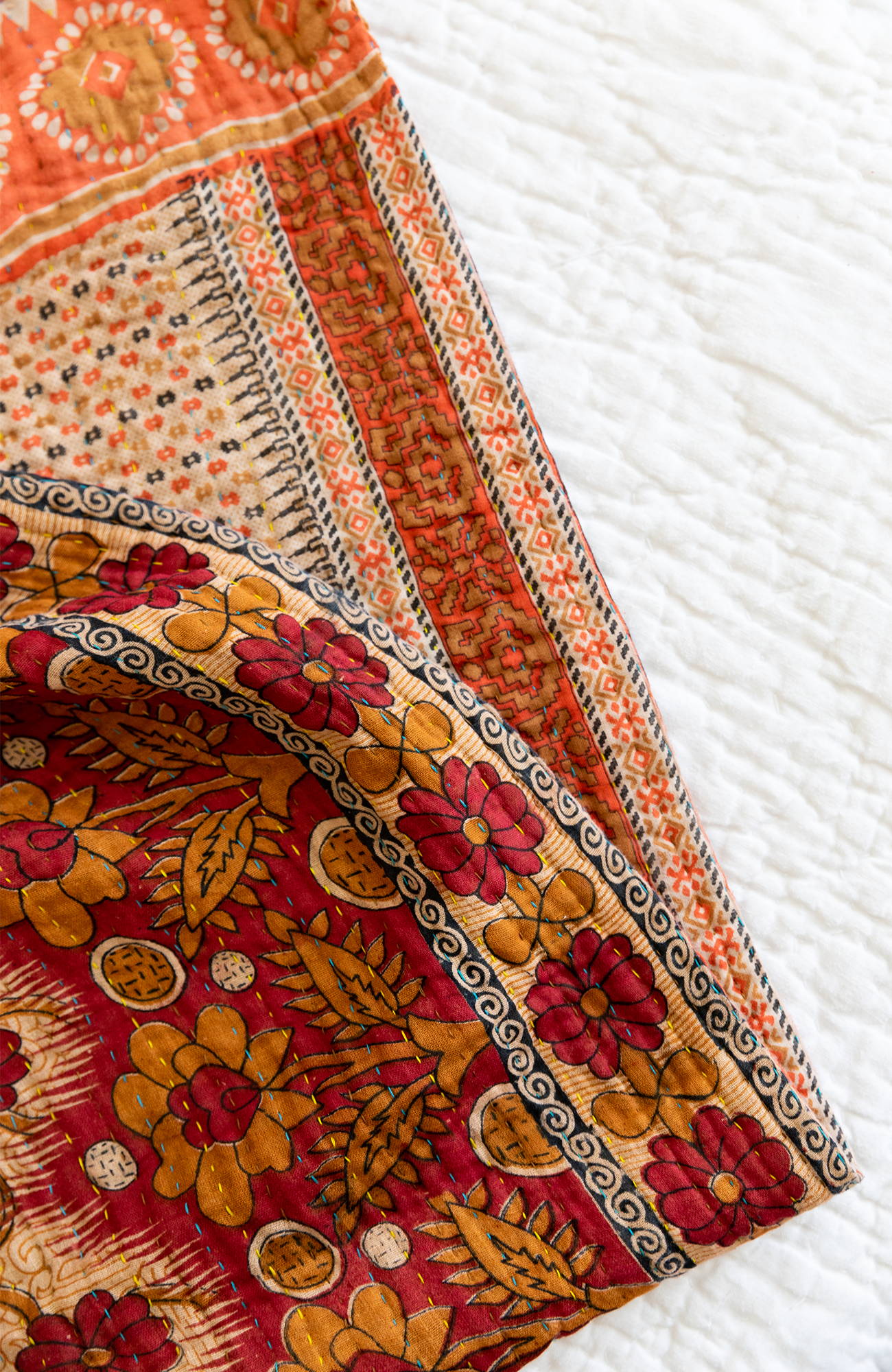 In today's market, you can find quilts made of anything, from materials like cotton, wool, and polyester to new fabrics and old clothes. Traditionally, however, quilts are made with repurposed saris.
These are saris that women have grown out of, replaced, or gotten rid of due to wear and tear. Instead of throwing them away, artisans repurpose them into blankets that then begin a new life.
What about the thread used to sew these quilts together? Where does this thread come from? The answer is — used clothing and saris. Even the thread used to sew these quilts together is repurposed from another piece of old clothing.
Quilts vs. Duvet Covers vs. Comforters: The Difference
Now that we've examined the history behind quilts and their significance in the home, it's important to understand how quilts differ from other bedding.
Let's take a look at the difference between quilts, duvet covers, and comforters.
Duvet covers, also known as duvets, are coverings for a comforter. These are most often in neutral shades like white and are filled with a soft material. Duvet covers help protect the bed, add warmth, and make laundry easier as you don't have to wash your whole comforter.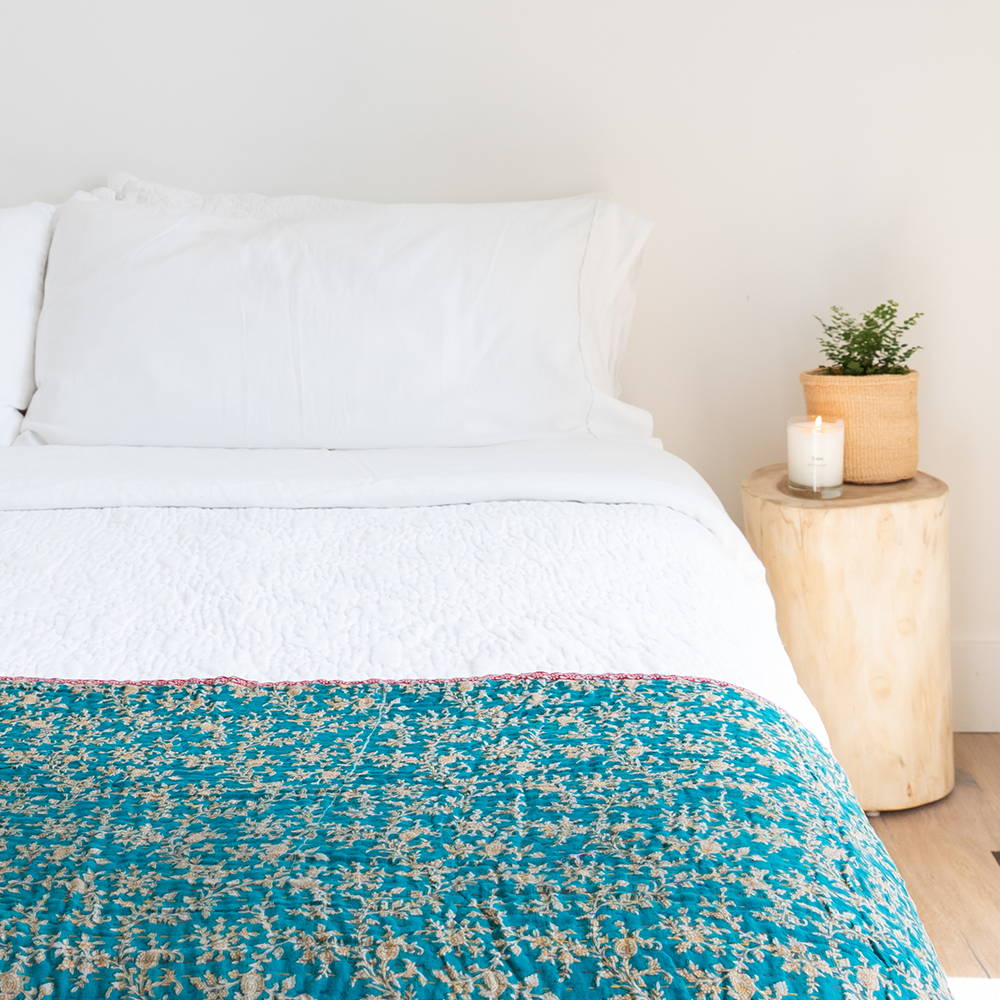 What Is a Comforter?
Comforters have their own down or synthetic feathers inside to make them fluffy. This type of bedding is typically thick to provide enough warmth at night without an extra blanket.
Comforters only include one piece of bedding, while duvet covers require two pieces. This may make duvet covers warmer, but removing and reattaching a duvet cover can be quite the challenge.
What Is a Quilt?
This is where a quilt comes in handy. Often designed with multiple layers in a beautiful hand-stitched pattern, quilts offer the same warmth as duvet covers without the hassle. While comforters are excellent, they may lack the warmth you need to sleep comfortably.
There are many reasons to incorporate quilts into your home. From the practical warmth they provide to the artistic expression they offer for your space, there's no shortage of ways you can use a quilt.
If you're wondering how to choose the perfect quilt for your space, here's what you need to know:
One of the best reasons to use a quilt in your bedroom or home is to add a pop of color. Quilts are rich in a variety of hues, patterns, and textures. You can choose the color in a few different ways.
First, simply take a look at your color options and what colors you like. If you like neutrals, opt for neutral quilts. If you like blues and purples, look for these tones. If you like gold and green and brown, you can find quilts in these tones too.
You can also aim to match your quilt with the other colors in your space. If you're going for a vintage look and feel, look for vintage reds and brown tones. If you have a theme in your room and multiple colors overlapping, try to incorporate these colors in your quilt too.
Color is especially important if you're placing the quilt in a place many people see it. For instance, if you want to drape a quilt over the armchair in your living room, you want it to match your space. Consider the tones throughout the room and how to incorporate them into the quilt. You can use bold colors and patterns, or you can opt for softer quilts.
Enjoy flexibility; don't be afraid to go bold and express yourself. After all, quilts are about much more than just staying warm. Using them as art and expression in your home is an excellent way to turn your room into a more personal space.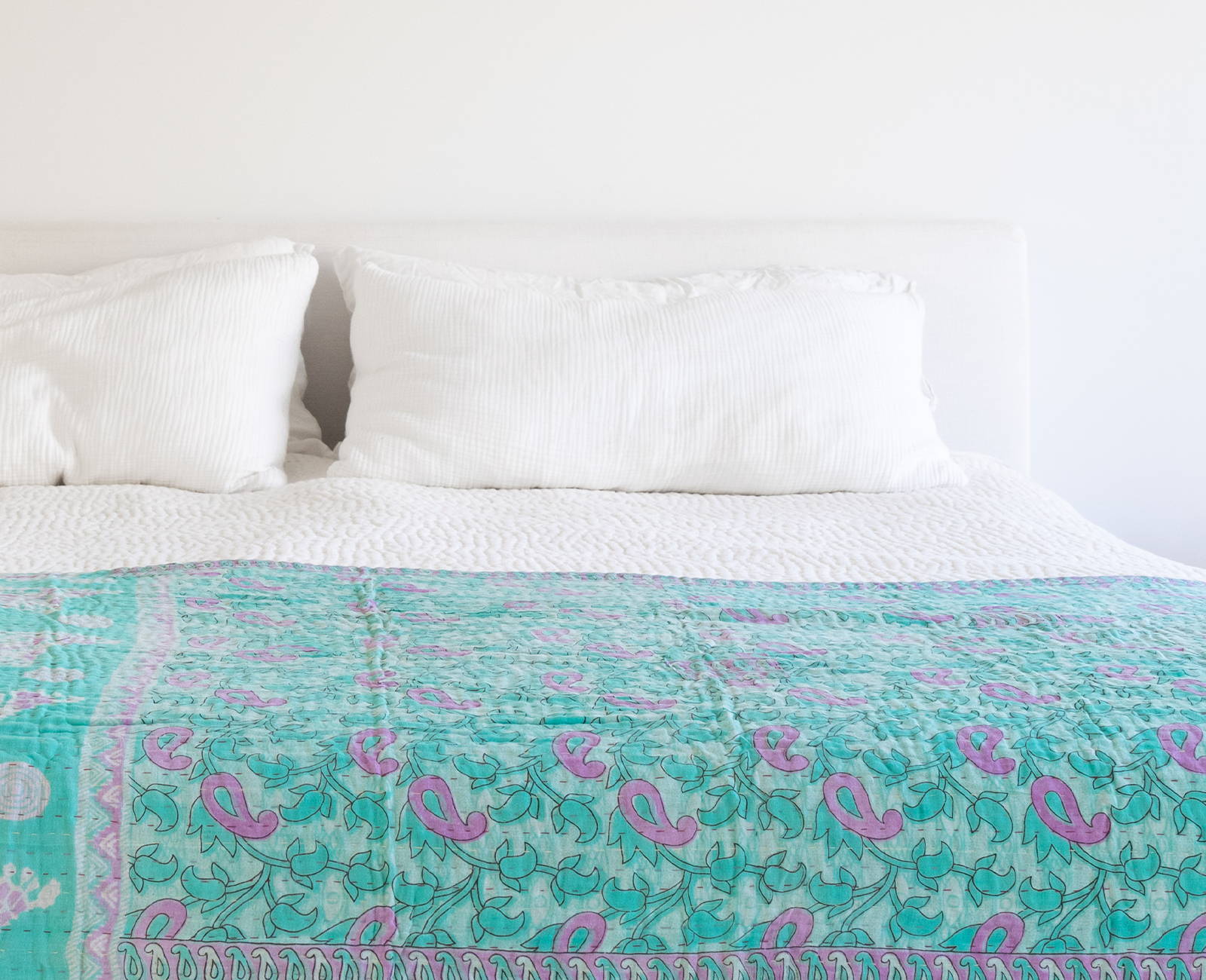 Pick a Pattern
Next, it's time to choose a pattern. Just like colors, quilts come in a range of different patterns. No two quilts are exactly alike. Each pattern offers a different quality, so consider what you're looking for.
If you're decorating a modern space, look for more intricate designs or more simple designs. For artistic and colorful spaces, use floral or paisley patterns. There's no shortage of ways you can incorporate patterns in your home.
You can even mix and match patterns with complementing colors to add an accent to the room. Pattern mixing is a great way to elevate your décor and achieve bold patterns in your home.
Consider the Materials Used
When choosing a quilt, it's also important to consider the materials used to make it. While traditional handmade quilts are typically made with repurposed materials, modern options may not be. Do your research so that you know what materials are in each quilt.
Here at The Little Market, each handmade quilt is made with the traditional kantha stitch and repurposed cotton saris. These saris are 100 percent cotton and sustainably sourced as they're made from recycled materials.
The materials we use in our homes impact the environment in a significant way. To make this impact a positive one, we're passionate about creating beautiful home décor from eco-conscious resources. By checking the materials used in your home décor, you can support the planet.
Beautiful Quilts To Enjoy In Your Home
Here are a few creative ways to use quilts in your home
The most common room to use quilts in is the bedroom. Your bedroom is a place of relaxation, calm, and rest. It's important to use decorations and colors you enjoy in your bedroom. Using colorful bedding can add the perfect pop of color.
Consider our Small Kantha Quilt No. 773 with beautiful accents of green and gold or our Small Kantha Quilt No. 762 for rich hues of tangerine orange and paisley designs. Each purchase empowers artisan women in Bangladesh, many of whom are survivors of human trafficking and abuse. In a safe, dignified environment, they earn fair wages and learn essential skills.
Having an accent wall in your home is an excellent tool for interior design. Instead of using wall art or paint, consider using a boldly patterned quilt to hand as a tapestry. Our Kantha Quilt No. 839 is a beautiful blend of blues, greens, and yellows. This quilt tells a story while adding a cozy accent to your wall.
For hues of red, blue, and cream tones, our Kantha Quilt No. 843 is a true gem. This beautiful piece is the perfect addition to hang on your wall, drape over the couch, or use in the guest bedroom.
Quilts have a beautiful, detailed past. They are a patchwork of traditions, love, and creative artistry. With our careful preservation of quilt-making, we can ensure that this craft endures through our future.