A Picturesque Al Fresco Dining Scene,
Styled by Lauren Conrad
Set the scene for an elegant outdoor dinner party.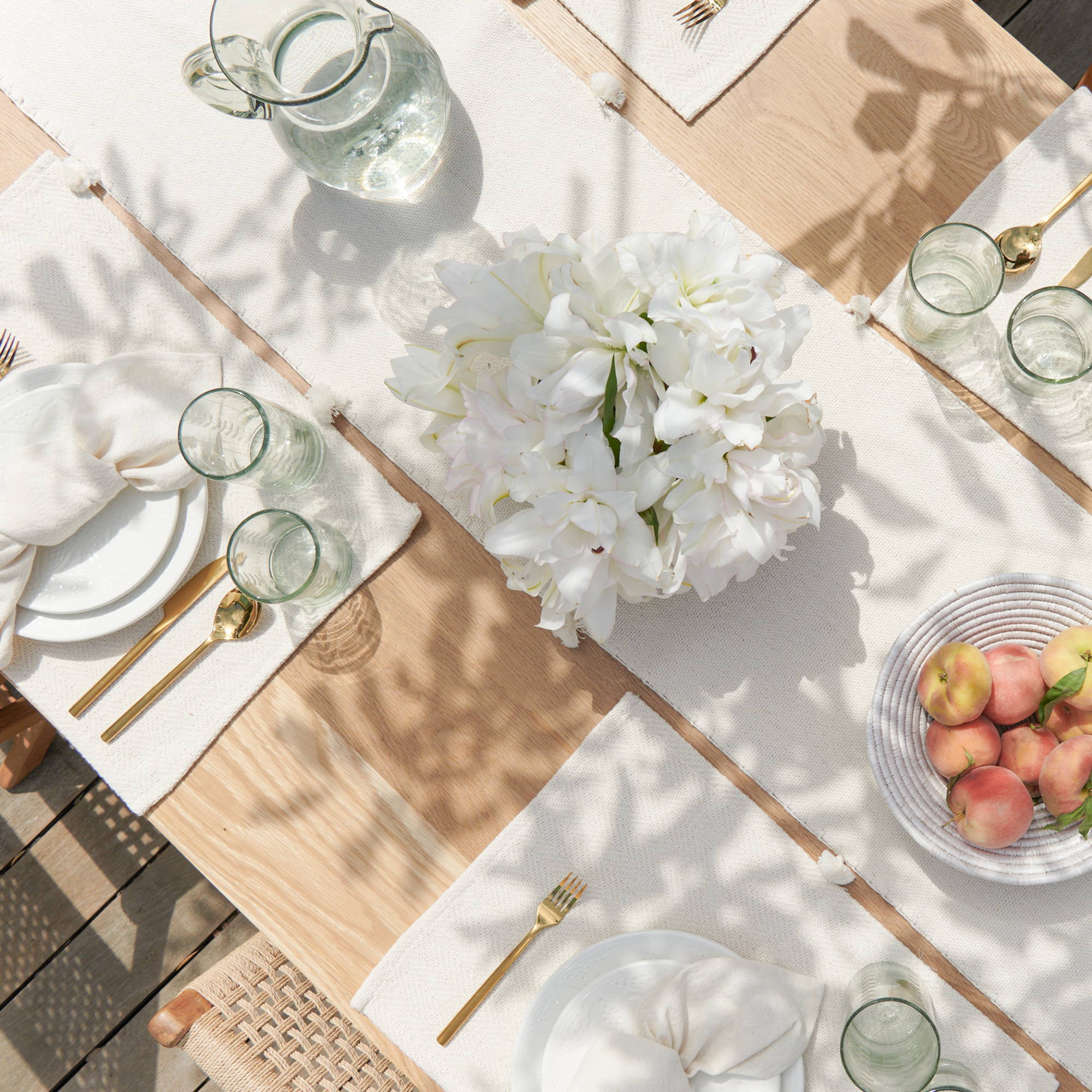 Elegance meets understated is the vision behind our dream al fresco dining scene, styled by our co-founder Lauren Conrad. Especially when it comes to hosting outdoors, we opt for a "less is more" approach that creates an atmosphere of ease for enjoying good food, good drinks, and good conversation.
Below we're sharing design tips and artisan-made pieces that will bring beauty and intention to your future outdoor gatherings — and the special moments around the table. From the minimalist table linens to the hand-etched glassware, each piece on this tablescape is one-of-a-kind, made by artisans, and crafted from eco-conscious materials you'll be proud to share with your loved ones. Set the table, settle in, and enjoy!
Inspiration for An Elegant +
Minimalist Backyard Dinner Party
Set an intentional foundation
Your foundation sets the tone for the whole tablescape. Seeking a minimalist aesthetic? Opt for neutral placemats and table runners. If you love texture, our rattan placemats instantly add dimension and an earthy flair to your table.
Tip: Placemats can double as a coaster if you're tight on space.
When pairing glassware, vary the heights for visual interest. For example, incorporate an etched short glass for mocktails and cocktails and an etched tall glass for water. Looking to add a pop of color? Glassware is the perfect opportunity to experiment and get a little creative with shades and textures.
Tip: Durable glassware is especially ideal for outdoor dining where tumbles are particularly prone to happen.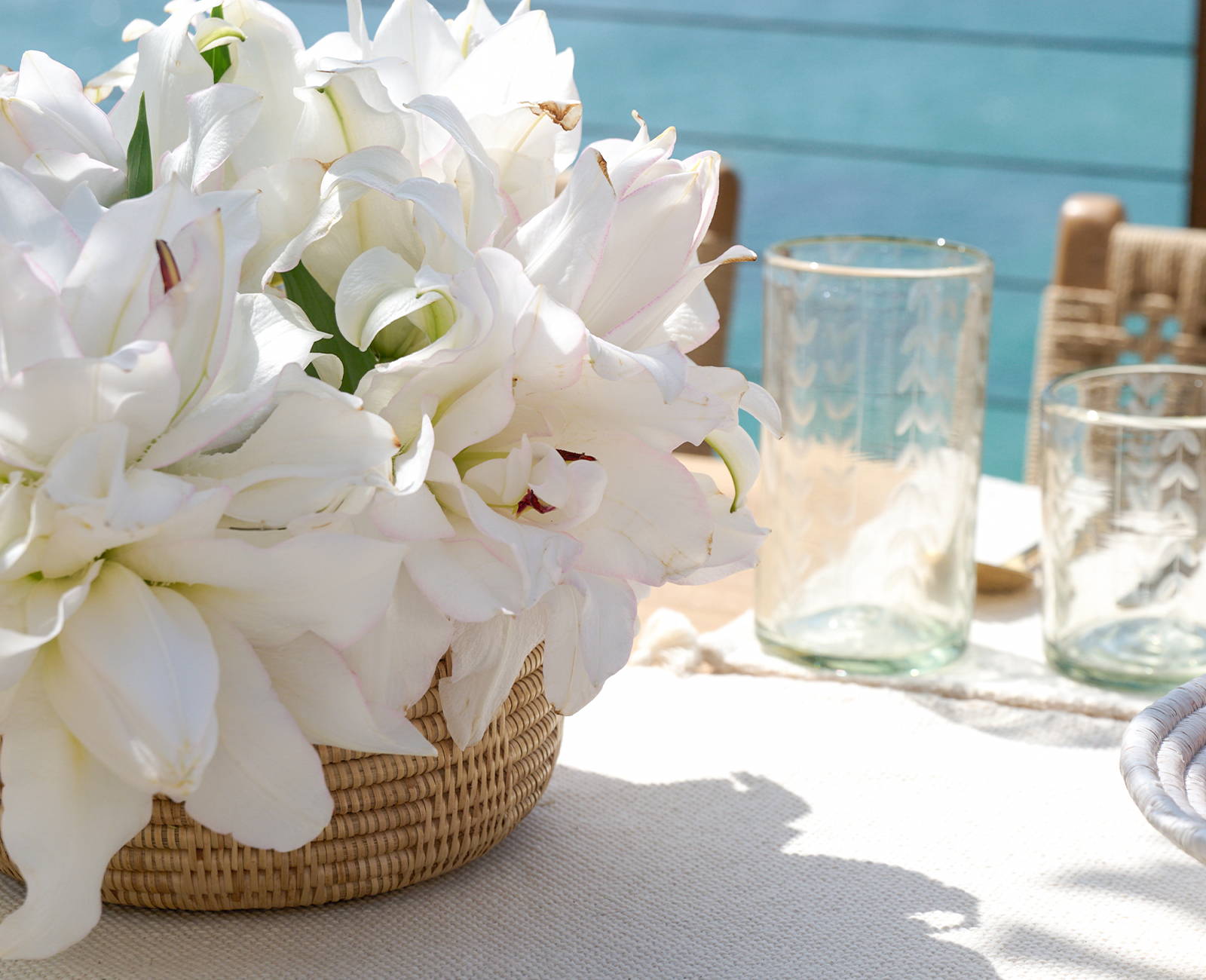 Add bright + inviting florals
Adorn your table with a statement-making bouquet. We love bouquets with a monochromatic palette for a timeless arrangement.
Tip: Use shorter centerpieces to avoid any visual obstacles that might block your guests from being able to talk to one another.
Elevate a tablescape with thoughtful details
Bring your own personal touch
Make your tablescape your own. Pair a knotted napkin with each setting to bring the whole tablescape together — or write everyone's names on handmade tags to mark their spot. These personal touches will make your gathering stand out and feel even more special.
Tip: Get creative with your centerpieces. We love repurposing our kantha quilts as a unique table runner, bringing a special keepsake to the center of the table.
The Stories of Our Artisan-Made Table Linens
The linens featured in this tablescape are crafted by artisans in El Salvador with intricate details and thoughtful designs while preserving traditional techniques that have been passed down across generations — and have been at risk of disappearing.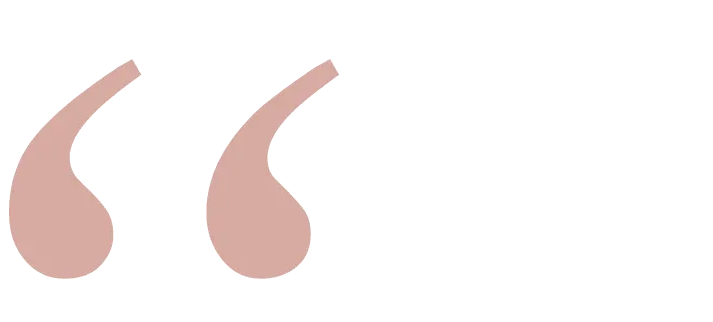 For me, this technique is part of my culture and my people. I could see how this technique began to disappear because it was not well-paid and the new generation were not interested in learning it. … I am happy to leave my children a legacy of culture and honest work.
Don Ciro Castro,
master weaver at Lula Mena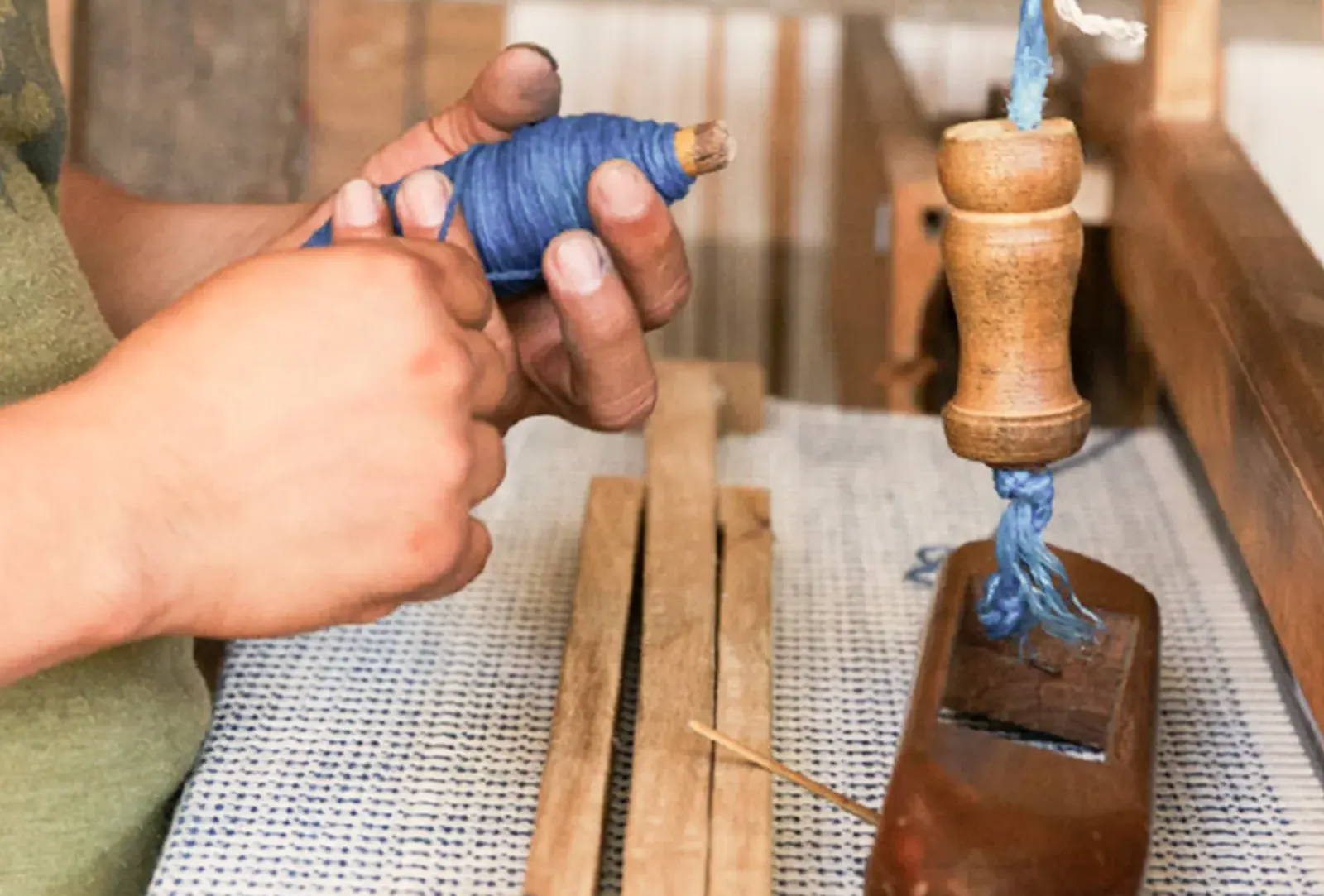 Since 2017, we have been so proud to support Lula Mena and their work that provides artisans with opportunities to earn fair wages and maintain job security. Learn more.
Shop to Support Artisans in El Salvador