4 Ideas for a Perfect Beach Picnic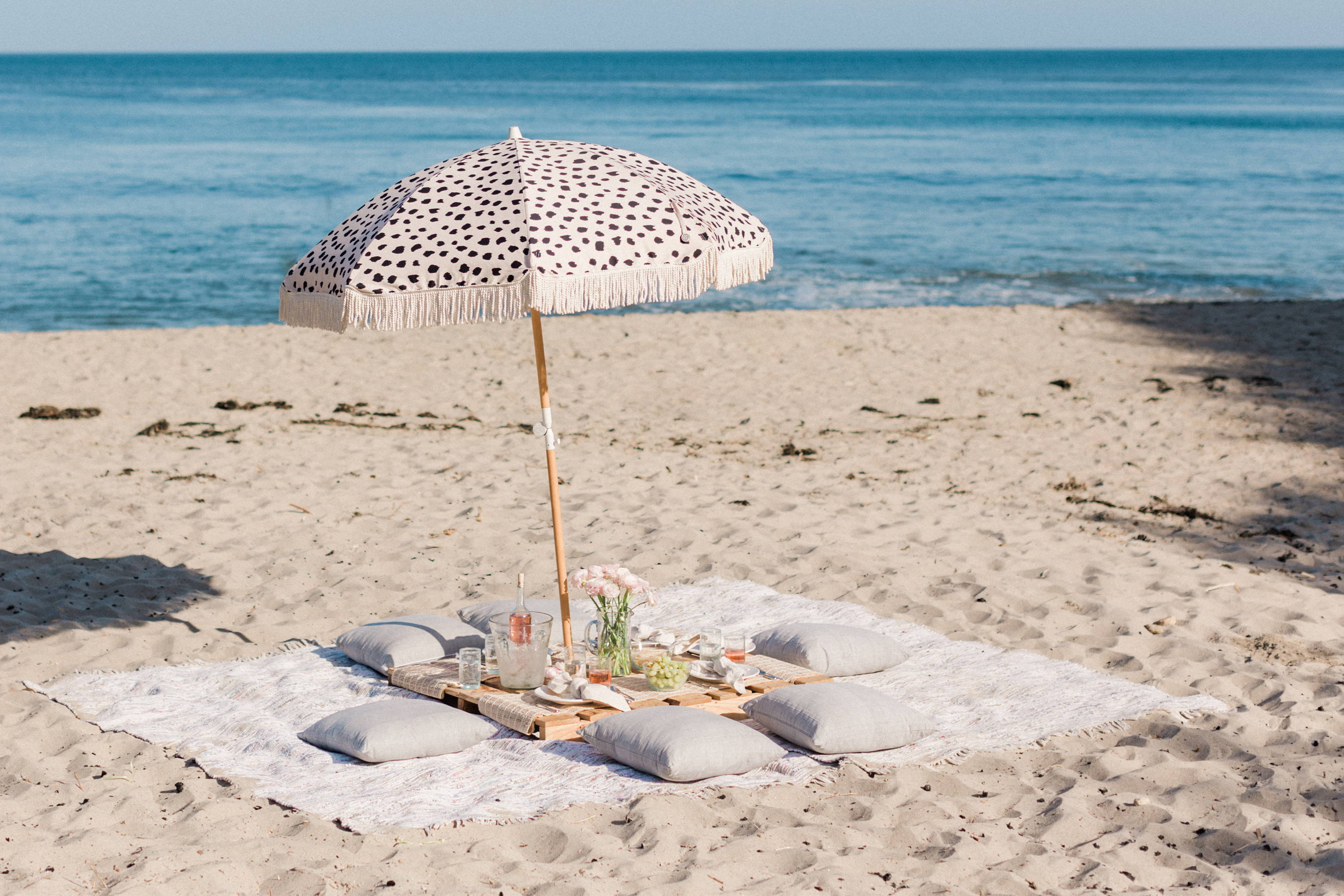 If you live near the beach or are visiting the beach for vacation, there's nothing better than a beach picnic. Soak in the salty air, feel the warm sand between your toes, bring your friends and loved ones, and enjoy your favorite snacks and drinks while basking in the sun. The right picnic gear and the plan can make your day even lovelier. Ready to take your beach picnic to the next level?
This guide features the four best ideas for the perfect beach picnic, how to take yours to the next level, and much more. Here's what you need to know.
Why Picnic at the Beach?
Oceanside Means Gorgeous Views
When you take your picnic to the beach, you enjoy unforgettable oceanside views. Each ocean is beautiful in its own right, no matter where you are in the world. Enjoy a picnic on your hometown's local beach or on your island vacation.
4 Ways to Make Your Beach Day Even Better
Pack a Bottle of Wine
in Your Favorite Tote
What's more romantic than oceanside views? Whether you're with that special someone or just want to treat yourself, bring a bottle of wine (or a favorite beverage), a few glasses, and a blanket to sit on to enjoy the oceanside views. Pack everything conveniently in your favorite tote bag.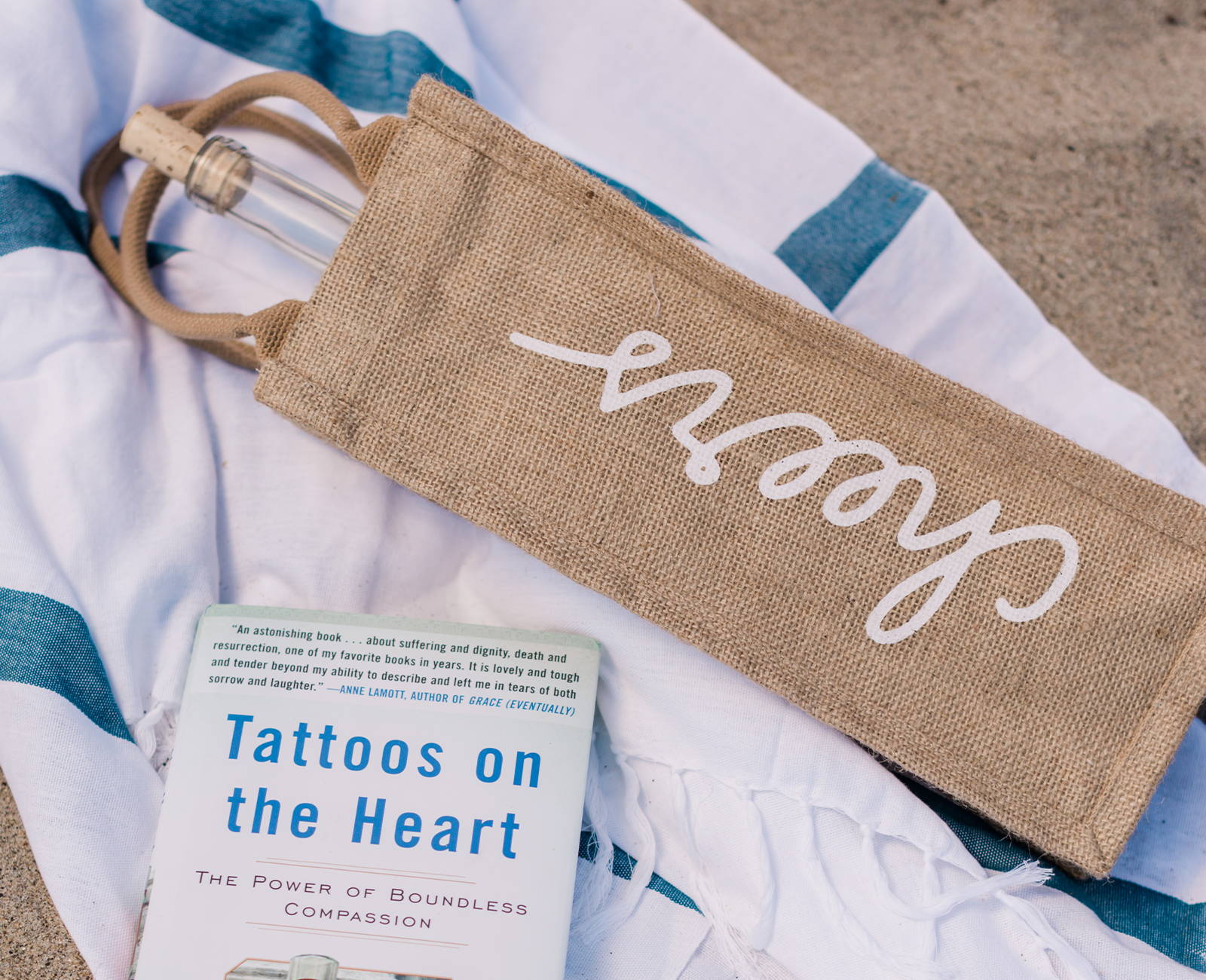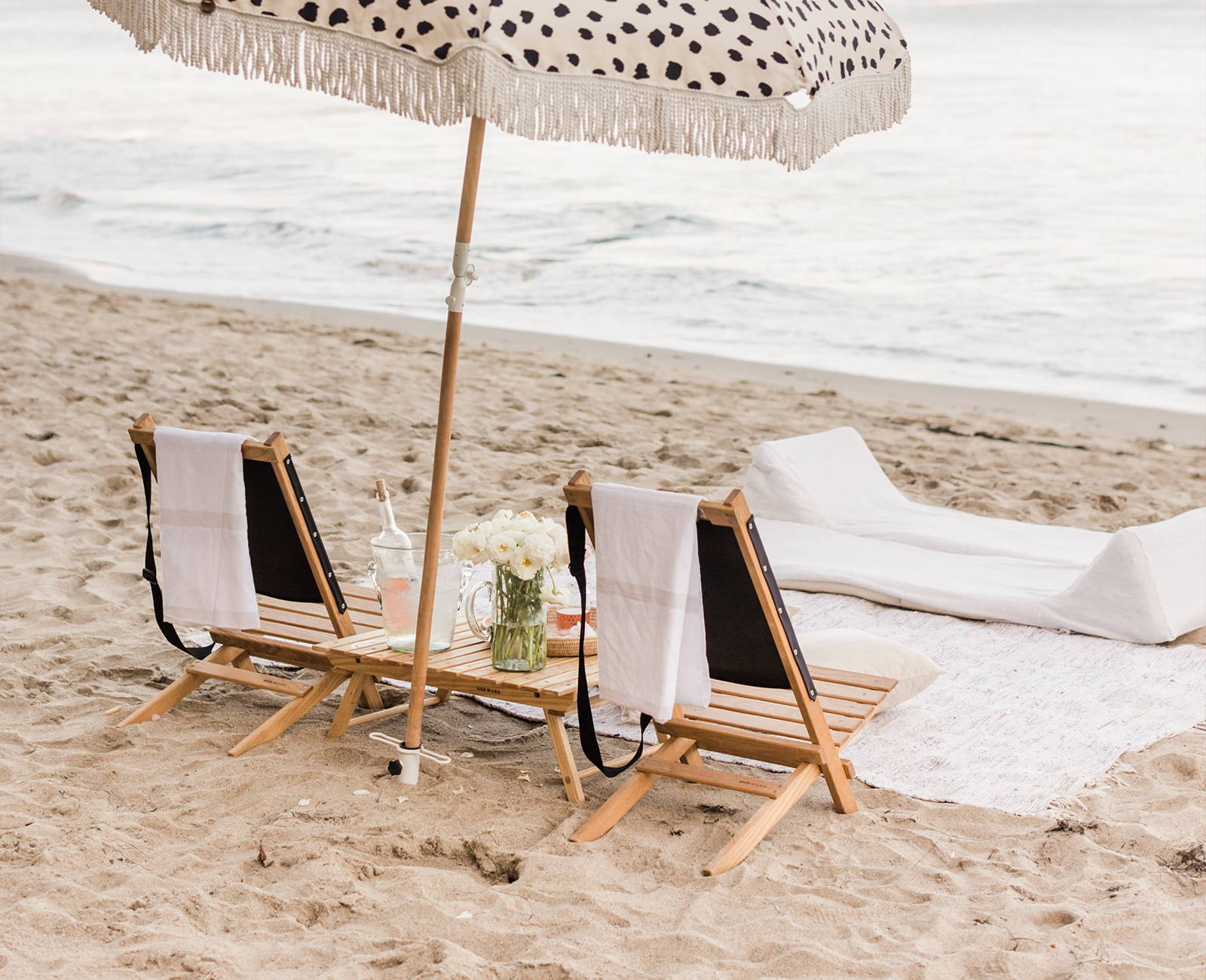 Bring Your Own Coffee or Tea
Do you ever wake up and wish you could take your morning cup of coffee or tea to the beach? Now you can! Bring your Coffee or Tea set down to the shore and enjoy watching the Earth wake up while you wake up with your favorite warm beverage.
Pack Your Goodies in a Handwoven Basket
Having the right picnic basket can make or break your picnic experience. That's why it's best to choose handwoven items that are sustainably made, are eco-conscious, and will last a lifetime. Consider the Striped Storage Basket for a durable weave and supportive handles. Pack all your goodies, snacks, drinks, and blankets in your basket and show it off on the sand.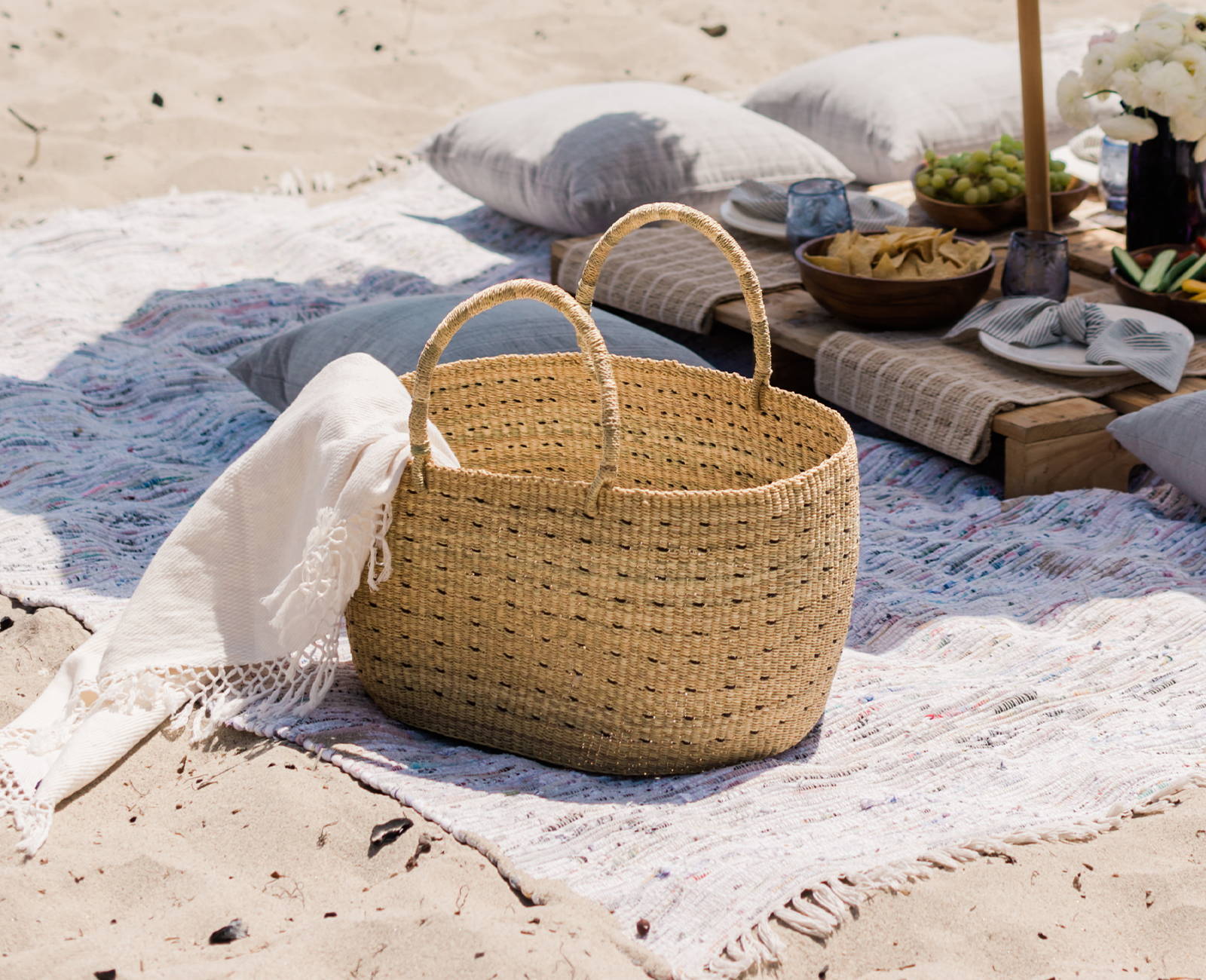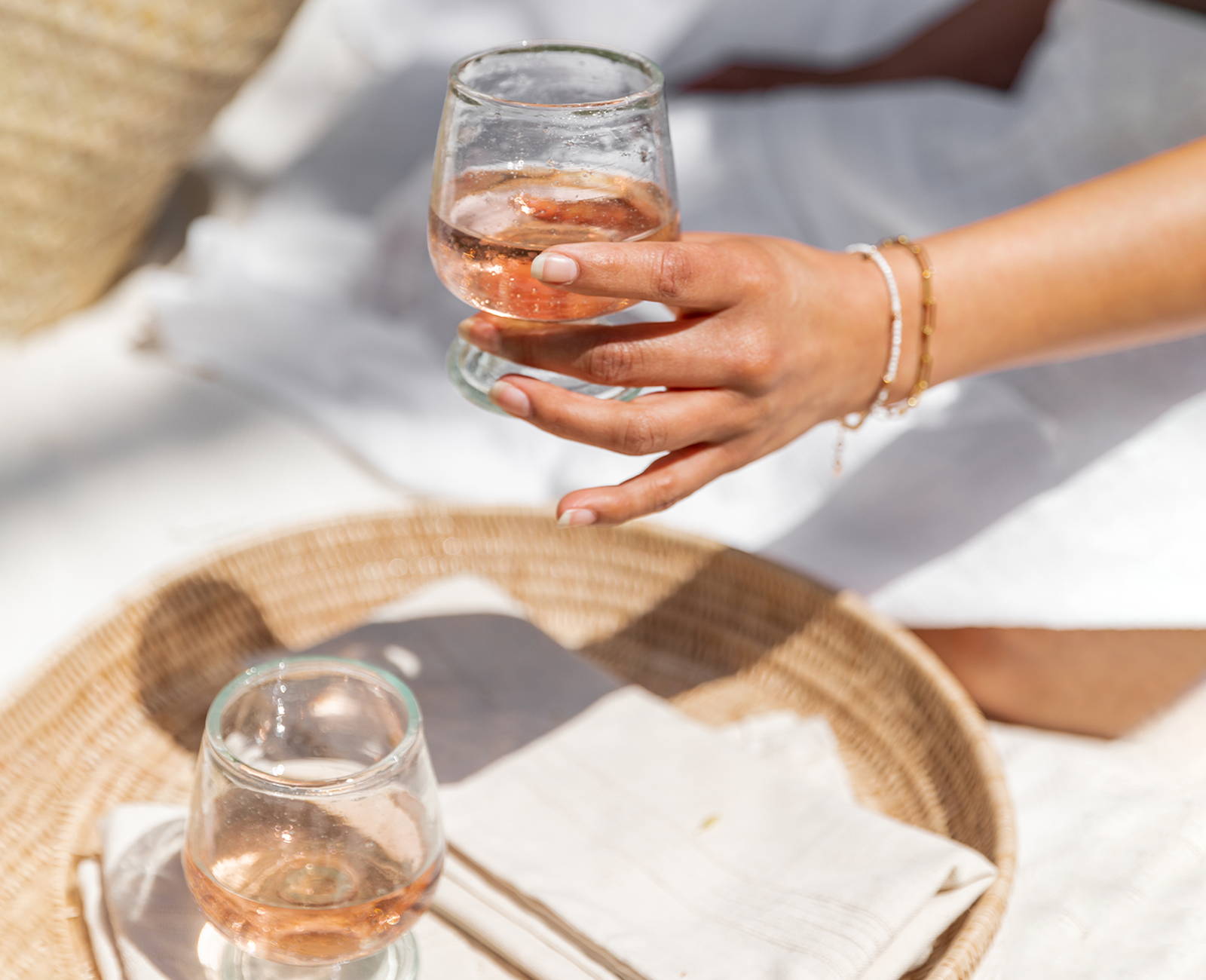 Bring a Pitcher of
Sweet Sangria To Share
When you want to share your love for the beach with your friends and family, invite everyone down for sangrias on the shore. Bring your favorite Hand-Blown Round Pitcher for everyone to enjoy the sweet, refreshing taste of this drink!
Keep Your Picnic Eco-Conscious
One of the most important things to keep in mind when organizing a beach picnic is how to keep it eco-conscious. It's vital to keep the oceans and beaches clean. A conscious effort while picnicking can help minimize pollution and protect wildlife and ocean animals.
There are many ways the beach and ocean accumulate pollution, but the most common way by far is from those who enjoy the beach. People leave their plastics, containers, items, food, sunscreens, personal products, and more oceanside. When the tide comes in or the wind blows, these items can be blown into the sea.
The most common pollutants at the beach are plastic bags and general trash. When these items are left behind by beachgoers, they tend to enter the ocean or be eaten by birds and wildlife while still on the beach.
Luckily, there are many easy ways you can use your beach picnic to set a new standard. Here's what you need to know about how to keep your picnic eco-conscious.
Choose a Reusable Picnic Basket
Start by choosing a reusable option for your picnic basket. Many beachgoers bring their items in single-use plastic bags, with single-use plastic containers and packaging. There are many problems with single-use plastics. However, when it comes to the beach, these tend to get left behind on the sand, in the ocean, or in piles of trash.
Instead of using single-use plastics at the beach, consider reusable options to make a conscious effort for the ocean and the planet. One of our favorite reusable options are our handwoven baskets.
There are many ways you can incorporate baskets into your day at the beach. Our Palm Market Basket is handmade in Morocco and is a beautiful piece to use at the beach. This bag is made from sustainably sourced palm and is the perfect way to transport your beach picnic essentials.
Each purchase empowers artisans in Morocco who spend time and attention to carefully create each piece by hand.
You can also consider using them for serving food and displaying your snacks. Use our Rattan Woven Bowl as a great way to take your picnic to the next level — sustainably, of course.
If you're using a bag rather than a basket, consider a reusable option too. Our collection of tote bags ranges in style, shape, and size, so you can find the perfect option for you. The Little Market Totes are excellent for minimizing single-use plastics and taking care of the planet. Plus, they also come with a good message and an even better mission.
Take our Human Rights Watch Shopping Tote as an example. Not only does this bag display a thoughtful message, but each purchase helps support justice, dignity, compassion, and equality across the globe.
This campaign helps expose human rights abuses, give a voice to victims, and hold abusers accountable for their injustices and crimes. This tote not only makes the beach a better place, but it helps the world too.
For more reusable totes to bring to the beach, consider our Be Kind Shopping Tote or our Changemaker Canvas Tote. Each is stylish, sustainable, and a unique way to help make the world a better place.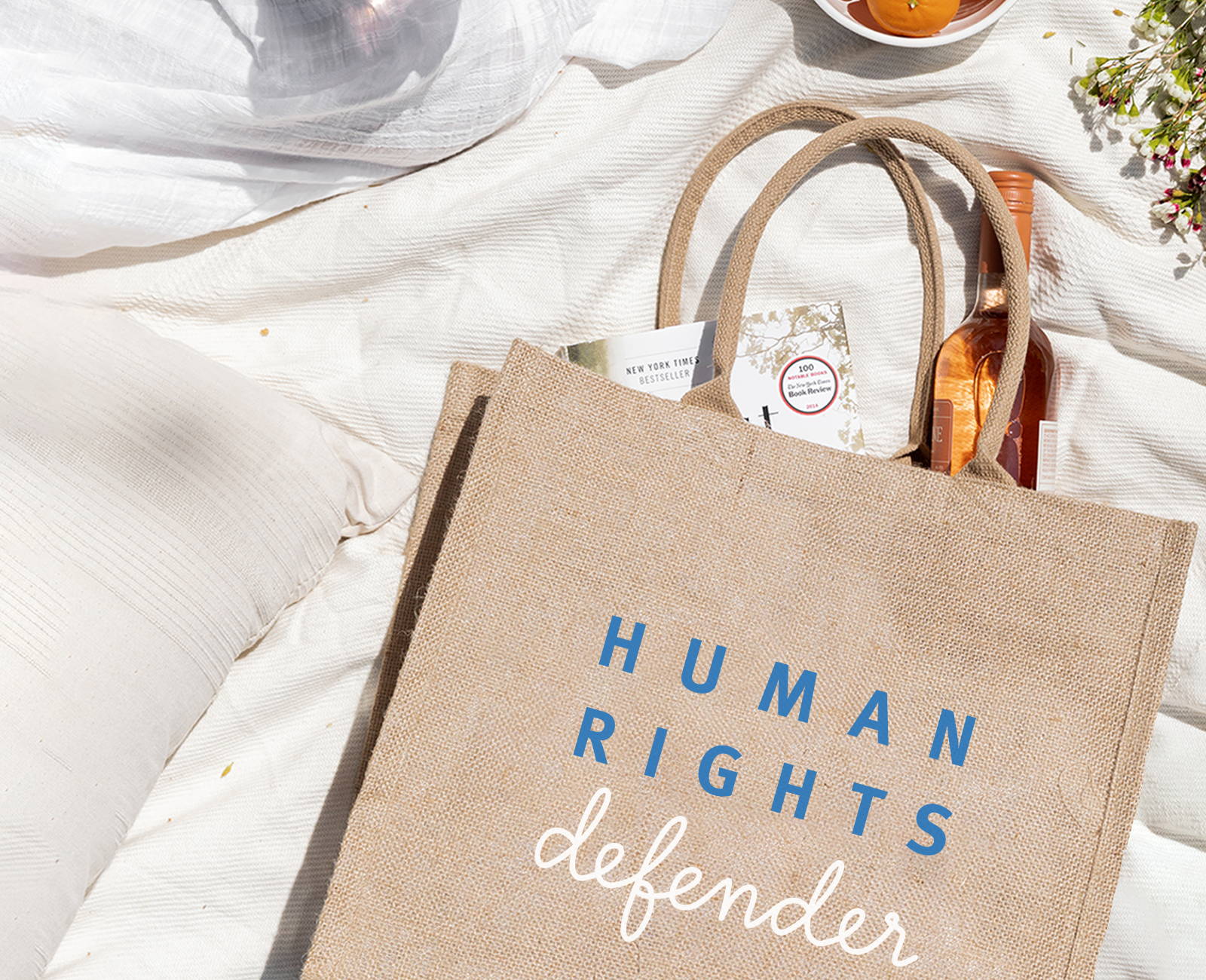 Opt for High-Quality Plates and Utensils
Another way to help keep your picnic eco-conscious is to use high-quality plates and utensils. Beaches and oceans are littered with plastic forks, knives, and spoons that are single-use and get left behind by beachgoers. But we can make a difference!
Instead of using the typical plasticware when you go to the beach, bring an Acacia Wood Dinner Plate with you. With acacia, you don't have to worry about a dish breaking on your way to and from the beach.
This sturdy, yet classic, material is the perfect way to spice up your beach picnic. In addition to acacia plates, take your picnic to the next level with beautiful handcrafted Serving Tray Sets.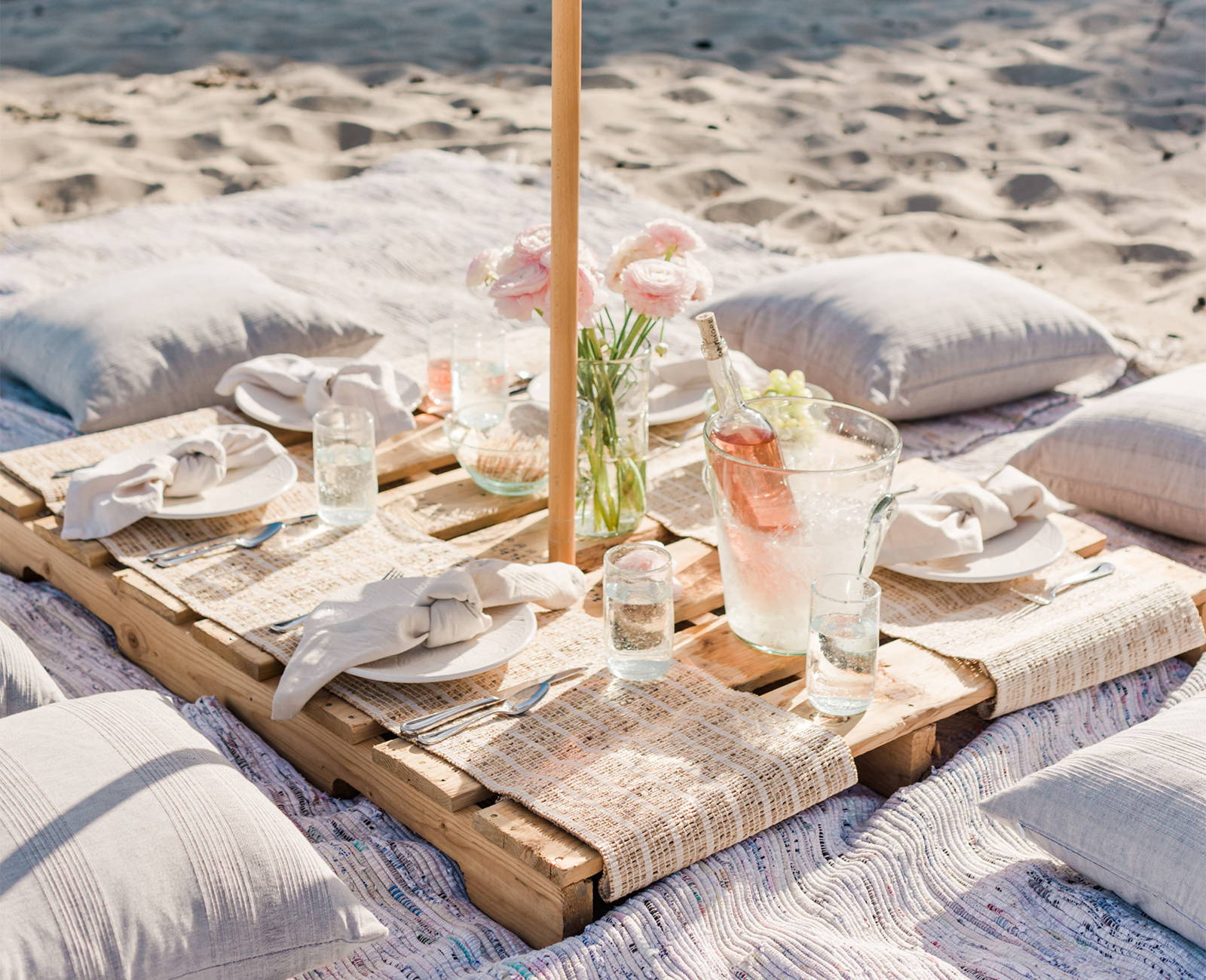 Grab your silverware from home and any reusable napkins you may have. Our Dining Napkins are an excellent way to bring reusable picnicware to your beach adventure.
You can also use high-quality serveware, like our Bone + Wood Fork, our Bone + Wood Salad Servers, or our Reusable Bamboo Straws. These sustainable options are not only better for the planet, but they can help take your beach picnic experience to the next level.
When you visit the beach for a picnic, there are a few essential steps. First, you need to find the perfect spot. Next, you need to set up a dreamy picnic by laying down your blanket, setting up your utensils, and adding decorations.
But the most important step to the perfect beach picnic is actually the cleanup. When you're done with your picnic, it's time to clean up your picnic spot.
Here are a few easy steps to follow for a breezy cleanup.
First, if you do have any single-use items or trash with you, don't leave them at the beach. It's best to bring a bag solely for trash so you can dispose of these properly or even recycle or compost them.
Next, don't leave any food out for the wildlife. It may be tempting to think you can just toss your leftover food into the sand or bushes behind you, but the wildlife at the beach will likely eat it. Human food can be harmful to beach animals, so it's best to dispose of leftover food properly too
If you want to take your cleanup process to the next level, take a look at the spots around you. Did anyone leave any trash? Is there any food or leftovers lying around? If so, you can clean this up too.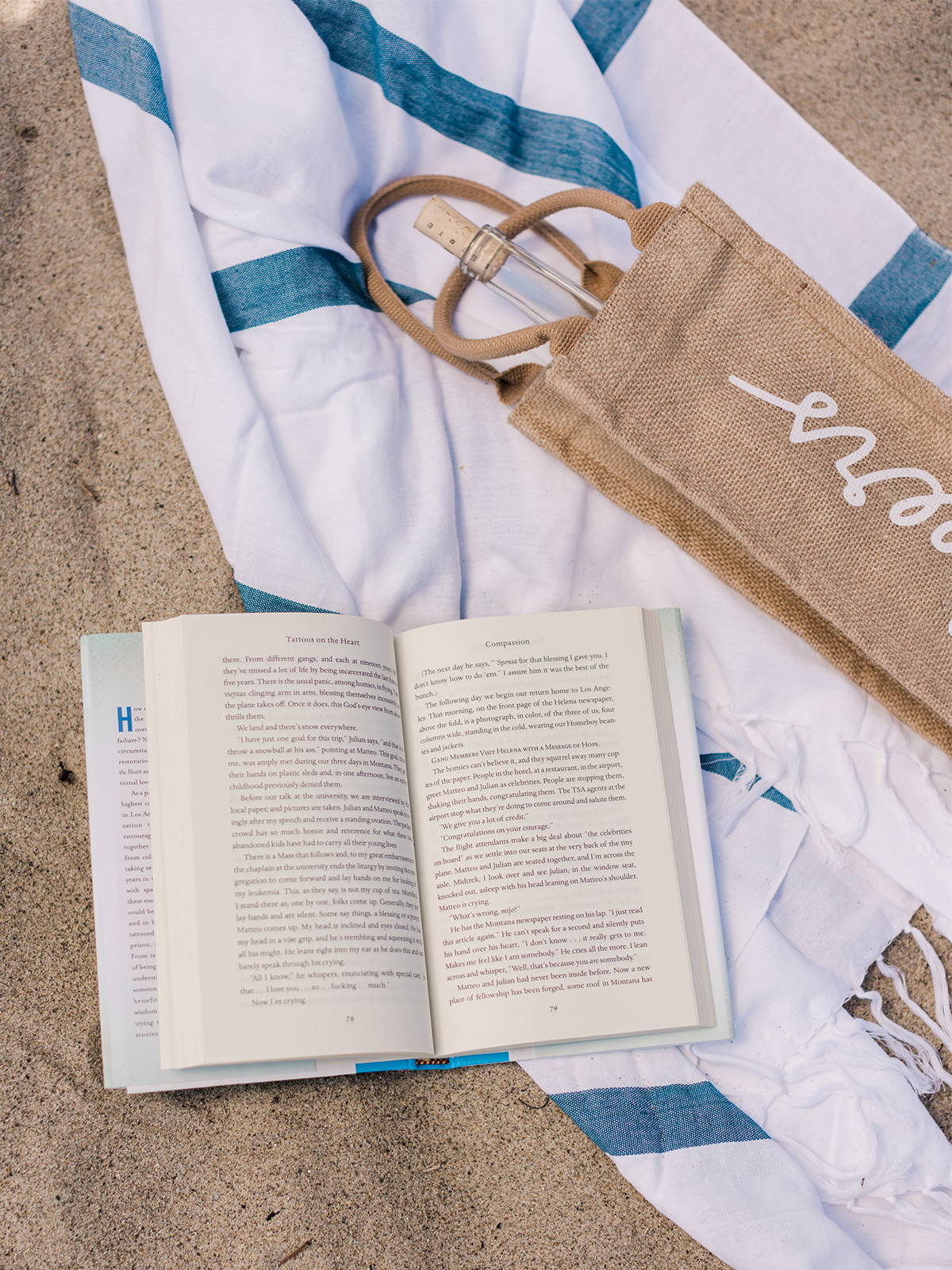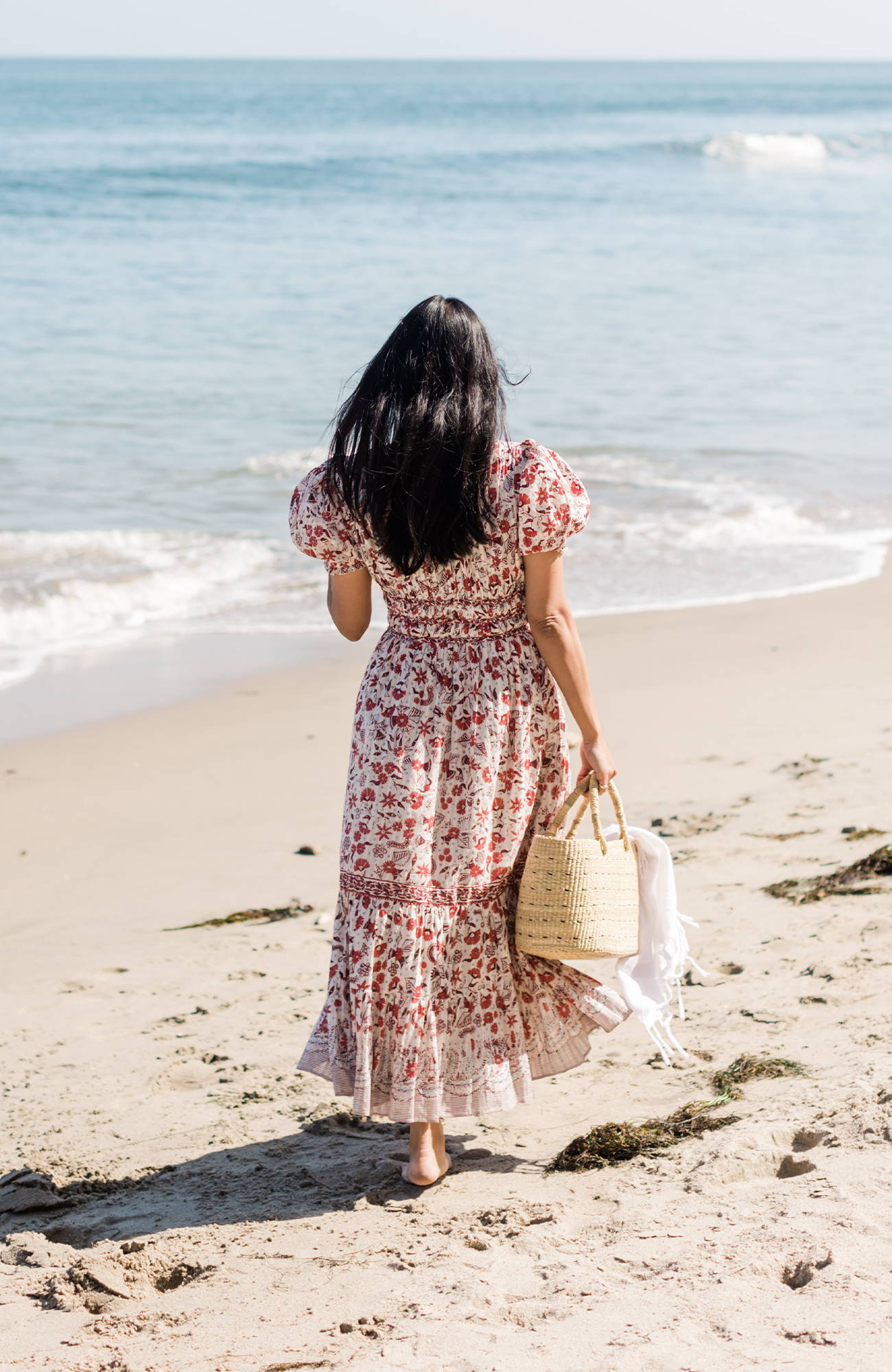 Leave Your Picnic Spot Better Than You Found It
One of the best ways we can make a difference is to leave the world better than we found it. While that seems like a big goal, we can break it down into smaller pieces and leave every place we go better than we found it.
How can you do this at the beach? When you're done with your picnic and you've cleaned up, simply take a look at your picnic spot. Is it better than when you got there? Is it the same? Is there trash or garbage nearby? If so, consider doing your part!
There's nothing quite like spending a day at the beach. Enjoying the warmth of the sun, the cool refreshing water, and the time with loved ones is a great way to spend your day. Plus, with your favorite snacks and activities, you can turn a regular day at the beach into the perfect oceanside picnic.