FARMHOUSE BATHROOM DÉCOR: UPDATE YOUR SPACE WITH TIMELESS PIECES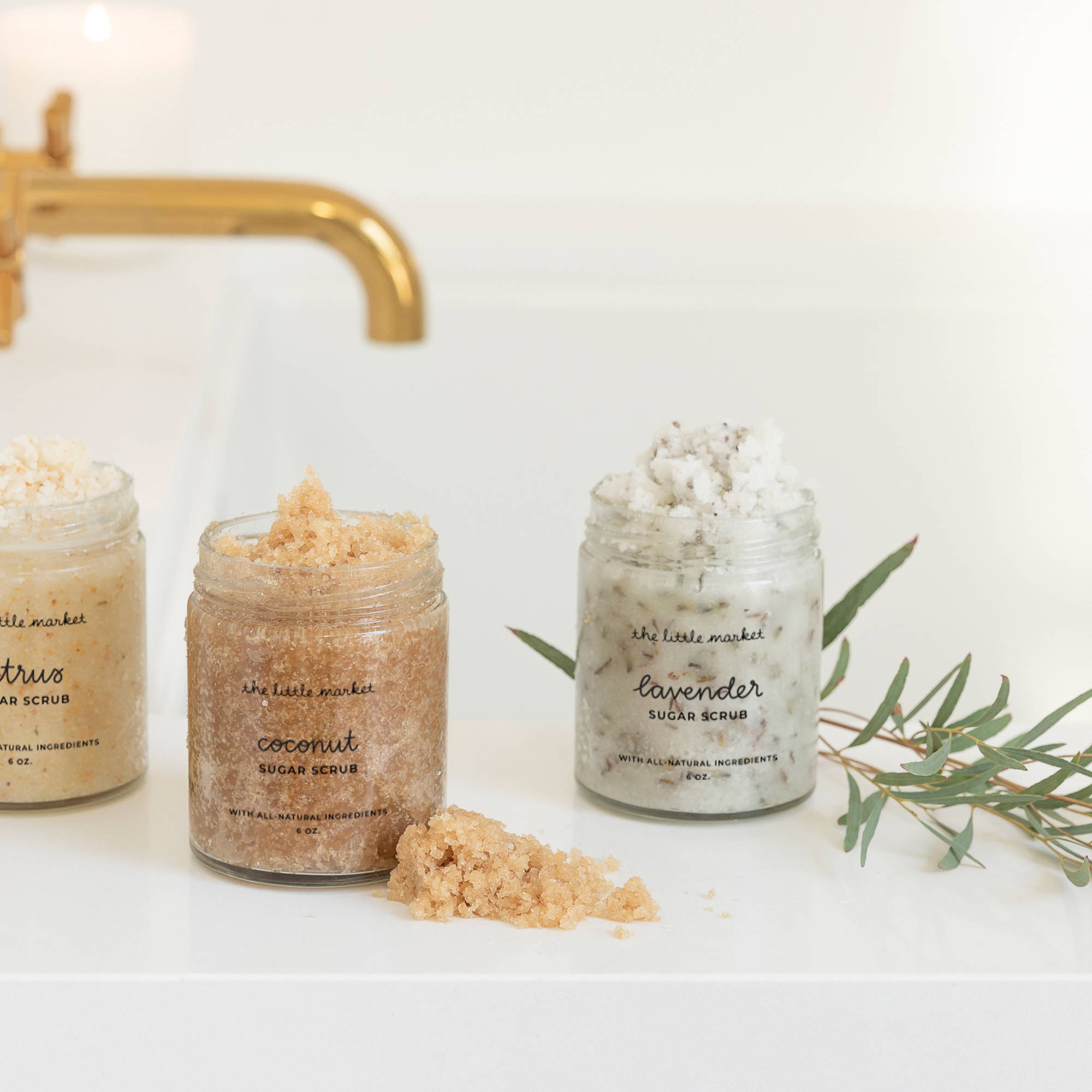 Farmhouse décor has become one of the most popular interior design styles in the past year. This trend isn't going away any time soon, much to our delight. If you're considering redoing your bathroom, bedroom, living room, or any space in your home, explore farmhouse styles.
From shabby chic to rustic and everything in between, you can find the perfect farmhouse décor for your home. Your bathroom is a place for relaxation. If your home is full of little ones or pets, it may be the only getaway you have. Taking the time and effort to make your space feel cozy and warm is important.
This guide takes a closer look at how to incorporate farmhouse décor into your bathroom with timeless pieces.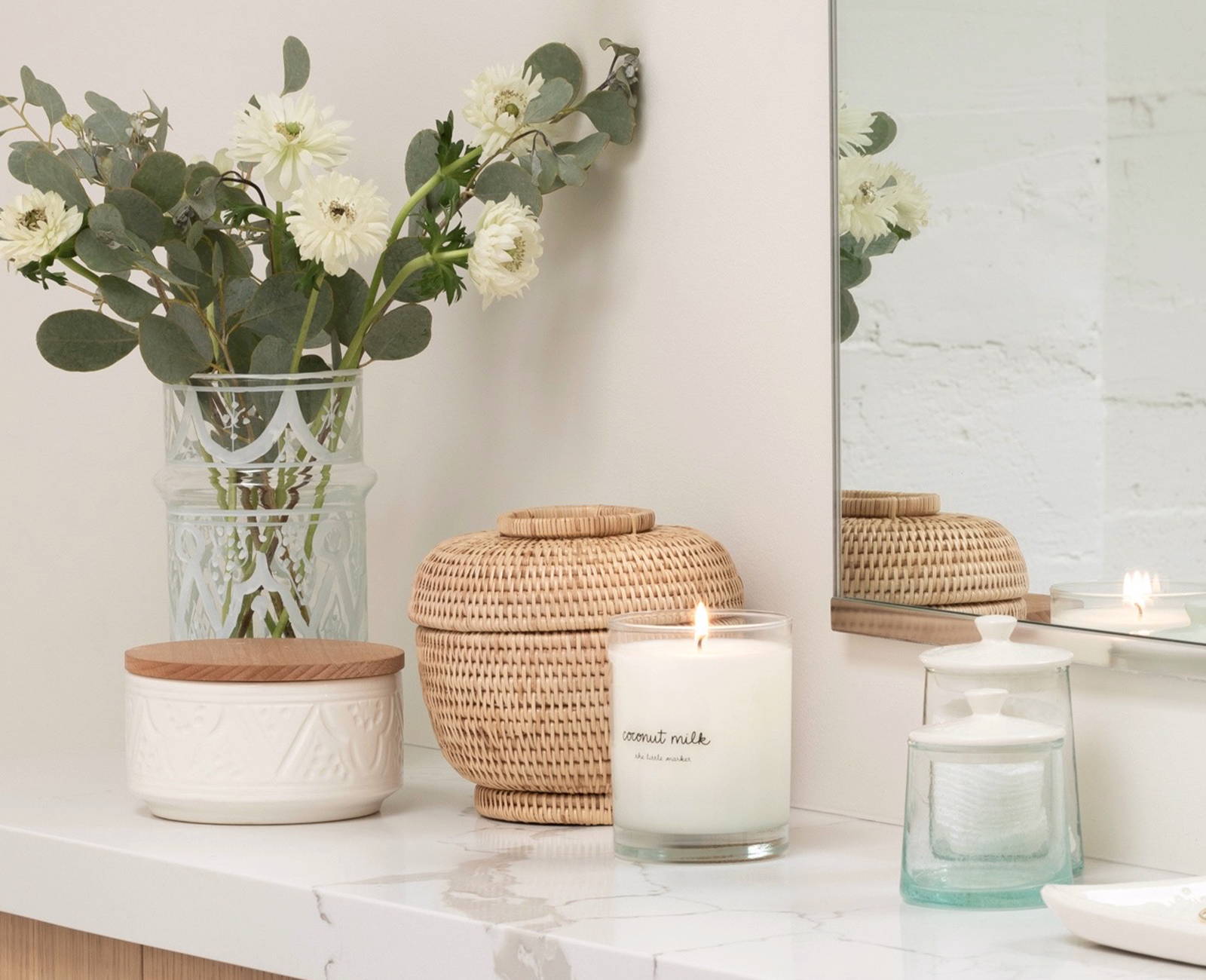 Before we can explore how to incorporate farmhouse décor into your bathroom, it's essential to understand the farmhouse trend. Farmhouse décor combines vintage, rustic, chic, and boho elements to create a farm-like feel. You'll notice lots of wood tones, white elements, texture, and antiques in many farmhouse décor pieces.
You'll also notice earthy neutral tones, beiges, and gray colors associated with farmhouse décor. Farmhouse-style design focuses less on color and more on texture and accent pieces.
Some like to mix farmhouse with modern tones, which creates an introspective, clean style. Farmhouse design can be dark and moody, light and airy, or a combination of both. This trend is versatile, flexible, and easy to incorporate into your home.
HOW CAN I CREATE A FARMHOUSE BATHROOM?
Farmhouse décor has become one of the most popular design trends in recent years. Choosing the right farmhouse décor pieces for your space can allow for wonderful self-expression. Look for texture, wood tones, and rustic looks, or incorporate boho or modern pieces.
If you're interested in adding farmhouse décor to your home but aren't sure where to start, consider the bathroom. This is an easy area to tackle, smaller than a living room or bedroom, and a great place to start.
In order to create a farmhouse-style bathroom, you need the right farmhouse bathroom décor. Farmhouse style relies more on décor rather than bold colors, so the right pieces can make a big difference in your space. Consider ceramics, woven textures, wood tones, gold or black hardware accents, and glass pieces.
Let's take a closer look below:
CERAMIC KEEPSAKE BOXES
Ceramic is an excellent material to incorporate when it comes to farmhouse décor. Ceramic pieces are bright, airy, high-quality, and versatile. They come in all sorts of shapes, sizes, and colors, so you can find pieces that pop and others that blend in.
Our ceramic keepsake box in white makes the perfect storage container for your farmhouse-style bathroom. Handmade in Morocco, this collection supports artisans who carefully mold and paint each piece by hand. Each purchase supports these artisans, providing fair wages and preserving a time-honored technique.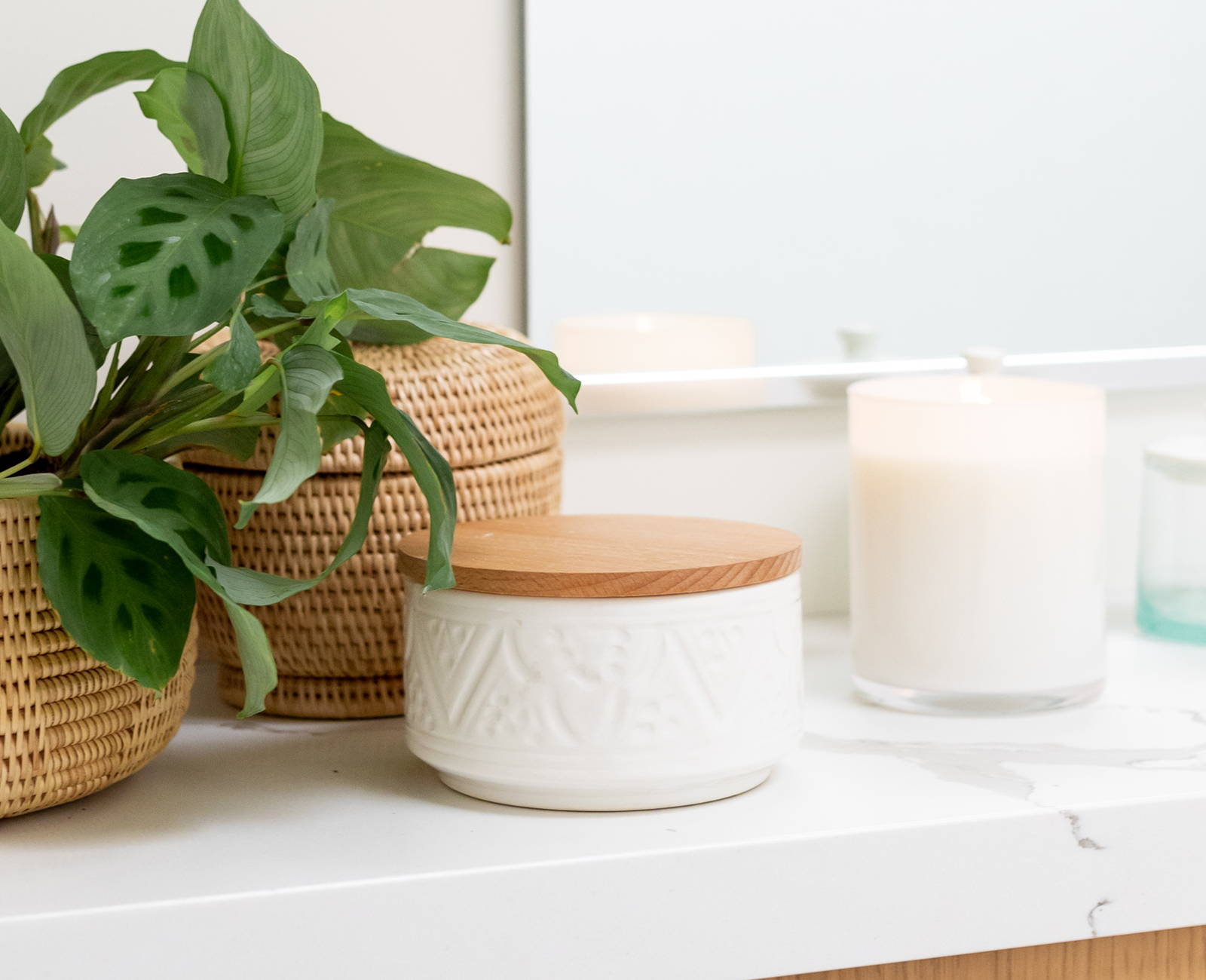 Keep this box on the bathroom counter, on a shelf, or on the windowsill to hold everything from cotton balls to earrings. This collection is available in three size options or as a set of all three.
Plus, with a convenient wooden lid, you can get the benefits of ceramic and wood tones in one beautiful item. Keep your clutter, mementos, and accessories hidden away in this perfect keepsake box.
ETCHED GLASS VASES
One of the most significant advantages of farmhouse style décor is its versatility. You can incorporate other styles with farmhouse to blend right in. For instance, if you love floral designs and patterns, create a boho chic farmhouse style with florals. Use floral patterns to add color, pattern, and dimension to your space.
Our etched glass vase is the perfect way to bring florals into your farmhouse bathroom décor. Handmade by artisans in Mexico, this vase is available in small and large sizes. This sustainable alternative is made of recycled glass and is a beautiful, eye-catching piece for any bathroom.
You can also use it to keep bathroom utensils like a dry brush or a loofa. Use it merely as a decorative piece and display this vase on a shelf or windowsill to collect and refract peaceful light.
What can you do with this vase? The possibilities are endless. Use it for flowers, greenery, faux plants, or pampas grass.
WOVEN SERVING TRAYS
It may come as a surprise, but serving trays can also be used in your bathroom. Use our round woven serving tray to bring storage, organization, and natural woven tones to your bathroom.
This is the perfect way to add texture, natural tones, and warmth to your space. You can use this tray to hold skincare items, hair care products, bath accessories, hand towels, and much more.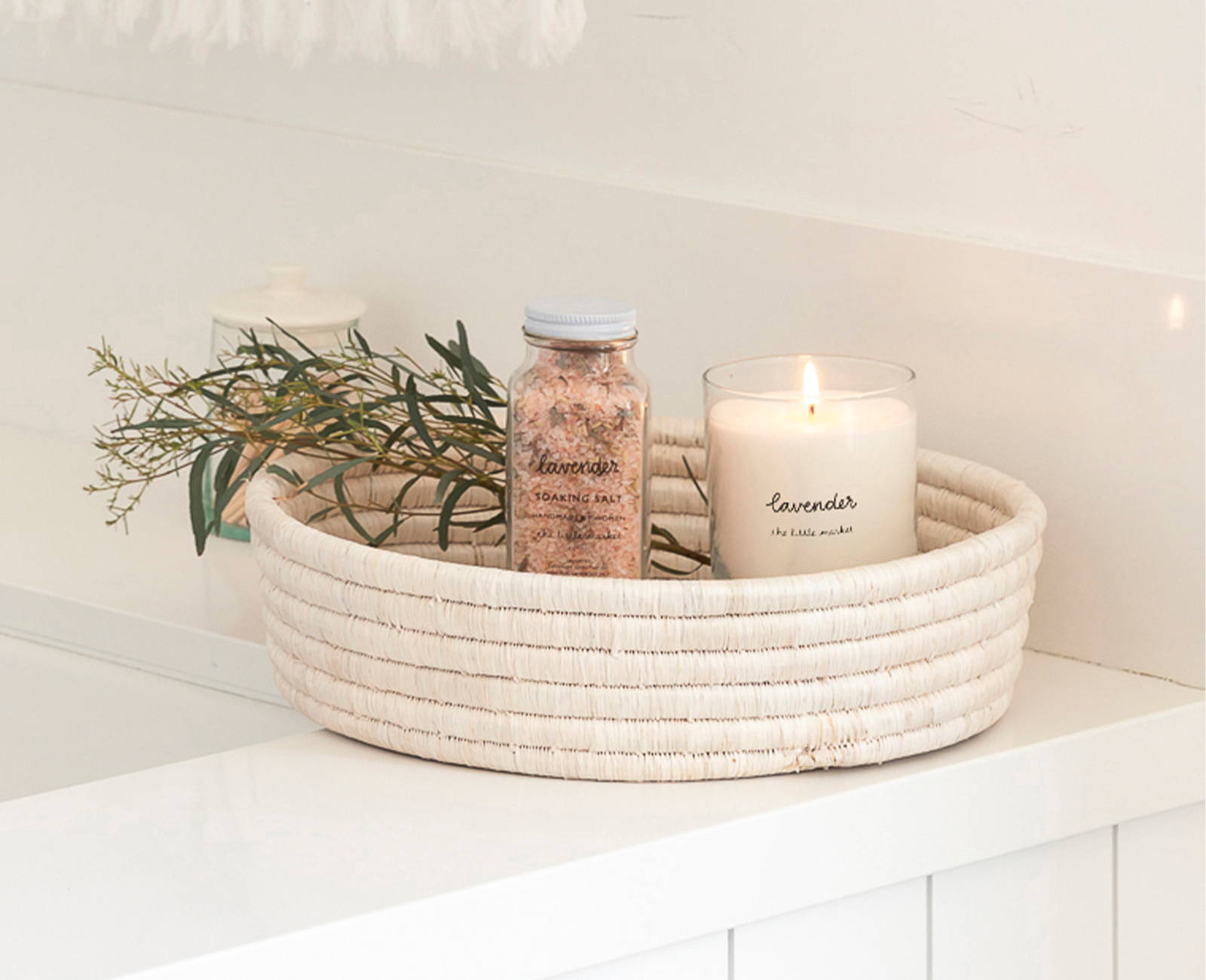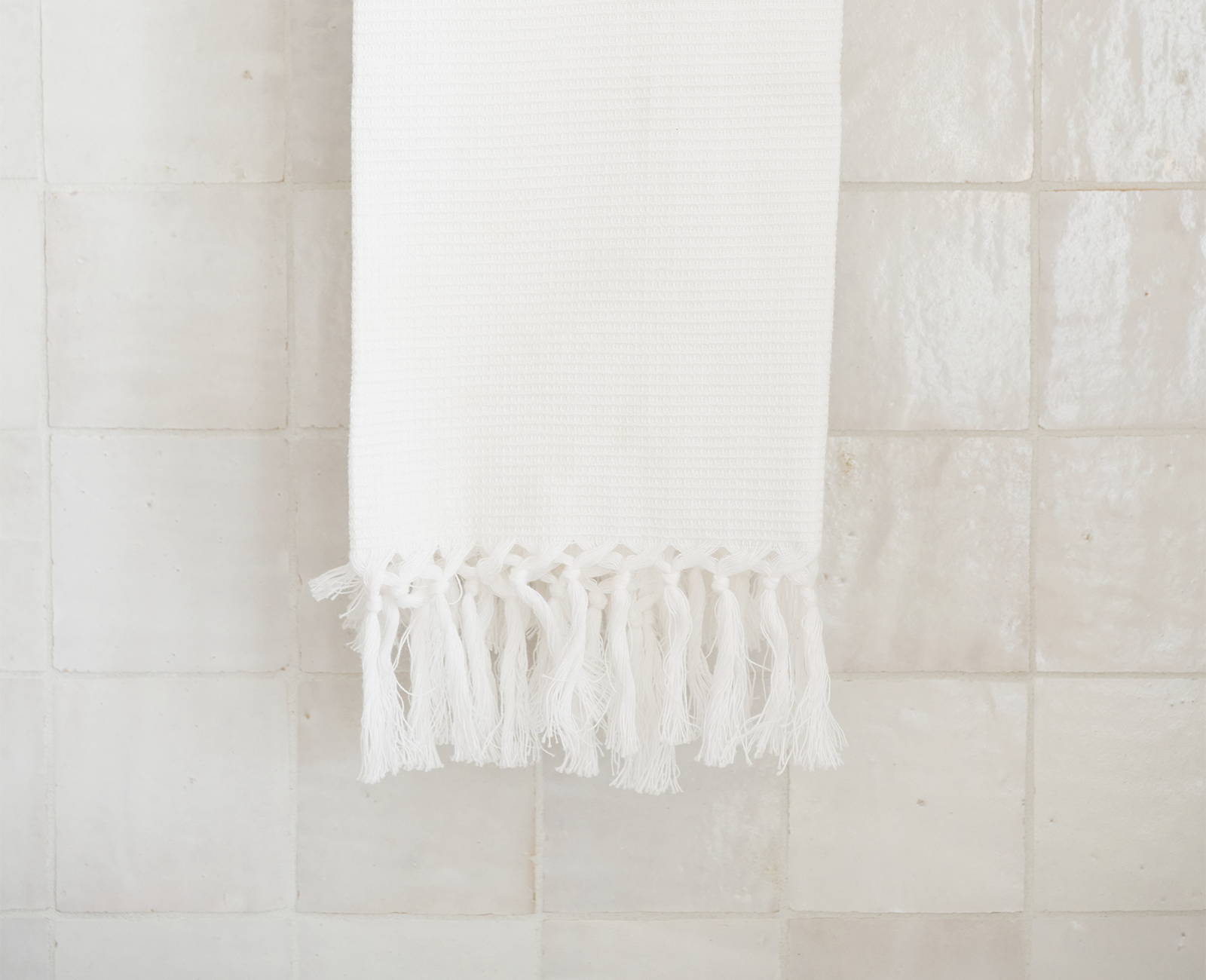 FRINGE HAND TOWEL
When decorating your bathroom with a farmhouse style, you can't forget the essentials. From soap and toilet paper to facial and hand towels, you need your bathroom to be functional and stylish. Our waffle weave fringe hand towel in white is made with 100% cotton and is the perfect addition.
It is handmade by artisans in India, and each purchase helps support crafters to earn fair wages, learn skills, and preserve techniques. This warm, soft hand towel is excellent for all the bathrooms in your home — farmhouse or not. Plus, the unique waffle design adds a layer of texture and dimension, though subtle, to your space.
WOVEN BASKETS
Woven baskets are a staple for farmhouse décor. The weaves and braids add texture to a space. Texture is one of the most important concepts in interior design. Textures help enhance the effects of interior design and make your space feel larger. Your bathroom is typically a smaller space, so woven textures can prove to be a real asset.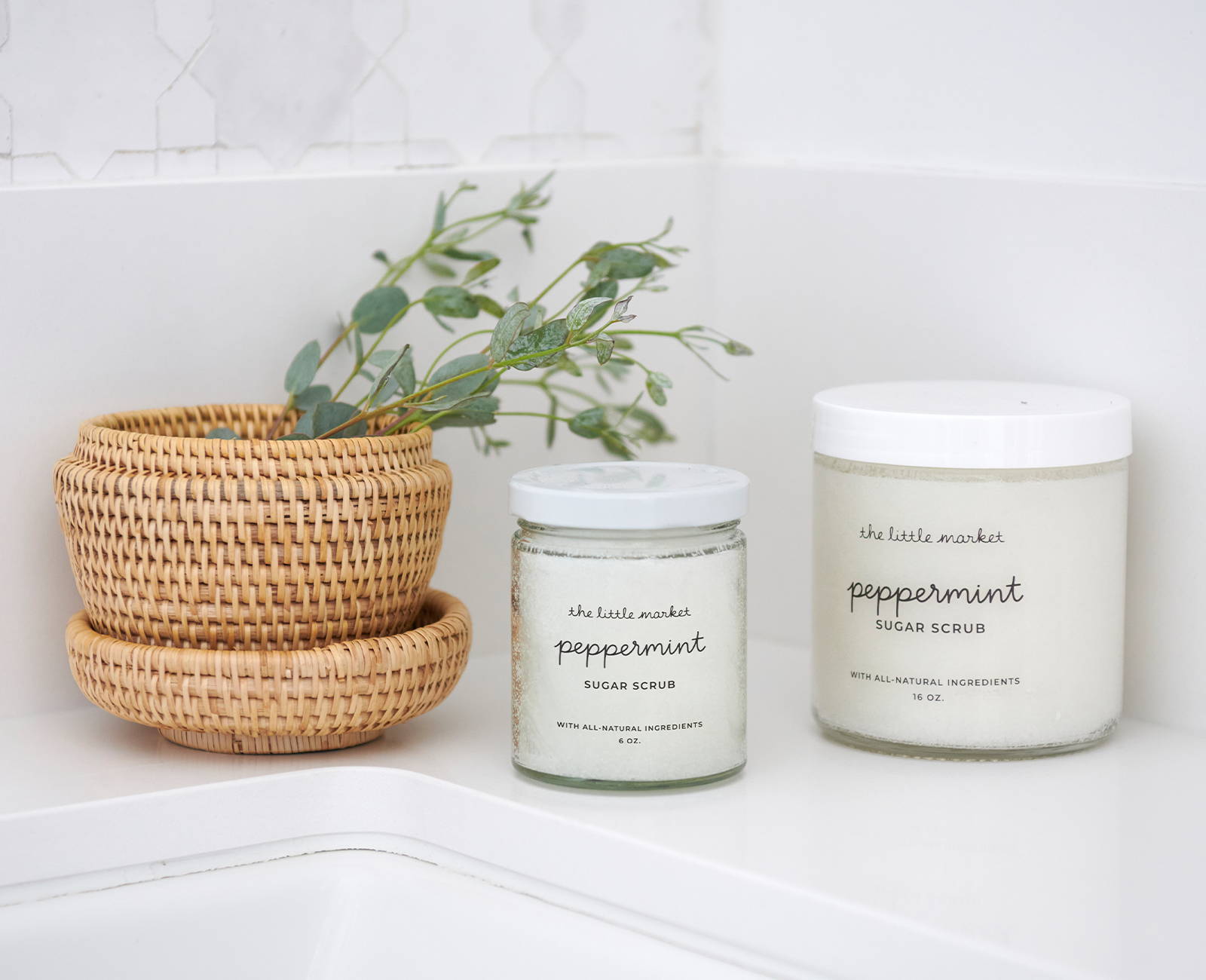 How can you add texture to your home? Look for woven baskets. Our square iringa basket is handmade in Tanzania and a great way to incorporate a natural, woven decoration. Available in black and natural tones, this pairs perfectly with traditional or modern farmhouse décor.
You can choose from a range of sizes, from eight inches to 13 inches. No matter what clutter or items you want to organize, this basket can get the job done.
Display a basket on your bathroom counter to hold hand towels, toilet paper, wipes, or other bathroom accessories. Choose a larger size to hold towels or bath accessories. There's no shortage of ways to use a woven basket as decoration and practical storage.
You can also consider our round open weave iringa basket in natural. With the same size options, this offers a different shape to hold items you need to organize. Ditch the clutter on your bathroom counter. Keep your curling iron, hairdryer, straightener, and hair products in this perfectly shaped basket. It is made with Milulu grass by artisans in Tanzania, and you can support fair wages, the economy, and sustainability.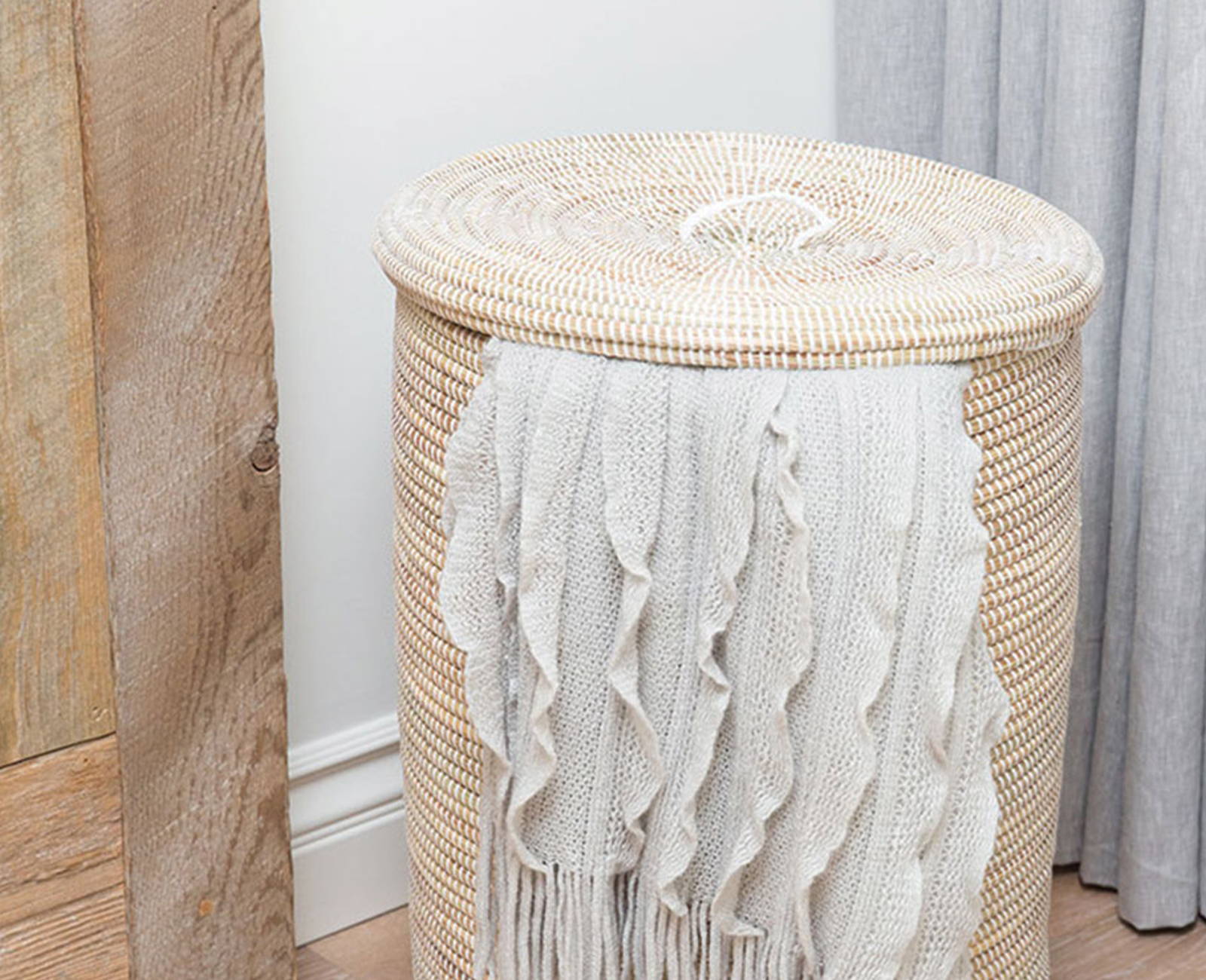 WOVEN HAMPERS
You can also incorporate the woven look and natural tones in your bathroom by using a woven hamper. Store wet or clean towels, or have a place to put dirty clothes in when you take a shower. These hampers are handmade in Senegal with locally sourced grasses and recycled materials.
This clean solution to dirty laundry will help you ditch the clutter. Plus, with a convenient lid, you can help keep your dirty laundry to yourself. This farmhouse bathroom décor is convenient, stylish, and perfect for your space.
WHICH CANDLES WILL COMPLETE THE TRANSFORMATION?
When you think of interior design trends, fragrances may not come to mind. However, how a room smells is influential in enhancing your overall experience. Adding cute candles to your space can take it to the next level! Some fragrances even have benefits associated with aromatherapy and calm.
Here are the candles that can complete your farmhouse bathroom transformation and add the finishing touch.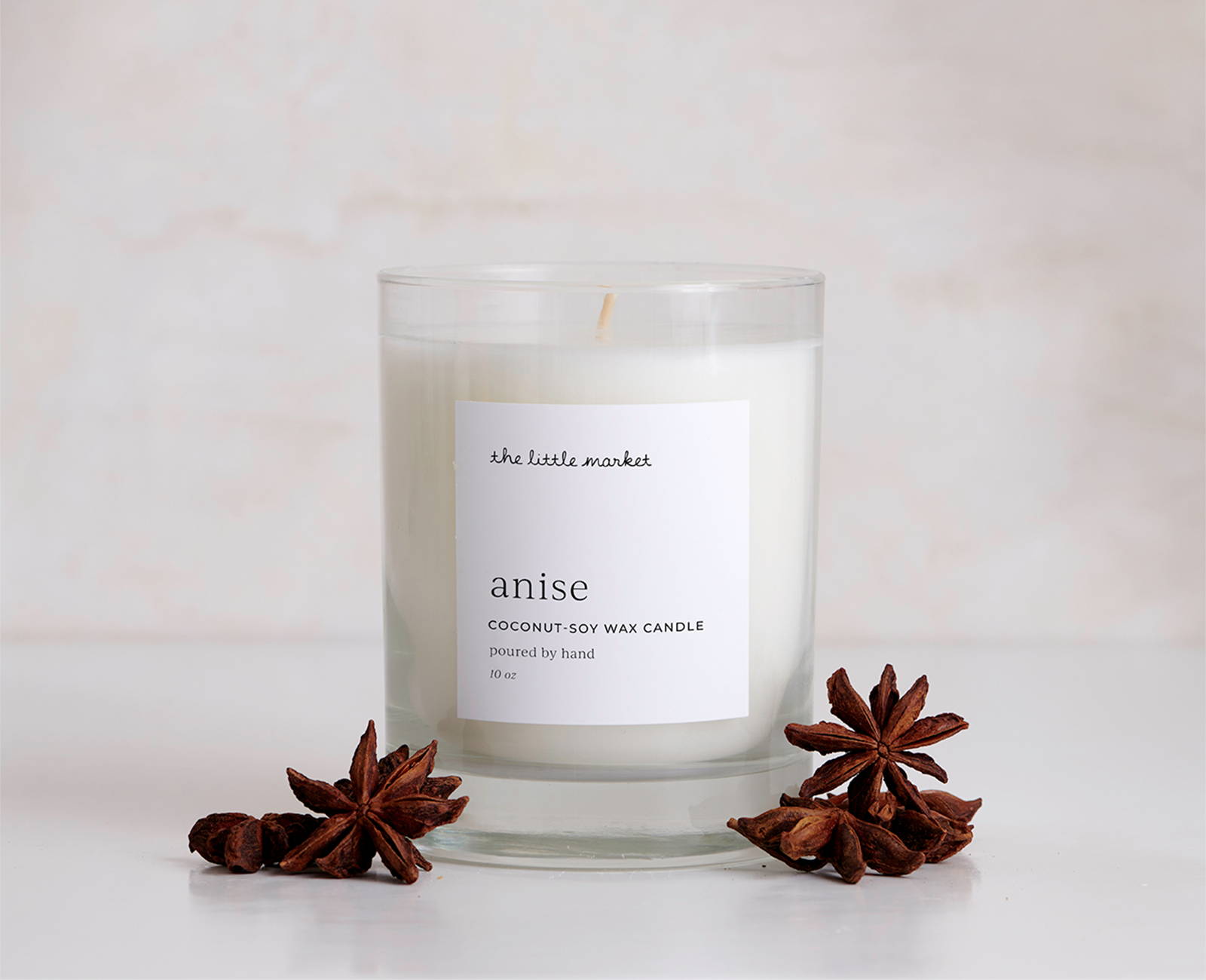 ANISE
Anise is an herb that carries a range of benefits for the mind and body. This fresh aroma is perfect for a candle in your farmhouse bathroom. Consider our anise candle made with essential oil and a coconut-soy wax blend. Customize your candle with your own design, logo, words, or picture.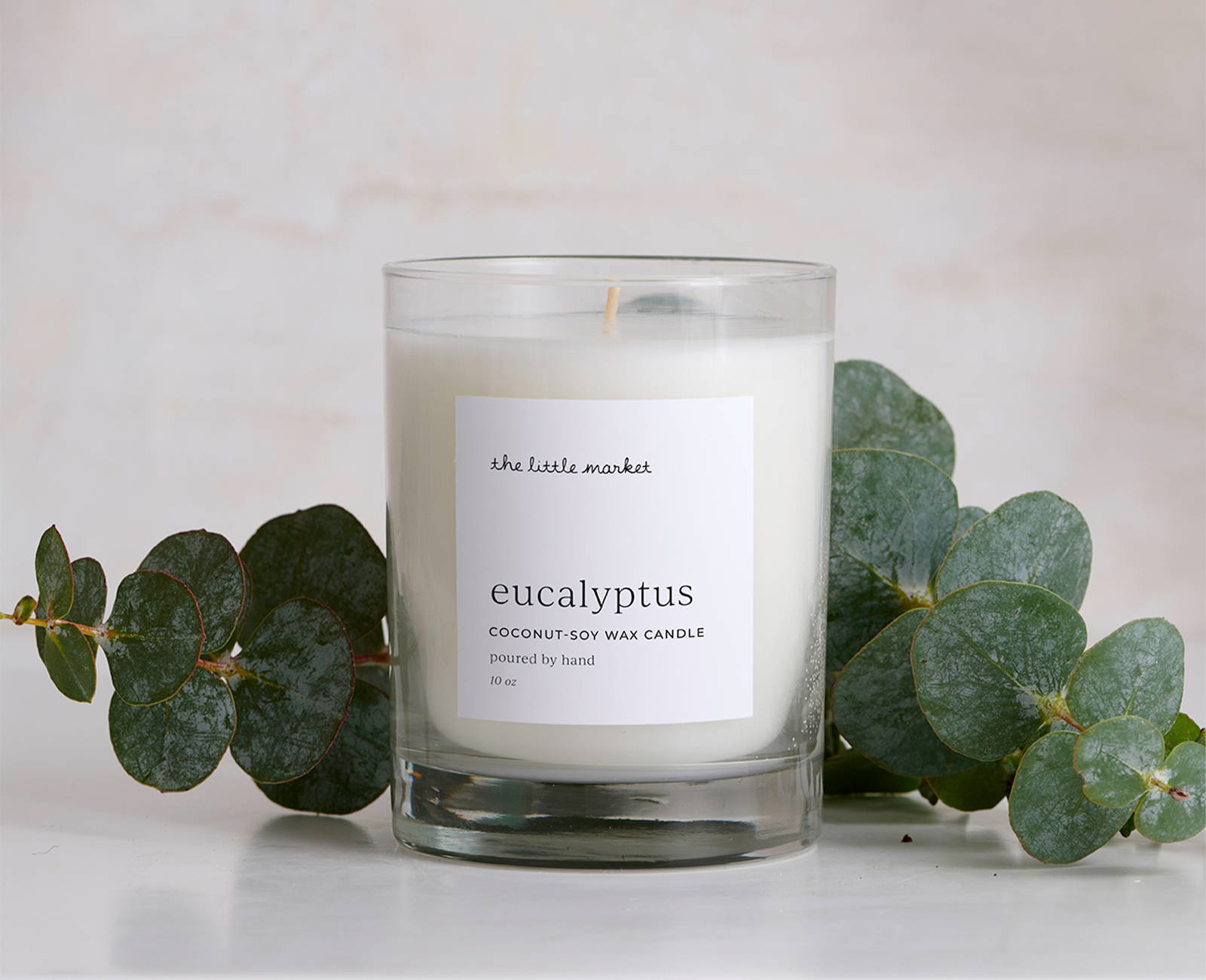 EUCALYPTUS
Eucalyptus is associated with relaxation and a spa-like atmosphere. If your bathroom is where you run bubble baths and unwind, you can't go wrong with a eucalyptus candle. This fresh, sweet fragrance is made with essential oils by women who have resettled as refugees in the United States.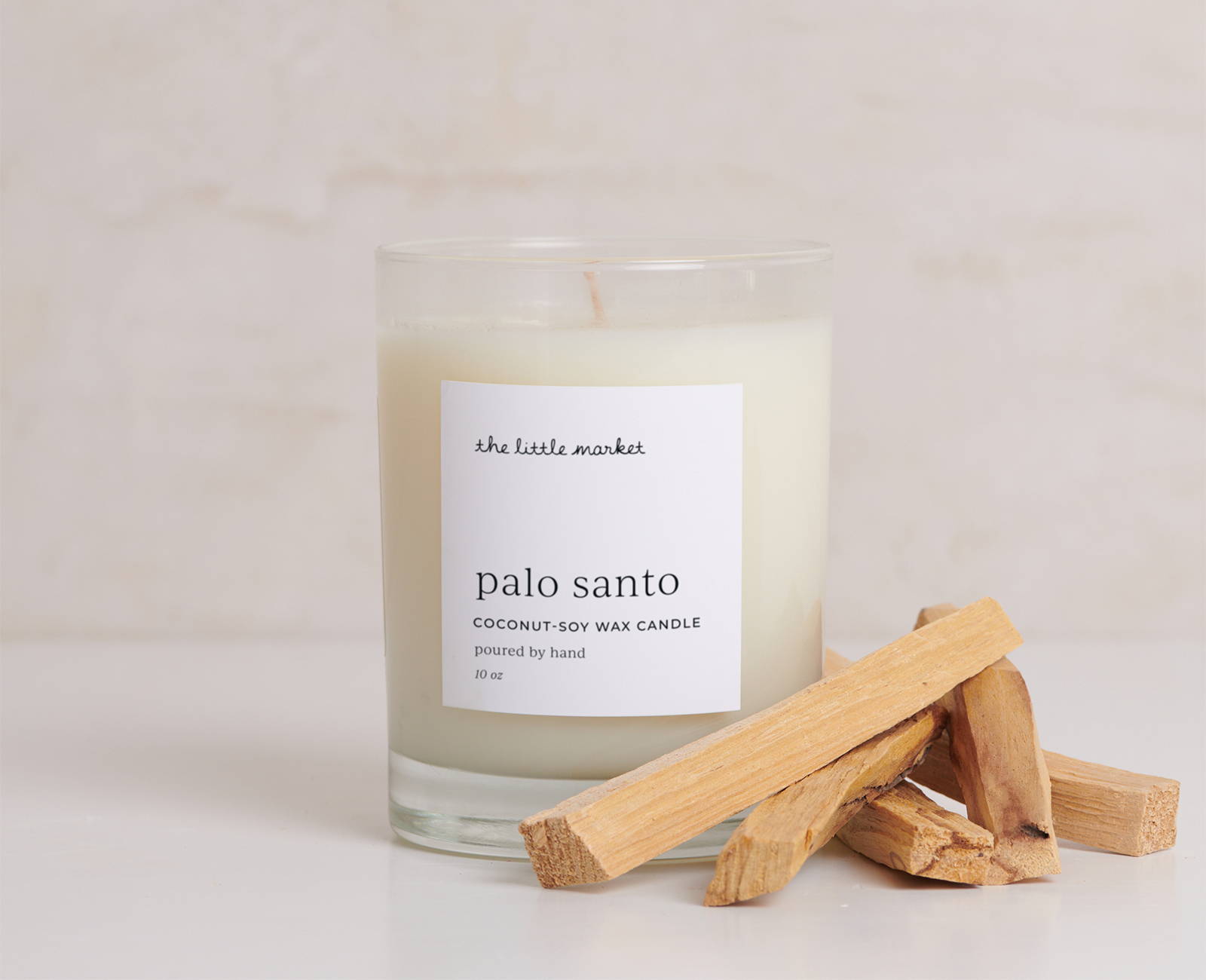 PALO SANTO
Palo Santo trees are fresh and wild. To complete your farmhouse vibe, fill your bathroom with this scent. Our palo santo candle is one-of-a-kind and the perfect addition to any room.
FARMHOUSE IN THE CITY OR COUNTRY
If you're considering transforming your home into a farmhouse sanctuary, start with the bathroom. This easy space will set you up for success in the rest of your home. Farmhouse is a beautiful style to use in your home to help you relax and unwind.