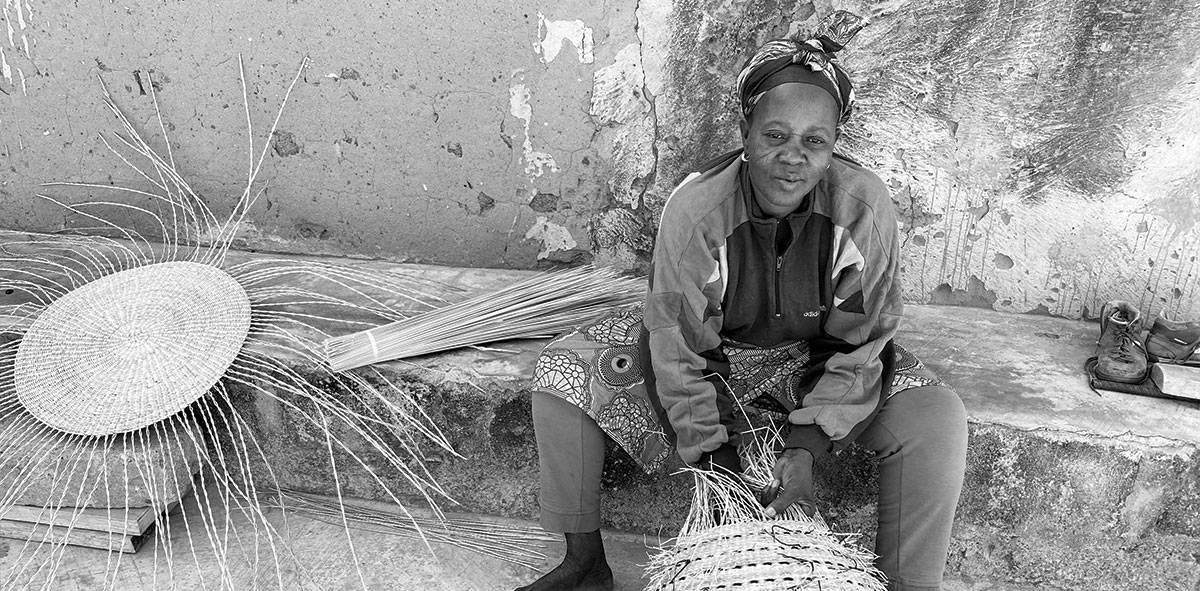 Every purchase supports rural artisans in Ghana practicing eco-conscious techniques and working toward financial independence.

technique:

Woven with locally sourced, natural grasses



Social enterprise Savanna Baskets works with approximately 700 artisans from rural communities of Bolgatanga in the Upper East Region of Ghana. Savanna Baskets is committed to breaking the cycle of poverty, offering safe and empowering working conditions, preserving eco-conscious practices, and providing artisans with fair, dignified wages on their path to independence.
The majority of the artisans identify as women; artisans also include people with disabilities, indigenous populations, refugees or displaced peoples, and widows. They range in age from 18 to 65 years old. The Bolgatanga area is primarily known as a farming community. By tradition, women are not permitted to own farmlands but are required to work on the farms owned by the men in their families. Combined with the weather conditions, these factors lead to these women being economically vulnerable.
Through the traditional weaving technique and their work with Savanna Baskets, they are able to make, market, and sell their beautiful Bolga baskets — allowing them to earn their own sustainable income and support their families. Savanna Baskets works to develop a collaborative partnership with these artisans, bringing the rural communities together into cooperatives. Artisans often work from home but also come together at various weaving centers to collaborate on orders, learn new designs, and review pricing.
Savanna Baskets is committed to environmentally practices. These baskets are made from natural, locally sourced materials. The raw material used is straw harvested from tropical grass grown in the wild, called veta vera grass. It primarily grows in wild, uncultivated lands and along the streams. It is not cut from the base, but the matured straw holding the flower part of the grass is harvested. In this way, new straw can grow back in a couple of months after the harvest.
This straw is harvested, sun-dried, and split individually from one end almost to the other. Then, it is rolled into a twist. Based on the basket, the rope may stay twisted for single-weave baskets or become untwisted for double-weave baskets. To start the weaving, long strings of ropes, known as poles, are held together with another rope. This second rope is passed in and out around the poles.
Artisans working with Savanna Baskets have access to essential programs including healthcare, microfinance opportunities, and training. Furthering its commitment to the community, Savanna Baskets set up a Weavers' Fund to support artisans with immediate needs such as medical care and housing. There is also a designated fund for a borehole in the communities in which they work in order to provide safe drinking water.
Each purchase empowers underserved women in rural communities.
Technique:

Handwoven with locally sourced recycled iron + sustainable holga leaves



Based in Bangladesh, Prokritee ("nature" in Bengali) supports more than 2,000 women in rural communities who are rising above poverty. A community-based nonprofit organization, Prokritee is committed to developing the social and economic capacity of underserved women by creating sustainable employment opportunities and increasing their market reach. Generally between the ages of 18 and 55 years old, many of these women are single mothers, refugees, survivors of domestic violence, indigenous peoples, people who are living with disabilities, and often the sole breadwinners of their families. While working with Prokritee, they earn fair, dignified wages in a supportive environment, can support their families, and are able to send their children to school to further their education. Prokritee believes in the dignity of each person, advocates for social change, collaboration, and integrity, and strives to reduce unfairness in society. Prokritee was created by the Mennoite Central Committee to independently manage and support job creation projects. Prokritee has 10 different production units, and the artisans who create these baskets are part of the Biborton Handmade Paper Project in the Barisal district of southern Bangladesh. They are skilled in creating handmade paper, but with a recent decrease in demand, they are learning new techniques including basket weaving. A unit manager oversees each unit with additional support by the producer management committee. In the Barisal District, people have faced floods, droughts, and high unemployment over years; it is a particularly vulnerable area of Bangladesh.
Prokritee prioritizes fair trade practices and is a member of the World Fair Trade Organization and Asia's World Fair Trade Organization. It offers essential services including skill development training, healthcare, emergency financial support, school kits for children, frequent, collaborative meetings to raise awareness on social issues, educational programs, and personal development programs.
Women are empowered to participate in essential decision-making processes throughout the production cycle. To create these baskets, artisans practice an intricate basket weaving technique local to the area and locally source raw materials needed for production. Prokritee purchases the frame, made from recycled iron, and holga leaves from local marketplaces — supporting the community at-large. Environmentally sustainable, holga leaves are found in the area throughout the year. Artisans clean the natural leaves and set them to dry, spray the leaves with water to loosen up the fiber for ease of braiding, and weave the leaves around the frame to develop the basket. Each piece takes an average of 15 to 17 hours to create from start to finish, with two artisans working together and following design directions from the head office. They recycle materials and implement eco-conscious practices, including the use of AZO-free dyes, with the well-being of people and the planet in mind.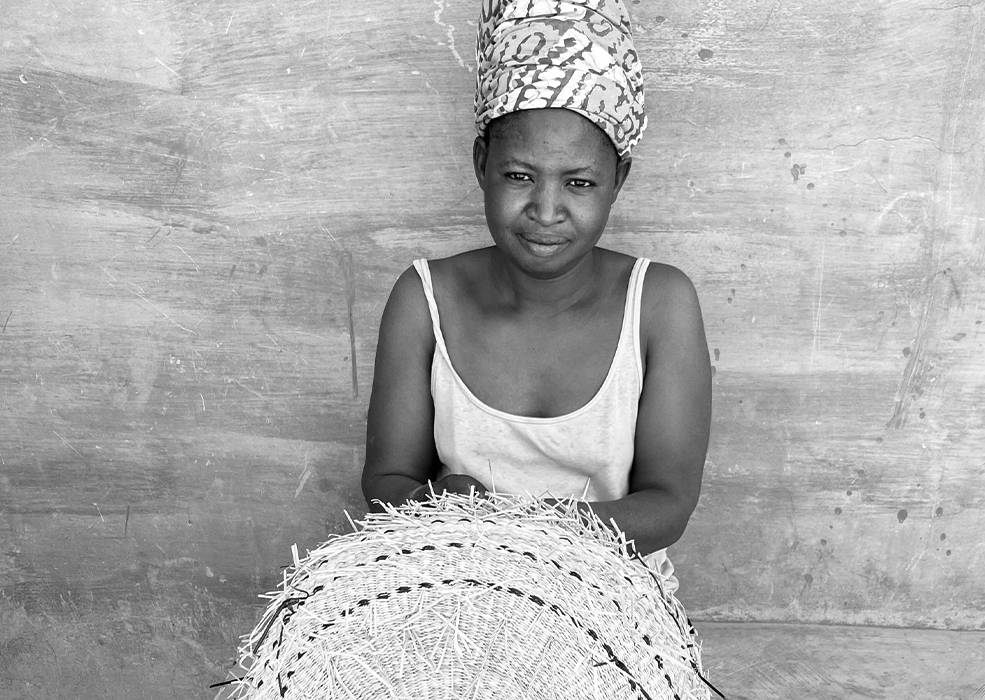 artisan at Savanna Baskets