Behind-the-Scenes:
Hand-Etched Glassware Made in Mexico
Every glass tells a story.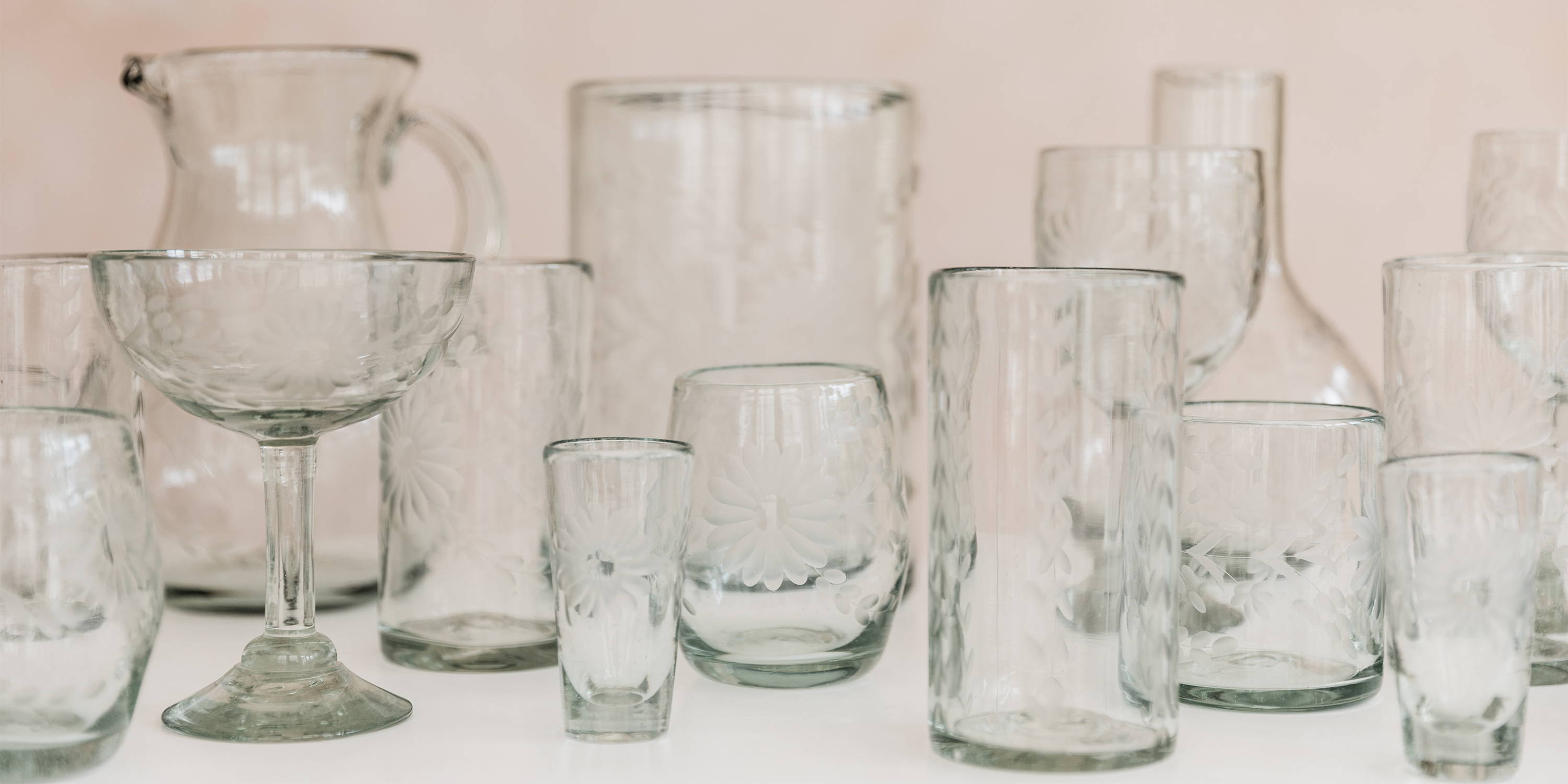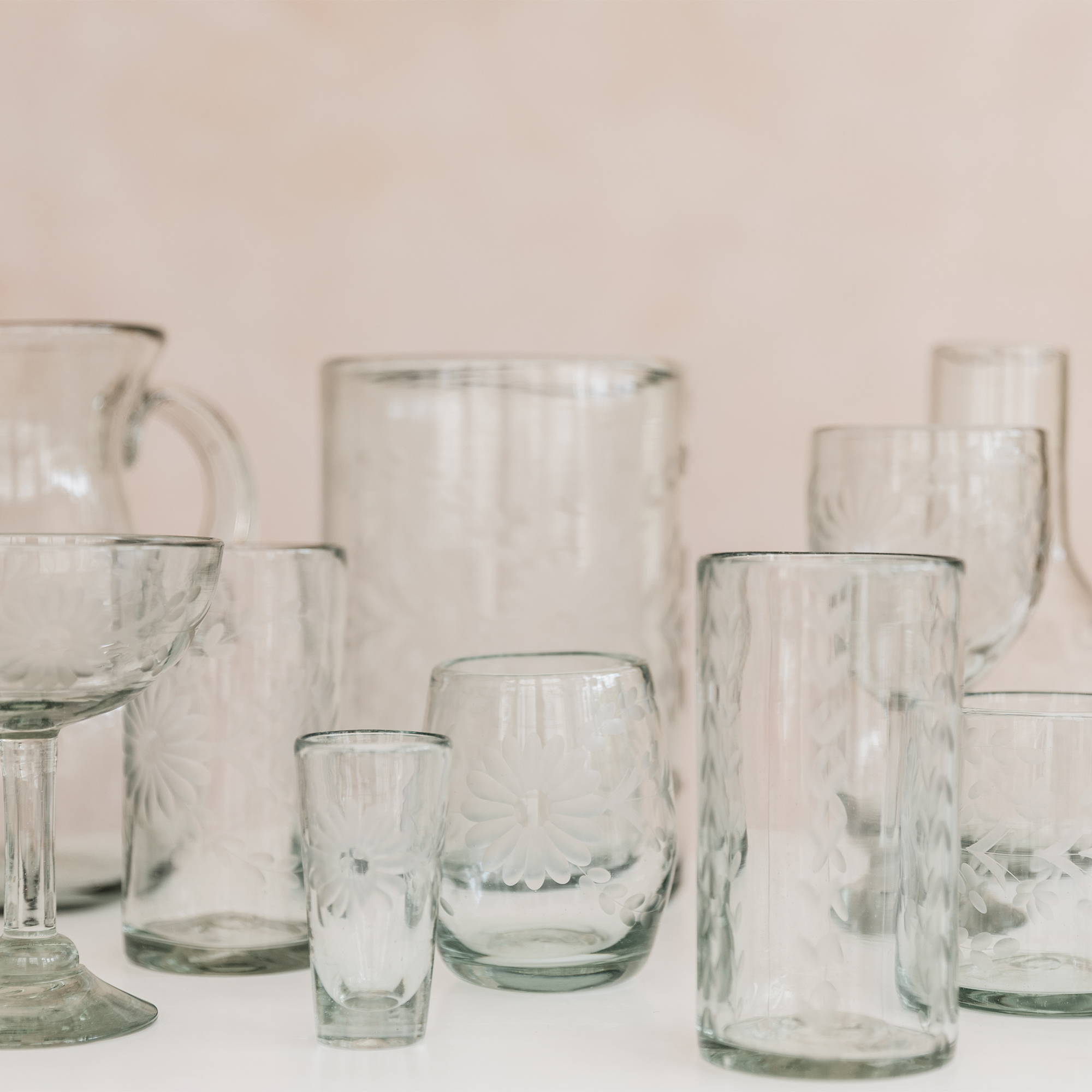 We love to use (and gift) glassware that's unique, durable, and a joy to drink from — whether it's a special occasion or a routine Wednesday afternoon. So it's no surprise that Rose Ann Hall Designs, a social enterprise in Mexico that specializes in creating hand-etched glassware, continues to be a tried-and-true favorite at The Little Market.
Intricately crafted and handmade, these glasses were some of the first pieces in our collection in 2013. Years later, they continue to be some of the most-loved products we offer. But what makes this glassware so special and timeless? Keep reading for a behind-the-scenes look at how each piece is made and to learn more about the talented team that brings them to life. When you see how this glassware is made, it's even easier to fall in love with it!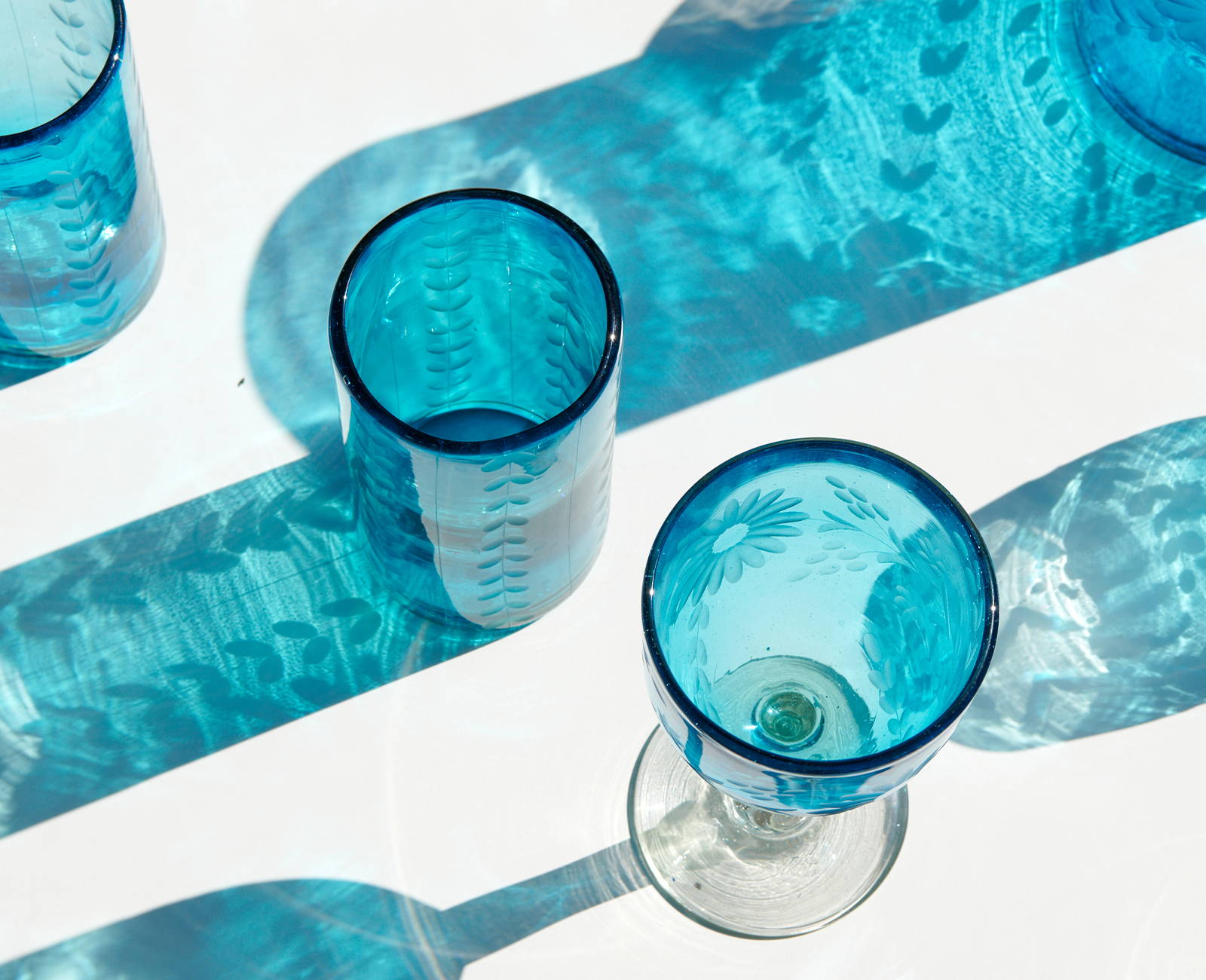 Better Than New:
From Recycled Glass to
Gorgeous Glassware
Better Than New:
From Recycled Glass to Gorgeous Glassware
Before the glassware looks like the pieces you see on our website and in our Palisades shop, the collection starts as recycled glass pieces. Often these would go to a landfill, but instead they are given a new life and transformed into glassware of all different shapes and sizes.
Once the pieces are ready to be etched, the artisans use a grinding stone and meticulous attention to detail to adorn the glassware with floral motifs and leaves. To complete the process, they hand-blow the glass, preserving a time-honored technique.
Meet Rose Ann Hall Designs,
The Talented Team
Meet Rose Ann Hall Designs,The Talented Team
Each step of this process is designed to not only minimize waste and be respectful of the planet, but also foster collaboration and creativity for the people who make the glassware. The artisans are encouraged to pay attention to the details and go at their own pace to create a beautiful finished product.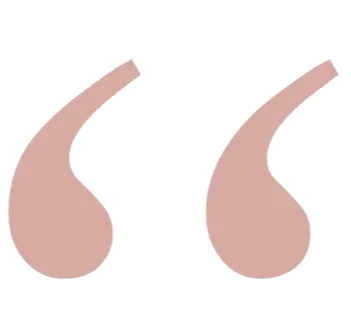 I hire people and I let them do what they can do.
Charlie Hall, CEO of Rose Ann Hall Designs
Additionally, the artisans earn a sustainable income and attain meaningful, dignified work opportunities. Several of these artisans are people with physical disabilities, and many of them have previously faced discrimination in search of sustainable employment. They now have access to a supportive, collaborative environment in which they earn fair wages and create strong futures through creative work.
We are so honored to support each talented artisan and share their work with this ever-growing community of conscious shoppers.
Unique Glasses for Water, Wine, Margaritas + More
As true works of art, every piece is slightly different — that's part of what makes this glassware so special! From everyday tumblers and drinking glasses to wine glasses and pitchers, this collection features a variety of drinkware in three hues: French blue, aqua, and clear.
For Mocktails + Cocktails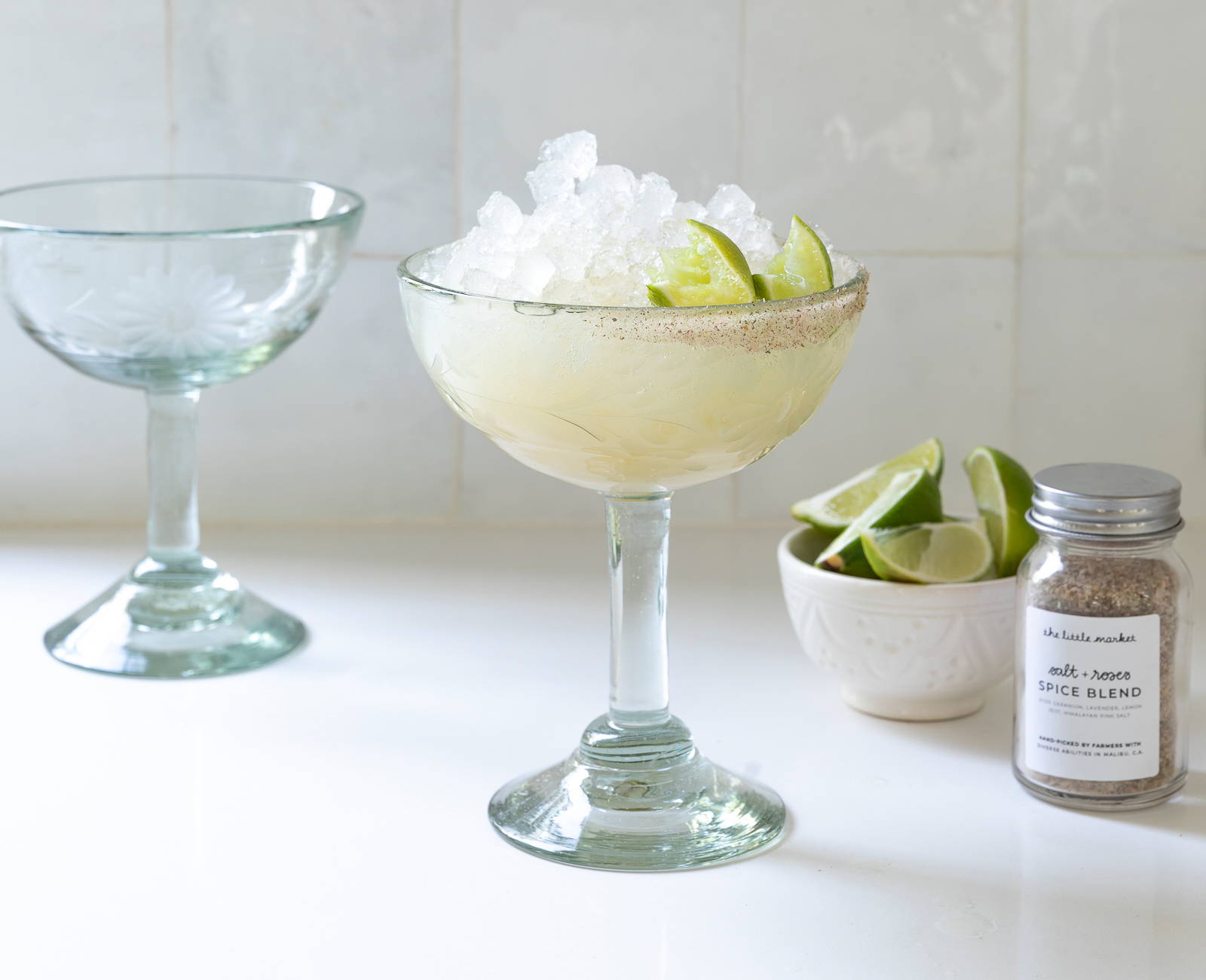 With ample room for a large pour, these glasses are sturdy and stylish for margaritas or mocktails. Tip: Use our salt + roses spice blend on the rim.
Between the gorgeous silhouette and intricate etched flowers, our martini glasses make every sip feel like a special moment. We love them for enjoying cocktails, ice cream, or a fancy snack.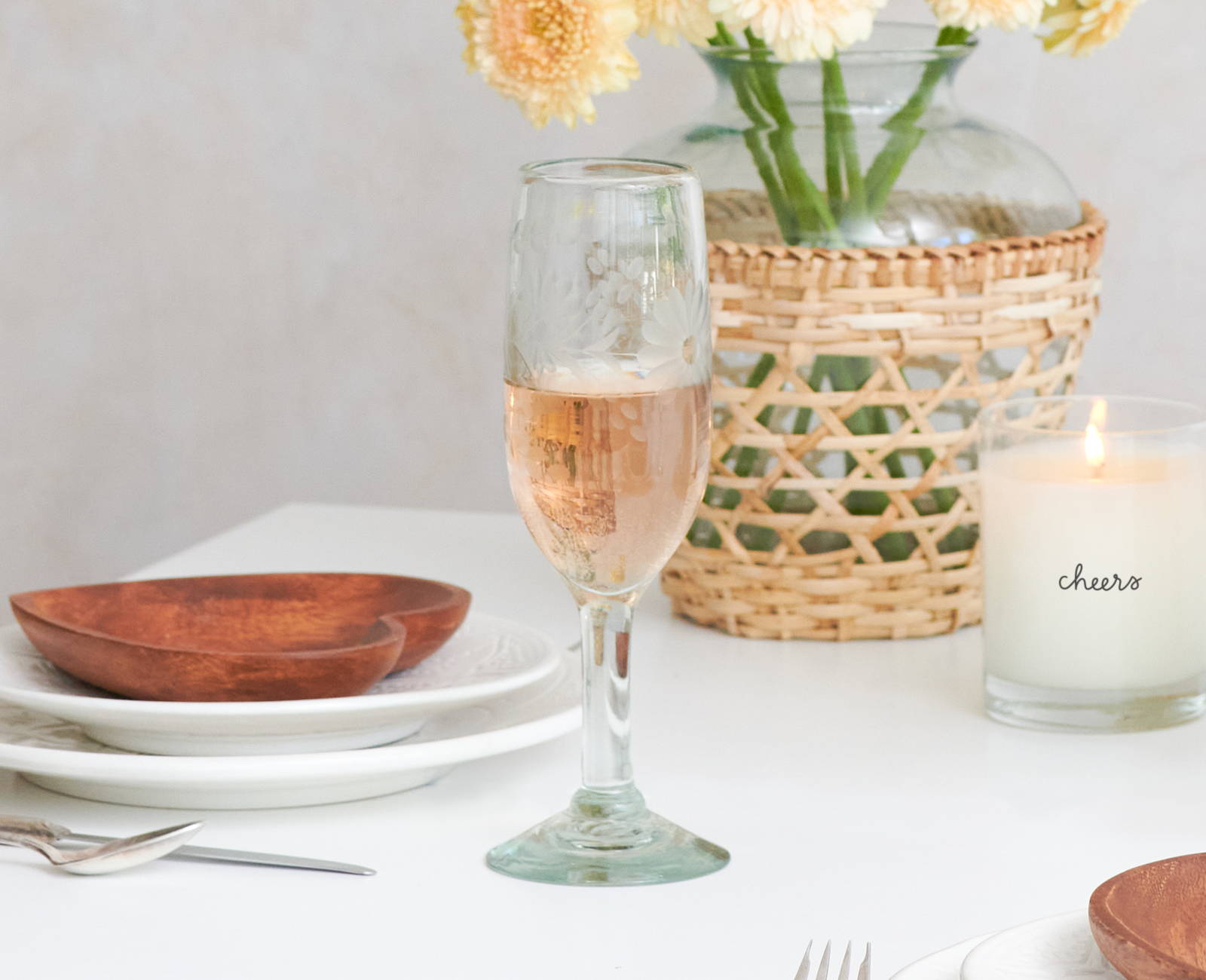 These heirloom-worthy flute glasses are some of our favorite gifts for honoring life's milestones, like housewarmings, work anniversaries, and weddings. Detailed and durable, they're even more beautiful in person.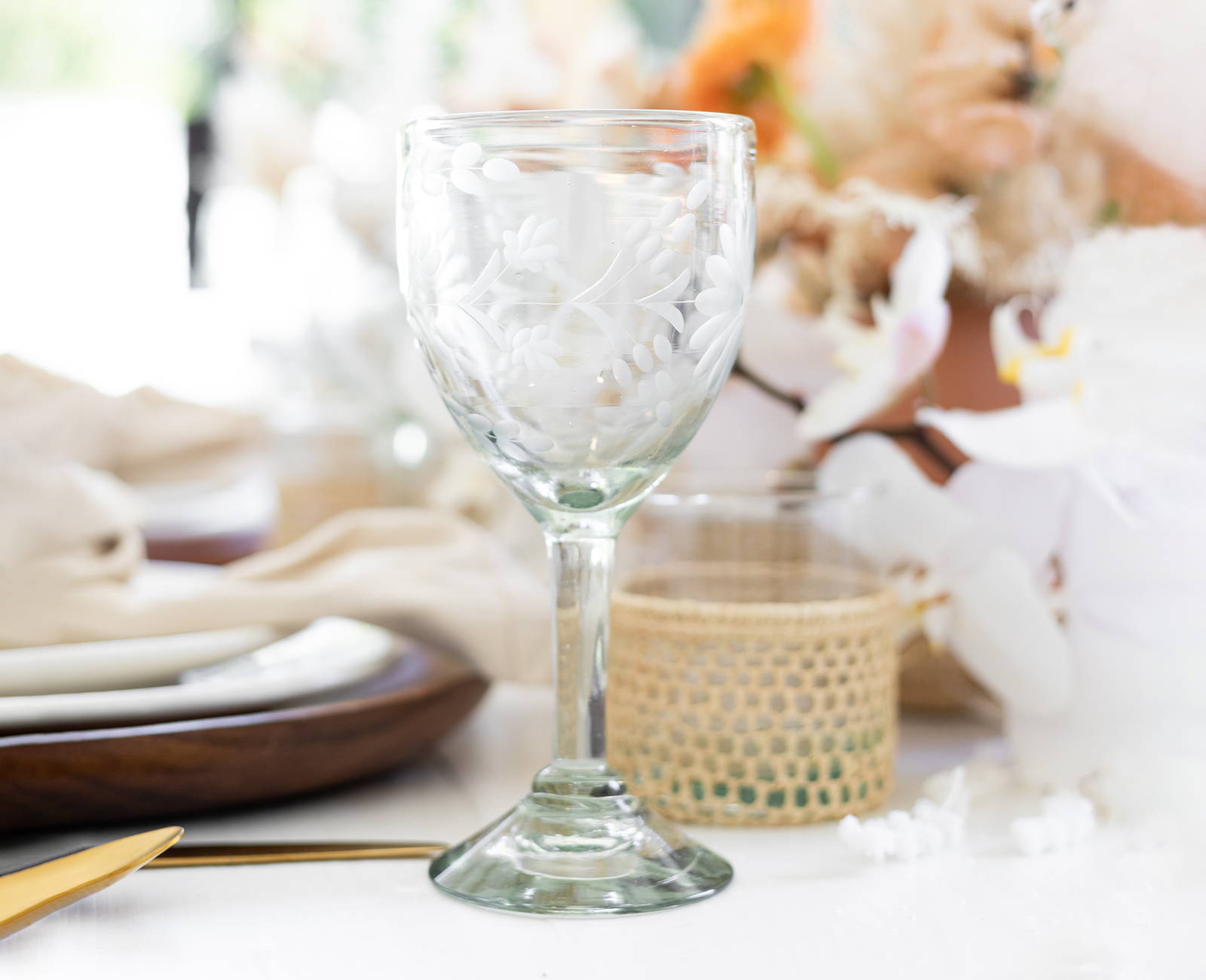 One of our best-sellers, these wine glasses are dining staples for enjoying a drink solo, hosting a happy hour, or gathering at a group dinner.
For Water + Everyday Drinks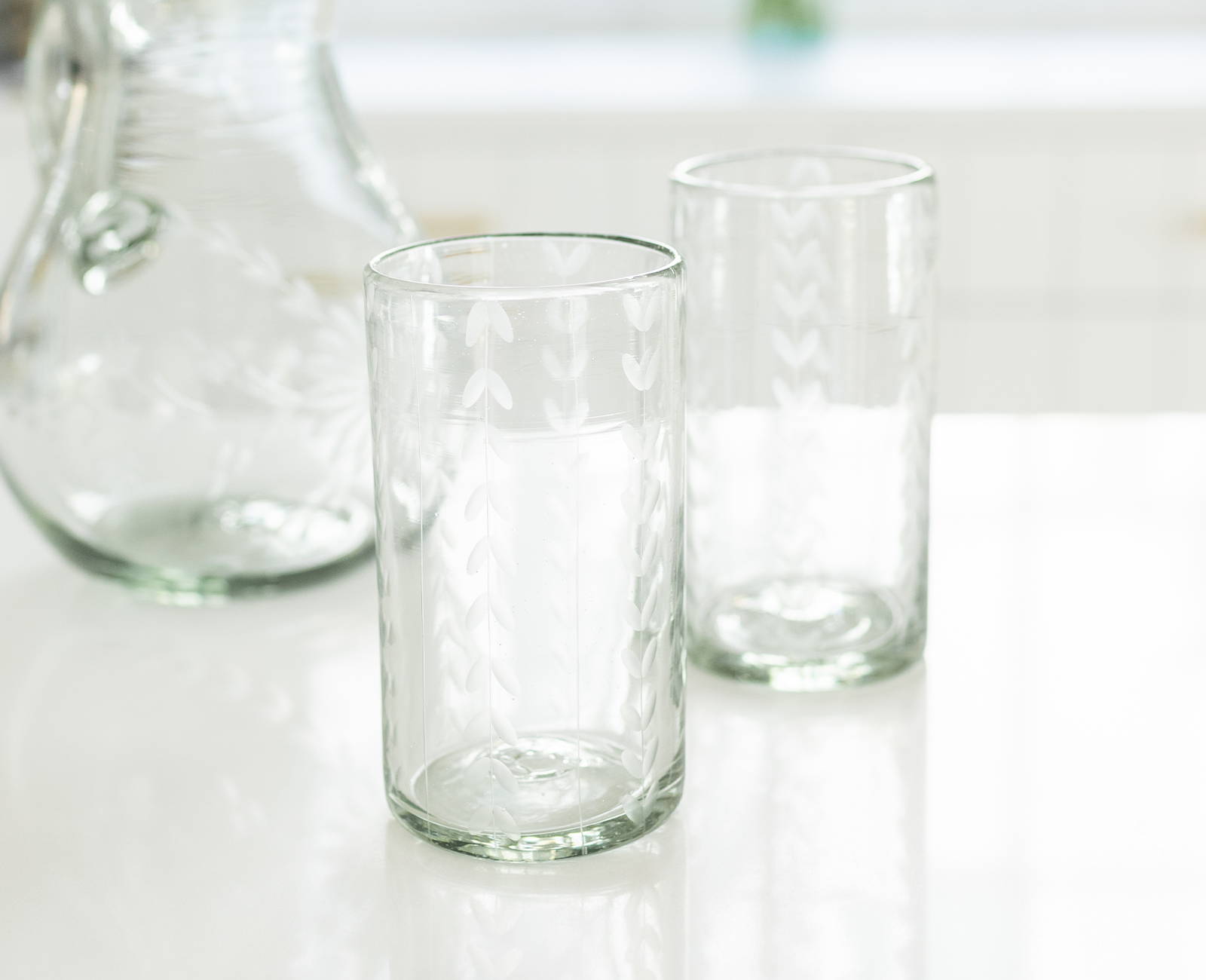 A must-have, our tall glasses are a versatile vessel for a variety of beverages and occasions. Every piece is intricately designed, perfectly sized, and one-of-a-kind.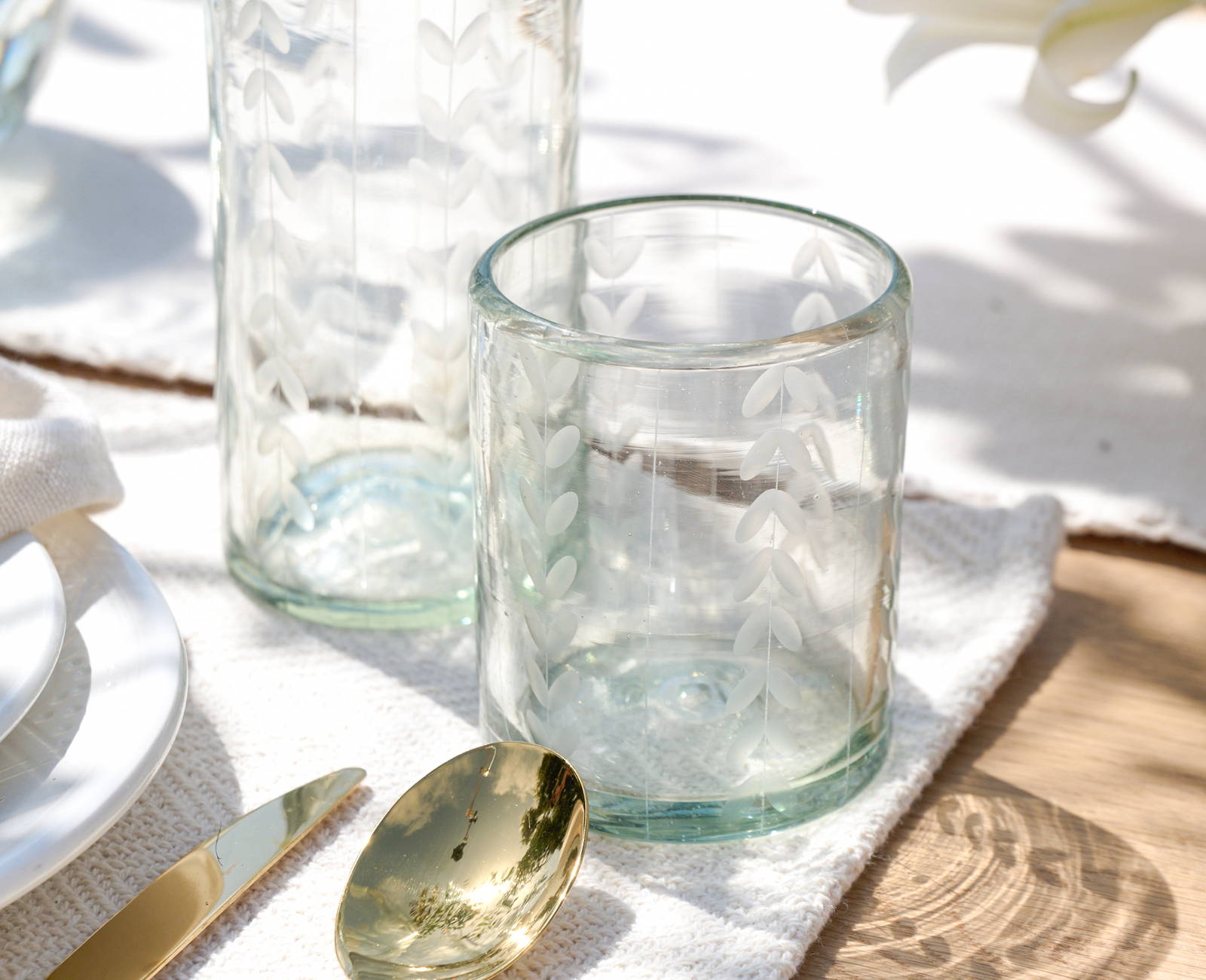 Our short glasses are just the right combination of dainty and durable. We love them for juice, espresso, and small sips of all kinds.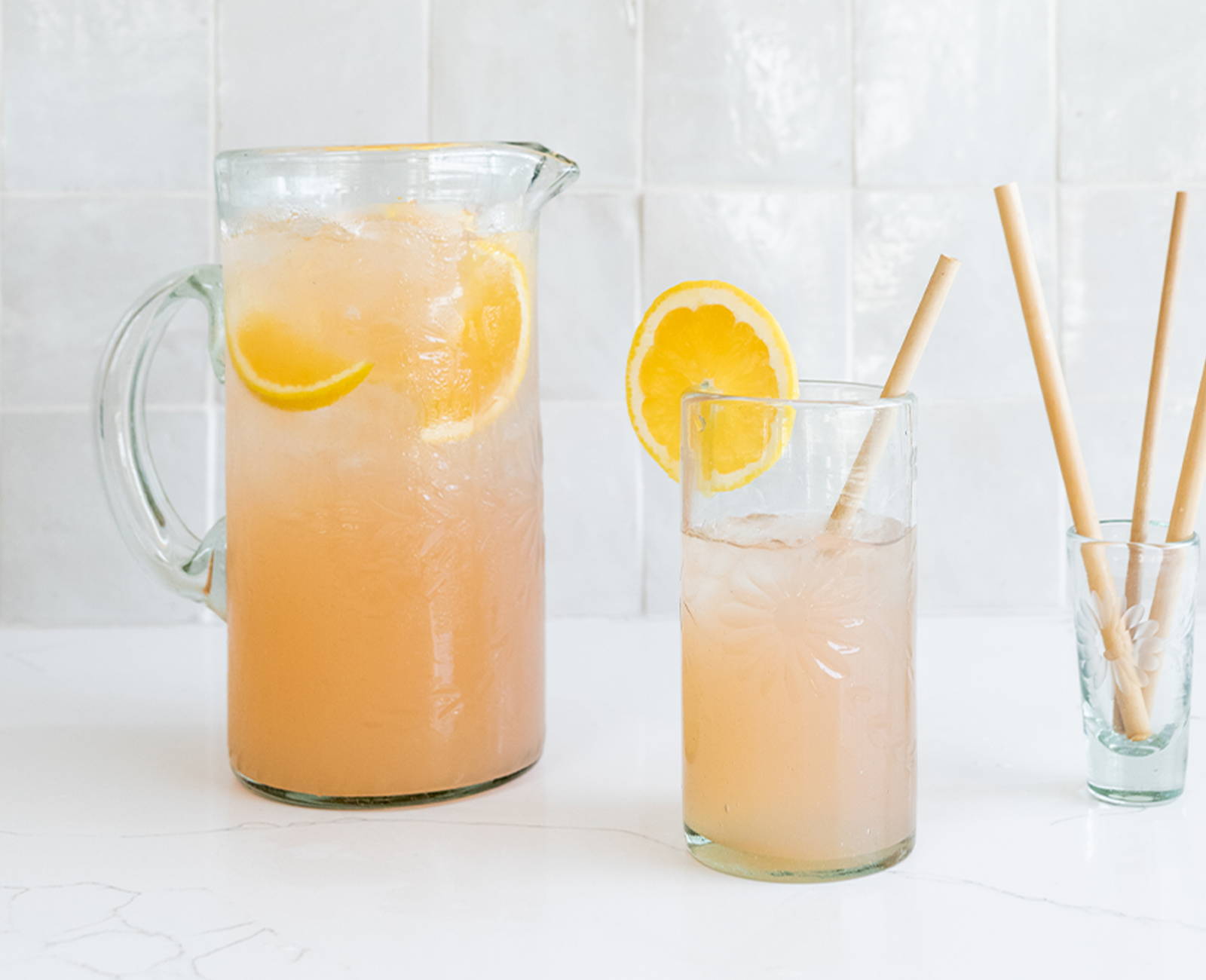 Our tall pitchers make it effortless to serve your favorite beverages with intention and style.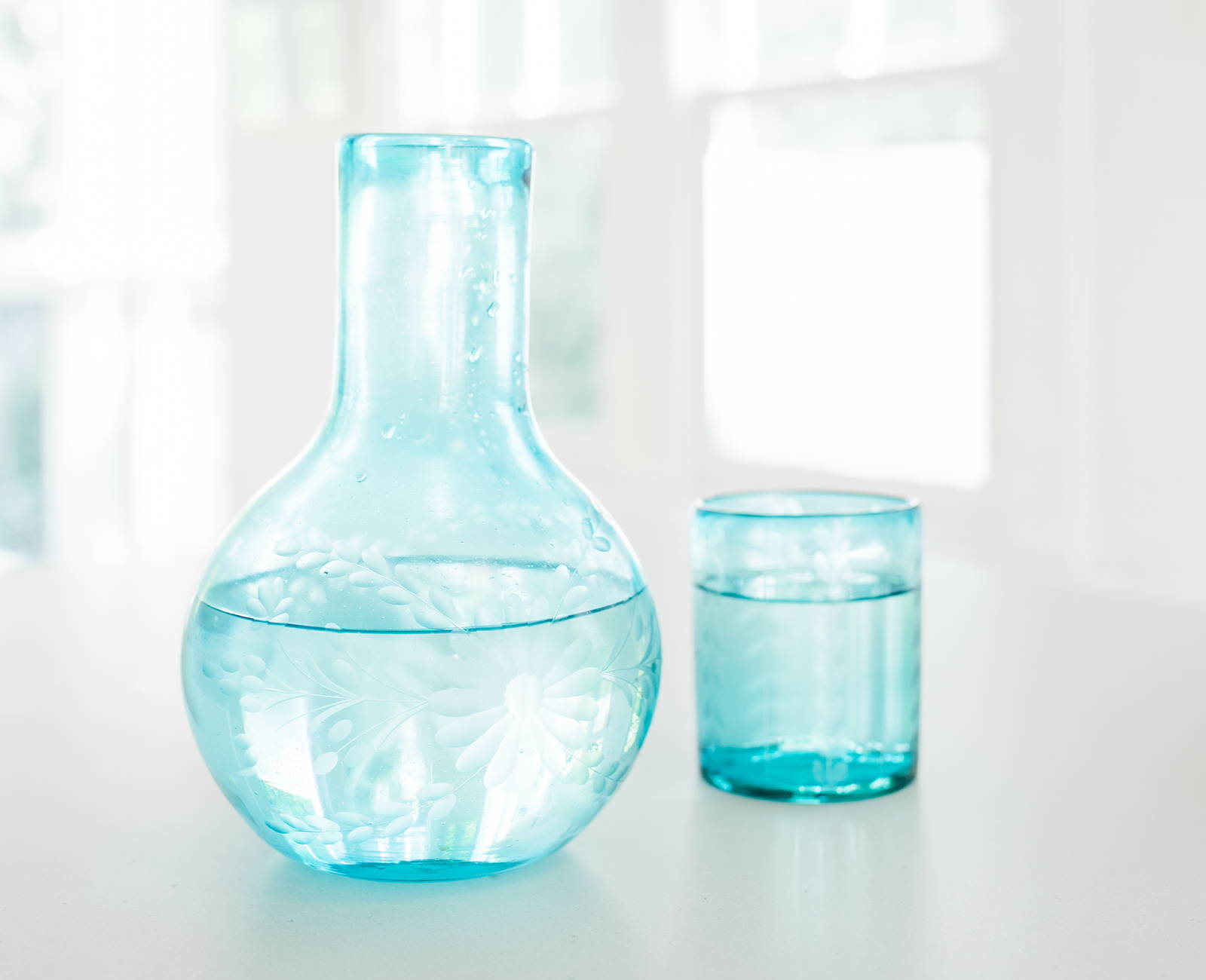 This beautiful pitcher-and-glass set is the ideal pair, whether you're looking to serve guests or stay hydrated without having to get up to replenish your glass.