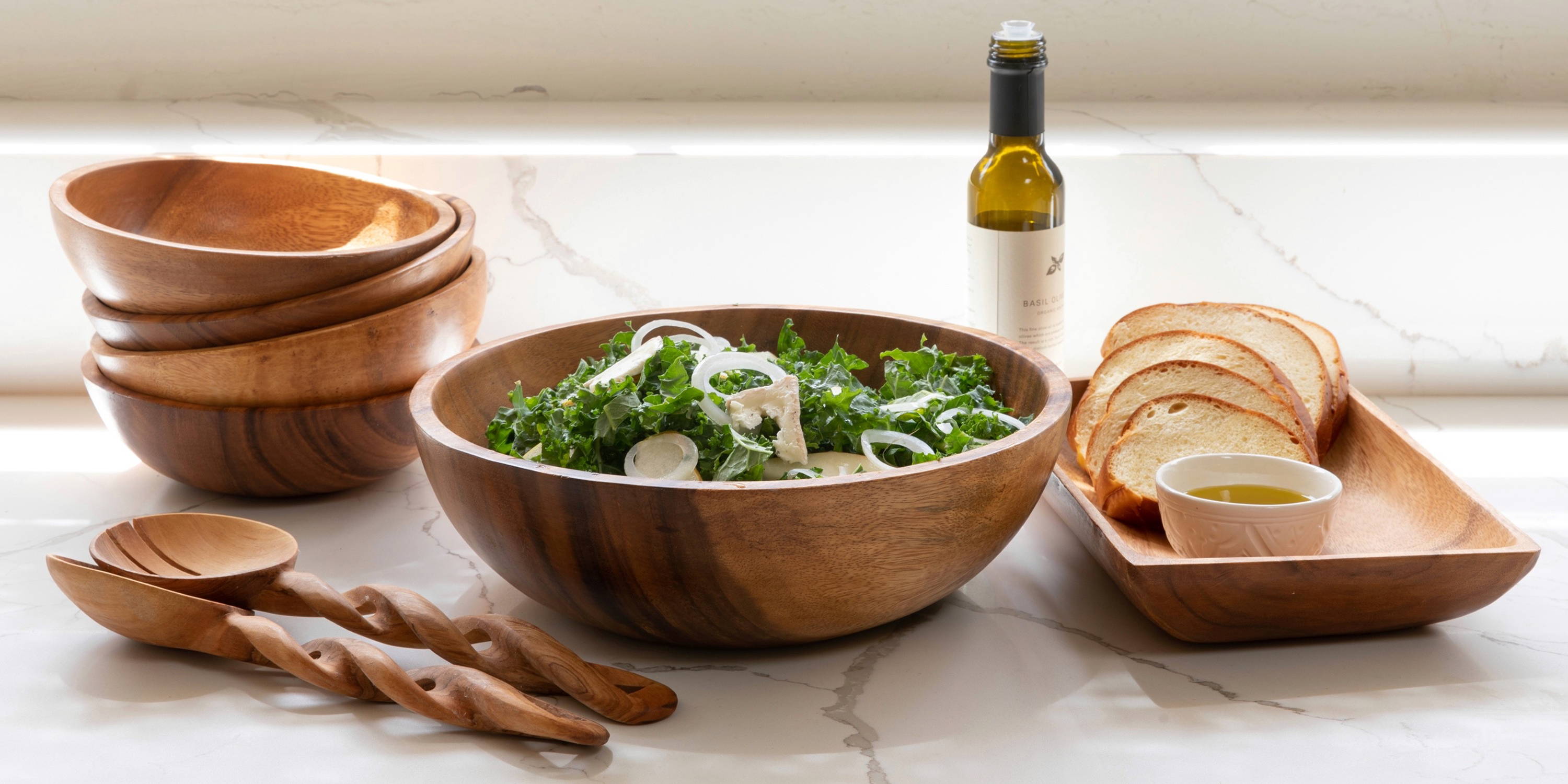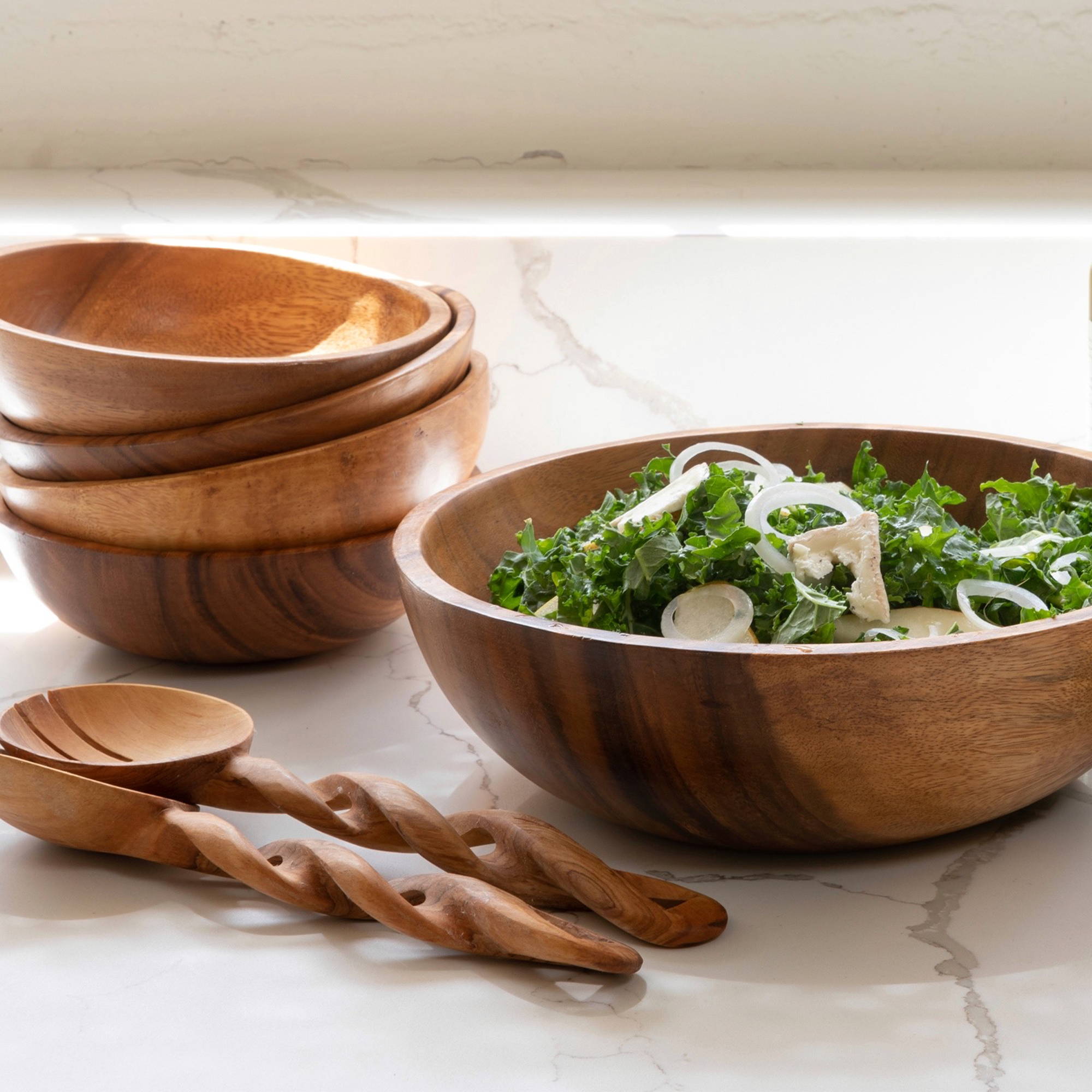 The return of wood in home design is expected to gain momentum as the year goes on. Exposed wood is a refreshing way to bring a natural, warm, cozy feel into your space. Wood is also versatile as it can pair well with boho, farmhouse, modern, midcentury, and even eclectic themes.
Acacia wood is one of the most popular woods to incorporate into your home décor. This wood is not only beautiful, natural, and rich in color, but it's also an excellent resource to use. What is acacia wood?
Let's explore the origins and history of acacia wood, its benefits and characteristics, and why it's a sustainable option for interior design.
Acacia is a type of wood characterized by durability, deep red and brown tones, and light brown sap. In order to understand acacia wood and what it is, it's important to understand where this stunning material is found in nature.
Where Is Acacia Wood From?
Acacia trees originate from Australia but can be found in tropical and subtropical regions of the world, such as Africa, Asia, and other Pacific Coastal regions. There are thousands of varieties of acacia trees that populate the Earth.
What Is Acacia Wood Used For?
Because of its durability, acacia is used for a range of exterior and interior construction. This includes the construction of exterior and interior furniture support beams for the construction of buildings and even household items
It's also used in countertops, floors, platforms, and other structural components. If you're looking for items that are built to last, acacia wood is an excellent material to consider.
There's more to acacia than just its beauty. It offers many other benefits.
Here's what you need to know about this striking material.
Acacia Is an Excellent
Alternative to Harmful Materials
One of the most significant benefits of acacia wood is sustainability. As we learn more about the world we live in and how to care for it, sustainability becomes an increasing priority. Sustainability encompasses a broad way of living. In short, it is a discipline that helps reduce carbon emissions, support eco-conscious decisions, and develop renewable resources.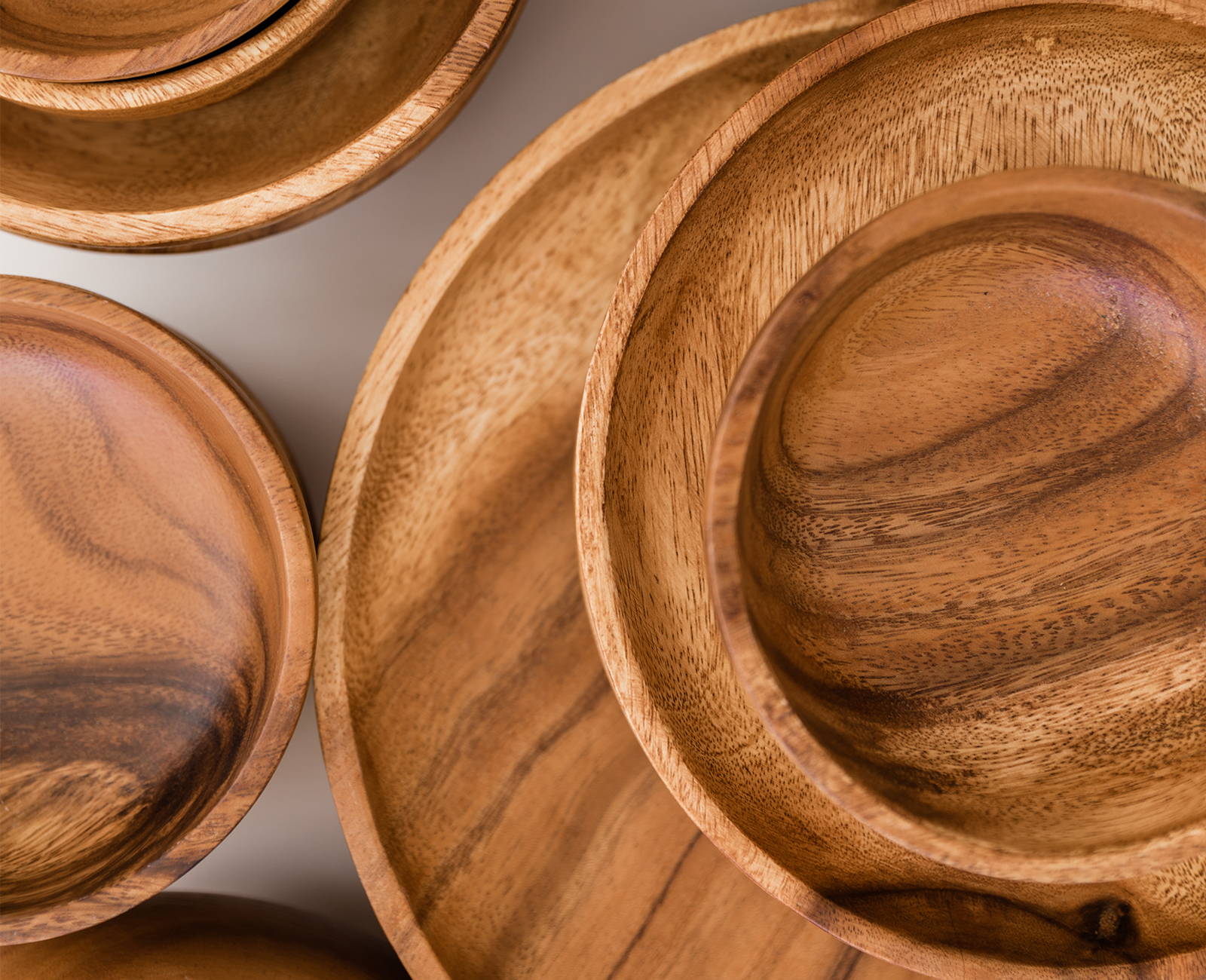 There are many facets to sustainability. One of the easiest ways you can live sustainably is to use sustainable resources and materials. Acacia wood is an excellent alternative to plastics or styrofoam, which negatively impacts the environment. Plastic, styrofoam, and similar materials live in our environment forever, never completely breaking down.
Here at The Little Market, we know how important it is to use sustainable materials. That's why all of our collections promote sustainably sourced and handmade goods, from acacia wood to capiz shells and papyrus.
Acacia is an excellent alternative to single-use materials like plastics and styrofoam. But the benefits don't stop here.
Acacia wood, while dense, is also porous. This allows the wood to capture and reduce carbon from the atmosphere. When acacia is used for construction or furniture projects, it acts as long-lasting carbon storage! Some resources also suggest that acacia wood helps improve soil fertility without the need for chemicals.
This wood is also increasingly accessible. This allows for less transportation as acacia wood is growing in many parts of the world. Acacia trees grow fairly quickly, making them a renewable and replantable option. This also helps slow down the depletion of forests as acacia wood grows faster than lumber companies can keep up with.
Lastly, the Life Cycle Assessment of acacia wood demonstrates its levels of sustainability at various stages of life. Overall, acacia wood emits a low carbon footprint, helps store carbon, replenishes quickly, and lasts for a long time. When it reaches the end of its life, it turns into bioenergy by being burned or it's reused.
All Parts of Acacia Trees are Useful
Another benefit of using acacia trees for construction and design purposes is that each part of the tree is useful. This helps eliminate waste and helps get the most out of each plant.
For instance, the bark of acacia is used in pharmaceuticals and health products, and the sap of acacia is rich in dietary fiber. On top of these uses, the wood itself can be used for construction, decoration, or furniture.
Acacia wood is the hardest of all hardwoods. This is due to its resilience and its density. One characteristic that supports this wood's durability is its multidirectional fibers. In most types of wood, the fibers follow the same direction. This makes it easier to manipulate and process.
Acacia wood, on the other hand, is made of fibers that go in opposite directions so they're facing each other. This adds strength and durability to acacia wood that other types of wood often lack. This durability is what makes acacia such a popular tool for building and handmade goods.
Acacia is especially known for its durability in rough weather and in a variety of environments. It can sustain and resist insects, worms, pests, fungi, and water exposure significantly better than other types of wood and materials.
How To Incorporate
Acacia Wood Into Your Home
Acacia is an excellent material to add to the home. Because of its deep, rich, brown hues, it adds warmth and depth to spaces. It also adds texture to the home. Acacia wood is smooth naturally — but even smoother when treated properly.
The natural veins and fibers are beautiful characteristics acacia brings to the table. How can you incorporate this elegant material into your home?
Here are a few notions to consider:
Many kitchens have a lot of natural light and brightness. Adding the deep hues of acacia can help give this area dimension and depth as well as a pop of earthy color.
Consider our collection of Handmade Acacia Wood Plates. Each plate is hand-carved from sustainably sourced acacia wood in the Philippines. These elevated, elegant, natural plates are the perfect addition to your kitchenware.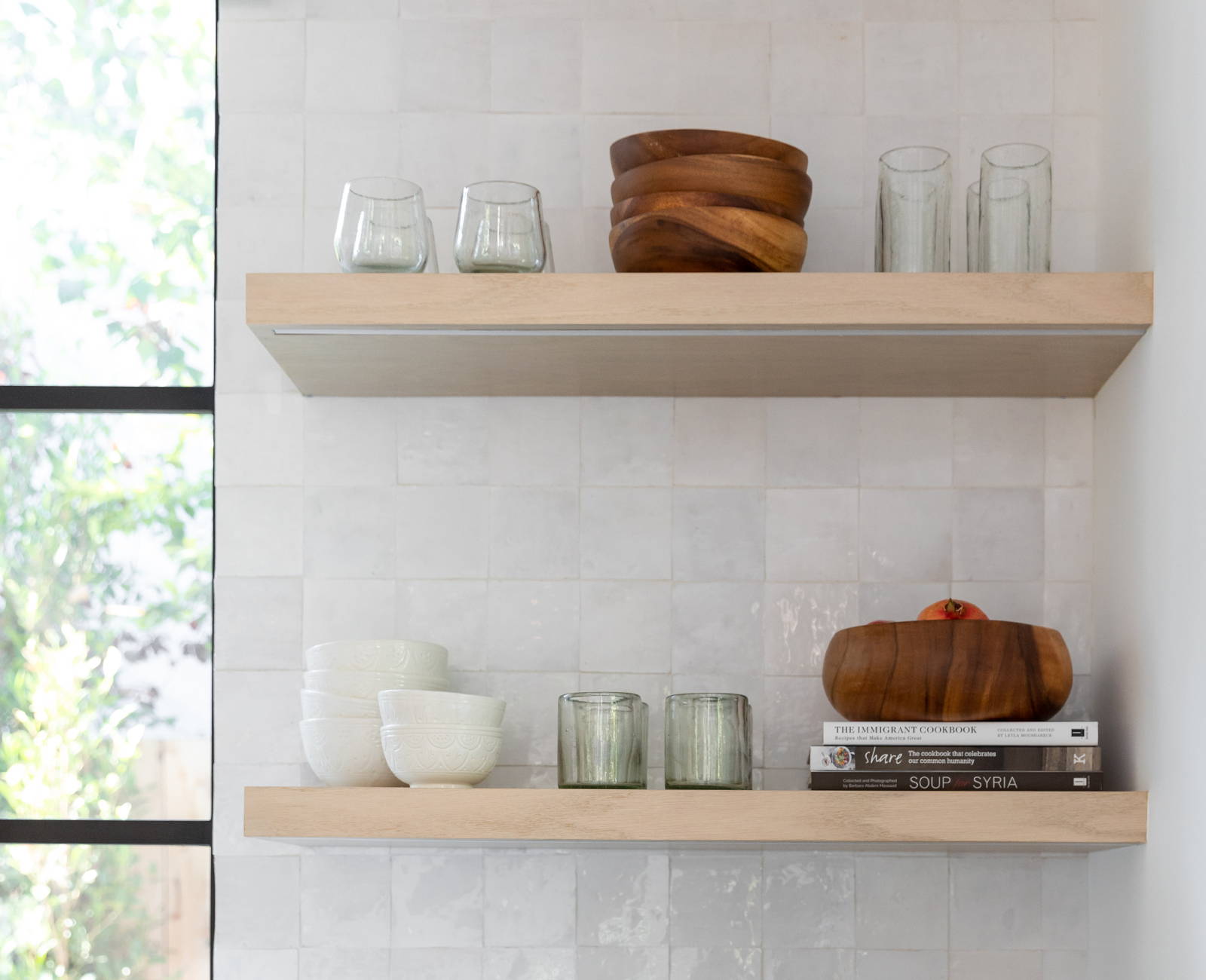 Next time you invite friends and family over for dinner, use our Acacia Plates to take the evening to the next level. You can complete the collection with Appetizer Plates, Side Plates, Dinner Plates, and Charger Plates, each carefully handmade. Arrange these Plates together for tabletop décor, countertop décor, or open shelving.
For meals and get-togethers that are buffet-style and more casual, consider our Acacia Wood Vegetable Platter. Don't be afraid to get creative with the snacks you arrange in this beautiful bowl. Add cashews, peanuts, chocolate chips, dried cranberries, sesame seeds, and pretzels to make a trail mix dish.
You can also turn this vegetable platter into a dessert platter with different fruits and dessert items. For your next taco Tuesday, use this platter for your taco bar. With cheese in the middle surrounded by salsa, lettuce, meat, olives, and your other favorite toppings, this platter is the perfect way to serve snacks.
Shelves are a wonderful opportunity to add dimension to your home without taking up too much space. If your space or room feels cluttered, adding shelves can help organize and declutter while still displaying your favorite items.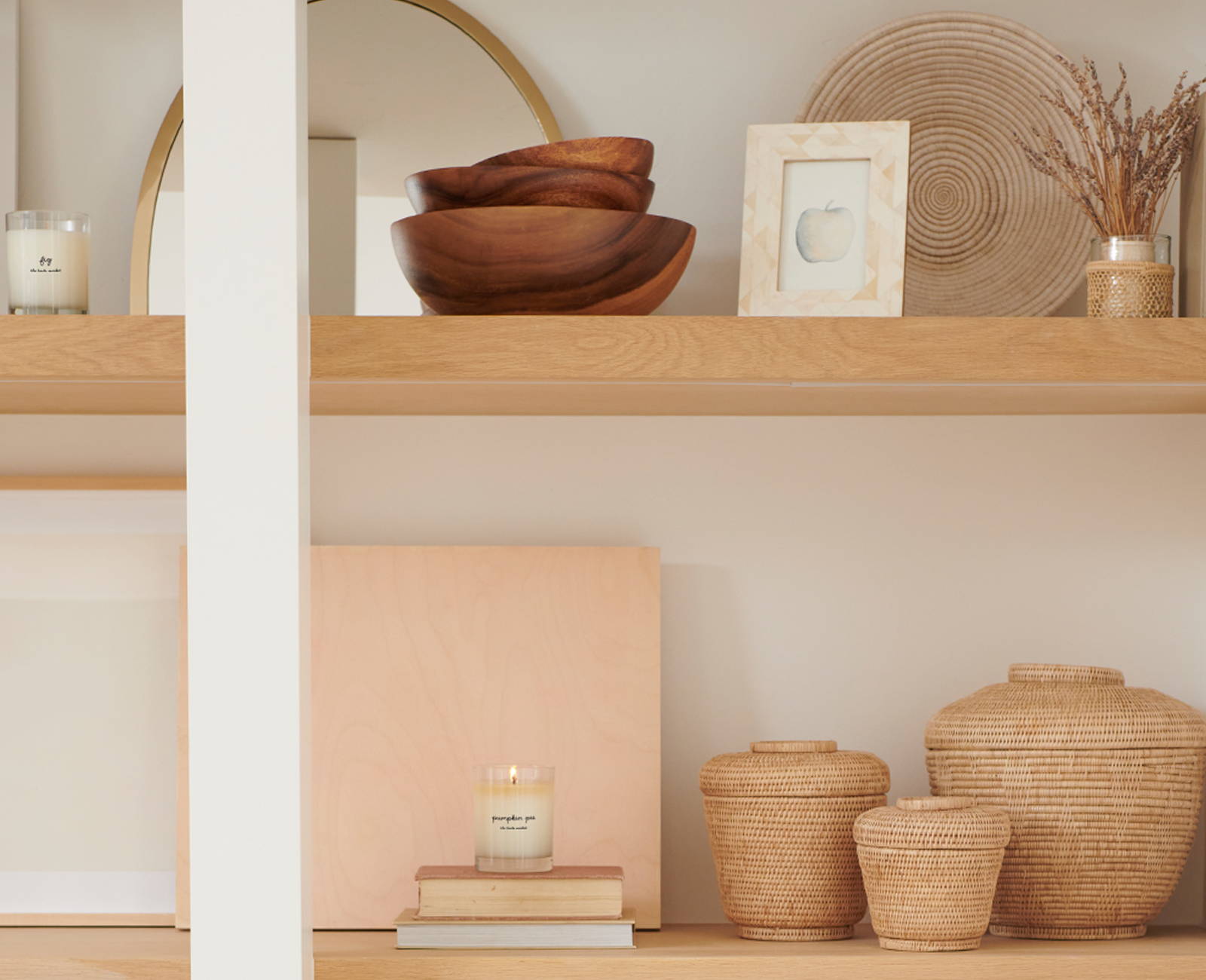 If you have an empty bookshelf, mantel, or open cabinet shelving in the kitchen, consider using acacia to style it. Our Acacia Wood Salad Bowl is a versatile way to accessorize the kitchen shelves, living room shelves, and more.
Consider stacking these bowls on top of one another for open shelving in the kitchen. You can also fill this bowl with accessories to create décor for a bookshelf or mantel. When it's time for dinner, borrow this bowl from your shelf and add it to your kitchenware.
Acacia wood also makes a beautiful centerpiece for dining room tables, kitchen tables, countertops, or coffee tables. Our Acacia Wood Rounded Salad Bowl is a unique way to style your dining room table or coffee table. Hand-carved in the Philippines with sustainable acacia, this piece is made by artisans that devote special care and attention to each piece.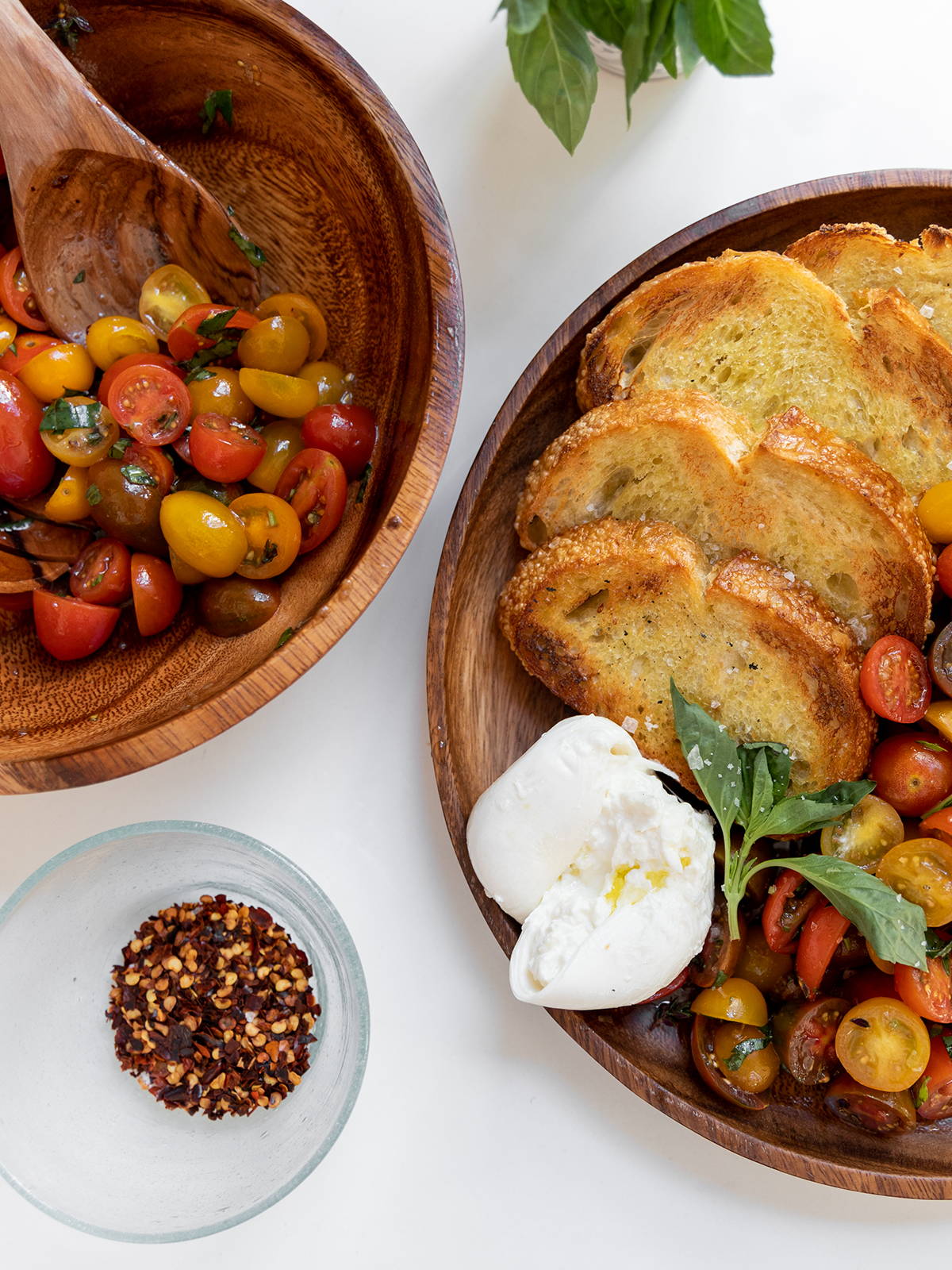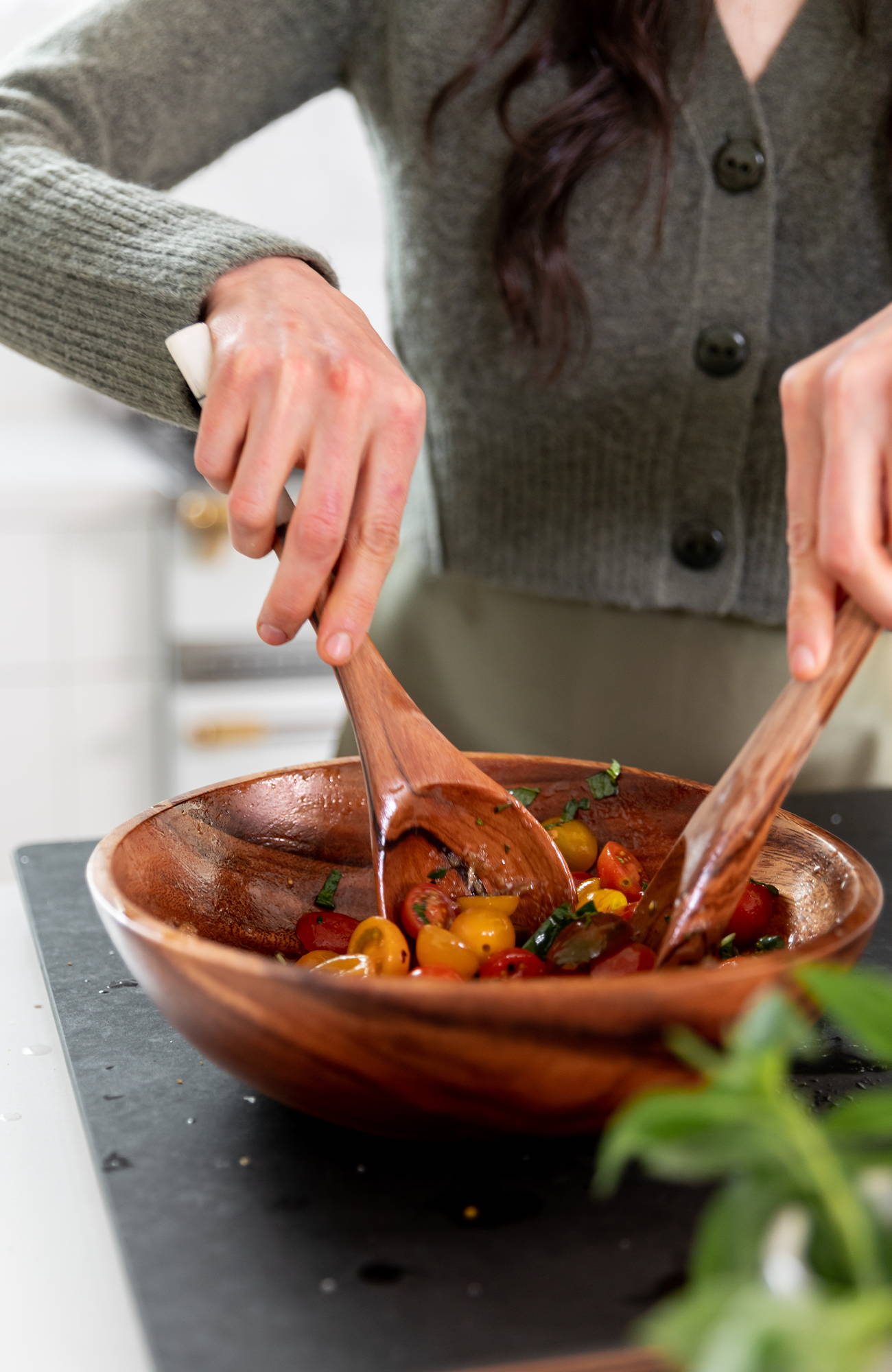 Here are a few ways you can use this bowl for salads and décor:
Let's start in the living room. If you have a coffee table and are looking to add décor to the top, this bowl is an excellent choice. Consider adding one or two large hardcover books underneath as a base for the bowl.
This will provide contrast between the bowl and the table, add dimension, and add structure. You can use books you already have or look for coffee table books.
Place our Acacia Salad Bowl on top of the books to the side. Make sure it's not directly in the middle. There are many ways to style this bowl.
Fill it with ornaments for the holidays, remote controls for your television, a string of beads, or any other decorations you like. You can find items to fill this centerpiece bowl just about anywhere. Don't be afraid to get creative and try different things!
If you're looking for the perfect centerpiece to add to your dining table, look no further than our Acacia Wood Rectangular Bowl. You can use this rectangular bowl to display meals, bread, appetizers, or desserts or as a decoration when your table isn't in use.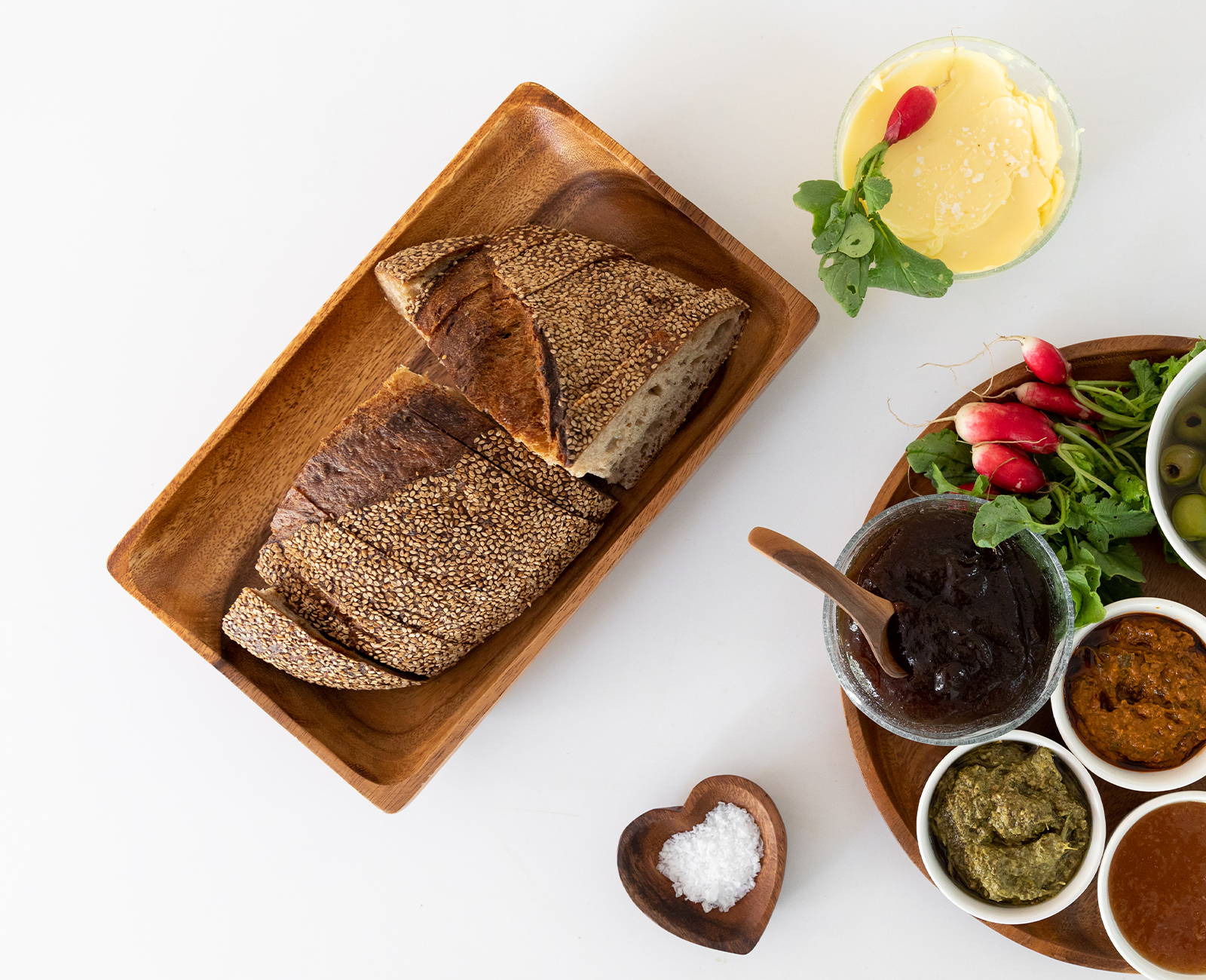 There are many ways you can accessorize this piece when using it for dining room décor. Add different sizes of candles to the center with greenery around the bottom to create a warm, earthy feel. Add ornaments during the holiday season or other decorative spheres all year round. Fill this bowl with greenery, flowers, and other seasonal accessories.
Tips for Incorporating
Acacia Wood Tones in Your Home
Discover some tips for how to incorporate acacia wood in your home:
Find the Dominant Tones
and Undertones in Your Home
There are thousands of varieties of acacia trees and wood in the world. Each variety has a different hue, tone, and undertone. Most of the species tend to be a deep brown color with red tones, but some varieties are light and others are darker.
The first step to incorporating wooden tones in your home like a pro is to figure out which wooden tones are dominant in your home. This would apply if you have a hardwood floor, natural wooden cabinets, natural wood furniture, or any wooden accents already in your home like an exposed beam.
If you don't have any wood already in your home, take your home's undertones into account. Are your home's colors cool or warm? Your home may have warm tones if you use earthy shades like tan, brown, off-white, terracotta, and muted tones. Your home may have cool tones if you use blues, grays, silvers, white, and black.
Depending on what undertones you have in your home, you'll want to make sure the acacia you use matches. You may also have neutral undertones, in which case, almost any color of wooden tones will match.
The key to making wooden tones look inviting in your home is to use layers and opposing tones. Using the same wooden tones throughout your home can make your decorations appear flat. While a few pieces here and there can bring warmth, using too much of the same wooden tones can reverse the effect.
Instead, layer different wooden tones to complement one another. If you use deep red acacia wood in one area, use a lighter, more neutral-colored acacia wood to contrast. You can also contrast with brights and deep hues to add dimension to your space.
Handmade Wooden Tones in Your Home
Acacia wood is a beautiful, elegant addition to interior design. Its durability makes it the perfect material to use for exterior and interior furniture and construction. Its sustainability is another benefit to using this material. Our collection of handmade items creates the perfect way to add wooden tones, ceramics, and more into your home.